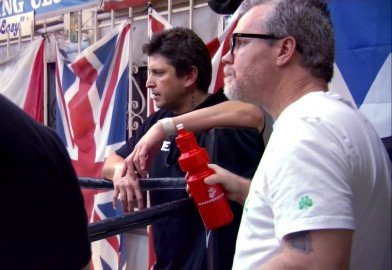 By Rob Smith: Alex Ariza, the strength and conditioning coach for 33-year-old Manny Pacquiao, wants to take him back to the way he used to train Pacquiao in the past to get him ready for his December 8th fight against possibly 39-year-old Juan Manuel Marquez. Pacquiao has noticeably slowed down in his last three fights and doesn't move around like he used to three years ago.
More importantly, Pacquiao is no longer fighting for the full three minutes of every round. In his last fight against Tim Bradley, Pacquiao only fought hard in the past 20 to 30 seconds of the round. It just looks like Pacquiao has aged both in his performance and in appearance.
Ariza told the Manila Standard "He [Pacquiao] has to go back to the old ways of training, focus more on the other stuff."
This begs the question: Can Pacquiao get back to where he once was even with Ariza putting him through his old paces like in that past or he simply beyond the point of no return? 33 isn't old, but it is for some fighters. Muhammad Ali had really slowed down by the time he reached 33. Compared how he looked in his 20s and even in his last 20s, Ali wasn't the same fighter at 33. Pacquiao has had a lot of fights where he's taken punishment even in dominating. Since he's moved up to welterweight, he's gotten hit by bigger guys and there could be some where that training can't help. To be sure, Ariza can put Pacquiao back on his old training regimen but his body may not respect like it used to because he's both older and he's taken a lot of punishment.
What Pacquiao's promoter Bob Arum really should do if he wants to try and increase Pacquiao's longevity in the sport is to have him move down to lightweight or light welterweight. He can fight in those divisions because he's having to power feed just to be able to fight at welterweight. If he moves down in weight, he won't get hit as hard and his power will be a lot stronger against those guys. He won't get hit as hard and Arum might be able to squeeze another three years out of his career that way. The drawback is that there's not much in the way of major talent in those divisions aside from guys like Amir Khan, Danny Garcia, Lucas Matthysse, Ajose Olusegun, Mike Alvarado, Brandon Rios, Adrien Broner, Antonio DeMarco and Ricky Burn. But at least Pacquiao can continue making money and winning. He just lost to Tim Bradley, and you can expect more loses if he fights anyone good at welterweight like Floyd Mayweather Jr or Andre Berto.