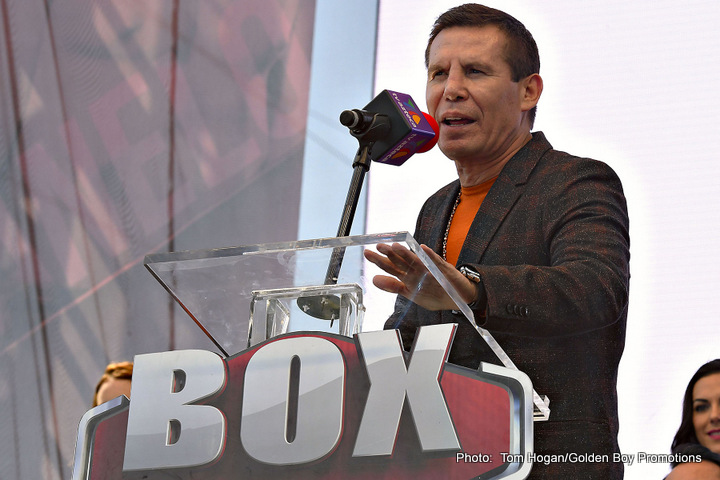 An incredible, record-breaking 133,000 fans packed into Azteca Stadium in Mexico a quarter of a century ago today; most, if not all of these fans in attendance to watch their fistic hero Julio Cesar Chavez beat up on trash-talking challenger Greg Haugen. The monster card that played out in front of a monstrous crowd (many millions of fight fans also tuning in on TV all around the globe) also saw great fighters Azumah Nelson, Terry Norris and Michael Nunn in action (all winning) and promoter extraordinaire Don King had brought us his latest, biggest boxing spectacular.
Before the fight for the 140 pound crown held by Chavez, former two-time IBF lightweight champ and former WBO super-lightweight ruler Haugen, 32-4-1(16) had the sheer nerve to say that Chavez, who was then an incredible and seemingly unbeatable 84-0(72), had only fought "Tijuana taxi drivers, who my mom could beat." How painfully "Mutt," as the gutsy if over-matched Haugen was known, would be made to eat those foolhardy words.
Coming into the ring accompanied by Bruce Springsteen's classic 'Born in The USA,' Haugen had, at best, five or six friends in the entire world at that moment. An incredible wall of sound reverberated inside the colossal arena, the sound of passionate, fired-up Mexican fight fans, some of them bloodthirsty, making even the TV commentary hard to hear, and then the slaughter commenced. And as game as he was, as tough as he was, and as incredibly brave as he was, Haugen was indeed slaughtered – Don King even comparing the chilling spectacle to something akin to the days of the Christians being thrown to the lions.
Chavez, just about at his absolute fighting peak at age of 31 (Haugen being 32) came out looking for blood and it wasn't long at all before he got a taste. Making Haugen appear so small and weak in comparison, the magnificent Mexican fighting machine gave Haugen a quite vicious beating. The challenger, who had never previously been stopped, was absolutely steamrollered by the relentless, savage attack of Mexico's greatest ever fighter.
Set on "giving Haugen the worst beating of his life," Chavez knocked his man down with just seconds gone in the opening round, a powerful straight right stunning Haugen. Chavez, unleashing hell to both body and head, didn't waste a punch, nor did he give an inch of the ring away – Haugen barely having room to even breath. Haugen's peashooter was zero match for the tank-like Chavez' machine-gun attacks. Greg did a helluva job to make it through the first three-minutes. What advice could his corner provide him with other than to run and try, somehow, to survive?
Never once taking a backward step, "J.C Superstar" gave Haugen the brutal beating he promised he would, seemingly enjoying himself, even "carrying" Haugen for a round or two longer than necessary. Certainly it looked as though Chavez could have put Haugen out of his considerable misery long before the fifth-round in which the one-sided affair finally came to a close.
But Chavez, his hand raised for the 85th time as a pro, truly an incredible set of numbers, had retained his status as THE king of boxing (with Mike Tyson in jail, J.C was indeed the pound-for-pound best, as well as the biggest star of the sport). The Mexican people threw yet another party, while the bruised, swollen and beaten up Haugen had to retract the "he's fought no-one" line he'd fired at Chavez.
To his credit, Haugen managed this with wit: "I guess they were pretty tough taxi drivers," he said.