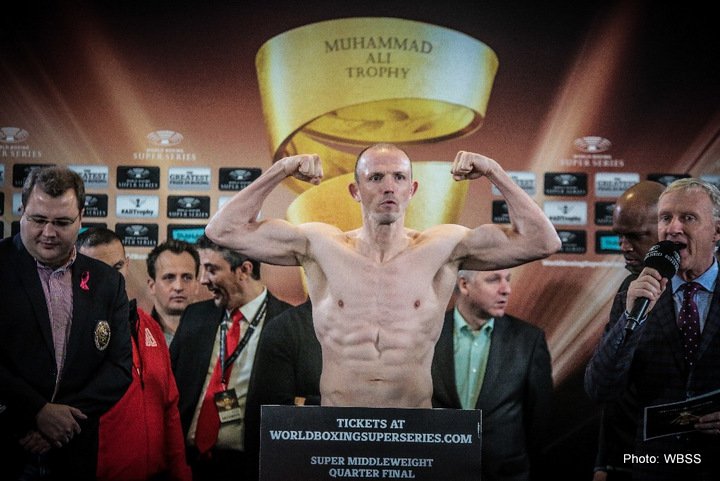 The World Boxing Super Series was going so well, too. The 168 pound tournament had gone without a hitch until this past Saturday, when George Groves badly injured his shoulder in his wide win over Chris Eubank Junior in their semifinal clash; meaning Groves' slot in the final, scheduled for June 2, might be in jeopardy.
Now, hot on the heels of that concern, comes news that Jurgen Braehmer has also fallen foul of an injury and that he has been forced to pull out of this Saturday's semifinal against Callum Smith. As per a breaking news report from Boxen1.com, 39 year old Braehmer is out, likely to be replaced by little-known Dutch fighter, Nieky Holzken. This is an unfortunate bad blow – to the team behind the otherwise flawlessly presented WBSS, to Smith, to Braehmer, and to the fans.
Who knows what to expect on Saturday night now. Smith, with less than a week to pick up as much knowledge as he can about Holzken (who has not yet been 100-percent officially announced as the replacement for Braehmer but is the favourite to do so) faces a potential banana skin. We've seen late replacement fighters pull off the upset before now of course.
So what do we know about Holzken? The fighter from The Netherlands is unbeaten at 13-0(10) and the 34 year old has an extensive kick-boxing background; compiling an impressive 90-14(46) record there. As a boxer, Holzken has fought just once outside of his homeland with a fight in Germany, yet he has fought no obviously recognisable names.
Last boxing back in April of last year, Holzken KO'd a fighter named Cagri Ermis. However, in kick-boxing, Holzken last fought in December, losing a three-round decision. Again, who knows what Holzken can do if he indeed gets the big fight opportunity on Saturday night in Germany?
27 year old Smith is unbeaten at 23-0(17) and he has always been, for many, the pick to win the WBSS tournament. It will be interesting to see if Saturday's fight still goes out on Box Office, or on regular "free" TV.