Vergil Ortiz (16-0, 16 KOs) will be taking a step up in class this Saturday night against former WBO 140-lb champion Maurice Hooker (27-1-3, 18 KOs) in a fight for the WBO International 147lb strap on DAZN from the Dickies Arena, in Fort Worth, Texas.
This is an important test for the 22-year-old Golden Boy promoted Ortiz Jr to show whether he's ready to take on Terence Crawford for his WBO 147-lb title.
Ortiz might have the youth, power, and the chin to wear out the aging 33-year-old Crawford if given a chance.
With Canelo Alvarez now gone from Golden Boy Promotions, Vergil is now their flagship fighter, the guy that has the best potential to become a world champion a legitimate star.
Lightweight contender Ryan 'Kingry' Garcia is with Golden Boy, but he's more of a hybrid boxer/social media icon.
Ortiz more of the real thing, a guy that has punching power, size, and the youth to become a world champion.
Vergil ready for Hooker
"I think he's going to learn from the Jose Ramirez fight," said Vergil Ortiz Jr to the Pug and Copp Boxing Show. "Everyone has asked me, 'Have you watched the Jose Ramirez fight, and are you basing your strategy off of that fight.'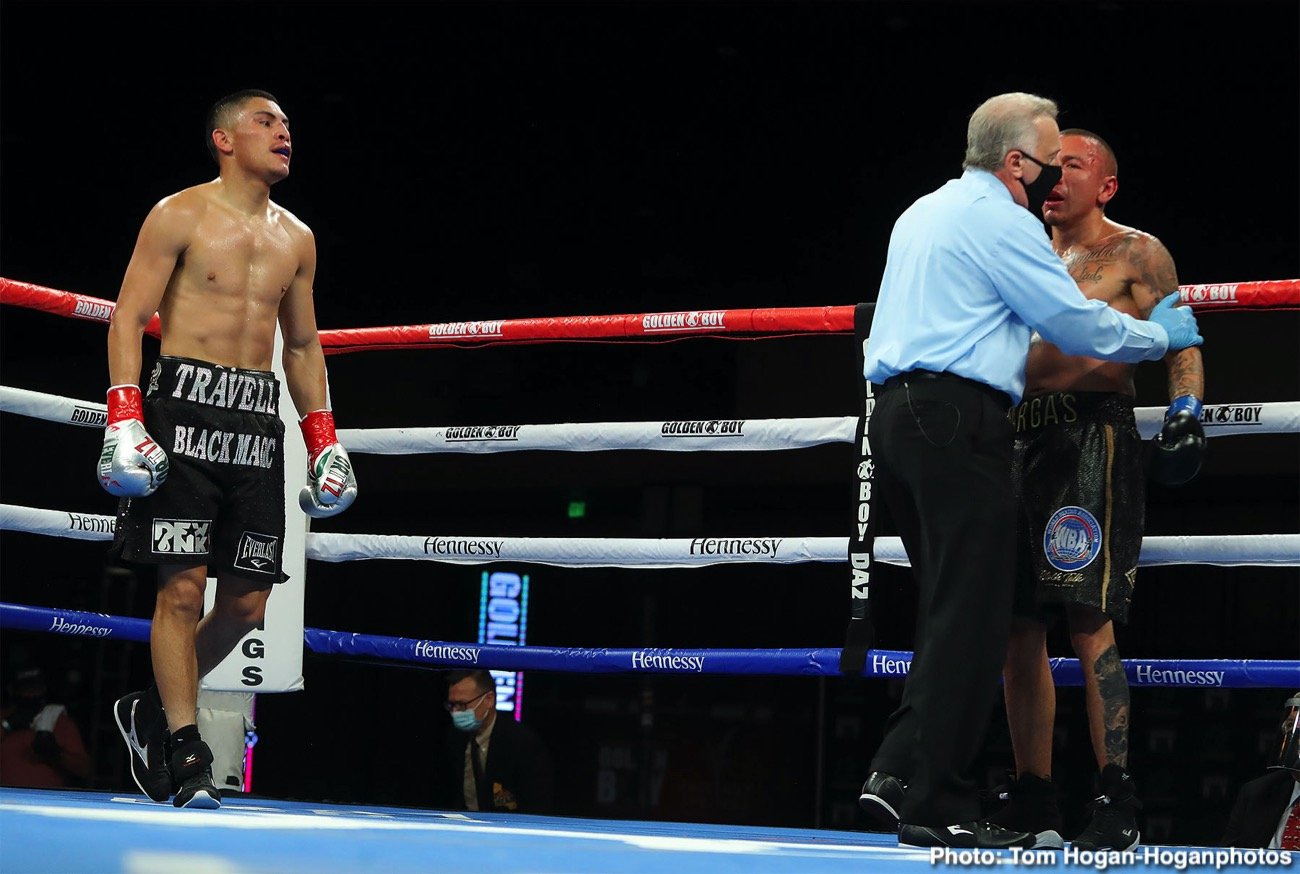 "He's someone that will learn from his mistakes," Ortiz said about Hooker. "I'm bigger than Jose, I'm stronger than Jose.
"There's no reason for Hooker to stay inside with me the way he did with Jose. He's going to want to keep me out and use his reach.
"I know his trainer is going to help him do that. He's trained with Terence Crawford. I'm sure he's a boxing style coach.
"That's what he needs to work on if he wants to come out with a win. We're going to do what we do best and that's to improvise and adjust.
"One thing isn't going to work with every fighter, and that one thing, they can adjust to that as well. So we work on a lot of different things.
"We work on fighting inside, we work on fighting outside. We got to work on a lot of different things to make sure whatever he throws at us, we're not surprised and we're ready," Ortiz Jr said.
Ortiz is a stronger version of Jose Ramirez, and we saw what he was able to do to Hooker in stopping him in the sixth round in 2019.
Vergil wins this fight fairly easily if he follows Ramirez's blueprint on how to defeat Hooker. Ortiz has got to back Hooker up and not let him get his shots off.
Ortiz believes Crawford fight happens soon
"I think it's more than a possibility. It's an inevitability at this point," said Ortiz Jr about Terence Crawford fighting him.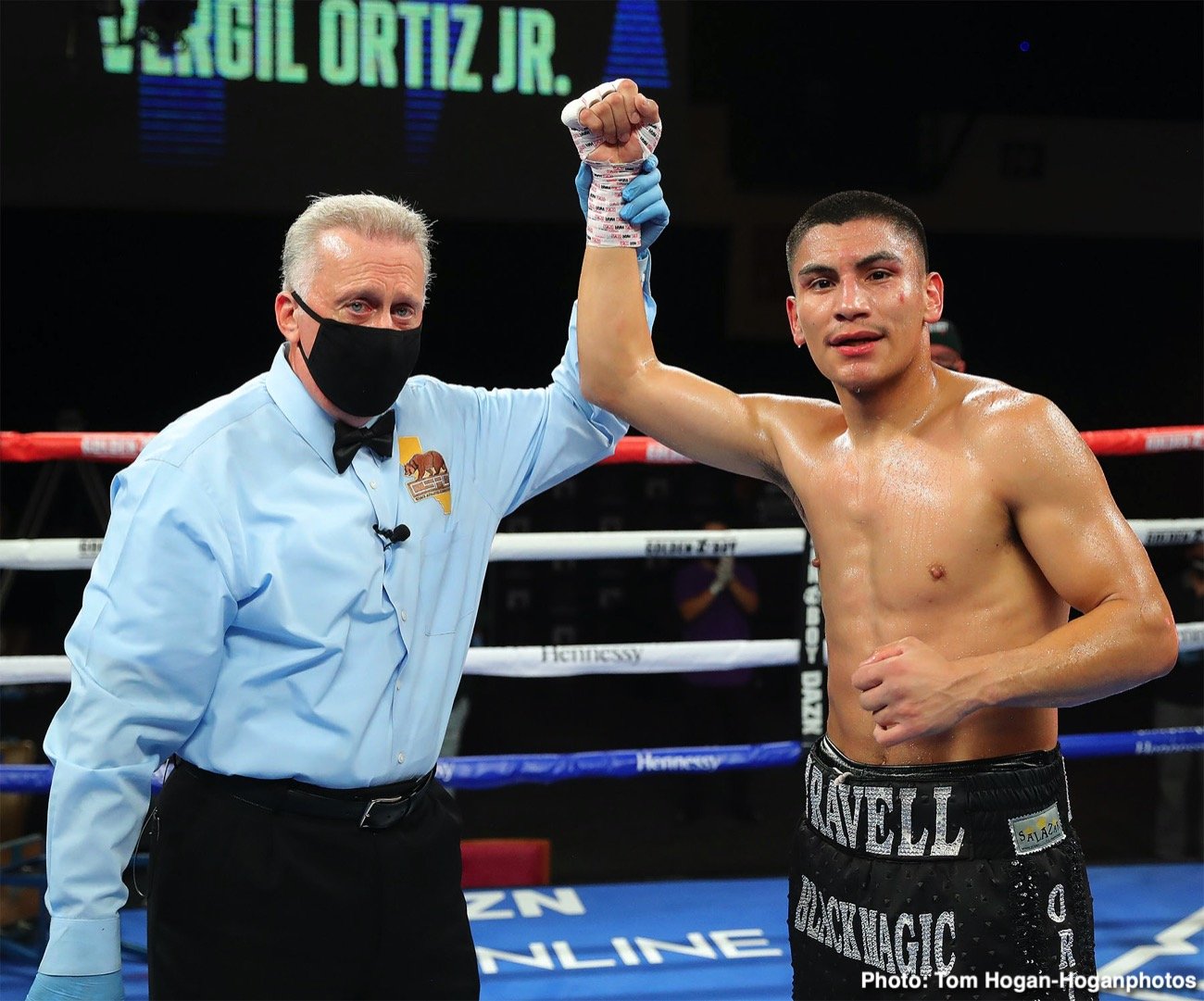 "Let's say I beat him [Hooker]. I'm winning the WBO International belt. Crawford holds the WBO world title belt.
"There's been talks between Oscar De La Hoya and Bob Arum, talking about my fight with Crawford.
"I'm pretty sure that if I beat their guy [Hooker], they're going to feel some kind of way and will want to get us back.
"I think that fight is 99 percent is going to happen. Maybe most likely, probably," Vergil said when asked if the Crawford fight will happen before the end of 2021.
"I'm excited for it; I really am. It makes me smile. I'm confident because I believe in my skillset. I think I have enough experience.
"I've fought against some big names already. I'm ready to fight the best. A lot of people have him #1 or #2 pound-for-pound.
"I'm willing to take that risk. To be the best, you have to fight the best," said Vergil about wanting to fight Crawford.
It isn't very likely Crawford faces Ortiz in 2021. Top Rank will try and maximize his final two fights with Terence in 2021, which means they're going to make the fights against Errol Spence Jr and Manny Pacquiao.
If Crawford is still the WBO 147-lb champion after this year, Ortiz will get a title shot against him in 2022, as long as he's mandatory.
Without being mandatory to Crawford, Ortiz will likely be avoided.
Ortiz not worried about the knockout
"I'm honored to be one of the best fighters in the Golden Boy banner," said Ortiz. "It's a responsibility but it's a good responsibility.
"I'm a pretty nice guy, but once the bell rings, I'm a completely different person. I'm out there stalking.
"I kind of turn on my predator mindset. I'm looking for any signs of weakness, scared, did you take that punch right?
"I'm in there to take you out. I'm in there to win, and I'm in there so that you don't hurt me. I have that mentality.
"It's either you or me, buddy. That's how I think of it. I can switch it on or off. I don't let my emotions take over.
"I'll be very happy if I get that decision, especially with a world title fight coming soon," said Vergil Ortiz about him potentially winning a decision over Hooker.
"I don't think I'm forced to get the knockout. It comes better when I don't think about it, so I'm going to continue doing that," said Ortiz.
Vergil should try his best to score a knockout because if he's forced to go the full 12 rounds with Hooker, he's going to take a lot of punishment.
Hooker can punch, and he's not someone that Ortiz can afford to let hang around.
Ortiz's opposition during his five-year professional career has been feeble, and this is going to be a massive step up in class for him.
No full-on plan for Vergil
It's not like trying to copy the way he fought Maurice Hooker," Ortiz said about Jose Ramirez. "It's more like to base it around it and do what I do best.
My own version of that. Other than that, we're just going to do what works for me and what's working at the moment.
That's what I like to do, and it's worked for every fight. I never have a full-on plan.
If I happen to hurt him just doing what I do best, that's when I go for the kill. I kind of forgot what it feels like.
I'm kind of stuck in the bubble-like feeling, so I'm excited about it," said Vergil about fighting in front of fans on Saturday in front of fans.
With this fight, the only plan that Ortiz, 22, needs to worry about is putting pressure on Hooker and backing him up.
That's been proven to work against the lanky 5'11" Hooker throughout his career. Jose Ramirez, Darleys Perez, Abel Ramos, and Tyrone Chatman all gave Hooker problems with pressure.
The three draws that Hooker has on his record could very well have been losses, as he appeared to lose all three of them.