Vasily Lomachenko revealed today that Devin Haney and his dad Bill Haney were lying when they said that a contract offer had been made to him for a fight. Lomachenko (14-2, 10 KOs) says he, his manager Egis Klimas or his promoters at Top Rank have received an offer from Haney and his promoters at Matchroom Boxing.
The two-time Olympic gold medalist and former three-division world champion Lomachenko believes that Haney ready had the fight signed for him to face Jorge Linares next when his dad Bill spoke to them about putting a fight together.
Lomachenko thinks that Haney, the WBC lightweight champion, was trying to "pull the wool over the eyes" of fans by making them think he wanted to fight him, but in reality, he is interested in facing 35-year-old Linares next.
Linares was recently destroyed in one round by Pablo Cesar Cano.
It's interesting what Lomachenko revealed about Haney and his non-offer because if this is true, it shows that the 22-year-old was using Loma's name to name-drop to get attention from the casual boxing fans.
"We did not receive any offers from Devin Haney. In my opinion, he only remembered me after he signed the contract with Linares," said Lomachenko to SnowqueenLA.

"He was trying to pull the wool over people's eyes… Devin, stop lying. Tell Eddie Hearn to send a contract."
Was this a move done by Matchroom promoter Eddie Hearn to get Haney some attention from fans, or did he and dad come up with the idea?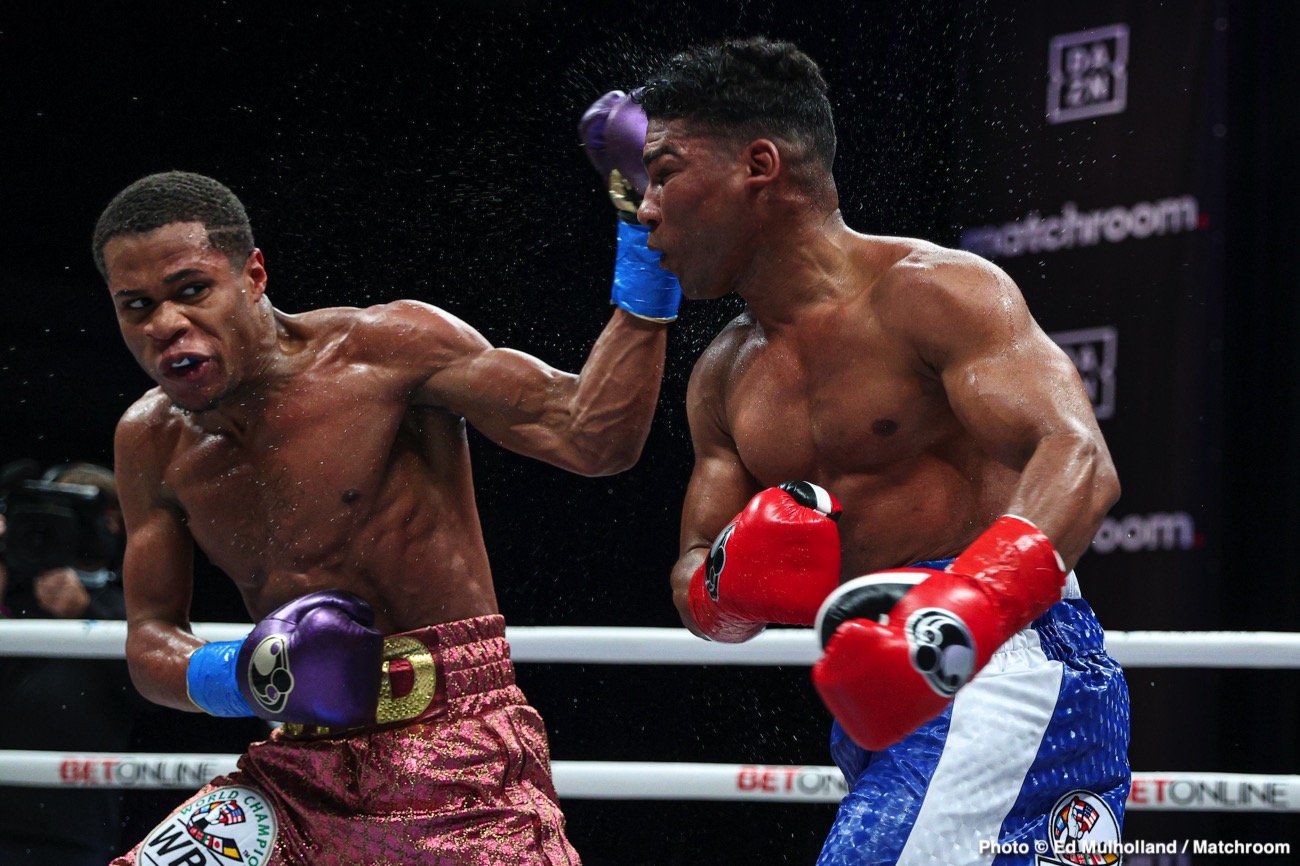 Devin Haney said recently on Instagram, "We are not going to say that Linares fight is official yet. Because we have sent Loma an offer to fight, so we will see how that goes. If he takes the fight, then that would be the fight. If not, then we are going to move on to Linares."
Haney might as well say the fight with Linares is official because Lomachenko has exposed that he was never given an offer from Team Haney, period. If the idea is for Haney to give the impression that he was interested in fighting Lomachenko, that's now been shot out of the water with Loma's revelation that no offer was sent to him.
The only other way that it would make sense for Haney and his dad to be giving the appearance that they're sending offers to Lomachenko is if they were using him to get Linares to come in at a lower price.
If Linares thought that Haney had Lomachenko as another option, he might not have been as easy to negotiate with.
"Either Bob [Arum] can negotiate with Eddie [Hearn] and make it happen [before] April 2022 while I'm still with Top Rank, or I have to wait a year, get out of the contract and then fight Haney," said Lomachenko.
Well, if Team Haney is saying they gave Lomachenko an offer that he and his team never received, it's ridiculous to think that they're going to start negotiating for real in 2022.
Lomachenko needs to see this as a sign that Haney and/or his team wants no part of fighting him. It seems more like Lomachenko's only use for Team Haney would be for name-dropping/clout-chasing to get attention without actually fighting him.