Super middleweight champions Billy Joe Saunders (30-0, 14 KOs) and Canelo Alvarez will be battling it out on May 8th in front of fans at Allegiant Stadium in Las Vegas, Nevada, or the AT&T Stadium in Arlington, Texas.
These are two venues that can pack many fans, and he massive if Canelo-Saunders can sellout. There's a lot of money to be made for the fighters if they can fill the 80,000 seats AT&T Stadium in Arlington.
Canelo fought there five years ago in bringing in 52,000 fans for his fight against Liam Smith.
It's still not decided yet by the event organizers, but we'll be hearing something soon.
Saunders brings the skills
"Just minutes after Canelo Alvarez defeated Avni Yildirim, it was announced Canelo's next fight will be against Billy Joe Saunders on May 8th," said Chris Mannix to DAZN.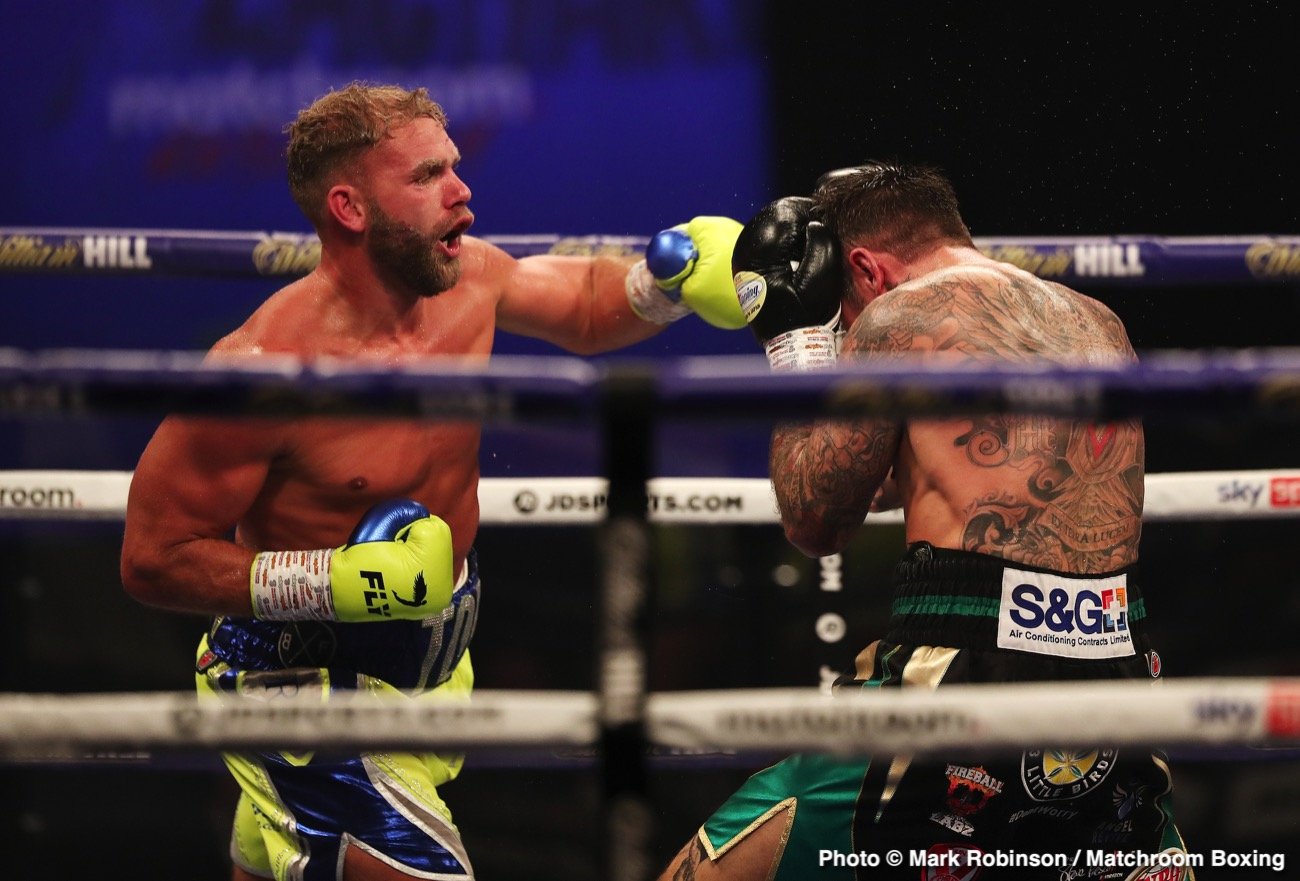 "Saunders owns a piece of the 168-lb title. Canelo has two of them [WBA and WBC]. This will be for the unified championship. Canelo Billy Joe Saunders defeat Canelo?"
"Yes, he has the ingredients to do it. He is a southpaw, he is a boxer, just like Erislandy Lara was, just like Austin Trout was," said Sergio Mora.
"Floyd Mayweather wasn't a southpaw, but he had the skills of a southpaw, fighting behind a jab, not letting you plant your feet. So Billy Joe Saunders has all that, and he has swag.
"So he can match the swag of a superstar like Canelo, so this is exactly what you need. Someone that isn't going to let you impose your star because he's going to bring his own star power to the game."
"I think Billy Joe Saunders is the most powerful pure boxer that Canelo will have faced since he fought Erislandy Lara," said Mannix.
"He is as you said, a southpaw, really skilled, moves in and out well, knows how to stick and move. I think he'll be a challenge. He doesn't really have the power to affect Canelo.
"That is going to be a problem because Canelo, I think, in a fight like this, is going to continue to come forward," said Mannix.
Saunders's skills give him a great chance of making Canelo look bad and clowning him in the way that he did with David Lemieux. If Saunders can totally embarrass Canelo, he has a shot at winning.
The judges won't give Canelo the win if Saunders puts on a boxing clinic against him as he did against Lemieux. That would be really something if Saunders does that to the Mexican star.
Canelo has problems with slick boxers.
"Billy Joe Saunders, like so many Canelo opponents, is going to be willing to throw those types of combinations," said Mannix.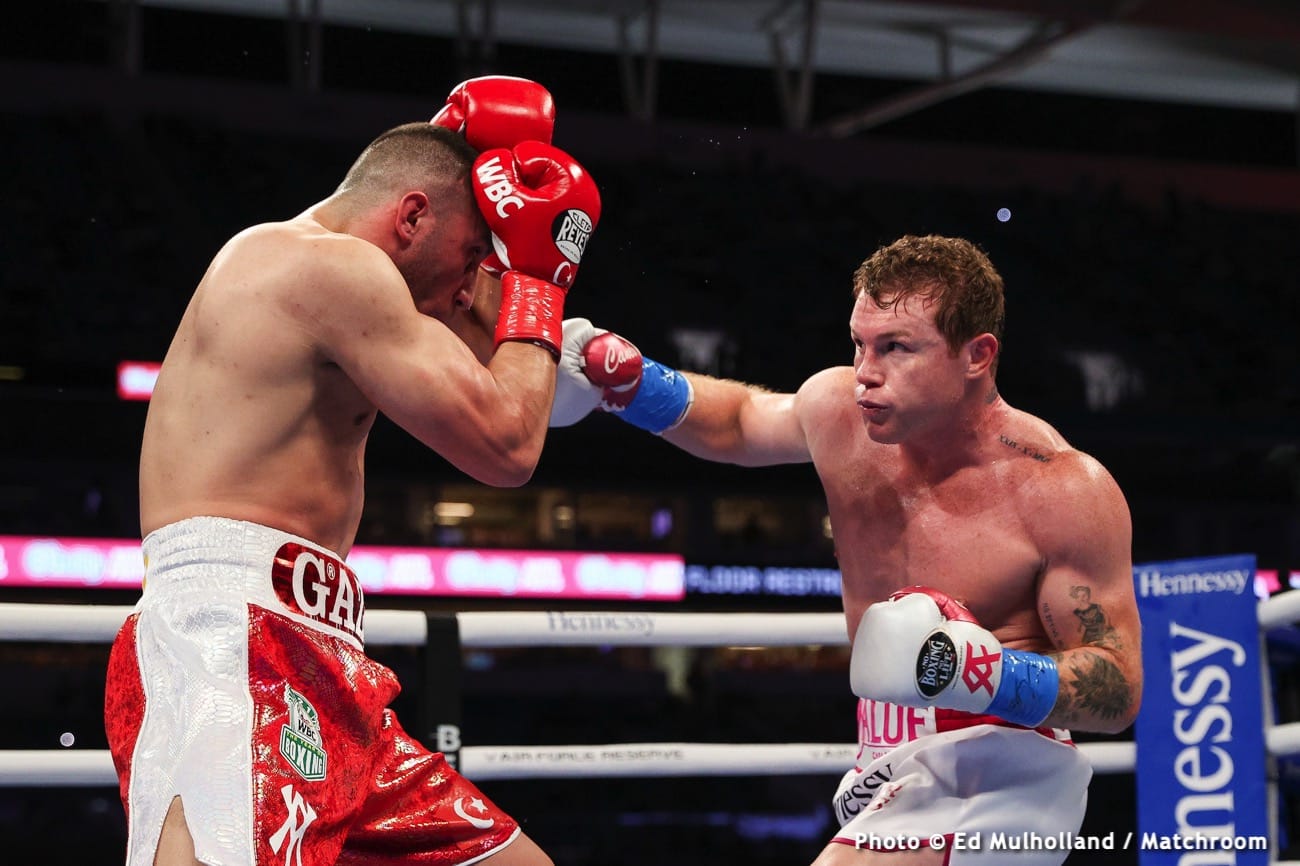 "I agree with you. Guys like Lara, Trout, and Mayweather have been among those who have caused Canelo problems, but that was eight years ago now.
"It has been a run where only Gennadiy Golovkin has caused Canelo some problems. So I think Billy Joe Saunders is going to talk the talk, we know that.
"Coming in, he's going to try and walk the walk, but it's a stiff test against Canelo."
"It's always power that people have never boxed always want to bring up," said Mora. "Power is not what really intimidates power punchers.
"It's slick fighters, defensive fighters. We already seen him fight a light heavyweight in [Sergey] Kovalev.
"They call him 'The Krusher,' and we saw what happened. Golovkin, one of the most powerful punchers in the last 20 years, and we saw what happened there.
"Power is not going to intimidate Canelo. Its speed, its angles and it's to have to follow him and use the ring.
"These are the things that actually frustrate Canelo. That's what Billy Joe Saunders has."
Canelo does indeed have massive problems against slick boxers, and he deserves losses to Austin Trout and Erislandy Lara. Saunders can give Canelo a lot of problems but may end up losing anyway.
Canelo has been very, very lucky when it comes to the scoring for his fights when he's faced slick boxers in the past. Even Floyd Mayweather Jr wasn't able to get a unanimous decision against Canelo.
Will fans care if Canelo becomes undisputed at 168?
"Billy Joe Saunders, he gets up for these types of fights," said Mannix. "He goes down for the mediocre fights, but he gets up for the big ones.
"On May 8th, Canelo will face Billy Joe Saunders to become one step closer to becoming the undisputed super middleweight champion.
"Canelo has won world titles in the past at 154, 160, and 175, but he seems locked into becoming the undisputed 168-pound champion. How big of an accomplishment will it be for Canelo to become the undisputed champion at 168?"
"There's only been one Mexican super middleweight champion and that was Zurdo Ramirez," said Mora.
"Now he [Canelo] wants to become more than a 168-lb champion at 168, which he already is. He wants all the belts, he wants history.
"He's chasing his legacy, and that's what makes Canelo Alvarez so special. The fact that he wants to bite off more than he can chew. People still won't give this man credit for it, no matter what he does.
"This is a stay-busy fight, but he's going to get back to business in May. This a superstar, and we're witnessing greatness."
It won't register with the average boxing fan if Canelo becomes the undisputed champion at 168. The casual boxing fans don't follow the sport closely enough to be impressed by Canelo unifying the super middleweight.
You can also say that hardcore boxing fans won't be impressed wither because they know that Billy Joe Saunders and Caleb Plant are basically just belt-holders who fought weak fighters to become champions.
Neither of those paper champions has defended against quality guys since winning their respective titles. For example, Plant defeated Jose Uzcategui to win his IBF 168-lb title. Since capturing the IBF belt, Plant has defended it three times against these fighters:
Mike Lee
Vincent Feigenbutz
Caleb Truax
In Saunder's case, he won his WBO title against Shefat Isufi, and he's defended it two times against these limited fighters:
Martin Murray – 38-years-old
Marcelo Esteban Coceres
Fans only care if a fighter faces opposition that they respect, and Canelo will be missing the mark if he beats Saunders and Plant. Basically, Canelo is wasting his time because he's not going to get what he thinks he will.
Is 175 next for Canelo?
"I'm not sure in the four-belt era, which is sometimes the five-belt era, which is sometimes the twelve-belt era that being undisputed matters all that much," said Mannix.
"I'm more interested in the type of fights he gets. To become undisputed, if you have to go through Billy Joe Saunders, an undefeated champion and Caleb Plant, an undisputed champion, those are two legitimate fights.
"I'm surveying the landscape and Saunders and Plant are among the top five guys I would want to see Canelo face.
"So as long as he's not hubcap title holders, guys that back into belts, I'm okay with that. I think this is a worthy cause for a new approach."
"The Billy Joe Saunders fight will be a respectable fight, he's fighting an undefeated champion, a popular champion [in the UK, but not the U.S]," said Mora.
"He'll [Saunders] will be the bad guy, he'll promote the show, and he's a hell of a fighter. But Canelo wants all the belts. So after Billy Joe Saunders, he wants Caleb Plant.
These are two boxers. They're not punchers they're undefeated boxers. That's who will exactly give issues to a fighter as explosive as Canelo."
"Let's not forget if Canelo becomes the 168-lb champion this year, there's a chance there could be an undisputed 175 champion next year, so it'll be another weight class and another accomplishment for Canelo," said Mannix.
If Canelo chooses to go up to 175 to become the undisputed champion in 2022, that would be a major accomplishment. Unfortunately, it's unlikely that Canelo will take that step, as it would mean that he would need to beat these tough fighters:
Artur Beterbiev – IBF & WBC
Dimitriy Bivol – WBA
Joe Smith vs. Maximi Vlasov winner – WBO
Canelo's trainer Eddy Reynoso recently said that he doesn't want him to be fighting at 175 because it gives his opponents too much advantage. So unless Canelo ignores Reynoso's advice, we won't be seeing him there.
Besides, Reynoso claimed in 2019 that Sergey Kovalev was the #1 fighter at 175. So if he really believes that, it would be pointless for Canelo to fight Bivol, Beterbiev, or the winner of the Joe Smith Jr vs. Maxim Vlasov fight.
Reynoso also said that he viewed Callum Smith as the #1 fighter at 168, which is hard to believe. David Benavidez is arguably the #1 guy in the division, followed by Canelo, Caleb Plant, Billy Joe Saunders, and Edgar Berlanga.