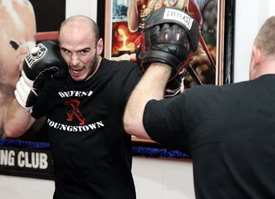 31.01.08 - Photo by Chris Farina - Top Rank - KELLY PAVLIK : "I know Taylor wants redemption, he's a competitor, but that may be his downfall. I can tell he is more intent on beating me than on winning the fight and believe me, there is a difference in those philosophies. This fight is my sole focus. I've been watching more tape than I usually do. Jack and I have been working on correcting the mistakes I made in the last fight -- I won't be sticking my chin out in this fight. The rematch is going to be tough, but I think he has a lot more to correct than I do. I'm having my best training camp ever. Winning the title has added extra motivation to me. It has spurred me to raise my performance to another level...a level I have never experienced before.. continue


---
WBC #9 light heavyweight contender Braimah Kamoko has been added to the February 8 boxing event at Sheikh Rashid Hall in the Dubai World Trade Center. Promoter Jessie Robinson says the addition of Ghana's Kamoko (23-0, 13 KOs) brings even more prestige to this groundbreaking night of boxing in the United Arab Emirates that already features former heavyweight and light heavyweight champion of the world "Double M" Michael Moorer. continue


---
Alex Arthur has got his dream super-fight against Joan Guzman for the WBO World Super-Featherweight title. Promoter Frank Warren won the purse bids today (Thursday 31 January) held at the WBO head office in Puerto Rico with a huge US $280,000 bid, beating Guzman's promoters Sycuan Ringside Promotions. continue


---
31.01.08 - This Friday, February 1, sees comeback kid Tony Oakey put his career on the line once more when he steps up against English light heavyweight champion Peter Haymer, who came away the winner in a hotly disputed decision over the British Champ when the pair fought in June, 2005. continue


---
By Matthew Hurley: There have been few fighters in recent years with a more flair for the dramatic than Thomas 'Hit Man' Hearns. The lanky kid out of Detroit who failed to qualify for the Olympic team terrorized the welterweight division in the late seventies and early eighties with a baleful gaze, a whip-like left jab thrown from the hip and a concussive right hand that decimated opponents in the blink of an eye. He glided around the ring, almost demonically, on legs that looked like pipe cleaners.

When he won, it was usually emphatically and when he lost it was the flip-side of that very coin. His most significant victories may be overshadowed by his losses to Sugar Ray Leonard and Marvelous Marvin Hagler but his status as an all time great fighter was enhanced by the manner in which he lost – carried out on his shield, his warrior's code intact. continue


---
By W. Gregory Guedel: Those who observed the recent Heavyweight bout between Alexander Povetkin and "Fast" Eddie Chambers in Berlin no doubt recognized a familiar face in Chambers' corner: James "Buddy" McGirt, who was serving as assistant trainer. McGirt was brought in to supplement the training normally handled by Eddie's father, and help to prepare Chambers for the rigors of fighting Povetkin on foreign soil. continue


---
31.01.08 - The Donofrio Boxing "FIRE & ICE" card that was to feature Detroit's two hottest lightweights, scheduled for Friday, February 1 at the Palace of Auburn Hills, Michigan, was dealt a blow this week when undefeated Vernon "The Iceman" Paris announced he had suffered a hand injury. continue


---
Ahmet Öner: "There's no way Universum can squirm out of the fight!" - At today's press conference in Krefeld (Germany) Universum started to spread rumours about replacing Juan Carlos Gomez in the WBC Final Eliminator against Vladimir Virchis. According to different matching sources there has been talk of another contender stepping in. continue


---
30.01.08 - by James Slater: Mexican-American welterweight contender Alfonso Gomez was once known best as a star of the hugely popular Contender T.V show. This is not the case anymore. After beating up modern-day legend Arturo Gatti in 7 largely one-sided rounds last July - in a fight that prompted "Thunder" to call it quits in his career - underdog Gomez was propelled onto the world stage and into the world rankings. Now, after adding a useful points win over the teak-tough Ben Tackie to his resume, the 27-year-old who lives in Whittier, California, is getting ready for the biggest fight of his life - an April 12th 'world' title fight with the superb Miguel Cotto. A big outsider in most eyes, Gomez, 18-3(8) feels he can prove the odds makers wrong once more.

Possessing plenty of heart and courage, the 5' 9" Gomez has rapidly become a fan-favourite with his exciting fighting style. Indeed, ever since leaving The Contender house, the fighter born in Guadalajara, Mexico has had more than a few fans claming he would one day capture a world title. Doing so, and fulfilling a life-long dream in the process, is now tantalizingly close for the popular Gomez. continue


---
With less than a month to go to the heavyweight unification showdown on February 23rd between WBO Champion Sultan Ibragimov and IBF Champion Wladimir Klitschko at Madison Square Garden in New York City, anticipation is reaching a fever pitch and tickets are rapidly being snatched up by fans eager to watch boxing history in the making. continue


---
NEW YORK (January 30, 2008) – International Boxing Federation junior welterweight champion Paulie "The Magic Man" Malignaggi has started off the new year in grand fashion, appropriate for one befitting a young world champion with his flamboyant personality and crossover appeal. continue


---
Ft. Lauderdale, Florida, USA – Arena Box Promotions from Hamburg, Germany in association with DeCubas Presents, LLC are proud to announce an all star boxing card to be held on Friday February 22nd doors open 6PM first fight at 7PM featuring 2004 Olympic Gold Medal Winner from Guantanamo, Cuba and Undefeated Featherweight Yuriorkis "El Ciclon" Gamboa 8-0 7 KO's #5 WBC vs. Johnnie Edwards 13-1-1 7 KO's #12 WBA. continue


---
30.01.08 - Jaime Castro-Núñez: WBO Junior Welterweight titleholder Ricardo Torres is well-known in the boxing world for two things: heavy hands and a circumspect personality. Respectful to other boxers, the 27-year-old champion is not the kind of pugil who uses phrases like "I'm gonna knock you out," "you've made a mistake accepting this fight with me," or "I'll make you pay in the ring." Indeed, he professes respect for his colleagues not only by remaining silent, but also by talking what is strictly necessary. This is his boxing philosophy: "I let my fists do the job that belongs to my tongue"

But Ricardo, who is back in the gym after a two-week recess, broke yesterday that personal philosophy to call out British contender Ricky "The Hitman" Hatton. "I want Hatton, I want Hatton," he said. Initially scheduled to fight Mike Alvarado (19-0-0, 13 KOs) on February 16 in Las Vegas, NV, the charismatic boxer stressed that he is more than eager to lean his fists on Ricky's nose. continue


---
New York (January 30, 2008)—DiBella Entertainment's Broadway Boxing returns to New York City on Wednesday night March 5 at the Grand Ballroom at Manhattan Center. Staten Island featherweight Gary "Kid" Stark (20-2, 8 KO's) and Spanish Harlem welterweight Edgar "El Chamaco" Santana (22-3, 14 KO's) will headline the night of exciting boxing action in the heart of Manhattan. continue


---
Legendary Aussie trainer Johnny Lewis says that Gairy St Clair is as good as anyone he has ever worked with before. Veteran Lewis helped guide greats like Kostya Tszyu and Jeff Fenech to world titles, and has worked with a host of other leading Australia-based fighters. Along with experienced Angelo Hyder, he will be in St Clair's corner on Saturday night when he challenges Amir Khan for the Commonwealth lightweight title at London's ExCel Arena. continue


---
NEW YORK (Jan. 29, 2008) – In anticipation of the impending rubber match between super bantamweight world champions Israel Vazquez and Rafael Marquez, SHOWTIME will re-air both scintillating boxing matches between the offensive-minded sluggers in their entirety on Saturday, Feb. 2 at 11 p.m. ET/PT. The instant classics—titled Marquez-Vazquez I & II—will also air on SHO2 on Friday, Feb. 1 at 10 p.m. ET/PT and Friday, Feb. 29 at 10 p.m. ET/PT. continue


---
By Paul Strauss: Okay, let's test your knowledge of fighters. You need to come up with ten names.....five are oldsters, three are current, and two are......well you'll find out. Below are clues and hints to help you along the way. Some are tricky and will take all of your skill and imagination. Get all ten and you peeked at the answers. Seven to nine - you qualify as an Old Fart. Three to six and you're either a promoter, or need to get a life. Zero to two and you're probably some kind of palooka, who submits a lot of comments to ESB. (Answers below)

1.) This fellow was so gaunt and pale, he looked like he just climbed out of a hospital bed. He was already fighting at age sixteen, and claimed (exaggerated) that he had more than 800 fights in his life time. continue


---
VERO BEACH, Florida (January 29, 2008) – Unbeaten super middleweight prospect James McGirt, Jr. (18-0, 9 KOs) and his father/trainer, James "Buddy" McGirt (73-6-1, 48 KOs), former two-time world champion and 2002 Trainer of the Year, are on a special mission together. continue


---
January 29, 2008-The John Bray Boxing Club is holding the 1st Annual John Bray Free Youth Boxing Clinic to help the community in preventing violence and promoting discipline and academic success among school-age students by interfacing with local community leaders. With the cooperation and interest of community leaders as well as youth in the area, we have arranged this Free Youth Boxing Clinic because of the issues with kids that are of crucial importance to the community. continue


---
By Zachary Q. Daniels: Those familiar with Adam Pollack's series on the heavyweight champions will not be surprised to learn that Pollack has done it again - produced a detailed, well-researched and revealing account of the ring career of the third heavyweight champion of the gloved era, Bob Fitzsimmons. continue


---
By Paul McCreath: Last Saturday night in Germany America's most recent young hopeful, Eddie Chambers went down to a disappointing defeat at the hands of the Russian rising star, Alex Povetkin in an IBF final eliminator. This defeat and especially the nature of the defeat has pretty much assigned Chambers to the scrap heap for the time being at least. Whether he can come back into contention later remains to be seen. He is young enough at 25 to come again but does he want it badly enough?

The old geezers we have come to know so well over the past few years are pretty much gone from title contention now. I hardly need to name the names, you know who I mean. It would take a miracle of unprecedented activity as well as an upset win or two for any of them to ever get another chance. continue


---
By Matthew Hurley: As Amir Khan, 15-0 with 12 KOs readies himself to defend his Commonwealth lightweight title this Saturday against veteran Gairy St Clair in London the rising contender sees his third defense as the biggest test of his young professional career. St Clair, 39-5-2 with 17 KOs is a former International Boxing Federation super featherweight champion and has shared the ring with former champions Diego Corrales, Vivian Harris and Leonard Dorin. continue


---
By Matthew Hurley: International Boxing Federation light heavyweight champion Clinton Woods, 41-3-1 with 24 KOs has finally been given the opportunity to step into the ring with current IBO champion Antonio Tarver, 26-4 with 19 KOs after several years of absorbing verbal taunts from the ever loquacious former undisputed light heavyweight champion. continue


---
FSN is going back inside the squared circle with three women's championship fights, including a main event featuring Holly Holm, 2005 and 2006 Ring Magazine female fighter of the year, 2006 IFBA fighter of the year and 2007 WBAN fighter of the year who is one of the biggest draws in women's boxing. But all of the accolades and attention will be worthless if Holm doesn't defend her title during the BEST DAMN CHAMPIONSHIP FIGHT NIGHT PERIOD special, airing at 11:00 PM local on Friday, February 8 from the Pechanga Resort and Casino in Temecula, CA. continue


---
NEW YORK (Jan. 29, 2008) – A second light heavyweight world title fight has been added to the April 12 edition of SHOWTIME CHAMPIONSHIP BOXING, Ken Hershman, senior vice president and general manager, Sports & Event Programming, SHOWTIME announced today. IBF light heavyweight champion Clinton Woods will defend his title against IBO titleholder and former undisputed 175-pound kingpin Antonio Tarver at the St. Pete Times Forum in Tampa, Fla.

Tarver vs. Woods, an intriguing match-up in its own right, joins the already highly anticipated light heavyweight championship fight between WBC world title holder Chad Dawson and former world champ Glen Johnson, making April 12 an important night for boxing on SHOWTIME. continue


---
29.01.08 - Rich Cappiello's Cappiello Promotions, and Oscar De La Hoya's Golden Boy Promotions, have officially announced a tremendous night of professional boxing, to be held Friday, February 8 at The Castle at Park Plaza in Boston, Massachusetts. continue


---
29.01.08 - Frankfurt heavyweight Willi 'De Ox' Fischer aims to clear the final hurdle towards a meaningful fight when he headlines a small event near Utrecht in the Netherlands on February 16, staged by Fight Production and Wim Koelewijn in cooperation with the amateur club 'De Voltreffer'. continue


---
By Andrew Briggs: After disappointing back to back losses to Marcus Beyer and the massive local match up loss to Anthony Mundine, Danny Green (25-3, 22 KOs) has finally delivered his West Australian fans with the world title that has for nearly 5 years eluded him. Much was written about Stipe Drews in the press here in Australia due to the last time that he came here because of his strange and unsportsmanlike like performance against Paul Briggs in which Drews kneed, head butted and did everything possible to keep himself upright after a 6th round knockdown from the hands of Briggs. continue


---
By James Slater: A rematch that many said would not happen, in Antonio Margarito-Kermit Cintron II, thankfully takes place this coming April. I say thankfully, because the fight is a good one, and many felt it would not take place due to the one-sided beat down Margarito gave Cintron in their first meeting. Why would Cintron be willing to go through that again?, the critics asked. Well, it turns out Cintron is well and truly willing to get back in a ring with the Mexican danger man, and this time "El Asesino" is confident he will win.

A double-header with the also intriguing Miguel Cotto-Alfonso Gomez bout, Margarito-Cintron II could well be an exciting fight while it lasts. The question is, can Kermit get what he wants this time - namely, revenge? Remember how one-sided fight one was? What improvements can the 28-year-old Cintron have made since? continue


---
28.01.08 - By Jason Rhodes: Sweet Dreams is a powerful debut documentary from filmmaker Eric Scott Latek which chronicles the rise of hard-hitting lightweight prospect Gary "Tiger" Balletto from local glory to the periphery of boxing's big-time.

Twenty-seven year old Balletto is known in his Providence, Rhode Island neighborhood as a throwback to an older generation of Italian fighters. continue


---
Matthew Hurley: The WBO's number two ranked junior welterweight contender Kendall Holt, 22-2 with 12 KOs returns to the ring on Thursday, February 7th at the Hard Rock Hotel & Casino in Las Vegas to take on Ben Tackie, 29-8-1 with 17 KOs in a ten round bout. Holt was last seen losing by eleventh round technical knockout to WBO champion Ricardo Torres in September. Tackie has lost his last two fights by ten round decision to Alfonso Gomez and Freddy Hernandez. continue


---
Fighting action on Friday, February 29 at the Sporthalle Hamburg: "Killer Queen" Susi Kentikian headlines the "ProSieben Fight Night". The fight night starts at 6.00 pm with ProSieben broadcasting the main fights from 10.45 pm LIVE. TV commentators for the event will be Regina Halmich and Jan Stecker. continue


---
28.01.08 - By Vivek Wallace: As 2007 ended boxing aficionado's wondered whether or not that buzz would carry over to 2008, and as we stand a month deep into the new year, it appears that question has been answered, and perhaps a few more raised.

You can never be too sure of anything in this sport and the years first marquee matchup was truly a sign of the times. A little over a week ago fight fans watched in great anticipation as two men that were categorically listed as D.M.W.'s - (Dead Men Walking) - came out and proved to be the exact opposite.

Roy Jones Jr.: continue


---
LAS VEGAS (January 29, 2008) – Two-time WBA heavyweight champion John "The Quietman" Ruiz (42-7-1, 29 KOs), rated No. 3 by the WBA and No. 6 by the WBC, returns to the ring March 8 against Jameel "Big Time" McCline on the Oleg Maskaev-Samuel Peter card in Cancun, Mexico. "I'm getting ready to clean-up the heavyweight division, starting March 8 with McCline, and then I want the Maskaev-Peter winner," Ruiz said from his Las Vegas training camp with head trainer Manny Siaca, Sr. "McCline almost beat Peter in his last fight and he's a lot better than some people give him credit for. He floored Peter three times but we'll see how tough he is on March 8. continue


---
By Cesar Pancorvo: 2007. It seems natural that the winner of Mayweather-Hatton fights the winner of Mosley-Cotto: the Welterweight Champion against the #1 contender, two big stars, two P4P fighters. Cotto beats Mosley, in a close and competitive fight, and Mayweather beats Hatton by knockout, after trouble in the early rounds. Hatton's weight, the night of the fight, is similar to the weight of his fights as Junior Welterweight Champion. Many people say Mayweather defeated a blown-up Junior Welterweight. Many people don't remember that Mayweather started at Super Featherweight. continue


---
By Matthew Hurley: Back in 2006 Chris John won a disputed decision victory over Juan Manuel Marquez with the World Boxing Association featherweight championship on the line. It proved to be the nadir of Marquez's career and a watershed moment for John. Marquez, whose star was rising after a spirited draw with Manny Pacquiao in 2004, discovered what a slippery slope it is to reach the pinnacle of the sport. Always regarded as a diamond in the rough, Marquez struggled to escape from the shadows of his two more celebrated Mexican countrymen, Erik Morales and Marco Antonio Barrera. continue


---
Interview By Christopher Roche, Brickcityboxing.com: When IBF Champ Kermit Cintron pulled out of the scheduled bout against WBO Champ Paul "The Punisher" Williams, some observers suspected that Williams could suffer a letdown. After all, Williams and his team watched a huge welterweight unification bout go up in smoke.

Williams promises there will be no letdown. Carlos Quintana was eventually named as Williams' new opponent, and Williams took the change in stride. He spoke with me over the phone, from his training camp in Puerto Rico. I asked Williams how he is keeping his motivation level high, given the aforementioned change in circumstances regarding his next bout. continue


---
By "Old Yank" Schneider: So your fighter punched the stuffing out of his opponent and he lost anyway. How in the world did that happen? The judges must be crooked. The fix was in from the start. Your fighter ended the bout looking like he was ready to pose for a shaving cream commercial while his opponent looked like he barely survived a trip though a meat grinder. Were the judges blind? Or did you just miss something? Wake up fan! "It's the points stupid!"

So what is the "Ten Point Must System" and why should you care? Guess what? Every decision that does not go your way is much more likely due to your lack of understanding of the "Ten Point Must System" then it is to a collection of incompetent or crooked judges. Simply put, the "Ten Point Must System" is the scoring system used by judges to score an individual round in a boxing match. continue


---
The March 8th "Universum Champions Night" at the KönigPALAST in Krefeld, Germany will present female world champions Ina Menzer and Alesia Graf in world title defenses, plus heavyweight contender Vladimir Virchis and cruiserweight Rudolf Kraj in important WBC eliminators. continue


---
Two-time national amateur champion Edwin Rodriguez of Worcester, Mass., fresh off a most successful professional debut, returns to the ring Feb. 8 in a four-round middleweight bout in Boston. The opponent for the 22-year-old Rodriguez is Fitzgerald Johnson of Asheboro, N.C. The 6-foot Rodriguez is coming off a first-round knockout of Samuel Ortiz Gomez Jan. 26 in Mansfield, Mass. continue


---
World Class Fight Promotions and #1 Cochran invites all media to attend the final press conference for Friday night's showdown between popular Champion Monty Meza-Clay and recent IBF Featherweight Champion of the World Eric Aiken in the heated 12-round Main Event at The Pittsburgh ExpoMart on Friday February 1st. continue


---
By V.S. at ringside: Undefeated Alexander Povetkin (15-0, 11 KOs) had an easy time tonight defeating previously unbeaten American Eddie Chambers (30-1, 16 KOs) by a lopsided 12-round unanimous decision at the Tempodrom, Kreuzberg, in Berlin, Germany.

With this win, Povetkin becomes the mandatory challenger for IBF heavyweight champion Wladimir Klitschko. The first three rounds were heated, with Chambers landing a number of hard combinations. However, after the 3rd round, the 28 year-old 2004 gold medalist Povetkin took over the fight, badly outworking Chambers the rest of the way. continue


---
by James Slater: It's a fact these days, seemingly more so than ever before, that past it heavyweights are refusing to retire once they are done. Just look around, and what do you see? Men with surnames, Holyfield, Moorer, Tua, Toney, Ruiz, Donald, Mercer, Briggs and others still insisting on lining up further fights when everyone apart from them themselves knows they are through. continue


---
Hardman Gairy St Clair has vowed to celebrate his 33rd birthday on Saturday with a devastating KO of Amir Khan. The Australia-based Guyanan will challenge British boxings golden boy Khan for the Commonwealth lightweight crown at London's ExCel Arena, and is intent on creating a major upset. He performed a brief media work out at the Peacock Gym in the East End today, not wanting to give away too much but has promised to blow-out Khan's flame. continue


---
By Phil Santos – Overhandright.com - Saturday night on HBO's Boxing after Dark the most recent hope for an American Heavyweight champion was vanquished. To make matters worse for the red white and blue the loss came at the hands of yet another promising young Russian in Alexander Povetkin. continue


---
By Ted Sares: In his signature relaxed style. Fast Eddie held his own during the first part of the fight with sharp and punishing lead rights (that produced a welt under Potvekin's left eye), sharp counters and a solid defense. Povekin kept busier and responded with excellent body work.

As round six started, I had things close with the Russian fighter assuming momentum. Povetkin picked up the pace in the seventh using nice rights and outworking Chambers as he moved ahead at that point in what was turning out to be a crowd pleaser.

In the eighth, Eddie awoke to some degree but was still being outworked. However, Povetkin threw fewer punches in bunches which signaled possible fatigue. continue


---
Alexander Povetkin cruised to an unanimous points victory over Eddie Chambers to become the next mandatory challenger to IBF champion Wladimir Klitschko. The White Lion (15-0, 11 KOs) impressively outworked his opponent with heavy combinations to head and body and was ahead 119-109, 117-111 and 116-112 on the scorecards. "It was a very tough fight," Povetkin said after 12 action-filled rounds. "I am happy to have won. It´s my goal to become world champion and I moved one step closer today.. continue


---
Chicagoland and Northwest Indiana fight fans are invited to Langel's Pizza, 2833 Highway Avenue in Highland, Indiana, this Thursday at 6 p.m. for the official boxer weigh ins for One In A Million's six-bout card the following night. continue


---
Philadelphia (January 2008)—On December 7th 2007, one of the classic fights in Philadelphia took place at The Legendary Blue Horizon as Lenny DeVictoria came off the floor to stop Elad Shmouel in round six of their scheduled eight round Jr. Welterweight affair. continue


---
By Mike Cassell: Roy Jones Jr. showed the world a bit of the past by totally dismantling an aging Felix Trinidad in Madison Square Garden. Seemingly lifted from pugilistic purgatory, Jones wants to fight the best, but this time he wants to do it with a new appreciation for his skills and the sport of boxing. The real question is, will anyone take the chance with the former self described Superman?

MC

Is it a fair assessment that this time around you have a new appreciation for your god given skills and boxing itself?

RJJ continue


---
27.01.08 - Dominic Pesoli's 8 Count Productions mark their ten year anniversary as THE HOME OF THE BEST IN CHICAGO BOXING with an outstanding evening of world class professional boxing as they present CELEBRATION on Friday, February 15th at Cicero Stadium. Said Pesoli, "I'm honored to enter my second decade promoting professional boxing. It's been an incredibly rewarding experience presenting monthly and sometimes twice monthly events in Chicago. I'm very thankful to the fight fans in Chicago who have been loyal to 8 Count Productions over the last 10 years and we will continue to honor them with great fights and terrific events.. continue


---
By Frank Gonzalez Jr. January 27th, 2008 - Congratulations to the still undefeated, newly deemed IBF top Heavyweight contender, Alexander Povetkin for a solid victory over "Fast" Eddie Chambers, a man with quick hands and quality boxing skills, who brought his undefeated record to the ring when they met Saturday night in Berlin Germany. Povetkin won a twelve round decision by scores of 117-111, 119-109 and 116-112. continue


---
Per Ake Persson: German press writes today that former IBF and WBA supermiddle champ Sven Ottke could be coming back to face Dariusz Michalczewski May 24 in Hannover. Michalczewski, 48-2, should have fought another oldtimer in Graciano Rocchigiani but "Rocky" pulled out. Ottke makes no ifs and buts about why he is coming back: MONEY. continue


---
By James Slater: Five years ago today (January 25th) Nicaraguan wild man Ricardo Mayorga well and truly established himself at the elite level of the welterweight division, with a stunning and unexpected 3 round TKO win over the talented World Boxing Council 147 pound champion Vernon "The Viper" Forrest. Mayorga, then aged 29, and with a relatively modest record of 24-3-1(22) had won the WBA version of world honours at welterweight, with a TKO win over Andrew Lewis in his previous fight. But going into his bout with the 35-0 Forrest, "El Matador" was very much the underdog.

Forrest, then aged 32, had just beaten the sensational "Sugar" Shane Mosley (twice) to win his WBC belt. Going up against the dangerous, yet wild and reckless Mayorga, Forrest wasn't expected to have too much trouble. What actually followed, however, was a huge upset. continue


---
By Matthew Hurley: In an interview with Viva Sports Standard Today trainer Freddie Roach said that his charge Manny Pacquiao is training with renewed vigor for his March 15th rematch with current WBC super featherweight champion Juan Manuel Marquez. Pacquiao, who agreed to train for the fight exclusively at Roach's Wild Card Gym in California, is currently working on strategic plans to offset Marquez's counter-punching style, which so troubled the Filipino fighter after Marquez rose from three knockdowns in the first stanza. Marquez battled his way back into the fight securing a draw after twelve scintillating rounds. continue


---
The Retired Boxers Foundation is proud to announce the selection of Crown Boxing and Boyd Gaming (owners of the Orleans Hotel) in Las Vegas as the January 2008 recipient of the "Undisputed Champions for Dignity Award!" for their well planned, well managed and superbly promoted boxing shows at the Orleans Hotel in Las Vegas. Crown Boxing was selected, along with the Orleans Hotel, for their history of promoting shows that are professional, exciting, safe and easily accessible to the fans. continue


---
Serious, smart and sexy with a sledgehammer-like right hand, Laura Saperstein has touched off something of a mini-media frenzy in the UK while quickly becoming one of the hottest prospects in British boxing since making her pro debut last November. continue


---
By Matthew Hurley: After some speculation WBA welterweight champion Miguel Cotto will defend his title against Alfonso Gomez at the Boardwalk Hall in Atlantic City on April 12th. Cotto, 31-0 with 25 KOs is coming off an exciting twelve round unanimous decision victory over Sugar Shane Mosley in November, while Gomez, 18-3-2 with 8 KOs was last seen winning a ten round decision over Ben Tackie in October.

Gomez, who came into public consciousness as a favorite player on the first season of the Contender series stepped up to garner bigger opportunities when he sent a fading Arturo Gatti into retirement after seven mostly one-sided rounds. Cotto, a former junior welterweight belt holder, will be making his fourth defense of his welterweight title which he won from Carlos Quintana back in 2006. continue


---
In one of the most interesting fight cards to hit Arizona in several years, Monte Barrett returns to the ring on February 2nd from his empressive KO win over Cliff Couser as he takes on Damon "dangerous" Reed in a ten round affair. The card will take place at the 944 Super Village at Stetson Canal in Scottsdale. The 36-year-old Barrett is looking to make one more run for a title, and he knows that he can ill-afford to stumble in this fight. continue


---
Two-time national amateur champion Edwin Rodriguez of Worcester, Mass., made a most successful professional debut Saturday night, stopping Samuel Ortiz Gomez by technical knockout in the first round of a middleweight bout scheduled for four rounds in Mansfield, Mass. The 22-year-old, 6-foot Rodriguez had little trouble with Gomez, knocking him down twice and halting him at 1:22 of the first. continue


---
Per Ake Persson: January 26, Berlin, Germany: Russian heavyweight Alexander Povetkin, 15-0, outscored "Fast" Eddie Chambers, 30-1, over twelve rounds in an IBF eliminator. There were no knockdowns. The judges scored the fight 117-111, 119-109 and 116-112 in favor of Povetkin. The early part of the fight was very exciting with Chambers getting off with quick counters against his agressive opponent. continue


---
By James Slater: It takes a very special fighter to dominate a full decade. To have fought the best consistently for ten years, and to have beaten the same over the time period, is an incredible fistic achievement. The following five boxers, in this writer's opinion, dominated the last five decades - the 1950s to the 1990's.

Sure, some of these greats lost on occasion when they were atop the boxing ladder in each of their specific decades, but even the truly gifted can lose now and then. The greats can come back, though, as four of the five men listed below certainly did. In short, despite the occasional setback - setbacks that only came about due to the decision to duck no fighter, despite how dangerous they may have been - the following five legends dominated a decade each. continue


---
By Estewil Quesada-Fernandez: Barranquilla, Colombia. Colombia's Carlos Támara collides tonight in Puerto Madryn, Argentina, against local Omar Narváez. Támara (17-3-0, 10 KOs), who defeated ranked number one, Mexican Alejandro "Payasito" Hernández, last December 7 in Miami, FL, earned the ticket to fight tonight for the WBO Flyweight Title. Narváez (25-0-2, 16 Kos) reaches his twelfth defense. continue


---
Raymond Markarian, photo: David Martin Warr - DKP: An interesting development occurred during the post fight press conference after Roy Jones defeated Tito Trinidad via unanimous decision. ones received a great deal of appreciation. The praise was not given from the media or fans; it was displayed by the fighters that shared the ring with him on Saturday night. continue


---
By Harry Summers: World Boxing Association World Featherweight Champion Chris "The Dragon" John weighed in right on the button at 57.1 kg while Mandatory Challenger Roinet "The Moose" Caballero weighed in at 56.96 with his shirt, singlet and shorts on mind you. "The Dragon" looked far too big and strong for the Panamanian Moose who in contrast, looked pale. Caballero's camp was consistently chanting, "The new champ, the new champ" but no one convinced. continue


---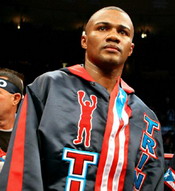 Matthew Hurley: Despite losing to Roy Jones Jr. by unanimous decision this past Saturday night Felix 'Tito' Trinidad (photo by David Martin Warr - DKP) was handsomely compensated for his losing effort. Trinidad, who suffered two knockdowns in the bout but in typical fashion kept pressing the action, is alleged to have pocketed nearly $14 million for his nights work. According to the El Vocero periodical Trinidad made nearly $7 million plus an added $2 million from pay-per-view sales. The latest numbers on the Jones – Trinidad fight has pay-per-view buys exceeding four hundred thousand. On top of that, promoter Don King sweetened Tito's deal with a second payment during the negotiation process.

Trinidad's attorney Nicolas Medina commented on Trinidad's earnings. "Tito was well protected during the negotiation process and right after the fight we picked up both of our checks in full," he said. continue


---
Matthew Hurley: Although he was not in the corner for Oscar De La Hoya's first failed attempt to put a loss on his son's record, Floyd Mayweather Sr. continues to flout the skills of every trainer in the sport while endlessly stroking his own ego. The megalomaniacal elder Mayweather is slated to replace Oscar's trainer Freddie Roach for the September rematch with Floyd Jr. but money issues have not yet been sorted out. Mayweather had demanded $2 million to train Oscar for the first fight back in May of 2007 but it was assumed that he had purposely priced himself out of the job to avoid the uncomfortable notion of training a fighter to knock out his son. continue


---
25.01.08 - Kermit Cintron will face Antonio Margarito in April. The rematch will take place on the undercard of Cotto vs Gomez at the Boardwalk Hall in Atlantic City. In their first fight on April 23 2005, Margarito retained his WBO world Welterweight title against the then undefeated Kermit Cintron, dropping him four times on his way to a spectacular fifth round knockout.


---
25.01.08 - Photos by Photo Wende: HBO's late-night boxing series kicks off the new year with a high-powered heavyweight showdown when HBO Boxing After Dark: Alexander Povetkin vs. Eddie Chambers is seen Saturday, Jan. 26 at 10:00 PM. (ET/PT), from the Tempodrome in Berlin, exclusively on HBO. continue


---
METROPOLIS (January 24, 2008) -- Roy Jones, Jr., fresh off his 12-round unanimous decision over Felix Trinidad (who hasn't won a fight since 2004) has made it known that he is looking for even smaller challenges (and challengers too!) Trinidad, who has never weighed over 160 pounds in his professional career weighed nearly 170 pounds when he faced Jones. Yesterday, Jones, in a release issued by his promoter, stated he is "...ready to take on all comers in the light heavyweight or super middleweight divisions and beyond."

"Let's see, he named middleweights Kelly Pavlik and Jermain Taylor, super middleweight Joe Calzaghe, light heavyweight Bernard Hopkins, who has been asking for a rematch for over 10 years, and junior middleweight Oscar De La Hoya. continue


---
Amir Khan has vowed to avenge England's Ashes hammering when he fights Gairy St Clair - at the request of cricketing cousin Sajid Mahmood. The fast bowler star was part of the England set-up thrashed 5-0 by the Aussies last winter. And he has urged Khan to get some revenge when he defends his Commonwealth lightweight title against New South Wales-based challenger St Clair on February 2 at the Excel London. continue


---
24.01.08 - Not content with giving fight fans the most explosive showdown in recent years between Enzo Maccarinelli and David Haye, Promoter Frank Warren has added another exciting all-British affair to the amazing 02 fight card on Saturday 8th March. While the Maccarinelli-Haye cruiserweight unification fight headlines the show, chief-support will see Kevin Mitchell challenge Carl Johanneson for his British Super-Featherweight title live and exclusive on Setanta Sports 1*. continue


---
HOLLYWOOD, FL, January 24 – The training camp of WBO Heavyweight Champion Sultan Ibragimov is in full swing, and as the champ prepares for his February 23rd unification bout with Wladimir Klitschko in New York's Madison Square Garden, the action at the South Florida gym affectionately referred to as "Sultan's House" has been fast and furious, something trainer Jeff Mayweather has been very pleased with. continue


---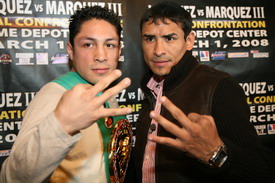 Photos by Tom Casino/SHOWTIME: Israel Vazquez and Rafael Marquez produced two of the most exciting, bloody, give-and-take slugfests of 2007 which inevitably has led to one of the most highly anticipated rubber matches in history. Now they battle for the World Boxing Council (WBC) 122-pound title and super bantamweight supremacy in the third and final chapter of boxing's best rivalry in recent memory in Vazquez-Marquez III "Final Confrontation," Saturday, March 1, 2008 from The Home Depot Center in Carson, Calif.

SHOWTIME, the network that delivered the first two bouts, will re-air Marquez-Vazquez 1 & 2 in their entirety on Saturday, Feb. 2, at 11 p.m. ET/PT. continue


---
YOUNGSTOWN, OH (January 24, 2008) – Undefeated world middleweight champion KELLY "The Ghost" PAVLIK and his trainer JACK LOEW will host a media workout at the Southside Boxing Club (3311 Erie St., Youngstown, OH, 44507) This Tuesday! January 29. Pavlik and Loew will do interviews first, beginning at 1:15 p.m. ET, followed by Pavlik's workout, beginning at 2 p.m. ET. Pavlik is in the midst of heavy training for his rematch against once-beaten former world champion JERMAIN "Bad Intentions" TAYLOR. continue


---
Reno, NV January 24th, 2008 – Let's Get It On Promotions is pleased to announce that former world title challenger, Glenn "The Filipino Bomber" Donaire will be billed as the co-main event on their WAR FOR THE WEST card on February 22 nd 2008. The show will be headlined by Jesse Brinkley and Otis Griffin who will be fighting for the vacant WBC-USNBC super middleweight championship. continue


---
24.01.08 - Interview by Christopher Roche, Brickcityboxing.com: The opinions vary widely regarding IBF Light Welterweight Champ Paulie "Magic Man" Malignaggi. Critics point to his brash pre-fight banter, outrageous ring attire and lack of knockouts to diminish his accomplishments. Supporters point to his tremendous heart, beautiful jab and nifty footwork as evidence that he belongs in the elite bracket. continue


---
TACOMA, WA — Eric Fields was scheduled to fight on the "Battle At The Boat" boxing card at the Emerald Queen Casino on January 19, 2008 against Donnell Wiggins (24-9-3, 14KOs) when the call came a week ago offering a fight against former World Champion Kelvin Davis (24-8-2, 17KOs). "We didn't blink an eye – we wanted this fight and we wanted to showcase Eric on National TV", said Fields' promoter Brian Halquist.

"The only problem was he was already scheduled to fight, so we found a replacement fighter and the rest will be history".

Fields' first punch on his first nationally televised fight hit the former World Champion and sent him to the canvas. continue


---
A month after his impressive effort over Stipe Drews, Australia's WBA light heavyweight champion Danny Green has slowed down for the first time in his seven year professional career to enjoy his profound success both in and outside the ring. "Danny is absolutely over the moon with his WBA light heavy weight world title win and his life in general at present," said Justin Manolikos, Green's manager and partner in the promotional firm Green Machine. continue


---
Photos by Photo Wende: There were two special visitors at the Max-Schmeling-Gym this week when unbeaten heavyweight star Alexander Povetkin (14-0, 11 KOs) presented his new fightname. The 2004 Olympic gold medal winner will now be known as "The White Lion". Between two practice sessions, he took time out to meet two exotic talismans, Amir and Nell. continue


---
Tampa, FL - GBU World Middleweight Champion "Lady Ram" Laura Ramsey is calling out to IBF Ladies Middleweight Champion Mary Jo Sanders to a unification title fight between the top two currently active women boxers in the world. continue


---
By Phil Santos – Overhandright.com: In addition to having an outstanding career in the ring John Scully is making his mark on the sport as a trainer. The Iceman has worked with WBC Light Heavyweight titlist Chad Dawson and currently trains IBO Super Bantamweight champ Mike Oliver, World Rated Cruiserweight Matt Godfrey and former Super Featherweight and Junior Welterweight title holder Israel Cardona. Scully has waged war in the ring, commentated for ESPN, and trained fighters to become champions. There isn't much this guy hasn't done in boxing. Scully is a student of the game and whether you're talking old school fighters or current day boxing John Scully is as insightful as they come.

I recently caught up with the "Iceman" John Scully. We talked about Roy Jones Jr., the current state of boxing, steroids in the sport and what is on tap for him and his fighters in the near future. Here is what Scully had to say…. continue


---
By Harry Summers: Chris John walks into the press conference to the applause of the crowd, he sees the mandatory challenger to his WBA Featherweight throne, Panamanian Roinet Caballero and his team seated alongside promoter Zaenal Taeb. In front of them is a chicken in a cage, now if this was intended to upset the Champion (It was brought by team Caballero with the clear message, we hope Chris John doesn't run like a chicken) it certainly didn't work, John didn't give it a second look or thought as he told the press he was in great shape and expected a hard fight from the game Panamanian challenger. continue


---
Matthew Hurley: Undisputed super middleweight champion Joe Calzaghe finally cleared the air in regards to Bernard Hopkins' now infamous remark that he would "never lose to a white boy." Hopkins uttered the comment at the weigh in for the Floyd Mayweather – Ricky Hatton fight back in December. The two fighters are now officially scheduled to square off on April 19th at the Thomas & Mack Center in Las Vegas. continue


---
Thursday night, EL Jimador's Restaurant, 1600 N. Mannheim Road in Stone Park, just west of Chicago, will host the "open to the public" weigh-in at 7pm for THE MONTH OF THE KINGS, an outstanding evening of world class professional boxing set for Friday, January 25th at Cicero Stadium, presented by Oscar De La Hoya's Golden Boy Promotions and Dominic Pesoli's 8 Count Productions, HOME OF THE BEST IN CHICAGO BOXING. continue


---
By Geoffrey Ciani, Photos by David Martin Warr - DKP: When Andrew Golota squared off against Mike Tyson back in October 2000, few fans will probably forget the disturbing image of Golota spitting out his mouth piece as he shoved trainer Al Certo out of his way in order to make an early exit from the ring. Fewer, still, are likely to forget the equally disturbing image of Golota being doused with debris from the angry crowd. Even his biggest detractors must have pitied the man as he made his disgraceful departure from the ring and the sport.

Quitting against Tyson was the final straw for the man who had already blown four previous opportunities on the big stage. continue


---
On Thursday, January 31st two female warriors will lace up their gloves and wage battle at Star Boxing's Paradise Theater series. "Slick" Alicia Ashley (13-7, 1 KO) and Brooke "No Mercy" Dierdorff (4-1, 3 KO's) will square off in a super-bantamweight showdown for the NABF championship. continue


---
23.01.08 - Russian star Alexander Povetkin (14-0, 11 KOs) is convinced he will beat Eddie Chambers (30-0, 16 KOs) in Saturday´s final IBF eliminator and become the next big thing in the heavyweight division. Speaking in front of a packed press conference in Berlin, the 2004 Olympic gold medal winner said: "I am very confident of success. I expect a very hard fight, much harder than against Chris Byrd. Everything else we will see in the ring.. continue


---
ARENA's cruiserweight Rüdiger May had just started his preparation for his next fight (either on March 11th in Halle/Saale or on March 14th in Munich) when he received an invitation he could not decline: WBC Champion David Haye wanted May as sparring partner for his title unification bout against Enzo Maccarinelli on March 8th in London. continue


---
By Chris Santos: It can be deduced with not much evaluation that the short list of fighters on Oscar De La Hoya's list for his May 3rd bout (all smallish and light punching junior welterweights) are on that very list so that De La Hoya can come out of this bout not just with an aesthetically pleasing victory, but also so he can escape somewhat unscathed with the Mayweather rematch just four months after. Nonetheless the fighters said to be on this list seem all wrong to this observer.

Stevie Forbes seems just much too small for this assignment, at barely 5'7" and having done his best work at junior lightweight and lightweight some years ago. I cheered for him during "The Contender," but if you can't beat Grady Brewer and just get by Francisco Bojado, well then in my book, you are overmatched against a former Middleweight Championship challenger. continue


---
DOVER, Del. — Dover Downs Hotel & Casino will host an exciting night of championship boxing on Friday, February 8, 2008, beginning at 7:30 p.m. in the Rollins Center. The event is being promoted by Duva Boxing. The main bout is scheduled for 12 rounds between Darnell "Ding-A-Ling Man" Wilson (22-5-3, KO 19) of Takoma Park, Md., and undefeated B.J. Flores (20-0-1, KO 13) of Willard, Mo. in a battle for the United States Boxing Association's Cruiserweight title and the International Boxing Federation's Cruiserweight Eliminator match. continue


---
By Paul Strauss: Muhammad Ali was unquestionably the fastest - with both his hands and feet. His reflexes could not be beat! His accuracy would almost always result in his opponent's defeat. The fans just grew and grew, and his entourage too. At the risk of being strung up by the majority of boxing fans, I have to say that the truth is - he wasn't really the greatest. 'The hell', you say, 'the object of criticism is probably the most physically gifted heavyweight fighter of all time!' An Olympic Gold Medalist, who was so good he captured the coveted professional heavyweight title not once, but three times continue


---
23.01.08 - By Per Ake Persson: Former WBC supermiddle champ Markus Beyer returns to action March 14 in Munich. Beyer is now promoted by Arena. Co-headlining with Beyer is Cuban heavy Odlanier Solis. Arena thus stage two events inside three days as they are in Halle / Saale March 11 with a show headlined by heavyweight Steffen Kretschmann and cruiser Herbie Hide. continue


---
23.01.08 - By Ted Sares: This is taken from Chapter 50 of Boxing is my Sanctuary in which I listed my top 100 since 1950. Why since 1950? Because I actually witnessed each listed boxer fight (live or via liveTV) at one time or another (except Jofre). Of course, I carefully studied footage and newspaper accounts, analyzed their records, style, chin, KO percentages, skill-sets, the era in which they fought, entire body of work, quality of opposition, and other important criteria as well.

I have modified the following from the book version for purposes of brevity.

1. Sugar Ray Robinson's final record was a gaudy 175-19-6-2 with 109 KOs. In a career that spanned three decades, Sugar Ray embodied the essence of the Sweet Science. continue


---
By Chris Akers: There have been and still are many arguments as to what is wrong with the state of the sport known as the sweet science. From the facets of world title belts on offer to the best avoided the best (though admittedly that did change last year), boxing in the modern age has become a hybrid of controversy and scandals. continue


---
by James Slater: 26-year-old heavyweight prospect, Chris "The Nightmare" Arreola steps back into the ring this February on the under-card of the Paul Williams-Carlos Quintana card in Temecula, C.A. With his ruggedly entertaining style and unbeaten 22-(20) record, many feel Arreola just might be the next big thing at world level in the big guy's weight class. Seemingly hungry as hell and willing to face the best, Arreola certainly gives the fans his all when he's in action. continue


---
Photos by Jan Sanders/Goossen Tutor Promotions: (Berlin, Germany - January 23) A focused "Fast Eddie Chambers" (30-0, 11KOs) ate breakfast earlier this morning before attending the final press conference before he faces transplanted Russian Alexander Povetkin (14-0, 11KOs).. continue


---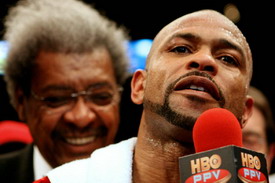 Photo by David Martin Warr - DKP - PENSACOLA, Fla.—An ebullient Roy Jones Jr., energized by his dominating, unanimous-decision win over Felix "Tito" Trinidad at Madison Square Garden on Saturday night, says he is ready to take on all comers in the light heavyweight or super middleweight divisions and beyond.

"I told you Roy Jones Jr. is back," Jones said after his triumph over Trinidad where he twice sent the Puerto Rican legend to the canvas. "I'll take the winner of either the re-match between Kelly Pavlik and Jermain Taylor or Joe Calzaghe vs. Bernard Hopkins. I'm even willing to go down to 156 pounds to face Oscar De La Hoy in May. Line them up and I'll knock them down.. continue


---
Rock and Sock Promotions announced today that Ava Knight(2-0-1) of Chico, California will face Sharon Gaines(11-9) of Las Vegas on their upcoming event February 9th at The Aquarius Casino Resort in Laughlin Nevada. The fight will fought at 112 pounds. continue


---
Philadelphia (January 23, 2008)—IBF Cruiserweight champion Steve "USS" Cunningham is the latest addition to a star studded head table at this Monday's 104th Philadelphia Sports Writers Association Dinner that will take place this Monday night at the Crowne Plaza in Cherry Hill, New Jersey. continue


---
By Iain Axon, www.FrankWarren.tv: Joe Calzaghe will tackle Bernard Hopkins at the Thomas and Mack Centre in Las Vegas on April 19, it was confirmed today at a London press conference. The fight will take place at light-heavyweight and will be screened by HBO in America and Setanta Sports in the UK. One of boxing's worst kept secrets, the fight will see The Ring Magazine's prestigious light-heavyweight title, currently held by Hopkins, up for grabs. continue


---
LOS ANGELES (Jan. 23, 2008) – Israel Vazquez and Rafael Marquez I and II produced the most exciting, bloody, give-and-take slugfests of 2007 and inevitably has led to one of the most highly anticipated rubber matches in history. Now they battle for the World Boxing Council (WBC) 122-pound title and super bantamweight supremacy in the third and final chapter of boxing's best rivalry in recent memory in Vazquez-Marquez III "Final Confrontation," Saturday, March 1, 2008 from The Home Depot Center in Carson, Calif.

Vazquez - Marquez III, which headlines an exciting night of world-class boxing action, is presented by Gary Shaw Promotions in association with Sycuan Ringside Promotions, Golden Boy Promotions and Romanza Boxing Productions. Tickets for this sure-to-be-classic battle are on sale. continue


---
23.01.08 - By Per Ake Persson: Lightheavy Adrian Diaconu, from Romania but fighting out Montreal, Canada, will fight for the WBC interim title March 29 in Bucharest. No opponent has been announced yet. The show is promoted by Gankor Promotions Inc headed by Chris Ganescu. continue


---
Paul McCloskey has big plans for 2008 but they will all amount to nothing if he can't get past Mexican dangerman Manuel Garnica at the Ladbrokes.com Fight Night at the University Sports Arena, Limerick on February 2nd. continue


---
23.01.08 - By Christopher Roche, Brickcityboxing.com: Boxing Questions (and answers): 1) When will boxing address a main problem with the sport: lack of mainstream broadcast exposure?

How many of you have watched fights on youtube.com, because a great prospect you read about is never on television? continue


---
By Brett Mauren: 2007 saw the emergence of several stars in the squared circle; Kelly Pavlik, Michael Katsidis, and Chad Dawson are just a few in the newly formulating constellation of boxing, but one of the brightest of those stars was born this summer at the Home Depot Center, A 6'1 welterweight by the name of Paul Williams.

Although very early in his career, perhaps too early to consider the young Williams an elite fighter, his 1,000 punches thrown in a unanimous decision over Antonio Margarito cannot be ignored. It was two of the most avoided fighters in their division, with Williams emerging bearing a WBO strap. The effort proved to be almost baffling, posing several questions for boxing's deepest division, the most outstanding being; what can you do with this guy? Well on Feb. 9 Carlos Quintana will take a crack at answering that question. continue


---
HBO's late-night boxing series kicks off the new year with a heavyweight showdown when HBO BOXING AFTER DARK: ALEXANDER POVETKIN VS. EDDIE CHAMBERS is seen SATURDAY, JAN. 26 at 10:00 p.m. (ET/PT), from the Tempodrome in Berlin, exclusively on HBO. The HBO Sports team of Bob Papa, Max Kellerman and Lennox Lewis will be ringside for the event, which will be available in HDTV, as well as closed-captioned for the hearing-impaired and presented in Spanish on HBO Latino. continue


---
NEW YORK (January 22, 2008) – Reigning IBF junior welterweight champion Paulie "The Magic Man" Malignaggi (24-1, 5 KOs) will serve as honorary captain of the New Jersey Ironmen, a member of the first-year professional Major Indoor Soccer League, Friday night (Jan. 25) at the Prudential Center in Newark, New Jersey. continue


---
22.01.08- By Raymond Markarian: Andre Ward is not only first U.S. Boxing Olympic Gold Medalist since 1996; he is also one of the hottest young fighters in the sport today. This was my first chance to meet with the Oakland, Ca native. He speaks with confidence and feels like he is ready for the next level. The guy is a boxing junkie. For Andre, boxing is not just a game it is a way of life.

Raymond Markarian: Tell me about how you began boxing.

Andre Ward: Well basically, I was talented in a lot of different sports growing up. My father was a boxer when he was in high school and he was 15-0 as a heavyweight. continue


---
23.01.08 - Matthw Hurley: Three-division champion Erik Morales, last seen losing a close decision to WBC lightweight champion David Diaz, has confirmed that he will return to the ring. Morales' longtime promoter Bob Arum said that he had talked with the fighter about a possible comeback and insisted that he would not participate in Erik's return to the ring. The promoter, who espouses genuine affection for the Tijuana legend, was alarmed after the Diaz fight when Morales offered that "punches were hurting him" more than they ever had during his career.

Morales, unquestionably one of the most exciting and accomplished fighters of his era, appears to be wrapped up in the same post-career malaise that has claimed his greatest rival Marco Antonio Barrera. continue


---
Reno, NV January 22nd, 2008 – Sacramento's Otis Griffin and Yerington's Jesse Brinkley will be fighting for the vacant WBC-USNBC super middleweight title on February 22 nd in Reno. The Griffin/Brinkley fight won't just be a War For the West – it is now for the vacant USNBC belt and world ranking implications. As former reality TV stars, this is also a chance for both fighters to prove that their names belong with the top contenders at 168 lbs. continue


---
22.01.08 - By Andrew Wake: According to a report in today's South Yorkshire Star, Sheffield's International Boxing Federation light-heavyweight champion Clinton Woods has agreed to defend his crown against Rocky Balboa star Antonio "The Magic Man" Tarver. The date being mooted is April 12th at the St. Pete Forum in Tampa, Florida. Showtime are likely to be televising. continue


---
By Phil Santos – Overhandright.com: Love him or hate him, Roy Jones Jr. appears to be back. While a blown up Felix Trinidad probably isn't the best measuring stick, it was the manner in which Jones dominated the fight that was most impressive. Tito fought hard, banging away at Jones's body and head, but never so much as affected the 8-time former champion. After realizing that Trinidad couldn't hurt him Jones proceeded to taunt the pride of Puerto Rico by dancing, banging his own midsection and dropping his hands as if daring Tito to hit him. He was in full control and there wasn't a damn thing Trinidad could do about it. continue


---
Matthew Hurley: As word spread that Oscar De La Hoya had decided that a rematch with Floyd Mayweather was his primary objective for 2008 a collective groan went up within the boxing community. A rematch of their May 5th 'fight to save boxing,' as Sports Illustrated put it, smacked of corporate account padding. The fact that their first go-round left many fight fans chugging beers to make the lack of action more palatable does not seem to enter into the equation where the 'Golden Boy' and the 'Pretty Boy' are concerned. These are not two hungry fighters seeking out the best opponents to enhance their legacy. They are savvy businessmen who don't particularly appreciate getting hit in the mouth anymore in order to cash a check. And because they remain two of the biggest names in the sport, despite their disappointing willingness to take the path of least resistance, they have once again turned to each other for another monster pay day because they know that their names alone will sell tickets. continue


---
22.10.08 - By Cesar Pancorvo: After receiving enthusiastic ovations and being applauded last December, for his notable victory against Ricky Hatton, Floyd "Money" Mayweather is now facing the fan's insults and hate for his apparent decision of rematching the Golden Boy, Oscar de la Hoya, in a lucrative mega event that few, really few, want to watch, and that could be described with just one word: futile. continue


---
By Anthony Coleman: The greatest thing in sports is the joy of watching a transcendent talent. We marvel at the achievements of the greatest athletes who ever lived. We can remember where we were when they made a spectacular play, ran in for the touchdown, hit the game winning home run, or scored that awesome knockout. It is that quality that is the cornerstone in all of sports. And that is why is makes a person depressed when they see an all-time great gradually lose their talent until they resemble a shadow of their former self. continue


---
Furious Amir Khan has vowed to knockout Gairy St Clair after hearing a radio ad recorded by the Commonwealth lightweight title challenger. Cheeky St Clair warned Khan he was coming to destroy him in a radio advert for their February 2 fight at the ExCeL London, currently playing on Talk Sport. The Australia-based Guyanan tackles Khan over 12 rounds - and has vowed to be firing until the final bell. continue


---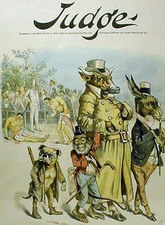 22.01.08 - By "Old Yank" Schneider: If you don't know how to judge a fight, then when you open your mouth about how it was scored you will be judged harshly by other fans. At the minimum you had better get the basics right or else you will continue to simply hand over your lunch money in every debate you get into. So you want to become a better judge? Follow me.

NOTE: For all you "experts" who are in no need of a refresher, the "Old Yank" is here to tell you that I've listened to some fairly lame excuses for justifying a scorecard from many of you. And if you don't think that your "expertise" should be tested from time to time, how about climbing into an airplane with a pilot who never feels that his skills should be tested? "Experts", climb aboard!

LESSON NUMBER ONE: The Four Elements of Judging. continue


---
Five days ahead of their final IBF eliminator in Berlin, top heavyweight prospects Alexander Povetkin (14-0, 11 KOs) and Eddie Chambers (30-0, 16 KOs) shook hands for the first time when they briefly met during today´s press work-out. The winner of Saturday´s showdown will be Wladimir Klitschko´s next mandatory challenger. "I am not thinking that far ahead – all my focus in on Chambers," Povetkin said of the highly-anticipated clash, which will be broadcasted by HBO. "It will be a tough fight but I am sure I will win.. continue


---
21.01.08 - by James Slater: New York's tough Doug DeWitt, the very first middleweight champion of the WBO, was a fighter known for his super-strong chin. Able to take the blows of men like Thomas Hearns, Milton McCrory and others, DeWitt gave fight fans some memorable battles in the 1980s and early '90s. Exciting in defeat as well as in victory, the fighter known as 'Cobra' also had a very memorable brawl with Britain's big punching Nigel Benn. With a final record of 33-8-5(19) DeWitt certainly made his mark on the world stage. continue


---
HOLLYWOOD, FL, January 21 – He was the heavyweight division's most active world champion, fighting and winning three times; he started the year off with a first round knockout, then won the world title, and finished up with a win over a legend. Is it any wonder that the Russian Professional Boxing Federation named WBO Heavyweight Champion Sultan Ibragimov its Fighter of The Year for 2007. continue


---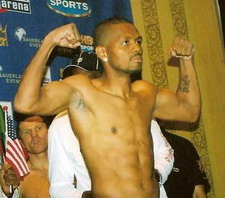 21.01.08 - By Chris Robinson: Talk to Nate 'The Galaxxy Warrior' Campbell these days and you'll find yourself speaking with one of the most upbeat, focused, and determined individuals around. Campbell, a top ranked Lightweight Contender, has seen his life take a turn for the better simply because he has been granted with a wish that he has been dearly desiring for a long time; A good old fashioned fight.

Come March 8th Campbell will be squaring off with WBA Lightweight Champion Juan Diaz and for 'The Galaxxy Warrior', this is all he ever wanted.

'This fight means everything to me,' a vibrant Campbell stated earlier this week. 'I've been up since I found out about this fight. This has made my day, and made my year already. I learned about this and everything that I went through to get to this point has been worth it.. continue


---
By: Christopher Roche: The proud history of Hudson County, NJ boxing received a shot in the arm last Thursday, as the ribbon was cut on the new Union City Boxing Club. James J. Braddock, who did most of his training in Union City, would have been proud of this Cinderella story.

"The most important thing is that these doors remain open!. continue


---
Over the last months Dmitry has been training at the Starret City boxing club honing his skills and getting ready for the next step in his climb to the top. Dmitriy is currently ranked Number Three in the WBA and is eagerly anticipating a match with the current WBA belt holder Gavin Rees. "I am excited to get back in the ring and prove that I am the best Jr. Welterweight in the world, and Rees needs to come out from hiding and step up to the challenge.. continue


---
Promoters Art Pelullo/Banner Promotions and Rodney Berman/Golden Gloves Promotions will present a sensational fight card on Friday, March 7, 2008, in the Fox Theatre at Foxwoods Resort Casino, located at 39 Norwich Westerly Road in Mashantucket , Connecticut . The main event and co-featured bouts will be televised on ESPN's "Friday Night Fights.. continue


---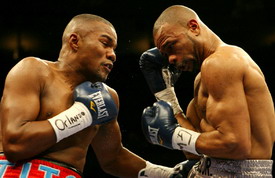 Matthew Hurley, photo by David Martin Warr - DKP: After Roy Jones Jr. defeated Felix Trinidad by unanimous decision in front of a less than capacity crowd at Madison Square Garden the fighter turned his attention to super middleweight champion Joe Calzaghe. Calzaghe is scheduled to take on Bernard Hopkins on April 12th at the Mandalay Bay Resort & Casino in Las Vegas, but the fight has been so long in the 'tentative' column that most fight fans are taking an I'll-believe-it-when-I-see-it attitude. Jones, who is suddenly bursting with fistic enthusiasm, has committed himself to doing something he's never done before – crossing the pond and fighting in Calzaghe's backyard. It's a course of action Jones wouldn't even consider when he was at the apex of his career.

"I'm definitely looking to make that fight and I'm going there (Wales) tomorrow," Jones said after defeating Trinidad. "I'll fight anybody, anywhere, any time and if Hopkins – Calzaghe finishes how I think it will, I'll even go to Wales and fight. I don't care.. continue


---
MANSFIELD, Mass. (January 21, 2008) – The future of New England boxing will be showcased Saturday night (Jan. 26) in "The Ultimate Showdown II" pro-am boxing show, presented by Peter Manfredo, Sr. on association with Bash For Cash, at the Mansfield SportsPlex in Mansfield, Massachusetts. continue


---
Undefeated Chicago based welterweight prospect Ivan Popoca returns to the ring this Friday night, January 25th as he battles unbeaten newcomer Richard Baldo of Sheridan, Wyoming at THE MONTH OF THE KINGS, an evening of world class professional boxing presented by Oscar De La Hoya's Golden Boy Promotions and Dominic Pesoli's 8 Count Productions. continue


---
NEW YORK (January 21, 2008) – World middleweight title contender "Ireland's" John Duddy is looking forward to fighting again in his adopted New York City home for the first time since last May, when he battles tough Tunisian brawler Walid "Tempete de Sable" Smichet (17-3-1, 13 KOs) in the 10-round, off-TV co-feature on the February 23rd heavyweight championship unification show headlined by IBF king Wladimir Klitschko and WBO title-holder Sultan Ibragimov at Madison Square Garden. continue


---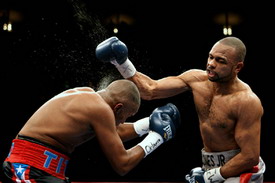 20.01.08 - photo by David Martin Warr - DKP - ROY JONES JR.: "All my fans around the world said I was done. He took a lot of hard punches. Jones said to Trinidad, "I can't believe you stayed in there 12 rounds with me. We had a great fight and everyone said we were too old. "I tried to put him away a few times but he slipped a lot of my good punches. I had a wonderful camp and great sparring partners. It was a great fight. I can't believe he stayed in there for all of those rounds for me. He was slipping a lot of my good punches and I felt like I was missing knocking him out by inches. I jammed my knuckle sometime during the fight. He's got a pretty hard head.

FELIX "TITO" TRINIDAD

"I took off two years and eight months. I take nothing away from Roy but if I could have avoided the KOs, I think I would have won the fight. He was very fast and strong and threw great punches. I have no excuses. continue


---
CANASTOTA, NY - JANUARY 21, 2008 -- The International Boxing Hall of Fame announced its flags will fly at half-staff in memory of junior welterweight champion Duilio Loi. He passed away yesterday at Padre Pio Hospital in Treviso, Italy. He was 78. continue


---
John Martinez, Boxingrealm.com: Moments ago, I spoke with none other than trainer extraordinaire, Floyd " Joy" Mayweather Sr. The ever confident pugilist coach shared his thoughts on his much anticipated return to the corner of the Golden Goose in boxing, Oscar De La Hoya. Here is what the self-anointed " best trainer in the world" had to say about his new high profiled assignment.

JM: Floyd, will you conform the rumors of your return to the De La Hoya camp and that you'll be in his corner for his next fight May 3rd on HBO? FM: Yes. That is correct. continue


---
20.01.08 - By Matthew Hurley: According to a report filed by ESPN's Dan Rafael, Oscar De La Hoya will take a tune-up fight on May 3rd now that his rematch with Floyd Mayweather Jr. has been moved to September 20th. De La Hoya's return to the ring will not be a pay-per-view show, rather it will be broadcast on HBO. continue


---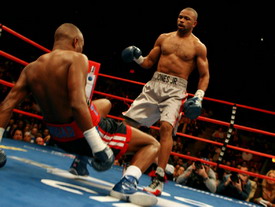 By Mike Indri, Retired Boxers Foundation, photo by David Martin Warr - DKP - Madison Square Garden was not nearly as filled as had been expected; quite possibly even the most ardent supporter of legendary five-time World Champion Felix "Tito" Trinidad knew the obvious. Their Puerto Rican boxing hero, who had not fought since getting thoroughly dominated nearly three years ago in his embarrassing 12 round unanimous decision defeat at the hands of Ronald "Winky" Wright, was bought out of retirement (for the not so embarrassing price of 9 million dollars) to face a bigger, stronger and faster fighter in Roy Jones, Jr.

While Trinidad tried as best he could, fighting at his heaviest weight ever only slowed him down. From the early rounds it was clear that Jones was able to handle Trinidad's biggest punches, while Tito was not able to take Roy's.

Jones methodically began controlling the action, besting Tito jab for jab, body shot for body shot - essentially beating Trinidad "mentally" before he began his physical beating of the former boxing superstar who defeated Oscar De La Hoya, and destroyed Fernando Vargas. continue


---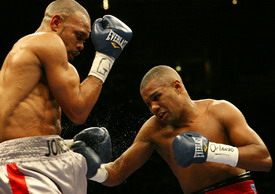 By Matt Yanofsky, photo by David Martin Warr - DKP: In Front of an energetic crowd at the Mecca of boxing, Roy Jones Jr 52-4 (38 KO's) cruised to a unanimous decision victory over Felix "Tito" Trinidad 42-3 (35 KO's). Trinidad attempted to start off quickly by aggressively throwing punches at the eight time world champion. Jones rebounded in the second by landing quick clean shots and blocking Trinidad's punches. Jones began taunting Trinidad during the fourth round and continued to frustrate the pride of Puerto Rico who was still unable to land any clean punches, but made a valiant effort to attack Jones.

After stunning Tito in the sixth round, Jones dropped Trinidad with a picture perfect vintage right hook to the temple. After cruising through rounds 8 and 9, Jones dropped Trinidad with a straight right hand. Jones finished the contest by showing he still has the ability to land clean effective shots while not getting hit in exchange. Scores were 117-109 and 116-110 twice. After the bout Jones expressed his interest in fighting Super Middleweight champion Joe Calzaghe in England. continue


---
Fast-talking trainer Angelo Hyder reckons British star Amir Khan has bitten off more than he can chew by taking on Gairy St Clair - after seeing the challenger give a heavyweight a good hiding. St Clair, who challenges Khan for the Commonwealth lightweight title on February 2 at London's ExCel Arena, is now under Hyder's care in New South Wales having been raised in Guyana. continue


---
Stoke-on-Trent's professional boxing promotion and management outfit, Impact Boxing, have announced that their next event will take place at the city's Kings Hall on 1st March. The show will feature seven bouts with lightweight hopeful Scott Lawton headlining. continue


---
20.01.08 - by Paul McCreath: Canadian IBF superbantamweight champion Steve Molitor made his third successful defense of his title Saturday night at Casino Rama near Orillia Ontario when he pounded out a decisive 12 round decision over the game Mexican voluntary challenger Ricardo Castillo. The fight card was attended by a capacity crowd of 5200 in spite of severe snow squalls which blanketed the area all day.This was the third strait sell-out for a Molitor defense at this venue. continue


---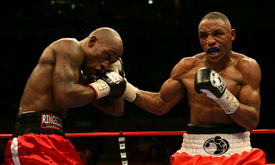 By: Phil Santos – Overhandright.com, photo by David Martin Warr - DKP: Tonight on the Trinidad-Jones Under card Devin Alexander furthered his rising prospect status by battering a faded Demarcus Corley. The once solid Demarcus "Chop Chop" Corley has shared the ring with Floyd Mayweather, Zab Judah, Miguel Cotto and Junior Witter. His problem being he could never quite score that significant win, losing to all the aforementioned opponents. Corley briefly held the WBO Junior Welterweight title and defended it twice. In the process he scored a win over Randall Bailey, arguably the best opponent he owns a victory over.

For the undefeated Devin Alexander a win over Corley would be the most noteworthy of his young career. In the name game that is boxing, beating someone with name recognition can earn you more accolades than beating a quality opponent. continue


---
The New Year has seen a historic innovation take place at Sauerland Event: Norwegian star Cecilia Braekhus has become the first female boxer to be signed. The "First Lady" – as she will be known to her fans – has impressed her new coach Ulli Wegner and Sauerland managing director Chris Meyer equally much. "Her tremendous popularity and her great success have convinced us," Meyer said. continue


---
With less than two weeks to go before his first ever British title fight, London based light heavyweight Peter Haymer has been tearing through sparring partners at an alarming rate as he prepares for a rematch with reigning British champion Tony Oakey on a Frank Maloney promotion at York Hall on Friday, February 1, 2008. continue


---
Baltic Boxing Union Ltd (BBU) is a professional boxing union which has been set up in Finland at the beginning of year 2008. BBU´s aim is to create more interest in professional boxing by offering a totally new, reliably working wholeness for specific regional championship bouts for those who arrange professional boxing events in northern Europe, especially at Baltic area. continue


---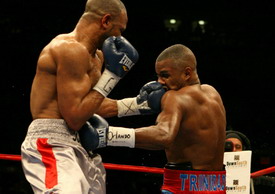 20.01.08 - By Ted Sares, Photo by David Martin Warr - DKP: Prediction Here is how I thought it might play out:

"Some say Tito is typically a slow starter and Roy may be able to clock him with a nice counter sooner rather than later, but I don't see that happening.

"I see the fight going into the mid to late rounds in a cat and mouse fashion until Jones senses Trinidad is tiring. Then, I see him press the action, albeit cautiously, and attempt to take the Puerto Rican warrior out with a heavily leveraged flurry of punches. If he can't accomplish this, I see him finishing in a cautious and crowd unfriendly manner until the bell rings ending the fight and giving Jones a UD and $ ten million dollars. continue


---
Martin "EL GALLITO" Castillo, former World Boxing Association flyweight champion, will challenge current World Boxing Organization super flyweight champion Fernando Montiel on Saturday, February 16th at the MGM Grand in Las Vegas. The twelve round world title bout will be featured on the under card of the pay-per-view extravaganza headlined by the rematch rumble between world middleweight champion Kelly Pavlik and former world champion Jermain Taylor. continue


---
By Tony Nobbs: Members of the local boxing fraternity were saddened to hear the news that Queensland super featherweight Chris Smith took his own life early in the week. Born in Brisbane on September 26, 1977, Chris boxed as an amateur and turned pro last August, going the six round route with veteran, former national champ Lucas Mathew. continue


---
(SAN DIEGO, CALIF.) – The Battle Across the Border between the United States and Mexico kicked off USA Boxing's 2008 calendar with an exciting night of action on Friday at the San Diego Arena in San Diego, Calif. Mexico's full Olympic team took the ring to face off with the United States in the Olympic-style boxing dual. continue


---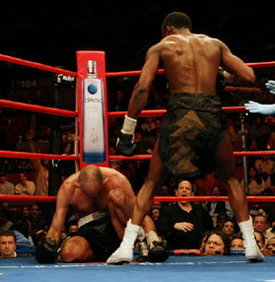 By Phil Santos – Overhandright.com, photos by David Martin Warr - DKP: In a fight that was bordering on unwatchable, Alex Bunema stunned Roman Karmazin scoring a 10th round knockout. Karmazin, who appeared to be in slight control of the fight, got caught by a stiff left hook which promptly deposited him on the canvas. He quickly rose to his feet and appeared steady before Bunema unloaded a solid combination ending with a hard right hand. Karmazin dropped and lay draped over the bottom rope with his head and shoulders outside the ring.

The fight was stopped and Alex Bunema had made a statement. He had finally broken through on the big stage and defeated a top tier contender. For Karmazin the loss was a costly one at this point in his career. At 35 years old and now having suffered the first knockout defeat of his career one has to wonder where Karmazin goes from here.

Conversely Alex Bunema has created an opportunity for himself to secure meaningful bouts with top rated Junior Middleweights. continue


---
By Phil Santos – Overhandright.com - Eric Fields notched the most impressive win of his young career by crushing the come-backing Kelvin "Concrete" Davis. Remarkably Davis was making his return to the ring after suffering from a broken neck and back which were the results of his plummeting 25 feet off a bridge in attempt to avoid a car that had lost control. continue


---
By Joe Barrett: Since his December knockout defeat at the hands of Floyd Mayweather, there has been plenty of speculation as to who Ricky Hatton (43-1, 31 KOs) will fight next. A mega fight with Oscar De La Hoya was potentially in the works, but with his defeat, interest from the Golden Boy now seems to have cooled. Since then, a whole host of names and scenario's have been thrown up in the air, but with no noise coming from within the Hitman's camp, his immediate future remains unclear. continue


---
• Wladimir has been in his Florida training camp now for 2 weeks, along with his Chef. Hall of fame trainer, Emanuel Steward, arrived this week.

• Klitschko has been enjoying the warm weather in Florida as his preparation heats up for the upcoming fight Feb 23.. continue


---
by James Slater: Tonight, in Dusseldorf, Germany, WBA heavyweight champion Ruslan Chagaev met challenger Matt Skelton. What followed was a hard-fought and quite intriguing battle between two determined and well conditioned big men that saw the world champ retaining his belt via a unanimous 12 round decision. The scores were 117-111 twice and 117-110.

In defeat, however, Skelton proved two things - one, he is a man that looks darned near impossible to KO, and two, he would more than likely give any heavyweight out there a tough, tough night's work.

In the early going, a surprise choice of tactics by the 40-year-old saw Skelton boxing and looking for spots, as apposed to charging in and trying to out-muscle Chagaev as most thought he would do before hand. Indeed, it was quite startling to see Skelton landing and throwing short and snappy punches. At times, big Matt was even looking to counter-punch the counter-puncher - something no-one would have predicted pre-fight. continue


---
NEW YORK, NEW YORK (Jan. 19)—Don King spent his Saturday morning mediating a glove dispute prior to "Clash of the Titans" featuring Felix Trinidad and Roy Jones at Madison Square Garden Saturday night. King resolved the dispute for the featured bout and it is now all systems go for the fight card beginning at 9 p.m. ET/6 p.m. PT on HBO pay-per-view. "The glove issue has been solved," said King. "I met with Roy Jones Jr.'s representatives and Papa Trinidad and his lawyer Nicolas Medina in Roy's suite across the street from the Garden. We came to an agreement that Superman Roy Jones Jr. will wear Everlast gloves, just as it agreed in the contract.. continue


---
19.01.08 - Matthew Hurley: On the undercard of the Roy Jones – Felix Trinidad bout at Madison Square Garden tonight a former world-class boxer fights for his fistic future. One more loss on his record and a life spent between the ropes will have reached its conclusion. continue


---
By Vivek Wallace: In only a few days Puerto Rico's very own, Felix 'Tito' Trinidad will step into the great 'blue abyss' against one of the perennial talents of this era, Roy Jones Jr. The fact that this fight is taking place at a time when both men are considered to be beyond their prime has some scratching their head, but for those of us who understand the current landscape of the fight game, it's very easy to state the fact that there can simply never be a bad time for a good fight. continue


---
By Matthew Hurley: According to his doctor, IBF welterweight champion Kermit Cintron will resume training in a week to ten days. In November Dr. R. Scott Clark diagnosed the fighter with severe ligament damage in his right hand after stopping Jesse Feliciano in the tenth round of what was a tougher-than-expected title defense. So tough in fact that a proposed unification bout with WBO champion Paul Williams was scrapped.

In an official statement released today Dr. Cook said, "This week Kermit will begin hitting the speed bag. He is up to speed where he should be and is healing well."

Cintron, 29-1 with 27 KOs maintains that he injured the hand with the very first punch he threw in the first round. continue


---
St. Joseph, Missouri, January 18, 2008 – "All-American Prizefighter" Rob Calloway wants his chance to prove that he should be recognized as the cruiserweight champion of the world. As the WBC Continental Americas, IBF International and NABA Cruiserweight champion, Calloway has his eyes on the top. continue


---
18.01.08 - By "Old Yank" Schneider: "Old School", we hear the term all the time. It has as many definitions as there are fight fans. Is it "anything from the past"? Is it about knock outs? Is it a "romantic notion" for old geezers to have as an excuse that things were always better back in "the day"? Is it the "bare knuckle" days? Is "old school" just "old bunk" or do we simply need to de-bunk the term? Well it's time you all got taken to school to finally understand what "old school" means. continue


---
Matthew Hurley - When Ruslan Chagaev, 23-0 with 17 KOs took the WBA heavyweight title from towering seven foot tall Nikolay Valuev in April the fighter out of Uzbekistan was giving up nearly eleven inches in height. Chagaev's stocky build dictated that he find his way inside Valuev's long reach but at the same time be clever enough to get out of range when the big man tried to force his weight on him. He used his southpaw stance to keep Valuev a bit off balance and came away with a majority decision. continue


---
By Maxime Chartrand: It's been a long but successful journey for the 27 year-old Romanian boxer Lucian Bute. From the first time he put gloves on as a teenager in his hometown of Galati, Romania, to winning the IBF super middleweight world title in front of 13500 fans in Montreal, Canada, Bute has captured the heart of boxing fans on both side of the Atlantic.

Bute's promoter, Interbox, has done a good job developing this young talent. It's no surprise when you realize they were also behind Éric Lucas when he won his WBC super middleweight title back in July of 2001. They also made fellow Romanian fighter, Leonard Dorin, a world champion in 2002 when he won the WBA lightweight title against Raul Balbi in a candidate for the fight of the year. continue


---
Undisputed World Super-Middleweight Champion Joe Calzaghe has been voted by the public into the the top 100 Sporting Icons of all Time in the magazine Sport (Issue #59: January 18 2008). Sport readers were invited to vote for their favourite sportsmen and women who have gone above and beyond in the pursuit of sporting greatness. continue


---
18.01.08 - By Scoop Malinowski: Andrew Golota's quest to win the elusive world title takes another critical step on Saturday night at Madison Square Garden, when he meets dangerman Mike Mollo. Golota, recently turned 40, is once again in phenomenal condition and hopes to capitalize on the impressive KO win over Kevin McBride last year, which could possibly be a springboard for a world title shot in 2008. Golota trainer Sam Colonna, who merits plenty of credit for his man's performances against John Ruiz, Chris Byrd and McBride, fielded some questions before Thursday night's dinner arrived. continue


---
By Jason Peck: Tarver-Green is off (thank God), and just about everything that can be said about Jones-Trinidad has been said. To my knowledge, these fights haven't yet gotten the disrespect due them. To my knowledge, these travesties can't be blamed on a sanctioning body. Just outright short-sightedness, greed and a little bit of cowardice. These fights waste some serious God-given talent, have little potential for a good scrap, and – in the end – won't make much difference in their respective weight classes. Mostly, they just preserve a perfect record. continue


---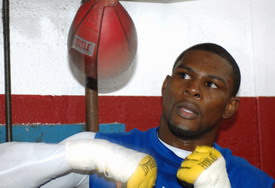 18.01.08 - Photos by Naoki Fukuda: Jermain Taylor, you're OK not fighting for a belt this time?
"When I win, I'll be walking out of there with everything he took from me. I'm walking out of there with my pride."

Is it working out better without Emanuel?
"It feels great. It's just like the old days. When we started out it was just me and Ozell. I'm working hard every day. I'm doing a lot more sparring. Emanuel Steward is a great guy, a Hall of Fame trainer and a friend of mine. I love him to death. But he isn't coaching me now."

Why is the unconventional training necessary, using the sledgehammer, tire and tennis balls? continue


---
NEW YORK New York, January 18, 2007 - Everlast® Worldwide Inc., manufacturer, marketer and licensor of sporting goods, apparel, footwear, and other active lifestyle products under the Everlast brand name, is proud to announce that on Saturday January 19th, Felix "Tito" Trinidad will wear Everlast's new Hydrolast Lockdown Lo professional boxing boot with Michelin's proprietary rubber sole technology. continue


---
NEW YORK—Subtle barbs continued to fly between Roy Jones Jr. coach Alton Merkerson and Tito Trinidad trainer and father Papa Trinidad during today's main event trainer roundtable in the media center at a hotel near Madison Square Garden. "Tito doesn't need any help from Roy Jones," Papa Trinidad said. "We want to fight him at his best." Merkerson reached back to Monday's trainer media conference call to launch this salvo with Papa Trinidad sitting right next to him. continue


---
18.01.08 - Arena Box-Promotion AG has read the claims of Juan Carlos-Gomez, and categorically rejects them. Arena has lived up to each and every one of its contractual obligations to Mr. Gomez, and intends to enforce its rights both in Germany and in the United States. With respect to proceedings in the United States, Arena has hired Judd Burstein to represent it. Mr. Burstein stated: "We intend to commence an action against Mr. Gomez and his manager in the next week, and will not hesitate to sue any promoter who seeks to promote Mr. Gomez in violation of Arena's rights."


---
17.01.08 - by James Slater: Eighteen years ago this week, "Big" George Foreman, the former heavyweight champion who was well into his improbable comeback, faced his first real test since his return. Squaring up against him was another big name heavyweight who was returning to the ring after a long layoff. Gerry Cooney may not have been as inactive as Foreman had, but the former "Great White Hope" was engaging in his first fight in well over two years. On that occasion, Cooney had been stopped by Michael Spinks, in a bout that contested a version of the heavyweight championship. Now, at age 33, Cooney felt he could derail Foreman's comeback and set himself up for one more crack at glory.

Much older than Cooney at 41-years-of-age, Foreman was meeting a big punching and dangerous heavyweight for the first time in his comeback - a comeback that had followed a ten year absence. continue


---
Former world heavyweight title challenger Charles Shufford plans to get his career untracked and him back into the heavyweight mix with an upset of 2004 U.S. Olympian Jason "Big Six" Estrada in their 10-round, co-main event headlining the "Champions of Tomorrow" pro boxing show, January 25 at Foxwoods Resort Casino in Mashantucket, Connecticut. continue


---
Philadelphia (January 17th, 2008)—On Friday night February 8th, Lenny DeVictoria will return to the same ring where he engaged in the Philadelphia fight of the year in 2007. DeVictoria, who engaged in a memorable brawl with Elad Shmouel on December 7th, will headline a great night of boxing when he takes on tough veteran Carlos Cisneros on a card promoted by Vernoca L. Michael and Blue Horizon Boxing Promotions at The Legendary Blue Horizon in Philadelphia. continue


---
ARENA-CEO Ahmet Öner responds to an interview Gomez gave to fightnews.com today: Ahmet Öner: "Juan, it is not my style to communicate with other people via internet but as you asked me in your last interview why I was looking for you, I think it would be impolite not to answer at all. I am not looking for you, my friend. I always know exactly where you are and what you do....What you're doing right now is what you always do when you get close to something big: You blow your chances! continue


---
17.01.08 - Matthew Hurley: Today marks the 66th birthday of former heavyweight champion Muhammad Ali. According to a release from the official Ali website, the iconic figure is resting comfortably at his winter home in Arizona with friends and family. The site also announced that to celebrate his birthday the first-ever official Muhammad Ali online store is now available at www.ALI.com. The store will feature authentic autographed items and licensed products, including art prints and books.

"We are transforming our website into a platform offering even more original content about Muhammad," said Ronald A. DiNicola, president and CEO of Muhammad Ali Enterprises. "We will be creating an online global community of Ali fans and we want everyone to be a part of it. The website will evolve over time, as we will be changing and expanding our offerings based on feedback from Ali fans.. continue


---
Matthew Hurley: Rising middleweight contender Andy Lee, 14-0 with 11 KOs will face Alejandro Gustavo Falliga, 14-3-2 with 4 KOs at the University Sports Arena in Limerick, Ireland on February 2nd. Lee, last seen in the ring on December 15th, scoring a sixth round technical stoppage over Jason McKay, is currently training in Florida and working as a sparring partner for IBF heavyweight champion Wladimir Klitschko. Klitschko faces Sultan Ibragimov on February 23rd at Madison Square Garden. continue


---
Not everything went "fast" for Eddie Chambers today when he arrived at Berlin´s Tegel Airport. It took his six-man crew almost one hour to unload the numerous bags and leave for the hotel. In nine days, the 25-year-old American (30-0, 16 KOs) will take on Russian star Alexander Povetkin (14-0, 11 KOs) in a final IBF heavyweight eliminator. "It is going to be a tough fight between two up-and-coming fighters," Chambers said after his arrival. continue


---
When German promotional powerhouse Universum yesterday announced the collaps of the vacant European heavyweight title fight between their boxers Alexander Dimitrenko and former champion Luan Krasniqi, planned for March 8, the disappointment was felt all the way to Den Haag in the Netherlands – the hometown of Fight Production's current WBF Intercontinental, Benelux and Dutch heavyweight champion Richel Hersisia, 30-2 (24 KO's). It was reported this morning in German media that Dimitrenko (WBO # 2) wasn't happy at all with his purse, especially since the much lower rated Krasniqi (WBO # 12) apparantly stood to earn substancially more. continue


---
17.01.08 - By Phil Santos – Overhandright.com: Edison Miranda – "I watched the last Lacy fight and was not impressed at all. I also watched the Contender and my feeling was the same about Bika. These guys are simply not at my level."

I caught up with the punishing power puncher Edison Miranda following his sensational knockout of David Banks on ESPN's Friday Night Fights. As always Miranda pulled no punches, so to speak, as he gave me his take on a second fight with Pavlik, his thoughts on Jeff Lacy and Sakio Bika and what a typical day of training entails.

The once top rated Middleweight contender now inhabits the Super Middleweight division. And make no mistake about it he wants to fight the best the division has to offer. Here is what Pantera had to say, enjoy. continue


---
LOS ANGELES, JANUARY 17 – With two thrilling bouts already in the books, the series between super bantamweight superstars Israel Vazquez and Rafael Marquez has already drawn favorable comparisons to boxing's great rivalries – Ali vs Frazier, Barrera vs Morales, Zale vs Graziano, and Gatti vs Ward. But with the series deadlocked at one fight apiece, the only way to settle the score is with a third meeting, and on Saturday, March 1st, at The Home Depot Center in Carson, Calif., boxing's latest classic trilogy will come to an end when Vazquez puts his WBC and Ring Magazine World super bantamweight titles on the line in a 12 round bout against the man he won it back from, Marquez. continue


---
Argentina proved during last years Rugby world cup that they are not a team to be underestimated and on February 2nd in Limerick it will be Alejandro Gustavo Falliga's turn to display the famous Argentinean fighting sprit. The 25-year-old from Buenos Aries faces the daunting task of squaring off with Andy Lee when they clash in the main event in the Ladbrokes.com Fight Night at the University Sports Arena in Lee's native Limerick. continue


---
17.01.08 - By Frank Gonzalez Jr.: So, here's another Pay-Per-View event that makes you wonder what the criteria is for fights being on PPV? Do we really care if a seven year removed former Welterweight Champion fights a four year removed former Light Heavyweight and "Heavyweight" Champion? This match up is unfair and irrelevant. Curious that its going to be on PPV instead of regular TV. continue


---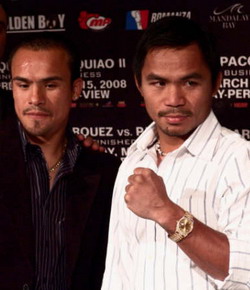 16.01.08 -By Matthew Hurley, photo by Armando Cabrera

Manny Pacquiao, 45-3-2 with 34 KOs and Juan Manuel Marquez, 48-3-1 with 35 KOs met at the Beverly Hills Hotel in California with their respective promotional firms in tow to formally announce their March 15th rematch for Marquez's WBC super featherweight title. The two fighters are finally coming together again after their memorable first encounter back in 2004 that was judged a draw. The bout will take place at the Mandalay Bay Resort & Casino in Las Vegas.

Pacquiao's career defining victories over Mexican icons Erik Morales and Marco Antonio Barrera have earned him the nickname 'The Mexican Killer'. The sobriquet has had a disquieting affect on Marquez who bristles at the notion that he is being lined up as the third pelt in Pacquiao's trophy case.

"There is so much pride," Marquez said at the press conference. "There is so much feeling in me. I want so badly to beat Manny.. continue


---
Hot on the heels of a magnificent 2007 for British boxing, Frank Maloney Promotions returns in force with a bad blood grudge match that is likely to be an early candidate for Fight of the Year honors. Sworn enemies at light heavyweight, Tony Oakey and Peter Haymer, will reprise their initial clash of June 2005 at the very same venue, London's historic York Hall, on Friday, February 1, 2008. continue


---
By Mike Indri - Retired Boxers Foundation -January 17, 2008: Growing up in the Bronx, Alex Ramos was always proud that he shared his January 17th birthday with legendary boxing world champion Muhammad Ali. Since the age of eleven, when Ramos began boxing as an amateur, he always dreamed that one day he himself might be considered "the greatest of all time". In those early dreams, Ramos, then a likable and charismatic teenager, who compiled an unbelievable 189 amateur victories (132 by knockout!), would always win an Olympic Gold Medal. continue


---
16.01.08 - Roy Jones Jr. worked the mitts and showed the blazing speed that made him the pound-for-pound best boxer on the planet for a decade during a media workout today at Kingsway Gym in New York featuring fighters from Saturday's "Bring on the Titans" boxing event at Madison Square Garden and on HBO Pay-Per-View. continue


---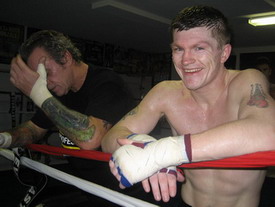 Rocky Marciano - A Life Story: This special documentary chronicles Rocky's amazing life as the only undefeated boxing champion in history, as seen through the eyes of who knew him best - Angelo Dundee, Gay Talese, his friends, family and confidantes. Click here to watch "Rocky Marciano - A Life Story"

Ricky Hatton: A Life Story: Ricky Hatton: A Life Story brings you the man behind the Hitman. Packed with exclusive commentary from his friends, family, trainers, rivals and celebrity fans, the film also features previously unseen home and fan videos from Ricky's kickboxing and amateur competitions. Click here to watch "Ricky Hatton - A Life Story" -- continue


---
WBO #2 rated super lightweight Kendall Holt of Paterson, N.J. will return to action on Thursday, Feb. 7, taking on tough contender Ben Tackie of Accra, Ghana at the Hard Rock Hotel & Casino in Las Vegas. Bob Arum of Top Rank made the announcement today. Holt vs. Tackie will be broadcast live on the VERSUS network. Opening the 'Fight Night' telecast will be USA Olympian Vanes 'Nightmare' Martirosyan, an exciting 18-0 super welterweight from Glendale, Calif. continue


---
Main Events has signed world-ranked cruiserweight contender and former WBC light heavyweight champion Tomasz Adamek, it was announced today by Main Events CEO Kathy Duva. Main Events and Warrior Promotions (promoter of O' Neil Bell) have begun negotiations for a spring IBF-eliminator showdown between Adamek and Bell. The winner would become the mandatory to IBF champion Steve Cunningham. continue


---
16.01.08 - Matthew Hurley: WBC junior welterweight champion Junior Witter, 36-1-2 with 21 KOs, who has been clamoring for a showdown with Ricky Hatton, is now tentatively scheduled to take on Demetrius Hopkins, 28-0-1 with 11 KOs on March 22nd at a site yet to be determined in the United States. An impressive victory will put further pressure on both Hatton and IBF belt holder Paulie Malignaggi to engage the Bradford fighter in the ring to determine supremacy in the junior welterweight division. continue


---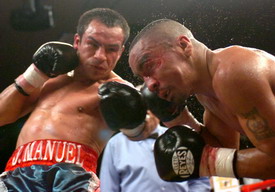 LAS VEGAS, NEV. (January 16, 2008) – The fistic debate as to who is the best will finally be settled Saturday, March 15 when World Boxing Council (WBC) super featherweight champion JUAN MANUEL MARQUEZ defends his title against three-division world champion MANNY PACQUIAO in a fight fittingly titled Marquez - Pacquiao II Unfinished Business. The bout is a rematch of their May 8, 2004 legendary battle which ended in a draw.

Promoted by Golden Boy Promotions and Top Rank, in association with Romanza Boxing Productions and MP Promotions and sponsored by Tecate Beer, Rock Star Energy Drink and Southwest Airlines, Marquez - Pacquiao II Unfinished Business will be for the WBC and vacant Ring Magazine Super Featherweight World Championship. The world title bout will take place at Mandalay Bay Resort & Casino in Las Vegas, and will be produced and distributed live on HBO Pay-Per-View, beginning at 9 p.m. ET/6 p.m. PT. continue


---
16.01.08 - Per Ake Persson: Universum have cancelled the heavyweight showdown for the vacant EBU title between Luan Krasniqi and Aleksander Dimitrenko after Dimitrenko has turned down the offer to fight his stablemate. No reason was given. The fight was set for March 8 in Stuttgart. continue


---
European middleweight champion Sebastian Sylvester has set the bar high for 2008. On the Povetkin undercard in Berlin, the 27-year-old German (27-2, 13 KOs) will defend his European belt against Frenchman Francois Bastient (33-5, 15 KOs). However, he is already thinking ahead. "I want to become world champion this year," the Hurricane stated. "2008 will be my year.. continue


---
Las Vegas, Nevada (January 16, 2008)"Slick" Nick Sampson & Macke Roberts of Sin City Boxing proudly announce the signing of an boxing advisor agreement with former WBC Continental Americas Jr. Welterweight Champion Emanuel Augustus. After taking some time away from pro boxing to regroup and contemplate his next move, Emanuel Augustus is back with a new team firmly behind him and he's ready to fight the best fighters in the welterweight division to accomplish his goal of becoming welterweight champion of the world. continue


---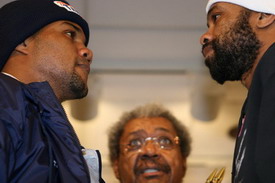 16.01.08 - Photos by David Martin/DKP: The temperature heated up at the final press conference today at Madison Square Garden before Felix Trinidad and Roy Jones Jr. step into the ring on Saturday night in a match featured on HBO Pay-Per-View. In an unusally strong display of emotion, Tito Trinidad's father, trainer and manager Felix Trinidad Sr. turned to Roy Jones Jr. and his team and said, "I am sorry, Roy, but Saturday night you will have no break against Tito Trinidad. You are going to fight against the best Tito Trinidad that any opponent has fought against." Jones acknowledged Tito's supporters. "That's okay you stand for what you believe in. But come Saturday night you are going to hate me more after I beat Felix Trinidad. It's only me and Tito in the ring and, unfortunately, I have to give Tito a bad birthday present.. continue


---
Ross "The Boss" Minter reckons his fight against Michael Jennings is going to steal the show on February 2nd at the ExCeL London. The 29-year-old Crawley welterweight challenges WBU king Jennings and has vowed to bounce back from a KO defeat in his last fight by becoming a world champion. Minter, the son of former middleweight world champion Alan, was involved in one of the fights of 2007 when he tackled Freddy Curiel in Newcastle on the UK v USA Contenders card. continue


---
IBF welterweight champion Kermit Cintron has been told by his doctor-Reading, PA orthopedic surgeon Dr. R. Scott Cook-that he may resume "full training in a week to 10 days", it was announced today by Main Events CEO Kathy Duva. In November Cook diagnosed Cintron with severe ligament damage in his right hand following the champion's Nov 23 title-defending victory over Jesse Feliciano (TKO 10). continue


---
In the early 1960s, brutish Charles "Sonny" Liston terrorized boxing's heavyweight division with his paralyzing stares and knockout power in both of his 14-inch fists, prompting his trainer, Johnny Tocco to label him a "killing machine." A decade later came George Foreman, a Liston disciple and 1968 Olympic Gold medalist. continue


---
By Matthew Hurley: Manny Pacquiao made the twelve hour flight from the Philippines to California, arriving in Los Angeles Monday night and declared himself ready to resume training at the Wild Card Gym for his March 15th showdown with WBC super featherweight champion Juan Manuel Marquez at the Mandalay Bay Resort & Casino in Las Vegas. Trainer Freddie Roach said that serious training will begin this week and that sparring session will start in the first week of February.

"Everything is all set as far as Manny's training program is concerned," Roach told the Manila Bulletin.

Pacquiao began initial training on January 5th in the Philippines while Marquez began his preparations in December. The two fighters first met back in 2004 and battled to a memorable stalemate. continue


---
Most people turn into a quivering wreck when they are confronted by Weakest Link host Anne Robinson - but not dynamite punching WBO World Cruiserweight Champion Enzo Maccarinelli! Big Mac came head-to-head with the fiery red-head during filming of the latest celebrity show to be televised this Saturday (19th January) on BBC1 at 5.40pm. continue


---
Question for Papa Trinidad, What did you see in Jones that you picked him as a comeback fight?

PAPA TRINIDAD: "A long time ago, we had been thinking that this would be a good fight for Tito. And now that Tito had a willingness to return, and Tito could make the weight, we saw that it was convenient to do a fight against Jones.. continue


---
How has the training been going?

MERKERSON: "It's going great. I'd like to say hello to everyone out there. Roy has been training very hard. He's been very enthusiastic during the training camp. We are just ready to go. Roy was very motivated during the training, he's put a lot of money in the bank; did all the right things. I haven't seen this in him in the last two or three years, maybe four years. Eat, sleep, thinking boxing. He is back on track, just like he was back when he was very hot in the boxing game.. continue


---
By Geoffrey Ciani: I was utterly baffled when I first heard word of a fight signed between former elites, Roy Jones Junior and Felix "Tito" Trinidad. Upon hearing the news, all I could think to myself was, "WHY?" On the surface, this fight made absolutely no sense—none whatever—except, of course, in terms of the Almighty Dollar.

Roy Jones has spent much of his career opting for the path of "least" resistance. This is not to say that he is, quite literally, seeking out the softest opposition available, but rather, that there is always some angle being exploited when Roy picks and chooses his opponents. Case in point, Roy's recent choice of opponent, Trinidad, has never had a single contest north of the middleweight division. Against Jones, Trinidad will inexplicably be fighting at the 170 pound limit! continue


---
The top boxers from both the United States and Mexico are all arriving in sunny San Diego, Calif., on Tuesday in preparation for the Battle Across the Border, an international Olympic-style boxing dual between the United States and Mexico. The teams will face off in the first event of 2008 at the San Diego Sports Arena at 7 p.m. on Friday, January 18. continue


---
Puerto Rican junior lightweight Gadiel Andaluz makes his professional debut on Friday, January 25th at Cicero Stadium as Oscar De La Hoya's Golden Boy Promotions and Dominic Pesoli's 8 Count Productions present THE MONTH OF THE KINGS, an eight bout card of world class professional boxing. Tickets for THE MONTH OF THE KINGS are available in advance by calling the 8 Count Productions offices at 312-226-5800. Cicero Stadium is located at 1909 S. Laramie, just minutes from the Eisenhower and Stevenson Expressways. Doors for this event will open at 5:30pm with the first bell at 6:30pm. continue


---
Joe DeGuardia's Star Boxing in association with Mohegan Sun presents an exciting night of fights televised live on ESPN2, from the Mohegan Sun Arena. Headlining the card is Danbury, CT. resident welterweight sensation Delvin Rodriguez (21- 2-1, 13KO's) against undefeated New Jersey native Troy Browning (20-0-1, 8KO's) in a ten round welterweight bout. continue


---
By Ted Sares:

You always say 'I'll quit when I start to slide', and then one morning you wake up and realize you've done slid --Sugar Ray Robinson

A fighter never knows when it's the last bell. He doesn't want to face that.

—Leonard

In my recently published book, I included a piece (Chapter 50) on the top 100 fighters since 1950 and had Sugar Ray Robinson a firm number one. Another Sugar, Ray Leonard was number seven and here is what I said about him: continue


---
Matthew Hurley: Weekend reports found Ricky Hatton possibly making his ring return against WBA light welterweight champion Gavin Rees in May at the MEN Arena in Manchester. Now, according to Hatton's father, that fight has gone by the wayside and Ricky will look elsewhere for his comeback opponent. continue


---
January 15 (Merrillville, IN) - She may be small in stature, but she's big on action! Undefeated featherweight Evette Colazzo (2-0, 2 KOs) looks to continue her knock out ways when she returns to the ring on February 1 at The Radisson at Star Plaza in Merrillville, Indiana. continue


---
15.01.08 - ARENA-CEO Ahmet Öner may have lost the purse bid for the WBC elimination bout between Juan Carlos Gomez and Vladimir Virchis but he still believes in his man. As extra-motivation the promoter promised his fighter a win bonus. Öner: "If Gomez beats Virchis I will pay him an extra $200,000!" This 'bonus' would almost double the purse as Spotlight's winning offer at yesterday's purse bid in Mexico City was $411,840, which are divided equally between both opponents. continue


---
By Andrew Wake: Bradford's World Boxing Council light-welterweight champion Junior "The Hitter" Witter has continued to deride his British rival Ricky Hatton by branding him a coward.

In a recent interview with Fight Network Radio, the 33 year old said "Don't worry about money, how much I am making or not making. If you are the public role model and public hero like you claim you are, then give them what they want - me and you. Stop being a coward."

The outburst is not the first time the stance switching champion, who has just recovered from knee surgery, has slated Hatton. After Hatton took the British title over seven years ago by outpointing Jon Thaxton in difficult and bloody contest, Witter interrupted Hatton's interview for Sky Sports television by telling him, "I will fight you anytime and I will destroy you." The harsh words and challenges have not stopped since. continue


---
NEW YORK—A media workout was held today at New York's Church Street Gym featuring fighters from Saturday's "Bring on the Titans" boxing event at Madison Square Garden and on HBO Pay-Per-View. Felix "Tito"Trinidad, Roman "Made in Hell" Karmazin, Alex "The Technician" Bunema and Devon Alexander "The Great" all performed a light workout and answered questions. continue


---
By John Martinez. BoxingRealm.com: After reading all the brouhaha and alleged facts spread by the supposed insiders regarding the IBF/WBA, and as of now, WBO undefeated lightweight champion Juan " Baby Bull" Diaz's cancelled fight with the promising brawler Michael Katsidis I decided to ask the one man who would definitely know what happened or for that matter what did not happen. His name- Willie Savannah. continue


---
New York (January 14, 2007) --- Top rated and undefeated welterweight Andre Berto (20-0, 17 KO's) will face his most experienced opponent to date on February 9 when he takes on German Michel Trabant (43-2-1, 19 KO's) in a 10-round welterweight contest. The bout will take place at the Pechanga Resort and Casino in Temecula, California and will be televised on HBO's Boxing After Dark with coverage beginning at 10pm ET. continue


---
By Matthew Hurley: According to promoter Bob Arum speculation as to who Oscar De La Hoya will fight next should not include his fighter, WBA welterweight champion Miguel Cotto. Arum told boxing writer Robert Morales that the 'Golden Boy' is in negotiations with Floyd Mayweather Jr. for a rematch of their May, 2007 bout which broke all box office records with customer purchase reaching 2.4 million.

De La Hoya had been entertaining the idea of fighting Ricky Hatton before Mayweather knocked out their 'Hitman' in the December 8th bout at the MGM Grand in Las Vegas. Oscar then notified the media that his final decision in regards to his May opponent would come a few weeks after the holidays. For his part Arum never really thought that a fight between De La Hoya and Cotto would come about. continue


---
By Paul McCreath: On Saturday January 26, in Germany two fine young heavyweights, the American Eddie Chambers, and the German based Russian Alexander Povetkin will meet in an International Boxing Federation final eliminator with the winner to meet Wladimir Klitschko for the title. Already the anti-German comments have started. You hear statements like "Chambers will have to knock him out to get a win in Germany" or "the corrupt German judges will cheat Chambers out of the decision. "It happens every time a foreign fighter meets a German based one in a big fight in any German city." Is there really any sound basis for this kind of suggestion? Let us try to take a fair and honest look at this situation. continue


---
By James Slater: According to the usually reliable BoxRec.com website, Shannon Briggs, the former two-time heavyweight world champ (Linear and World Boxing Organization) is set to return to the ring this February 2nd. No opponent has been named as of yet, but Briggs, now aged 36 and with a fine 48-5-1(42) record, is scheduled to fight in Scottsdale, Arizona. Also due to appear on the bill are Zahir Raheem and Carlos De Leon Jnr. Should Briggs' fight go ahead, it will be his first bout since his June 2007 points loss to the unbeaten Sultan Ibragimov. Briggs lost his WBO belt in that fight, and the question now is, can "The Cannon" get himself back into the big picture at heavyweight continue


---
Heavyweight: Vladimir Virchis vs. Juan Carlos Gomez, final elimination: Universum Box Promotion won the bid with an offer of $411,980.00, outbidding Arena Promotions' offer of $400,000.

Super middleweight: Carl Froch vs. Dennis Inkin, final elimination: An agreement was reached, and Hennessy Promotions will promote the fight in England on March 15, 2008. continue


---
By Vivek Wallace: In every major sport with the exception of college football, there's some type of playoff styled system that requires the best to prove themselves against the formidable, clarifying its position as the ultimate contender amongst an ocean of pretenders.

In the world of Boxing, pairing that group of quality opposition against each other isn't always an easy task. One thing that makes this tougher is a crop of promoters who have been very successful in finding lucrative ways to force feed fight fans big-money fights, as opposed to best-talent fights.

This act is a huge detriment to not only the sport, but the careers of underground talents that remain buried somewhere beneath the radar. continue


---
Montreal, Monday January 14th 2008 – The Purse Bid ceremony scheduled today to determine the promoter of the WBC Light Heavyweight title bout between Adrian « The Shark » Diaconu and Chad Dawson has been postponed. American Promoter Don King Productions contacted the WBC to inform them that it was still considering to promote the Diaconu/Dawson fight. continue


---
Philadelphia, PA—Rogers Mtagwa, of Philadelphia, PA, makes the first defense of his North American Boxing Federation (NABF) featherweight title when he faces Roger Gonzalez, of Fontana, CA, the scheduled 12-round main event Friday evening, March 7, at the New Alhambra, Swanson & Ritner Streets, next to Forman Mills, in South Philadelphia. First of seven fights at 7.30 p.m. continue


---
By Matthew Hurley: According to Promoter Frank Warren the much anticipated Bernard Hopkins – Joe Calzaghe showdown is set for April, probably the 12th, in Las Vegas. The site is as of yet undetermined but both the MGM Grand and the Mandalay Bay have been mentioned. Warren is set to make an official announcement this week. continue


---
By Matthew Hurley: Ricky Hatton, 43-1 with 31 KOs is looking to jump right back into the world title mix by taking on World Boxing Association light-welterweight champion Gavin Rees, 27-0 with 13 KOs, possibly in May. Hatton, last seen in the ring in a losing effort against Floyd Mayweather, has been weighing his options since his first defeat but has said that he wants his return bout to be in Manchester. Rees, a stablemate of super middleweight champion Joe Calzaghe and trained by his father Enzo, won the WBA title with an upset over Souleymane M'Baye on July 21st.

The Daily Mail reports that talks between Rees's promoter Frank Warren and Hatton's advisors have begun and that regardless of who Hatton does step into the ring with the fight will be broadcast on HBO. continue


---
January 13, 2008. New York, New York-Cedric Kushner, Gotham Boxing, K2 Promotions, Wladimir Klitschko and Shelly Finkel are pleased to announce that they have reached an amicable settlement related to a case that had been filed in the Supreme Court of the State of New York in early 2007. continue


---
PROVIDENCE (January 14, 2008) – Strengthened by his devastating knockout of James Northey last October, 2004 U.S. Olympian Jason "Big Six" Estrada (10-1, 2 KOs) plans to knock his next opponent, former world heavyweight title contender Charles Shufford, into retirement after their January 25th 10-round, co-main event on "Champions of Tomorrow" at Foxwoods Resort Casino in Mashantucket, Connecticut. continue


---
14.01.08 - Amir Khan has an even tougher assignment on his hands when he faces former world champion Gairy St Clair on Saturday 2nd February at the Excel London. The undefeated Bolton star was due to face Martin Kristjansen for the Vacant WBO Intercontinental Lightweight title but the Dane withdrew from the fight suffering from influenza. Khan, who's last fight was a whirlwind 72-second blitz over Graham Earl, will now have a harder test against the Australian when he defend his Commonwealth title for the third time. continue


---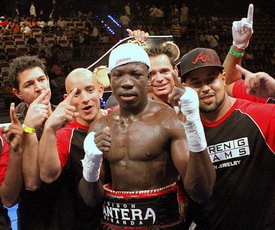 By Wray Edwards, all photos © Wray Edwards/ESB ringside at the Seminole Warriors Hard Rock Live: There has been talk about getting Edison Miranda and Jean Pascal in the same ring for a Boxing match. Last night they were in the same ring alright…sort-of. Edison Fought David Banks and Jean fought Omar Pittman. Edison and Jean both won their contests, but that's where the similarity stopped.

Pascal found himself in a real battle with Omar, while Edison had smoother sailing with David. Also, there was a massive difference between Jean and Edison when it came to corner support as the slide show below reveals…and I do mean reveals:

Edison fiddled around with Banks until the third round, with little or no serious punches delivered by either fighter until Bam!! Miranda caught David near the ropes and knocked him through them. continue


---
By Mark Pickering: When a former kickboxer in his mid-30's makes the transition to the sweet science observers would be forgiven for not taking a name. Yet those at Elephant and Castle Leisure Centre in 2002 witnessed the debut of a future world heavyweight title challenger in Matt Skelton, a name that will make history on Saturday. The Bedford Banger will become the oldest first-time challenger for a world heavyweight title when he faces World Boxing Association champion Ruslan Chagaev in Dusseldorf, Germany. continue


---
ARENA-CEO Ahmet Öner is a very busy man at the moment. On his way to the purse bid for the WBC Final Eliminator Juan Carlos Gomez vs. Vladimir Virchis in Mexico City today the promoter stopped by in New York, Miami and Los Angeles for several meetings. One of the results of his negotiations: Cuban Olympic gold medallist will fight twice in February. The good news for all American boxing fans: both bouts on February 8th and 22nd will be broadcasted LIVE on ESPN. continue


---
Philadelphia (January 14, 2008)—IBF Cruiserweight champion, Steve "USS" Cunningham will appear on the NBC-10 (Philadelphia) news at approximately 6:15 pm tonight. Cunningham, 22-1 with eleven knockouts is coming off a twelfth round stoppage over mandatory challenger Marco Huck in Bielefeld, Germany on December 29th. Cunningham taped the segment last week with sports anchor John Clark at Shuler's Gym in West Philadelphia.


---
by James Slater: Tonight, at The York Hall, Bethnal Green, London, light-middleweights Anthony Small, 17-1(11) going in and Takaloo, 25-6(17) going in, met in an intriguing crossroads match-up. The 26-year-old Small rebounded from his last fight and only loss, to win inside 7 rounds against the 32-year-old veteran and former two-time WBU champion - who was also coming off a loss.

In round one, Small came out with his usual loose limbed boxing style, while Takaloo brought pressure and chopped away to Small's body. A very close round, which this writer scored even.

In the second and third, Small got his left hand working very well. An eye catching series of hooks with the left, both up and down, scored for him in the 2nd, and then in round three Small decked his man. continue


---
Yusaf Mack, former, Super Middleweight, is ready to replace Jeff Lacy who pulled out of the scheduled clash with current IBO champion, Antonio Tarver on the 12th April 2008 at the St. Pete Times Forum, Tampa, Florida, United States. Mack, has been struggling to make the Super Middleweight limit for some time is ready to fulfil his potential at the higher weight. Mack is known as a real talent that has never really reached his full potential, and after defeats to Alejandro Berrio and more recently, Librado Andrade, Mack's manager Rory Donadio has decided that it is now time to make some drastic changes to Mack's preparation, in order to get the best out of him. continue


---
NEW YORK (January 13, 2008) – Unbeaten world middleweight title contender "Ireland's" John Duddy has returned from his native Emerald Isle to his adopted Big Apple home in Queens to fight in New York City for the first time since last May, taking on Walid "Temperate de Sable" Smichet (17-3-1, 13 KOs) in the 10-round, off-TV co-feature February 23 on the heavyweight champion unification show, headlined by IBF champion Wladimir Klitschko against WBO title-holder Sultan Ibragimov, at Madison Square Garden. continue


---
Happy Birthday, Manfred Wolke! The popular Sauerland coach turns 65 today. At a reception in his gym in Frankfurt/Oder, he received greetings and presents from many friends. Among them were coaching colleague Ulli Wegner, Sauerland matchmaker Hagen Doering and managing director Chris Meyer. continue


---
By Ted Sares: He [Litzau] is so fun to watch --Joe Tessitore

The Fight: Robert "The Ghost" Guerrero, 21-1-1, is the IBF featherweight title holder and plans to retain his title when he fights Jason "The American Boy" Litzau, 23-1, on February 29 at the Tachi Palace Hotel & Casino in Lemoore, California. Litzau has a lofty KO percentage of 79% vs. 61% for the Ghost, but that's where the similarities appear to end.

Background

On July 15, 2005, "The American Boy" captured a split-decision victory over John Nolasco on ESPN2's "Friday Night Fights" broadcast. The bout had "closet classic" written all over it. But on Dec 16, 2006, he was upset in his first spotlight appearance on HBO's Boxing After Dark in a fight against Chicagoan Joe Hernandez. continue


---
13.01.08 - Photo by cla-photographic: Jon Thaxton leads the search party for Amir Khan so he can hand him the four feathers he promised him.

"Come on Amir show yourself, which one of these little clucking blighters are you? continue


---
By Carlo Pamintuan: The Filipino people have never rallied around a single athlete as they have for Manny "Pacman" Pacquiao. Hordes stayed until the wee hours to watch Mansueto Velasco's unsuccessful attempt to bag the Philippines' first gold medal in the Olympics. More watched Efren "Bata" Reyes solidify his status as arguably the best man ever to hold a cue stick by winning the 1999 World Pool Championship in Cardiff, Wales. However, the support these two got from the nation would pale in comparison to what Pacquiao gets each and every time he laces his boots and climbs the ring. continue


---
By Phil Santos – Overhandright. com - There is nothing a fight fan respects more than a warrior who gives everything he has regardless of the situation or who he is in with. Guys like Diego Corrales and Arturo Gatti are admired for more than just their winning records and epic battles. It is their unrelenting will to never give up no matter how much the deck is stacked against them. There is no quit, no cruising to a decision, no knowing when to say when with Edison "Pantera" Miranda. He knows only one speed, he fights only one way, and that is hard and fast inspiring fear in opponents and awe from spectators. Edison Miranda is flat out electric.. continue


---
January 12, 2008 - By Frank Gonzalez Jr. Edison "Pantera" Miranda (30-2, 26 KO's) vs. The Contender's David Banks (15-4-1, 2 KO's) was the featured Main Event for FNF last night. Miranda disposed of David Banks in three rounds via knockout. Banks proved to be a pretty decent boxer. Miranda looked slow early on as he sized up his opponent. I thought Banks scored the better shots (the only shots) in the first round and did some good counter punching to win the second round.

In the third round, Miranda caught Banks up against the ropes and landed a clean right hand straight into Banks face that saw him fall through the ropes awkwardly, almost looked as though he might snap in half the way he fell backward. continue


---
By Nathan King: According to earlier reports, Edison Miranda, in his post fight interview, stated that a fight with Jean Pascal doesn't interest him. He now wants either Jermain Taylor (27-1-1, 17 KO) or Kelly Pavlik (32-0, 29 KO), depending on who wins the rematch. Miranda (30-0, 26 KO), made this statement: "I don't want to fight Pascal. He's a deadbeat. I want to fight the winner of the Jermain Taylor-Kelly Pavlik fight. I have unfinished business with Pavlik. He beat me on the worst night of my career. HBO wants to make that fight because they like my style.. continue


---
By Matt Yanofsky: In front of a packed house at Salem County Community College, Salem's very own Mark "Oak Tree" Brown improved to 11-1 (4 KO's) in winning the battle of the Brown's by getting a disqualification victory over Bernard Brown 5-3 (3 KO's). Oak Tree was boxing Bernard slowly and landed a decent left hook which left the challenger from Baltimore, Maryland clinching. As both men landed a few shots out of the clinch, referee Allan Huggins called for a break. The Maryland resident then hit Oak Tree as Huggins attempted to move the two massive Heavyweights apart. continue


---
NEW YORK —Promoter Don King likes to deliver on his promises and when he told Susan G. Komen for the Cure that he wanted to help "KO Cancer," he meant it. The boxing icon has announced an extraordinary fight-night package now available on eBay Giving Works to his upcoming "Bring on the Titans" mega-bout on Saturday, Jan. 19 at Madison Square Garden featuring Felix "Tito" Trinidad vs. Roy Jones Jr. continue


---
By Christopher Roche: "Contender 3" star David Banks looked to confuse Edison "Pantera" Miranda in the early going last night on ESPN's "Friday Night Fights." Miranda, now fighting at super middleweight, methodically stalked Banks, and arguably gave away the first two rounds. Banks showed some nice counter work in the early going, and the self-taught Oregonian proved he has decent skills.

However, those first two rounds were elementary because two-thirds of the way through round three, Miranda unloaded a right hand missile that detonated on the side of Banks' head.

Banks fell through the ropes, and his feet kicked up in the air. The scene was almost frightening to watch. Banks was sprawled out from Miranda's amazing shot, but he actually stumbled to his feet around the count of ten. continue


---
By Matthew Hurley: According to the Showtime Network International Boxing Organization light heavyweight title holder Antonio Tarver will take on fellow Floridian and former International Boxing Federation and IBO super middleweight champion Jeff 'Left Hook' Lacy on April 12th at the St. Pete Times Forum in Tampa, Florida. continue


---
January 11, 2008 - Leading up to the highly anticipated 170-pound showdown between Roy Jones Jr. and Felix Trinidad -- set for Saturday, January 19 in New York City and broadcast live on HBO Pay-Per-View-- HBO Sports will present the exclusive back-to-back replay of two signature fights showcasing their considerable talents. continue


---
By Matthew Hurley: The nephew of former World Boxing Council heavyweight champion Trevor Berbick was sentenced Friday afternoon, January 11th, 2008 to life in prison for the murder of his uncle. Harold Berbick, twenty-one, will be eligible for parole in twenty years. His accomplice, Kenton Gordon, was sentenced to fourteen years in prison after being found guilty of manslaughter. Police in Kingston, Jamaica said that the two men bludgeoned the fifty-four year old fighter to death in October of 2006 over a land dispute and left his body in a church courtyard. There were also reports that the two men used machetes in their attack. continue


---
By Phil Santos – Overhandright.com - The fight began slowly with David Banks doing what he needed to be effective against such a heavy hitter like Edison Miranda. Banks kept moving, circling to his right, in order to avoid Miranda's a big right hand. I saw the 1st round to be even with neither man scoring very effectively. No surprise there given the vastly contrasting styles these two brought to the ring.

In the 2nd round Miranda picked up the pace, scoring some hard body shots, and appeared to slow Banks down. Still the action was scarce and you could actually hear some booing from the crowd. What was going on here? Booing at an Edison Miranda fight? That just doesn't happen. This guy is electric, he is a knockout machine. Was David Banks plan to frustrate Miranda with his speed and technique actually working? continue


---
Los Angeles, CA (January 11, 2008) – Despite a 30-0 (16 KO) record and a spot in the finals of an IBF Heavyweight Championship Eliminator, Eddie Chambers and his trainer/father, Eddie W. Chambers, agreed on two things – the younger Chambers has all the tools to be a World Heavyweight Champion and the time was right to bring in an added voice of experience to his corner. continue


---
Promoter Frank Warren has released the official poster artwork for the forthcoming super-fight between Enzo Maccarinelli and David Haye. WBO World Cruiserweight Champion Maccarinelli and WBC/WBA World Champion Haye collide at the 02 Arena in London on Saturday 8th March. It is the biggest all-British showdown since the Nigel Benn-Chris Eubank epics in the 1990s. continue


---
Montreal, Thursday January 10th 2008 - IBF World Super Middleweight champion Lucian Bute (21-0-0 17 K.-O.) is set to defend his World crown for the first time against a very interesting and decorated challenger in 3-time World champion William Joppy (39-4-1 30 K.-O.) on Friday, February 29th 2008 at the Montreal Bell Centre. The bout will be promoted by InterBox in association with William Joppy's promoter Goossen Tutor Promotions. continue


---
By Phil Santos – Overhandright.com - Jean Pascal moves to 21-0 (14) by scoring a UD victory over a game Omar Pittman. The fight began slowly with lots of swings and misses but with Pascal securely in control. With the exception of an off balance slip up, that could have been scored a knockdown; Pascal was cruising winning the first six rounds with relative ease. He had Pittman down in the second, courtesy of a sharp left hook, and he overwhelmed his lesser talented opponent with superior speed and movement.

As the 6th round neared its conclusion Pascal held out his arms and taunted Pittman to fight, a move he would soon regret. In the 7th round Pittman smashed Pascal with a right hand, left hook combo that left him wobbly and doing his best to survive the round. Luckily for Pascal, Omar Pittman is not a highly skilled fighter and he just couldn't find a way to finish. Pascal regained his composure in the 8th; although he was still shaky, and got back to out boxing the over matched Pittman. continue


---
Matthew Hurley: According to the official Palle website Martin Kristjansen, 19-1-3 with 5 KOs has pulled out of his February 2nd bout with Amir Khan, 15-0 with 12 KOs due to illness. Kristjansen sent an email to manager Bettina Palle stating that he would be unable to fight. "I constantly feel nauseous, my stomach is upset and I throw up. I can't keep food inside me, and it's probably a bad case of the flu. It's impossible for me to train, and I have no energy. I just don't feel I can afford to miss out on days of training as time is already short. I really feel bad to lose this opportunity and I hope the fight can be postponed so I can get it later. Because I really do want this fight.. continue


---
Reigning IWBF featherweight and NABF super featherweight champion Missy "The Fury" Fiorentino, headlines "The Ultimate Showdown II" pro-am boxing show, presented by Peter Manfredo, Sr. in association with Bash For Cash, on January 26 at the Mansfield SportsPlex in Mansfield, Massachusetts. continue


---
11.01.08 - Kevin Mitchell will now fight experienced Venezuelan Edison Torres at the York Hall on Saturday night - and has vowed not to let his loyal fans down. Undefeated Mitchell was due to challenge Carl Johanneson for the British super-featherweight title on January 12, until the Yorkshireman was ruled out with a bad back. continue


---
By Matthew Hurley: As Felix Trinidad readies himself for his showdown with Roy Jones Jr. on January 19th the Puerto Rican icon will carry the baggage of his lopsided loss to Winky Wright in his last fight back in 2005. That night Wright befuddled 'Tito' with a razor sharp right jab shutting Trinidad out completely on one of the judges scorecards while winning only one round on the cards of the other two. Trinidad now admits that he never wanted to retire from boxing after such an overwhelming defeat. Now he will step into the ring at Madison Square Garden to fight another iconic pugilist on the back end of his own career.

In a recent conference call the ever-energetic Trinidad acknowledged the anxiety that ate at him after the Wright loss and why, with only three fights under his belt since his 2001 loss to Bernard Hopkins, he is eager to not only knock out Roy Jones but also resume his on-again off-again career. continue


---
LOS ANGELES, January 10 – Winner of the first season of 'The Contender,' Sergio Mora and former U.S. Olympian Vicente Escobedo, are ready for their first fights of 2008 on Golden Boy Promotions' January 11th show at the Morongo Casino Resort & Spa in Cabazon, California which will be televised on TeleFutura's Solo Boxeo. continue


---
The New Year couldn't have started any worse for ARENA's "Lion" Mahir Oral. At the ARENA training camp in Mallorca Oral suffered a new injury on his right hand which had been broken twice in the last 13 months forcing the 27-year-old middleweight to several surgeries. Therefore "The Lion" has to pull out of his IBF Eliminator against Fulgencio Zuniga scheduled for the end of February. Maybe this new setback even puts an end to his career. continue


---
By Matthew Hurley: As super middleweight Edison Miranda, 29-2 with 25 KOs readies himself to take on David Banks, 15-3 with 2 KOs this Friday night at the Seminole Hard Rock Hotel and Casino in Florida the fighter known as 'Pantera' found his attention drawn to another potential opponent. Jean Pascal, who fights on the undercard, threw a few taunts at Miranda during a press conference on Hollywood Beach. continue


---
By Ted Sares:

Did the boogie
I did the boogie, boogie
I did the boogie
Yeah, hey hey

--John Lee Hooker

When Bert Cooper squared off with Michael Moorer in 1992 and George Foreman brawled with Ron Lyle in 1976, you could hear the snap of their punches and the furious shuffling of their foot movement. You just knew you were witnessing something special, for they were engaging in all-out war from the get-go. continue


---
11.01.08 - Esham Pickering is looking to make a statement and prove he's still the best in Britain when he boxes Sean Hughes in a highly anticipated rematch at the Meadowside Leisure Centre, Burton-on-Trent Friday 18th January 2008. continue


---
Photos by Paul R. Hernandez for DKP - NEW YORK— Former IBF 154-pound world champion Roman "Made in Hell" Karmazin, will defend his World Boxing Association Intercontinental super welterweight championship against Alex Bunema on Saturday, Jan. 19 at New York's famed Madison Square Garden. Karmazin (36-2-1, 23 KOs), now living in Los Angeles, and Bunema (26-9-2, 14 KOs), from the Democratic Republic of Congo, will clash in a match featured on the HBO Pay-Per View telecast during the "Bring on the Titans" event headlined by Felix "Tito" Trinidad vs. Roy Jones Jr. Two of the greatest boxers in history, Trinidad and Jones will face each other in a battle boxing fans have been waiting for years to see. continue


---
Two and a half years after losing a controversial title fight to Peter Haymer, British light heavyweight champion Tony Oakey gets the chance to revenge what he calls daylight robbery. This mouth watering rematch takes place at York Hall in Bethnal Green, London on Friday, February 1 as Frank Maloney Promotions kicks off 2008 in style. continue


---
By Scoop Malinowski:

John Scully vs. Michael Nunn in 1995.

Status: Boxing trainer, ESPN Classic TV commentator, author and former three-time world title challenger.

Ht: 5-11 Wt: 185

DOB: July 28, 1967 In: Hartford, CT

Childhood Heroes: Lynn Swann, Fred Lynn, Muhammad Ali.

Nicknames: Iceman, Jon-Jon, Superman. continue


---
Jauary 11, 2008 — World Boxing Council CABOFE Middleweight Champion Miguel Espino (18-2-1 7 KO's) heads back to Baja California to continue his pursuit of a title bout in 2008. Espino is scheduled to fight Humberto Corral, another Mexican native from Sonora, Mexico at the "Gymnasio Tigre Garcia" in Ensenada, Baja California, Mexico. continue


---
Two-time national amateur champion Edwin Rodriguez of Worcester, Mass., makes his pro debut Jan. 26 in a four-round middleweight bout in Mansfield, Mass. The opponent for the 22-year-old Rodriguez will be determined. The 6-foot Rodriguez won the USA Boxing national championship for 2005 and the Golden Gloves national championship for 2006, both at 165 pounds, and had a record of 84-9. continue


---
TULSA, OK – For many years, Zahir Raheem has tried to shake the moniker of being a "boring fighter," yet it seemed as though he would forever be labeled as a snoozer. Prior to his last fight on January 4, 2008, Raheem vowed to show the boxing world that he has the ability to bring plenty of excitement into the squared circle. Many probably laughed that off as your run of the mill pre-fight promotion, however Raheem showed that he was serious. continue


---
By Matthew Hurley: Michael Katsidis, the current WBO interim lightweight title holder, may hold the official belt when he takes on Joel Casamayor on March 22nd at a venue yet to be determined. Katsidis was scheduled to fight IBF/WBA/WBO champion Juan Diaz on February 9th but the bout fell apart after Golden Boy Promotions won the purse bid.

Diaz, who is promoted by Don King, is contractually prohibited from fighting under another promotional banner. After King contacted HBO in regards to the clause in the contract the cable network bailed out of the fight. The Katsidis camp then opted to fight Casamayor but hoped that Diaz would be stripped of his title. That now looks to be the case. continue


---
"Dazzling" Darren Barker will make his first defence of his Commonwealth Middleweight Title against former European title challenger Steve Bendall at York Hall, Bethnal Green on Friday, 22nd February, to be broadcast live on Sky Sports. continue


---
By Jason Peck: Kelly Pavlik won't last long as middleweight champion, if his fans have their way. That's because immediately after winning the titles, they called for him to gain a few pounds and fight super-middleweight champ Joe Calzaghe. It's all part of a common misconception that boxing excellence means fighting in multiple weight classes. continue


---
Reno, NV January 10th, 2008 – As a true 'WAR FOR THE WEST' Sacramento California's Otis Griffin (18-2-2 7 KOs) will fight Yerington Nevada's Jesse Brinkley (29-5 20 KOs) in Reno. The fight card will take place on Friday February 22nd at the Silver Legacy Hotel/Casino in the Grand Exposition hall. continue


---
TITO: "I made my decision and I want to fight. I am very well prepared."

What do you think about Jones making the knockout prediction?

TITO: "I think he is going to be embarrassed. It is a promise that he will not be able to fulfill. He is just one more fighter to say something like that. It does not matter to me at all what he says."

How do you feel when you are not boxing?

TITO: "It was an easier life. It is a very relaxed life with my family. When I am boxing I have a lot more responsibility on my shoulders. I have to sacrifice for training."

Does he feel like something is missing in his life to go back? continue


---
Cuban sensation Mike "El Rebellio" Perez touches down at Cork Airport for the first time at 10.30 tomorrow morning to begins preparations for his professional boxing career. The power punching heavyweight is a former World Amateur Champion and was hotly tipped in Cuba to win a Gold medal at this years Beijing Olympics. continue


---
By Anthony Coleman: Over the past few years, Major League Baseball has been plagued by the knowledge that certain baseball players have almost certainly been using steroids and other Performance Enhancing Drugs (PEDs). This past year, Barry Bonds broke Hank Aaron's all-time home-run mark, despite overwhelming evidence that showed he was provided steroids by the infamous BALCO labs. Mark McGwire was kept out of the Hall of Fame because of the suspicions of his reputed steroid use (and there is no doubt in my mind he used them). continue


---
DOVER, Del. — Dover Downs Hotel & Casino will host ESPN2's "Friday Night Fights" on Friday, February 8, 2008, beginning at 7:30 p.m. in the Rollins Center. The card will feature a battle for United States Boxing Association's Cruiserweight title and the International Boxing Federation's Cruiserweight Eliminator match. Dino Duva of Duva Boxing is co-promoting the event with Dave Tiberi of TNT Boxing. Nick Tiberi is the matchmaker. continue


---
10.01.08 – By Cesar Pancorvo: No doubt that Ricky Hatton could choose between many opponents for his next fight, which will be his comeback bout since his first loss against Floyd Mayweather, in 2007's last mega fight, and also no doubt that he must (and will) elect between one of the following paths:

a) Stay in the Light Welterweight division, 140 lbs., and dominate it like the Champion he is, because he is still the Ring and Lineal Champion in that weight class. Hatton has only defended his title three times in 30 months, against Carlos Maussa, who was top ranked because of a big win against Vivian Harris, Juan Urango, who was unexperienced, and against a fighter who was arguably in the P4P ranking: Jose Luis Castillo. continue


---
10.01.08 - The Retired Boxers Foundation is proud to announce an online petition asking all sports fans to sign their names to the petition that proposes a $1 surcharge on every boxing ticket sold for professional boxing, for the purpose of initiating a nationwide Professional Boxers Pension Plan. The petition is located here .. continue


---
The gloves are on as boxing superstar Amir Khan and Network Rail today open a new boxing and fitness community centre in Bolton. The 'Gloves' community centre will provide hundreds of young people with easy and affordable access to professional training, boxing and fitness facilities. continue


---
09.01.08 - By Matthew Hurley: Julio Cesar Chavez Jr. will face Jose Celaya in a 'Latin Fury' promotion on February 9th. Chavez, 34-0-1 with 27 KOs is coming off an impressive sixth round stoppage over Ray Sanchez in Albuquerque, New Mexico on December 1st. Celaya, 31-3 with 16 KOs last fought in October taking a split decision victory over Juan Pablo Montes de Orca. continue


---
By Phil Santos – Overhandright.com: With the exception of Kelly Pavlik no fighter did more to elevate his status among the best fighters in the sport in 2007 than "The Punisher" Paul Williams. Incredibly he achieved this heightened level of respect by winning only one fight. It just so happened that the fight in question was against one of the top fighters in the best division in boxing.

Williams boxed his way to a Unanimous Decision victory over Antonio Margarito in July and earned the WBO Welterweight title in the process. Williams frustrated the rugged veteran with his freakishly long reach, sharp, fluid punching and very quick hands. In addition to earning Williams a World title his victory over Margarito garnered him the distinction of being one of the games most feared combatants. continue


---
PROVIDENCE (January 9, 2008) – Former world title contender "Sucra" Ray Oliveira will be inducted into the CES Ring of Honor in a special ceremony during the "Champions of Tomorrow" pro boxing show, January 25 at Foxwoods Resort Casino in Mashantucket, Connecticut. continue


---
Los Angeles, CA (January 9, 2008) – He became WBO Welterweight Champion of the World last July by pounding out a unanimous decision victory over 'the most avoided welterweight world champion' Antonio Margarito in Carson, California. Next month, Paul "The Punisher" Williams will return to Southern California to make his first defense of that title. continue


---
NEW YORK--When former IBF 154-pound world champion Roman "Made in Hell" Karmazin, steps in the ring on January 19 at Madison Square Garden to defend his WBA Intercontinental super welterweight championship, he will be fighting for much more than himself. The Russian-born immigrant from St. Petersburg, who came to hte United States to pursue his dreams of becoming a world champion boxer, will dedicate his fight to slain New York City Police officers and fellow Russian immigrants Eugene Markshalik and Russell Timoshenko, who were killed in the line of duty in March and July 2007, respectively. continue


---
by James Slater: The cruiserweight division is pretty hot at the moment. With The potentially explosive pairing of BJ Flores and Darnell Wilson set for early February, and then the equally dynamite-laden match up of David Haye and Enzo Maccarinelli happening the following month, the 200 pound division is fast overtaking the heavyweight division as boxing's best big man weight class.

Big enough to rekindle the excitement provided by great heavyweights from up until the 1960s and '70s - a time when fighters from boxing's most watched division were light enough so as to be able to move and throw punches for a full three minutes a round - but also small enough so as to not suffer from being lumbering, today's cruiserweights are more fun to watch than most active heavyweights. continue


---
09.01.08 - Photo by Wende - Heavyweight hopeful Alexander Povetkin has hit Berlin to continue his preparations for the highly-anticipated IBF eliminator against Eddie Chambers. The duo will lock horns in Germany´s capital on January 26 to determine the next mandatory challenger for IBF champion Wladimir Klitschko. "I am in great shape," unbeaten Povetkin (14-0, 11 KOs) said after his arrival at Tegel airport. "The training in my home city of Tschechow has gone very well. I´ll be perfectly prepared for Chambers.. continue


---
09.01.08 - Matthhew Hurley: Rising lightweight contender Amir Khan, 15-0 with 12 KOs has opted not to fight rival Jon Thaxton, 33-7 with 18 KOs. Khan, the Commonwealth champion, had been called out by Thaxton, the British champion, and the two fighters engaged in a war of words leading up to the proposed fight which was to go to purse bid in Cardiff on Wednesday. The British Boxing Board of Control confirmed on Tuesday that Khan would not put his title on the line against Thaxton. continue


---
Highly touted Chicago boxing prospects Tavoris Cloud, Francisco Rodriguez and Victor Polyakov put on outstanding performances at the last 8 Count Productions event, DECEMBER FURY on December 14th at Cicero Stadium. Fight fans can now view their bouts in their entirety on YouTube.com. All three bouts can be viewed at www.youtube.com/ 8countproductions. continue


---
09.01.08 - You are making a lot out of stopping Tito...

RJJ: "He is smaller than me and it will be hard to not try to knock him out."

Will it be a negative if you don't knock him out?

RJJ: "Trust me, he is not going to go 12 rounds with me. I hear, 'If he does this or if he does that...'. "He may try to do all of that but he is not going to go the distance with me. I really can't see him going the distance with me."

Roy, I see you haven't had a knockout in seven fights - what are you going to do different? continue


---
SHOWTIME will televise the fight on a same-day delay basis (TIME: TBD) with Steve Albert and Al Bernstein calling the action from London. The executive producer of the SHOWTIME CHAMPIONSHIP BOXING telecast will be David Dinkins, Jr. with Bob Dunphy directing. "This is a match-up that we simply could not pass up," said Ken Hershman, SHOWTIME senior vice president and general manager, Sports and Event Programming. "Stylistically, this fight sets up to be an all-action barn burner. Add to that the unification of three out of four world titles and you've got a fight fans dream come true."


---
NEW YORK, January 8, 2008 – DiBella Entertainment and Dmitriy "Star of David" Salita (27-0-1, 15 KO's) have worked out an agreement by which Salita has received a release from his promotional contract with the New York based boxing promoter. Salita, an Orthodox Jew fighting out of Brooklyn, NY, fought under the DBE banner for nearly 3 years and brought dedication and excitement to every show he fought on. Over those years, Salita built up a new fan base that filled venues in Manhattan to see him fight his way up the world rankings. DiBella Entertainment wishes Dmitriy and Team Salita the best of luck in their future endeavors, both in and out of the ring.


---
By Phil Santos. Overhandright.com: Edison Miranda vs. David Banks – Super Middleweights (January 11th on ESPN2): These two fighters could not be more dissimilar. Edison "Pantera" Miranda has become a fan favorite by pounding opponents into submission. Miranda boasts an impressive 25 KO's in 31 fights and has suffered defeat only twice. continue


---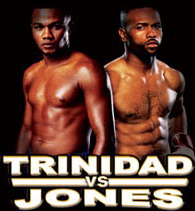 08.01.07 - By Phil Santos – Overhandright.com - Roy Jones Jr. vs. Felix Trinidad (January 19th HBO): One would think that in a battle between two formerly great fighters that a winner would be tough to predict. While that may be true in most instances in the case of Roy Jones and Felix Trinidad the outcome seems fairly obvious.

Roy Jones Jr. was boxings' Pound for Pound king for years. He was Goliath while everyone else from Middleweight to Light Heavy was David without the slingshot. Quite frankly Jones was unbeatable. The man was so quick and so strong that the sports fundamentals just didn't apply to his game. Jones vanquished Bernard Hopkins and James Toney in their primes and what's crazy is he made it look easy! Jones then toppled current top Light Heavyweight Clinton Woods before jumping up to Heavyweight to defeat WBA champion John Ruiz. The next chapter of Jones career wasn't well written. He narrowly defeated Antonio Tarver, granted him a rematch, and suffered the worst, and in my eyes first legitimate, loss of his career. Jones would lose his next two fights, first to Glen Johnson then to Tarver in their rubber match before recently reviving his career with solid wins over Prince Badi Ajamu and previously undefeated Anthony Hanshaw. continue


---
Eleven members of USA Boxing's National Team will compete in the opening event of 2008, vying in the Battle Across the Border, January 18 at the San Diego Sports Arena in San Diego, Calif. The international dual competition will feature top boxers from both the United States and Mexico as both countries countdown toward the 2008 Olympic Games in Beijing, China. continue


---
Per Ake Persson: German Arena Box Promotion are planning 7-8 shows in Germany and two in Turkey during 2008. Meanwhile, Cuban jr lightweight prospect Yuriorkis Gamboa will continue to campaign in the US and have fights scheduled February 8 and 22. Heavies Odlanier Solis and Sinan Samil Sam along middleweight Mustafa Karagol are all three scheduled to appear in Italy February 29. There are two very important eliminators coming up for Arena fighters; for the WBC # 1 spot heavyweight Juan Carlos Gomez clash against Vladimir Virchis and Mahir Oral is in against Fulgencio Zuniga in a IBF eliminator. continue


---
There was a press conference for the upcoming WBC and WBA bantamweight title bouts on Tuesday in Osaka, Japan. WBA bantamweight champion Wladimir Sidorenko (20-0-2, 7 KOs) spoke about his opponent, WBA#4 Japanese challenger Nobuto Ikehara (27-1, 19 KO) saying: "He has the same peek-a-boo style as me, and he has physical power and also seems to have mental strength. I don't take him lightly." Asked about his advantage to the champ, Ikehara said: "I'm taller, if not more experienced in world title bouts. I'll show my heart against the strong champ who has kept his title five times.. continue


---
Matthew Hurley: Despite laboring to score a twelve round unanimous decision over Herman Ngoudjo, IBF light welterweight champion Paulie Malignaggi's motor mouth was revving just fine when the topic turned to potential opponent Ricky Hatton. Malignaggi's ego may have been bruised a bit after being stunned by Ngoudjo in the seventh round but the braggadocios fighter blames a six-month layoff for his lackluster performance. It's Hatton the Brooklyn born 'Magic Man' truly wants.

"Ricky Hatton needs me at this point," the fighter told ESPN's Tim Smith. "If he comes back down to 140 pounds he can't fight shlubs anymore. I think I'm the biggest name at 140 besides Ricky Hatton."

That assertion is debatable but Malignaggi's shaky performance may actually get him what he wants. There was little on display Saturday night to suggest that Hatton is doing anything but salivating over the thought of chasing Paulie around and then out of the ring. continue


---
07.01.08 - By Vivek Wallace: Didn't take too long for the headline fighters of 2007 to bless us with something new to talk about in 2008. Although there have been no mega-fights as of yet, the buzz is heating up relative to some of the biggest names in the sport.

In what should hardly come as a surprise, perhaps the most comical buzz was the recent interview conducted by Percy Crawford of fighthype.com with Floyd Mayweather Sr. who discussed the possibility of his son taking part in the UFC/MMA sport. continue


---
Archimedes Academy at 456 White Plains Road in the Bronx @ the IS 174 Campus is the first New York City public school to host a "Daily News Golden Gloves" in history. Mark this date on your calendar, Friday, January 25, 2008, at 7 pm, when the greatest amateur boxers in New York will battle it out hoping to win a chance to box for a Golden Glove Championship in April at Madison Square Garden. continue


---
John Thaxton would just like to make it clear that tomorrow's purse bid has now been made for both the British and Commonwealth titles. John goes on to explain: "Where I'm British Champion, I'm also mandatory for Khan's Commonwealth title, so the board and commonwealth council have been really fare and made this a 50/50 split with both titles on the line. If Khan bottles it and pulls out of this purse bid and still continues to fight on February 2nd then not only will he lose his right to fight for the prestigious British Title, he should definitely be stripped of his Commonwealth Title. continue


---
07.01.08 - By Jim Dorney: Since the controversial Lennox Lewis vs. Vitali Klitschko fight in June 2003, most boxing fans agree that the heavyweight division has been in a state of disarray, with many fighters crowned champion, but not one overall dominant one who has unified the title & defended against the best.

Equally, a large amount of fans agree that Lewis was the last true dominant heavyweight champion, especially after his highly-anticipated fight with Mike Tyson, which despite the hype, proved to be somewhat of a mismatch, pretty much once & for all destroying the myth that Tyson was ever really much of a threat since his two defeats to Evander Holyfield.

In terms of the 70s, 80s & 90s, there were a number of great heavyweight fighters & champions, but the ones who really surfaced to the top & proved dominant champions could be argued to be the following continue


---
"The Persecutor" Mike Paschall (15-0-1) will be featured in an 8 round Super Middleweight battle against Andre "Da Heat" Hemphill (6-6-2). Don't let the record deceive, "Da Heat" has only fought two opponents with losing records; both early in his career. His opponents have a combined record of 70-14. continue


---
On February 1, Detroit-based promoter Joseph Donofrio of Donofrio Boxing will return for "FIRE & ICE" a five-bout night of professional boxing at the Palace of Auburn Hills in Auburn Hills, Michigan. continue


---
On Friday, February 1, Octavius James' One In A Million Inc. kicks-off 2008 with a sensational five-bout card from the Radisson at Star Plaza Theatre in Merrillville, Indiana. In the main event, in an outstanding "Boxer vs. Brawler" match up, Gary's undefeated lightweight "Dangerous" Don Moore (14-0-1, 10) faces warrior Francisco "Panchito" Zepeda (16-6, 9) of Indianapolis /Cocula, JA, Mexico. continue


---
07.01.08 - By James Slater: As we start a new month of a new year, I look back at how this very month of January was very much an important and significant one in the life and career of heavyweight phenomenon George Foreman. Indeed, no fewer than five hugely principal moments in "Big" George's astonishing life occurred in the month we are now in.

First things first then. George Foreman came into the world in the month of January, in the year 1949. This fact was actually the subject of much debate in later years, especially when Foreman began his unlikely comeback in the late 1980's. For many, not least "The Bible of Boxing" itself, in Ring magazine, had George's birth date amongst their files as being January the 22nd, 1948. It seemed at one time that, despite his best efforts at informing anyone who would listen that he was actually born on January the 10th, 1949, the media simply thought George was trying to knock off a year from his current age for the purpose of appearing a touch younger in his ridiculed return. continue


---
Matthew Hurley: On the undercard of the Malignaggi – Ngoudjo bout Saturday night former light heavyweight champion Glen 'The Road Warrior' Johnson improved his record to 47-11-2 with 32 KOs with an eighth round stoppage of Hugo Pineda. The victory secured an April 12th showdown with WBC light heavyweight champion Chad Dawson. The fight is scheduled to take place at the St. Pete Times Forum in Tampa, Florida. Dawson has not yet signed the contract. continue


---
by James Slater: Boxing always needs fresh talent. Superstars don't last forever, and sooner or later some new blood is required to take over at the top. New talent means new interest, and in this article I list five prospects that figure to garner a lot of interest in the coming 12 months. There may be other young sensations out there - in fact, there certainly are - but the following five young fighters are the ones this writer has had his eye on the most just lately. continue


---
Rock & Sock Promotions announced today that its first show of 2008 will take place at The Aquarius Casino Resort in Laughlin, Nevada on February 9th. The main event will feature 2004 US Olympic Team Heavyweight representative Devin Vargas. Vargas is undefeated in fourteen fights(14-0). This feature fight will be promoted in conjunction with Joe DeGuardia's Star Boxing , Vargas' promoter. Vargas will be facing Charles Davis(17-14-1). He is Vargas' toughest test to date on his path to a world title opportunity. continue


---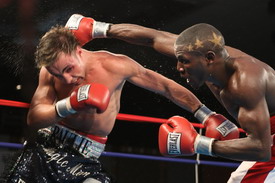 ATLANTIC CITY, NJ (January 5, 2008) – Photo by Tom Casino / Showtime - Brooklyn's own charismatic and flashy world champion Paulie Malignaggi won a closely fought junior welterweight bout over Cameroon's Herman Ngoudjo at Bally's Atlantic City by unanimous decision. The judges scored the bout 117-111, 116-113 and 115-113. Saturday's world title fight was promoted by DiBella Entertainment in association with Groupe Yvon Michele and aired live on SHOWTIME CHAMPIONSHIP BOXING.

Ngoudjo, a 6-1 underdog coming in, proved to be much more than a foil for Malignaggi, the young champion making his first title defense. In the early rounds, Malignaggi used his trademark jab and quick footwork to keep Ngoudjo at bay. But in the middle of the fight—rounds 4-7—Ngoudjo turned the tide with an effective jab of his own and some punishing overhand rights. continue


---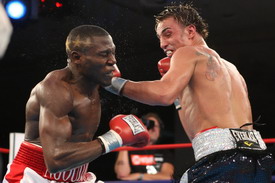 By Christopher Roche, Brickcityboxing.com, photo by Tom Casino / Showtime - In the pre-fight interview, Paulie "Magic Man" Malignaggi said that despite holding the title, he still feels like the hunter, because he is chasing super stardom. Tonight, in Atlantic City, NJ, he was the hunted, as Herman "The Black Panther" Ngoudjo tried to pry away Malignaggi's IBF belt in a close, tough fight. In the end, Malignaggi warded off Ngoudjo's charge to retain his title via a unanimous decision.

Malignaggi, 27, opened the fight with 19 consecutive jabs before landing a right hand at the one-minute mark. Malignaggi controlled the first frame with ease, as he closed the round with a left hook-right hand combination. The action continued in Malignaggi's favor in the second, as the champion feinted and jabbed. Ngoudjo clearly respected Malignaggi's speed, but Ngoudjo slightly stepped up his aggression. continue


---
Matthew Hurley: In the aftermath of Ricky Hatton's loss to Floyd Mayweather on December 8th rumors began to fly that the 'Hitman' was splitting with longtime trainer Billy Graham. Graham, who usually keeps a bit of distance from his fighter immediately after bouts, was incredulous when he returned home to Manchester and was inundated with questions about his status as Hatton's future trainer. continue


---
Bill Calogero, TheDailySports.com: Paulie "Magic Man" Malignaggi retains his IBF Jr. Welterweight Title by winning an extremely close twelve-round fight with Herman Ngoudjo on Saturday night. The fight was broadcast live from Balleys Resort & Casino in Atlantic City on ShowTime's Championship Boxing. continue


---
06.01.08 - By Mike Indri, Retired Boxers Foundation - Atlantic City - Defending his International Boxing Federation Jr. Welterweight belt in front of a standing room crowd in the main ballroom at Bally's Casino tonight, Paulie Malignaggi did what he does best - he boxed. While not the most fan-friendly type of a fight, or the most exciting, Malignaggi was effective and did what he had to do to win, and to keep his well earned title belt. continue


---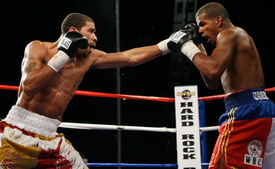 Bill Calogero, TheDailySports.com: The Peterson Brothers (Photo: Scott Foster/For SHOWTIME)continued their winning ways, both adding a "W " to their records in Co-Main Event bouts from the Hard Rock Café in Biloxi, Mississippi Friday night. Both bouts were broadcast live on ShowTime's ShoBox Series to kick off 2008. Anthony Peterson employed a methodical approach stopping Jose Izquierdo with an 8th round KO in their scheduled ten round Lightweight bout. Peterson used his jab and impressive defensive skill, combined with assistance from Izquierdo as he wore himself out attempting to keep the fight fast-paced, to earn the knockout victory.

In the first round, Jose Izquierdo came out clearly the aggressor. He was controlling the action by throwing punches in bunches from all angles. He wasn't landing all of them of course, but in my opinion took the round. Anthony Peterson basically concentrated on his defense and establishing his jab. continue


---
Former junior flyweight world champion Hugo "EL INCREDIBLE" Cazares of Los Mochis, Mexico will battle Columbian veteran Kermin Guardia on January 25th at Cicero Stadium in the main event as Oscar De La Hoya's Golden Boy Promotions and Dominic Pesoli's 8 Count Productions present THE MONTH OF THE KINGS, an eight bout card of world class professional boxing. continue


---
Atlantic City, January 5th 2008 – "El Ciclon de Guantanamo" Yuriorkis Gamboa once more stepped up to his name by blowing away Mexico's Gilberto Luque in only 1:54 minutes at Bally's Hotel & Casino in Atlantic City, New Jersey. The Olympic gold medallist sent his opponent to the canvas for the first time after only 30 seconds with a left from nowhere. After two more knockdowns the referee stopped the fight. continue


---
05.01.08 - Andrew Wake: Tough East Londoner Kevin Mitchell does not believe that the back injury sustained by British super-featherweight champion Carl Johanneson is the real reason the Leeds fighter has pulled out of their clash, scheduled for next Saturday at Bethnal Green's historic York Hall. "I don't think he pulled out through an injury – he didn't fancy it all along," Mitchell told The Daily Star "The British Boxing Board of Control will have to strip him of his British title if he keeps pulling out like this. continue


---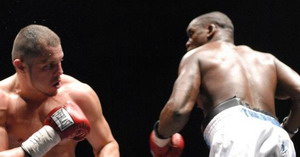 04.10.08 - by James Slater: Unbeaten 28-year-old cruiserweight contender, BJ Flores of Missouri meets the big-punching Darnell 'Ding-A-Ling' Wilson on the 8th of February. At stake will be the USBA 200 pound title, as well as the number one position in the IBF rankings. An explosive bout is all but guaranteed, and the fans who will be tuning in or present live just might be in store for a fight of the year candidate.

Indeed, the internet chatter has been plentiful with regards to this fight for some time now. Seemingly close to a 50/50 fight according to those who follow boxing, Flores-Wilson is, quite simply, one of the very best available all-American match-ups at cruiserweight - and the fans are understandably excited as a result. continue


---
By Phil Santos – Overhandright.com: IBF Junior Welterweight champ Paul "The Magic Man" Malignaggi survived a tougher than expected Herman "The Black Panther" Ngoudjo to retain his belt Saturday night on Showtime. A heavy favorite entering the bout Malignaggi did his best work early on utilizing his superior footwork and hand speed to take the first few rounds. continue


---
Matthew Hurley: Brian Viloria, 20-2 with 12 KOs ended a three fight winless streak by beating Jose Garcia Bernal, 27-10-1 with 18 KOs over eight rounds at the Alameda Swap Meet in Los Angeles. Viloria won a unanimous decision under the training auspices of Robert and Eduardo Garcia. The fight represented Viloria's fourth change in trainers, often a sign of a lack of focus and a fighter's desperate search for answers, but Viloria understands that 2008 is a make or break year for him and believes that he has found the right fit for what could be his last run for a title shot. continue


---
By Matthew Hurley: As light heavyweight Bernard Hopkins continues to toss verbal insults across the pond at super middleweight champion Joe Calzaghe the "Executioner" says that a bout between the two future hall of famers will indeed happen and that the fight will end up in Las Vegas. Hopkins, who first came face to face with Calzaghe at the Ricky Hatton – Floyd Mayweather weigh-in back in December has been very vocal as to what he will do to his Welsh rival. continue


---
By Ted Sares: You always say 'I'll quit when I start to slide', and then one morning you wake up and realize you've done slid --Sugar Ray Robinson

if we compare either the fight itself or each of the two men [PBF and De La Hoya] involved with the glory days of pugilist masters like Ray Robinson and the almost unbelievable fights he had, we are going way too far with the hype… Look at the facts, Robinson had over two hundred fights as a pro - over twice as many as both Oscar and Floyd combined. And Ray was never once legitimately KO'd. Fighters were just tougher back in Robbie's day. It's that simple. --James Slater continue


---
Two of the greatest boxers in history, Felix "Tito" Trinidad and Roy Jones Jr., will face each other in a battle boxing fans have been waiting for years to see at New York's famed Madison Square Garden on Saturday, Jan. 19, 2008. The event has been dubbed "Bring on the Titans" and will be produced and distributed live by HBO Pay-Per-View (9 p.m. ET/6 p.m. PT). continue


---
During every New Years celebration, the saying goes, "Out with the old, in with the new," as well as "The more things change, the more they stay the same." Neither could be more true concerning the mindset of Jermain Taylor as he starts the New Year with training camp in Las Vegas for his rematch with Kelly Pavlik, billed as "The Epic Battle Continues.. continue


---
Forget the cold New York winter – on Saturday, February 23rd, the action at Madison Square Garden has just gotten even hotter with the addition of three of the Big Apple's hottest fighters to the undercard of the World Heavyweight Title Unification bout between WBO champ Sultan Ibragimov and IBF titleholder Wladimir Klitschko. Middleweight contender "Irish" John Duddy (23-0, 17 KOs), a native of Derry, Ireland who now makes his home in New York, will return to fight in his adopted hometown for the first time in nearly a year when he takes on veteran Michi "The Mexican Sensation" Munoz (20-1, 13 KOs) in a 10 round contest. continue


---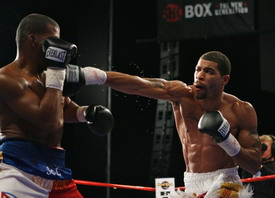 BILOXI, Miss. (Jan. 4, 2008) – Photos: Scott Foster/For SHOWTIME - Brothers Lamont and Anthony Peterson of Washington, D.C., kept their undefeated records and hopes for a world title shot in 2008 in tact with convincing victories Friday in the co-featured bouts on ShoBox: The New Generation at the Hard Rock Hotel & Casino. A doubleheader promoted by Prize Fight Boxing aired on SHOWTIME at 11 p.m. ET/PT (delayed on the west coast).

Lamont Peterson, 23, and 14 months older than Anthony, improved to 24-0 with 11 knockouts with a unanimous 10-round decision over previously undefeated Brazilian Antonio Mesquita. Peterson outboxed and outpunched Mesquita (34-1, 27 KOs) to triumph by the scores of 100-89, 99-90 and 98-93. continue


---
ALL PHOTOS: Tom Casino/SHOWTIME -- SHOWTIME CHAMPIONSHIP BOXING will set the stage for another fantastic year of world-class boxing when flashy, charismatic Paulie "The Magic Man" Malignaggi defends his International Boxing Federation (IBF) junior welterweight title against mandatory challenger and IBF No. 1 contender, Herman "The Black Panther" Ngoudjo, on Saturday, Jan. 5, 2008, live on SHOWTIME at 9 p.m. ET/PT (delayed on the west coast). continue


---
PITTSBURGH, PA – World Class Fight Promotions is proud to welcome the national spotlight (ESPN2) to Pittsburgh on Friday February 1st when popular Champion Monty Meza-Clay (26W-1L, 17KO) faces recent IBF Featherweight Champion of the World Eric Aiken in the heated 12-round Main Event at The Pittsburgh ExpoMart. This will mark the first time national television has been attracted to travel to Pittsburgh in coverage of a boxing event since May 8, 2001. continue


---
Jan. 4, 2008 - HBO Sports is presenting a thirty- minute special analyzing the upcoming HBO Pay-Per-View showdown fight between future Hall of Fame prizefighters Roy Jones Jr. and Felix Trinidad. The intriguing 170-pound bout between two of boxing's most compelling superstars of the past decade is set for Saturday, Jan. 19 New York's Madison Square Garden. The special "COUNTDOWN TO JONES-TRINIDAD, " which will feature fighter profiles, expert analysis and forecasts for the showdown in New York, will premiere on Thursday, Jan. 10 at 9:00 p.m. ET/PT. continue


---
A spectacular fight is headlining the "Universum Champions Night" on March 8 at the Porsche-Arena in Stuttgart. In the focus of the media is Universum heavyweight Luan Krasniqi who will take on Alexander Dimitrenko in a fight for the vacant European crown at heavyweight as well as the WBO Intercontinental title.

Luan "The Lion" Krasniqi (30-3-1 (14)) is returning from a disappointing loss to Tony Thompson in July in a WBO eliminator. The 36-year-old Krasniqi wants to show in this next fight against Alexander Dimitrenko that he is still one of the best heavyweights in the world and hasn't ruled out that he is ready for another chance in a world title fight. A win over a top ten boxer he would climb up in the rankings and position himself for a possible shot at one the champion's belts. continue


---
When Olympic gold medallist Yuriorkis Gamboa steps into the ring to overwhelm his opponents with his enormous hand speed and power he does it all for his daughter Brenda. Gamboa: "I fight to earn money for her and my wife Dunia. I want my family to have a good life. And, of course, I want to hear Brenda say: 'Look at my daddy, he's the champion of the world!' I want to make her proud and I guarantee that I will!.. continue


---
HOLLYWOOD, FL, January 4 – WBO Heavyweight Champion Sultan Ibragimov will take a break from his busy training schedule tonight, January 4, to check in with host Brian Kenny on this week's edition of ESPN2 Friday Night Fights. In addition to discussing his February 23rd unification bout with IBF champion Wladimir Klitschko at Madison Square Garden in New York City, Ibragimov will also answer questions from fight fans that can be submitted by visiting continue


---
By Jason Peck: Of all the fights on the horizon, I'm most looking forward to the upcoming WBC bout between Chad Dawson and former light heavyweight champ Glen Johnson. Finally – some closure in the 175 division. For the first time in years, the men who are supposed to rule this weight class begin fighting the unheralded men who might be holding the reins. continue


---
By Ali Mehar: This name in itself is enough to immediately provoke either outright disgust or unbridled excitement in virtually any boxing community or amongst casual fans. His ardent supporters continue to insist that he was far past his prime against Barrera, and that he should still go down as an All Time Great, while his vast horde of detractors will sneer at this and declare that he lost against the only 'decent' fighter he ever faced; that he was all hype and no actual substance. As is usual, the truth lies somewhere between these two fanatical extremes.

Not since the notorious (and first black heavyweight champion of the world) Jack Johnson and the brash, swaggering Cassius Clay had there been such a polarizing figure in the sport, a figure arrogant enough to put Narcissus himself to shame. continue


---
04.01.08 - Jon Thaxton – British Lightweight Champion: "After shooting your mouth off about me you've gone very quiet all of a sudden. I believe you have never been in the ring with a puncher even close to my caliber, is this a coincidence? I don't think so. We will have a date for this fight in five days time at the official purse bid. I'm asking you to be a man and make sure you're represented there. I'm either going to hand over a purse bid or four feathers, what's it going to be Amir you decide ?"


---
By Matthew Hurley: World Boxing Association and World Boxing Council cruiserweight champion David Haye has already begun a war of words with his March 8th opponent WBO champion Enzo Maccarinelli. Haye, 20-1 with 19 KOs won the titles with a seventh round TKO over Jean-Marc Mormeck on November 10th in France. continue


---
Maureen Shea, undefeated top ranked professional boxer, recently teamed up with MTV as an amateur boxing coach on their Emmy Award winning show "MADE". Back for their eighth season, MTV's MADE has scheduled their first new episode of the year for Monday January 7th at 10:00 PM (ET/PT). The show chronicles the challenges and accomplishments that young people face as they attempt a life-changing transformation. continue


---
LAS VEGAS, NEV. (January 3, 2007) – World super flyweight champions FERNANDO MONTIEL and CRISTIAN MIJARES will be defending their titles in separate 12-round bouts and junior middleweight contender RONALD HEARNS will be risking his undefeated record on the pay-per-view extravaganza headlined by the 12-round rematch rumble between world middleweight champion Kelly Pavlik and former world champion Jermain Taylor in one of boxing's fiercest rivalries.

Promoted by Top Rank and DiBella Entertainment, the Pavlik-Taylor II event takes place Saturday, February 16, at MGM Grand and will be produced and distributed live by HBO Pay-Per-View, beginning at 9 p.m. EST / 6 p.m. PST. continue


---
From WBC President Jose Sulaiman: Following are the 2007 WBC Awards for boxers and fights, as voted by a majority of the WBC Board of Governors.

FIGHTER OF THE YEAR: Floyd Mayweather Jr., USA, for his victories against Oscar de la Hoya and Ricky Hatton. There were no other nominations in this category. This is the third year that Mayweather has been elected "Fighter of the Year" by the WBC. continue


---
ALL PHOTOS: Tom Casino/SHOWTIME - SHOWTIME CHAMPIONSHIP BOXING will set the stage for another fantastic year of world-class boxing when flashy, charismatic Paulie "The Magic Man" Malignaggi defends his International Boxing Federation (IBF) junior welterweight title against mandatory challenger and IBF No. 1 contender, Herman "The Black Panther" Ngoudjo, on Saturday, Jan. 5, 2008, live on SHOWTIME at 9 p.m. ET/PT (delayed on the west coast). continue


---
Matthew Hurley: Everything was going along swimmingly for Brian 'Hawaiian Punch' Viloria. After compiling an amateur record of 230-8 with a national Gold Glove title and a US amateur championship to his credit the young fighter from Honolulu turned professional in 2001. In September of 2005 he stopped Eric Ortiz in one round for the WBC junior flyweight title. He made a successful defense against Jose Antonio Aguirre in 2006 and then all the momentum and good will he had built up collapsed. continue


---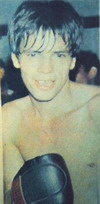 03.10.08 - Jaime Castro-Núñez: I would like to start this year by remembering the short life of a talented boxer who mysteriously drowned on a West Dade lake at the early age of twenty. Virtually unknown by most, but certainly not forgotten, Robinson Pitalúa did not live enough to fulfill his dream of becoming a well-respected physician. For a disciplined person like him, boxing was not only a matter of belts and championship matches, but also the way to earn the dollars he would use to study medicine.

Born Robinson Javier Pitalúa Támara on September 3, 1965 in Monteria, Colombia, is better known as Robinson Pitalúa. His parents were Rafael Pitalúa and María Elena Támara. The very beginning of his boxing career goes back to 1977, when he started to go to the gym with his relative Zenón Vellojín. "What I remember the most about that epoch is that Robinson used to correct me. He was twelve or so, I was a boxer, and he was all the time like ´hey, Zenón, move to the laterals, man. Keep your hands up, don't be an easy target´, until the day I told him, hey, take it easy, dude. I'm the boxer here," recalls Zenón. continue


---
03.01.08 - Jaime Castro-Núñez: Robinson Pitalúa arrived to Miami and shared an apartment with other boxers at Lake Laguna West, 301 NW 109th Ave. In Miami, he developed a new routine that included workout, trotting, boxing lessons, and ESL classes, so he could attend college and work toward his medical degree. He fell into Brusa's hands in July and on August 23, 1985, Pitalúa made his US debut against Nicaraguan Mauricio Guadamuz, who was decked with a powerful left hook 1:23 into de second round. continue


---
New York, January 2—Duva Boxing will swing into 2008 with a hard hitting card on ESPN2's Friday Night Fights headlined by the sensational knockout artist Darnell Wilson defending his USBA Cruiserweight championship against undefeated B.J. Flores on Friday night, February 8, at Dover Downs Racetrack and Casino, it was announced today by Duva Boxing president Dino Duva. The card will be presented in association with Dave Tiberi's TNT Promotions and Sal Musemeci's Final Forum Promotions. continue


---
By Andrew Wake: A world title crack cannot be far away for highly touted super-middleweight Allan "Sweetness" Green. The Oklahoma native boasts a superb 25-1 slate with 18 knockouts and is rapidly building a reputation that is marking him out as a potential top dog in the 168Ibs weight division. He aims to further enhance his credentials by adding the name of a former world title challenger to his record this evening (Jan 4th) when he takes on Rubin Williams at the Million Dollar Elm Casino in his hometown of Tulsa. continue


---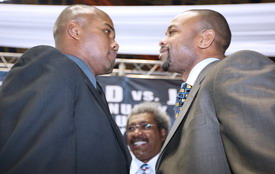 NEW YORK— Photos: David Martin-Warr/DKP - As Felix "Tito" Trinidad and Roy Jones Jr. inch closer to their mid-January showdown, the legendary fighters travel to Florida military bases and Puerto Rico, while Don King visits Iraq in the second of a three-part documentary debuting Saturday, Jan. 5, at 9:30 p.m. ET/6:30 p.m. PT on Cox Sports Television. The program, which will be featured on 70 Cox Sports Television affiliates in Louisiana, Arkansas, Texas, Florida and Virginia, will be re-aired on Tuesday, Jan. 8, at 11 p.m. ET/8 p.m. PT and Wednesday, Jan. 9, at 5:30 p.m. ET/2:30 p.m. PT.

During a visit to separate military bases in Jones Jr.'s backyard of Pensacola, Fla., Trinidad and Jones Jr. meet with soldiers who discuss and heatedly debate which fighter they think will be victorious. continue


---
HOLLYWOOD, FL, January 2 – Member of Team Ibragimov were treated to a meeting of boxing minds Wednesday when middleweight legend and current light heavyweight champion Bernard 'The Executioner' Hopkins stopped by the Sultan's gym to speak with the WBO Heavyweight Champion, who is preparing for his February 23rd unification bout with IBF champion Wladimir Klitschko at Madison Square Garden in New York City. continue


---
England - January 3, 2007 - British Lightweight Champion Jon Thaxton says that after all the disrespectful and big talk from rival Amir Kahn he better be a man and step up and fight. "Amir make sure your team shows up for the official purse bid on the 9th of January and let this be sorted in the good old fashion way, I know my promoter will be there ready to make this fight happen, no excuses. So for the sake of British Boxing don't bottle it!. continue


---
NEW YORK, January 2 2008 – Film fans and fight fans only have two more opportunities to see "Magic Man" before the subject of the film defends his title Saturday night. The film's last two showings will be on Thursday January 3 at 10:00PM ET SHOWTIME 2® and on Friday January 4 at 11:40PM ET on SHO Extreme®. continue


---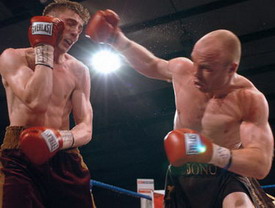 02.01.08 - By Andrew Wake: Norfolk's own Rocky, Jon Thaxton is a guy who feels he is missing out. Ever since the Norwich switch-hitter defeated Salford's highly regarded, former two weight ABA finalist, Lee Meager over twelve bloody rounds and claimed the British lightweight title in late 2006, his name has been mentioned consistently in the same breath as Olympic silver medallist Amir Khan.

When young Khan won the Commonwealth title by bravely rising from the canvas and stopping Willie Limond last July, it seemed likely that an old style British-Commonwealth match up could be made but instead Amir turned his attention to Thaxton's previous victim Scott Lawton. continue


---
The Undisputed Heavyweight Champion of Boxing Talk Radio, "Talkin Boxing With Billy C", continues to distance themselves from all others by kicking off 2008 with a GREAT show featuring Don King, Livingstone Bramble and Author Peter Wood. "Our main goal is to keep the show "fresh". We have added several new segments, including the "Blast From The Past", which features discussions on the true legends of the ring, classic fights and dream match-ups", stated the show's host Bill Calogero. continue


---
One night before Paulie "Magic Man" Malignaggi defends his International Boxing Federation junior welterweight title against top-ranked Herman Ngoudjo on SHOWTIME CHAMPIONSHIP BOXING, undefeated, world-ranked Anthony and Lamont Peterson will be co-featured in 10-round bouts on ShoBox: The New Generation Friday, Jan. 4, 2008, on SHOWTIME (11 p.m. ET/PT, delayed on the west coast). continue


---
By Per Ake Persson: Luan Krasniqi and Aleksander Dimitrenko, both Universum fighters, are likely to clash for the vacant EBU heavyweight title March 8 in a crossroads fight. Highly ranked supermiddle Jurgen Brahmer headlines Universum´s show in Halle an der Saale February 23. In supporting bouts EBU lightheavy ruler Thomas Ulrich defends against Yuri Barashian - a fight that was set for November of last year but had to be postponed when Ulrich got injured. continue


---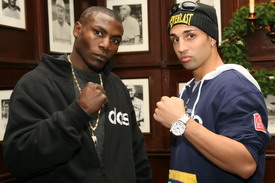 Photos: Tom Casino/SHOWTIME - SHOWTIME CHAMPIONSHIP BOXING will set the stage for another fantastic year of world-class boxing when flashy, charismatic Paulie Malignaggi defends his IBF junior welterweight title against mandatory challenger and IBF No. 1 contender, Herman Ngoudjo, on Saturday, Jan. 5, 2008, live on SHOWTIME at 9 p.m. ET/PT (delayed on the west coast). The 12-round world title fight is promoted by DiBella Entertainment in association with Groupe Yvon Michel and will take place at Bally's Main Ballroom at Atlantic City, N.J. Tickets priced at $250 and $125 are on sale and can be purchased at the Bally's Box Office, by calling DiBella Entertainment at (212) 947-2577, Ticketmaster at (800) 736-1420 or by visiting www.ticketmaster.com. continue


---
It's the famous anthem that has driven the legendary Munster Rugby team to glory on so many famous occasions at Thomond Park and now it's Andy Lee's turn to "Stand Up and Fight" in Limerick as he stars in the first ever professional boxing event in the sports mad city. Lee will headline the Ladbrokes.com Fight Night at the University Arena on Saturday, February 2nd and the unbeaten middleweight sensation is guaranteed a heroes welcome in his native city. continue


---
By Matthew Hurley: According to Don King the fight between Felix 'Tito' Trinidad and Roy Jones Jr. will be, "The fight of the century." King, with his usual bluster, has been hyping the January 19th bout as if the two participants were still in their respective primes. Unfortunately neither Jones nor Trinidad has resembled the prize fighting phenoms they were when both jockeyed for position as the best fighter in the sport. continue


---
Bernie McCoy: "Phenoms" (sports shorthand for "phenomenon") have been a part of boxing lore almost from the start. The first one, in my memory, was Coley Wallace, a heavyweight who came storming out of the New York Golden Gloves where he had a decision over Rocky Marciano. Wallace's professional career was a bit less distinguished and, at the time of his death in 2005, he was probably best remembered for his portrayal of the title character in a seldom recalled movie, "The Joe Louis Story" and for reprising that role for a bit part in "Raging Bull.. continue


---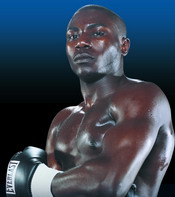 02.01.08 - by James Slater: Cameroon-born Canada native, Herman Ngoudjo takes on IBF light-welterweight champ Paul Malignaggi this Saturday in Atlantic City, New Jersey. Judging by the press conference to hype the fight early in December both men dislike one another more than somewhat. With both boxers claiming disrespect from the other, the two get the chance to settle their differences in the ring on January 5th, in 2008's first big world title fight. Ngoudjo, nicknamed "The Black Panther" is a 16-1(9) 28-year-old who firmly believes the champion has made a big mistake in underestimating him. With good wins over fighters like Emanuel Augustus and Randall Bailey - along with a controversial and close points loss to Mexico's Jose Luis Castillo - the 5 ft 8" contender can clearly fight. Whether or not Herman is good enough to achieve his life-long ambition of becoming a world champion, we will soon see.

During a break from training on new year's eve, Ngoudjo very kindly gave this writer an over-the-phone interview. Coming across as a laidback, quick with a joke guy at times, and then as a serious and focused fighter at others, Herman gave the following answers to my questions. Speaking in very good English, here is what Herman had to say. continue


---
Matthew Hurley: Choi Yoi-sam, the South Korean boxer who slipped into a coma on December 25th after winning a unanimous decision over Heri Amol in Seoul in defense of his WBO intercontinental flyweight title, has been declared brain dead by his doctors. Ko Seung-kwan, a spokesman for the Seoul Asan Hospital said that a panel of nine doctors led by a neurosurgeon determined the fighter to be brain dead after two examinations. continue


---
Light-Heavyweight contender Shaun George wants what every self-respecting pugilist craves: The most challenging assignments available. With Chad Dawson preoccupied with Glen Johnson, Adrian Diaconu has no engagements booked in the meantime. Shaun George says, "Why not give the people something to remember?. continue


---
02.01.08 - By Phil Santos – Overhandright.com: In 2007 Chad Dawson arrived as a World Champion and a serious threat to all Light Heavyweights. "Awesome" Dawson began the year as an undefeated prospect having just recently scored the biggest win of his young career. A victory over Eric Harding, in June of 2006, earned Dawson some recognition as well as the NABF Light Heavyweight title. continue


---
01.01.08 - By Cesar Pancorvo: If I had to rank the divisions in boxing, I'd put, without a doubt, the Welterweight division as the number one division in the sport at the end of 2007 (in fact, it has been the richest division in boxing since late 2006, and expect it to be the best for some time, and to be remembered in the future), and in second place I'd be tempted to select the Super Featherweight division, but I'd probably end up choosing the magnificent Cruiserweight division.

The first universally recognized Champion in that division was, of course, Evander Holyfield, a fighter that in mid 1986 captured the WBA belt –after beating Dwight Muhammad Qawi in a thrilling war– and then was able to be the first man to unify that division, after beating Carlos De Leon in 1988; it was a fantastic campaign that consisted in seven fights against the best available opposition. continue


---
02.01.08 - Matthew Hurley: The induction ceremony weekend at the International Boxing Hall of Fame (IBHOF) for the class of 2008 begins on Thursday, June 5th. This year the honorees include heavyweight champion Larry Holmes, junior welterweight champion Eddie Perkins, promoter Mogens Palle, promoter Frank Warren and journalists Dave Anderson and Joe Koizumi. continue


---
THE LEGEND BEGINS, January 23rd, at the Deauville Beach Resort, 67th and Collins Ave, Miami Beach. The Deauville Beach Resort will be the host venue for a monthly series of Professional Boxing Matches featuring some of the best fighters, Local, National, as well as international. continue


---
After a thrill-packed 2007, boxing showed why there is no other sport like it in the world. On January 4th, Top Rank will kick off 2008 with an explosive fight card featuring some of boxing's top young talent – Brian Viloria, Michel Rosales, Vanes Martirosyan, Charles Huerta, and Juan Garcia – and they are bringing the fights back to one of the sport's true hometowns - Los Angeles, California. continue


---
01.01.08 - By Raymond Markarian: The associated press has confirmed that Oscar De la Hoya is a few weeks away from choosing his next, and possibly, final opponent. The fight date is set for May 3, 2008 but the opponent is still in question. Here is my question: how great would it be to walk in the shoes of Oscar De la Hoya?

I can't even get my girlfriend to watch a decent movie but Oscar De la Hoya could make $50 million on one nights work. Where is the fairness in that?

The man has lost 3 of his last 5 fights but still has the muscle to choose when, where, and who he elects to stand in the ring with. Any name he mentions is more than willing to take the challenge. This means that Oscar De la Hoya is in a position of power. continue


---
Highly touted twin prospects Carlos Juan Velasquez and Juan Carlos Velasquez will make their Chicago debuts on January 25th at Cicero Stadium as Oscar De La Hoya's Golden Boy Promotions and Dominic Pesoli's 8 Count Productions present THE MONTH OF THE KINGS, an outstanding evening of world class professional boxing. continue


---
Reno, NV – January 2nd, 2008- Let's Get It On Promotions and season-one Contender semifinalist Jesse Brinkley have entered an exclusive promotional agreement. Brinkley is on a three-win winning streak, all of which have come by way of knockout. "I am ready to fight the top fighters in the world at super middle and the Lane's are gonna help me do it.. continue


---
When Don King speaks, people listen. Now the larger-than-life, world-renowned promoter is giving the people a chance to be listened to too, as he is making it possible through the ADVAN, a one-of-a-kind mobile truck, to let the public video record their personal thoughts and opinions related to the upcoming Trinidad vs Jones "Bring on the Titans" clash at Madison Square Garden on January 19 and anything else that is on their minds including personal New Years greetings to friends and family. continue


---
31.12.07 - By Michael Klimes: The Old Guard Gone: Boxing has experienced a strong year yet has also an enigmatic one as it has lost a few of the biggest names of the New Millennium. The Mexican trio of Marco Antonio Barrera, Erik Morales and Fernando Vargas finally cut the gloves, thereby terminating their glorious careers. These three box office draws have fought in the most exhilarating fights since 2000. How can we ever forget Barrera's and Morales's magnificent trilogy? Alternatively, a memory just as impressive is a precocious Vargas having some of the biggest cojones since Roberto Duran by taking on the murderous Felix Trinidad when he was only twenty one and Trinidad was at his absolute peak!

Also, how about his explosive punch-up with Oscar de la Hoya in 2002? Similarly, the incredible Arturo Gatti has decided to stop driving in the fast lane and entered the hard shoulder for a well deserved stop. continue


---
01.01.08 - Matthew Hurley: Juan Diaz, the WBA/IBF/WBO lightweight champion has signed to fight his IBF mandatory challenger Nate Campbell on March 8th in Cancun, Mexico. Diaz, who has been wrapped up in contract woes with promoter Don King, saw his much-anticipated defense against Michael Katsidis fall apart when King did not attend the purse bid for the fight. Golden Boy Promotions won the bid at $1.5 million but King threatened legal action because Diaz's contract prohibited him from fighting under another promotional banner. Campbell represents Diaz's final fight under the current contract. continue


---
TULSA, OK – Rarely do you hear of a fighter being punished for a big victory, however it seems that is exactly what happened to lightweight contender Zahir Raheem, who after defeating future Hall of Famer Erik Morales, saw his career be put on hold by his promoter Top Rank. continue


---
01.01.08 - Matthew Hurley: Before his 29th birthday Manny Pacquiao welcomed promoter Bob Arum and trainer Freddie Roach to his home in General Santos City for a discussion on his upcoming bout with Juan Manuel Marquez on March 13th at the Mandalay Bay in Las Vegas. Arum laid down the law that Pacquiao would not only have to resume full time training camp at Roach's Wild Card Gym in Los Angeles but also help promote the bout. Arum's insistence was the result of Pacquiao's more recent bouts for which he trained almost exclusively in the Philippines and provided the promoter with no face time to help sell tickets. Pacquiao agreed and then partied the night away, his last such indulgence before opening camp in LA. continue


---