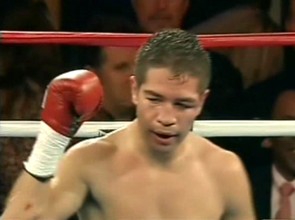 30.01.08 – by James Slater: Mexican-American welterweight contender Alfonso Gomez was once known best as a star of the hugely popular Contender T.V show. This is not the case anymore. After beating up modern-day legend Arturo Gatti in 7 largely one-sided rounds last July – in a fight that prompted "Thunder" to call it quits in his career – underdog Gomez was propelled onto the world stage and into the world rankings. Now, after adding a useful points win over the teak-tough Ben Tackie to his resume, the 27-year-old who lives in Whittier, California, is getting ready for the biggest fight of his life – an April 12th 'world' title fight with the superb Miguel Cotto. A big outsider in most eyes, Gomez, 18-3(8) feels he can prove the odds makers wrong once more.
Possessing plenty of heart and courage, the 5′ 9″ Gomez has rapidly become a fan-favourite with his exciting fighting style. Indeed, ever since leaving The Contender house, the fighter born in Guadalajara, Mexico has had more than a few fans claming he would one day capture a world title. Doing so, and fulfilling a life-long dream in the process, is now tantalizingly close for the popular Gomez.. His big chance could perhaps have come against a champion slightly less formidable than the mighty Cotto, but Alfonso says he is ready for the fight of his career, and is looking forward to a win.
Speaking to me over the phone from his home on January 29th, the approachable and friendly Gomez had the following answers to my questions.
James Slater: Firstly, Alfonso, you must be thrilled to be getting this fight with Cotto?
Alfonso Gomez: Oh, absolutely. It's a dream come true for me. I always knew it would happen, that I would one day fight for a world title, now it's up to me to use all my ability to win.
J.S: You say you always knew you'd get a world title fight – did you always think it would come against Cotto?
A.G: I definitely wanted to fight him, yes. I wasn't always sure it would come against him [his title chance] but I always hoped it would be against him. Cotto is a very good and strong fighter, but I believe my style will beat him.
J.S: So if you'd had the choice of picking any of the current belt holders at welterweight, you'd have picked Cotto?
A.G: Definitely, definitely. As I say, styles make fights, and I know that if I am in tip-top shape for this fight, as I will be, I will win. It will also be a great fight for the fans, as well as being an addition to the Puerto Rico Vs. Mexico rivalry.
J.S: Do you think Cotto is the absolute best in the world at 147?
A.G: Well, I think [Floyd] Mayweather has proven himself as not only the best at welterweight, but also one of the best at other weights also – from 126 pounds and up. Cotto may progress to become the best at 147, but right now, Mayweather must be given his due as the very best in the world.
J.S: What do you think Cotto's main strengths are?
A.G: Above all, I'd say his dedication. He is very dedicated both in the gym and in the ring. He never gets tired! Cotto is able to come back when a guy hurts him, because he has great stamina. He obviously trains very hard all the time.
J.S: And his weaknesses?
A.G: Well, I don't want to say too much (laughs). I don't want to give my ideas of how to beat him away! But one weakness he does have is he seems to not be quite as sharp when his opponent is not recognised as being one of the best out there. He kind of slacks off when he feels his opponent isn't that great – like when he fought [Gianluca] Branco, for example, he was not as sharp as when he fought Zab Judah and Shane Mosley. I hope he doesn't do that with me, if he underestimates me I will have a big surprise for him.
J.S: In terms of age and size, you are both very evenly matched. What type of fight do you think it will be – a boxing match or a physical fight?
A.G: We are evenly matched, yes. In fact, in terms of our age, he was born on October 29th, 1980, and I was born exactly one day before. That's quite a coincidence. As far as what type of fight it will be, I never enter a fight with a game-plan. A guy can do completely different things from what you expect, so I prefer to adapt in the ring. I can switch my style, though. I feel I will be able to out-box him if he tries to slug with me. If he attempts to box me, I will get on the inside and counter-punch him. I definitely feel my overall ability is better than his. I'm gonna get him!
J.S: Cotto is a master at coming on strong late in fights, where he punishes a fighter and wears him down. How do you plan on coping with that?
A.G: He does wear people down in fights, yeah. Most of that pressure comes from his good body work, so I guess I'll have to make sure I do a lot of sit-ups (laughs). I'm definitely ready mentally right now, I just have to make sure I'm a hundred percent ready physically come fight time also.
J.S: Of all Cotto's fights, which were his best performances do you think?
A.G: His more recent fights, the Judah fight and the Mosley fight. That is the Cotto I am training for.
J.S: Going back to your last fight, a ten round points win against Ben Tackie. How tough was that fight?
A.G: It was a tough fight, in that he just kept coming forward, whatever I hit him with – which was everything. He brought a lot of pressure, but I think I did a good job of slipping punches and showing my boxing skills to the world as well. It was clear in that fight how I am growing and improving as a fighter.
J.S: You hurt your left hand, too. How is the hand now?
A.G: Yes, I hurt my hand in round 2. That definitely made the fight a lot harder, but I came through it and ignored the pain. I actually broke the index finger. The hand is fine now, though. I has surgery and then therapy on it. There will be no problems with my hand come April 12th.
J.S: The last time I spoke with you, you said your toughest opponent so far in your career was Jesse Feliciano. Is that still the case?
A.G: Yes, he gave me three very tough fights. He's a tough guy – did you see his fight with Kermit Cintron? He almost pulled off the win. You saw the kind of punches he took in that fight, so that shows you how tough he is. I'm a much improved fighter, especially mentally, now, though. Back when I fought Feliciano, I wasn't anywhere near as strong mentally as I am now. But, yeah, he is probably my toughest opponent. I guess you could kind of call me my nemesis, in that we are tied up at 1-1-1.
J.S: Getting back to Cotto. You are a big underdog in the fight, do you think that's fair?
A.G: I suppose so. He is the champion, after all. And my record doesn't suggest I'm as good a fighter as I actually am. But how many times must I be the underdog until I prove I am a true contender and a true fighter? Ever since The Contender days, and fighting guys like Peter Manfredo, I have had to prove myself. What else can I do? I know I have come on strong to win in the past when I was the underdog, and my attitude is that I will do so again on April 12th.
J.S: Who will you be sparring with?
Gomez: I don't know yet the guys' names, but I will be working with three strong guys. They will be strong, and good at emulating Cotto's style for me.
J.S: When you entered the ring for the Gatti fight, you were smiling as though you didn't have a care in the world. Are you just as calm for this fight?
A.G. Absolutely. I'm just as relaxed and looking forward to the fight. This is my time to shine. After all the hard years, all the struggle, I'm finally getting my big chance. And this fight is back in Atlantic City again, too [scene of the win over Gatti]. If there are boos for me this time, I will smile just like I did the last time (chuckles). I can't wait for this fight, I really can't!