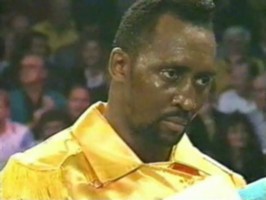 By Matthew Hurley: There have been few fighters in recent years with a more flair for the dramatic than Thomas 'Hit Man' Hearns. The lanky kid out of Detroit who failed to qualify for the Olympic team terrorized the welterweight division in the late seventies and early eighties with a baleful gaze, a whip-like left jab thrown from the hip and a concussive right hand that decimated opponents in the blink of an eye. He glided around the ring, almost demonically, on legs that looked like pipe cleaners.
When he won, it was usually emphatically and when he lost it was the flip-side of that very coin. His most significant victories may be overshadowed by his losses to Sugar Ray Leonard and Marvelous Marvin Hagler but his status as an all time great fighter was enhanced by the manner in which he lost – carried out on his shield, his warrior's code intact.
As of February 4, 2006 Thomas Hearns has either been in semi-retirement or contemplating his next ill-advised return to the ring. Had he announced his retirement after what was to be his farewell to boxing in April of 2000 he would now be safely enshrined in the boxing hall of fame. That night, at the Joe Louis Arena in Detroit, the aging 'Motor City Cobra' felt something pop in his right ankle as he tried to avoid a looping right hand thrown by Uriah Grant. Just two rounds into his foray into the cruiserweight division, nearly forty pounds heavier than his welterweight heyday, the four division titlist had to throw in the towel in front of his hometown crowd. It was an ignominious defeat for a fighter so willing to lay it all on the line for his fans and one that, in Tommy's eyes, necessitated a return.
Hearns grabbed the ring microphone amid boos from the crowd, a sound that must have rattled him, and announced, "This wasn't my last fight Detroit. We mean too much to each other. We've got one more. Trust me. I'll be back."
It was a far cry from the warm June night in 1984 in the parking lot at Caesar's Palace when a prime Hearns nearly decapitated Roberto Duran with a vicious assault that ended with a right cross to rival the one that Rocky Marciano landed on Jersey Joe Walcott's chin to lift the heavyweight crown. It was the 'Hit Man' at his peak and led him into one of the most celebrated showdowns in modern boxing history – his three round war with Marvin Hagler. That Monday night, April 15, 1985 saw the two best fighters in the sport trade punches at an inhuman rate until Hearns, his right hand broken, his legs floundering like rubber bands collapsed to the canvas before eventually being carried back to his corner by one of his handlers. Such an end often cripples a fighter's resolve but as he did after his loss to Ray Leonard in 1981 Hearns picked himself up, dusted himself off and continued on with his career.
It's a bit astonishing now to look back at what was written about Thomas Hearns after that defeat. He was labeled a 'choker' and, for all intents and purposes, was thought to be washed up. Instead he returned to the ring against number one ranked middleweight contender James Shuler and blitzed him in one round. After that, when a rematch with Hagler did not materialize, he moved up to the light heavyweight division and won the WBC title by knocking out Dennis Andries in the tenth round. Then, hoping to pull himself out of the shadows of Hagler and Leonard, he dropped back down to middleweight and knocked out Juan Domingo Roldan in the fourth round of a true middleweight pier six brawl that left the Las Vegas audience breathless. He had captured four titles in four different weight divisions. But Hearns' crowd-pleasing style would get him into trouble again in 1988.
In the third round of his first defense against Iran Barkley, Tommy was having his way with the Bronx native. A wicked left hook to the rib cage nearly folded Barkley in half and Tommy, his hands by his sides walked in for the kill. Before he could re-set himself Iran bombed the 'Hit Man' with a titanic right hand. Hearns seemed to freeze in mid air as he began his descent to the canvas. Barkley leveled him with one more right hand and to the astonishment of the crowd Hearns was flat on his back. As he did against Hagler, Tommy rolled over and instinctively got to his feet. It was all for naught as Barkley battered him through the ropes in a scene reminiscent of his 1981 tumble through the ropes in the thirteenth round against Ray Leonard. Just like that Hearns' career appeared over.
"Now I know what my opponents feel like," he said afterwards.
The road to redemption for Hearns was always a rocky one. But it was that certain vulnerability that made me him so exciting to watch and metamorphosed him into a sentimental favorite among boxing fans. Because of his physical gifts he was always just one shot away from victory. Because of his shortcomings, his chin and sometimes shaky legs, there was always room for disaster. Because of his heart and his intense desire to please his fans every time he stepped into the ring the paying customer would always get his nickels worth.
It was with that cloak of fan approval that Tommy finally got Ray Leonard back in the ring in June of 1989. The loss to Leonard had been the one fight that Hearns always felt he should have won. He truly felt he was the better boxer than Leonard, and proved it for several rounds in their first fight, but it was not to be in 1981. That night Leonard reached the summit in one of the best fights of the decade and took not only the undisputed welterweight crown but the persona of boxing's biggest star. Eight long years later Hearns paid him back in kind. A three to one underdog Hearns again used his jab to keep Leonard at bay, setting up his vaunted right hand which deposited Leonard on the canvas in the third and eleventh rounds. After a twelfth round rally by Leonard in which Hearns was battered from pillar to post but refused to fall the 'Hit Man' appeared to have finally cemented his status as an all time great fighter. And then the judges took it away from him declaring the bout even.
It was after the decision was announced that Hearns once again revealed himself as a man more concerned about his fans and whether or not he pleased them than with his image.
"I can't say nothing bad about Ray," he said to announcer Tim Ryan. "He's a great fighter, I have to give him his props."
When asked about the decision Hearns, a blue and gold Kronk Gym hat on his head and a bloody grin on his face said, "I was hoping for a win, but you know how it is."
The audience in Las Vegas did as well, booing the decision and providing Hearns with a moment that was as sweet as sugar. His popularity was at an all time high and though it would have been a proper time to bow out, particularly after Leonard refused a third match, Tommy, not willing to do anything else because his identity remains completely wrapped up in a fighter's robe, carried on.
There would be only one more true highlight in the Hearns' fistic legacy, a twelve round upset over Virgil Hill for the WBA light heavyweight title in 1991. He would look for revenge against Iran Barkley in his first defense, but after twelve savage rounds the 'Blade' got the better of him again. Hearns would box nine more times before the Uriah Grant debacle. As promised he returned to the ring in Detroit two more times against unheralded John Long and Shannon Landberg, scoring technical knockouts over both, but his career on center stage was long behind him.
Still, such is his lust for combat that he still trains diligently despite the aches and pains his sixty-seven bout professional career has wrought on his forty-nine year old body. The gold Kronk trunks he wore in the Roldan fight are now under glass at the International Boxing Hall of Fame in Canastota and in 2004 he dipped his famous right fist in plaster for a mold that is also now on display. Should he remain inactive Hearns will be eligible for induction in 2011. But that siren call that keeps him in the gym and sparring with men half his age may very well lead him back into the ring again. Although with his son Ronald now campaigning as a middleweight the weary gunslinger may finally be comfortable watching from ringside. It's where he belongs after such long and meritorious service – there, and in the hall of fame.