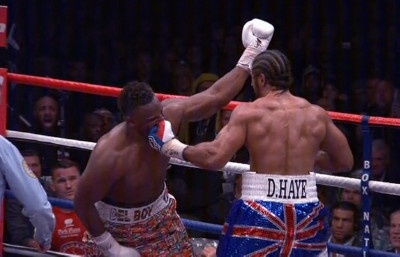 By James Slater – A meaningless victory? A return to action that bagged David Haye nothing but a pile of cash? This is what the critics said (or words to this effect) after Haye's crushing 5th-round stoppage win over Dercek Chisora. However, according to "The Bible of Boxing," Ring Magazine and its impartial staff of writers, Haye's win means quite a bit.
The new Ring ratings have been published and the brand new heavyweight top-10 looks very interesting, with Haye back where he once was: as a top contender.
The new top-10 looks like this:
Champ: Wladimir Klitschko
1: Vitali Klitschko
2: Alexander Povetkin
3: Tomasz Adamek
4: David Haye
5: Kubrat Pulev
6: Robert Helenius
7: Denis Boytsov
8: Ruslan Chagaev
9: Chris Arreola
10: Tyson Fury
Haye's reappearance in the ten shoves Cuban contender Odlanier Solis out.
Some may say Haye, just 6-1 as a heavyweight, is ranked too high, yet it cannot be argued that the top-10 looks quite interesting right now. And aren't there a number of potentially great match-ups that could be made from Ring's top-10? Haye insists he will only fight again if he can get a date with #1 contender (and WBC champ) Vitali Klitschko, but if Haye were to have a change of heart and decide he wants to be a full-time fighter and take on some names at heavyweight (an extremely unlikely scenario), there are plenty of good fights out there for him.
Imagine for a minute, Haye against Arreola. How would that fight fail to be a thriller? Come to think of it, Arreola against #10 Tyson Fury, with the winner to get a shot at a Klitschko, would also be exciting. Unbeaten young guys Boytsov and Pulev will be making their move soon, and it will be interesting to see what move Helelius (who had that lucky night with Chisora) will make next. Any of these guys against Haye would be something to see.
Is Haye crazy if he walks away from the game at a time when the heavyweight division is as evenly spread with talent (the all-conquering Klitschko brothers aside, who are head and shoulders above everyone else) and when there is so much money to be made from quality match-ups? At age 31 (32 in October) Haye has a possible four or five years left at least. Look at the top-10 again: aside from Wladimir and Vitali, there is no fighter who can match Haye for speed or for power.
Haye may have his critics, but would they really prefer for him to retire, allowing a guy like Solis back into the top-10?