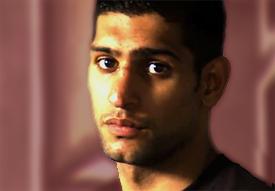 by Geoffrey Ciani – Amir Khan's chin has been a hot topic of discussion for boxing fans ever since Khan was stopped in just one round by Breidis Prescott back in September 2008. Cries of "He can't take a punch" and "He has no chin" echoed through boxing circles. Other observers were less damning in their criticisms because, after all, Khan was tagged by a great shot that may have knocked out anyone. This single instance might not have told the whole story. The sampling size was simply too small to render a final verdict on Khan's punch resistance. Now that Khan has since had ten fights, including several against world class opposition, we can reevaluate that question with the benefit of hindsight.
Khan has gone 8-2 since the Prescott loss. His first legitimate test came against a past prime Marco Antonio Barrera. Khan outclassed Barrera to win a technical decision victory. The fight was ultimately stopped because of a severe cut suffered by Barrera due to a clash of heads. Next up for Khan was WBA junior welterweight champion Andriy Kotelnik. With just 13 knockouts in 34 contests going into the fight, Kotelnik was not viewed as a puncher but he was a technically sound fighter with great fundamentals. Khan outboxed Kotelnik and was awarded a unanimous decision victory to capture his first world championship. In his second title defense Khan made his American debut and put on a workmanlike performance when he stopped former champion Paulie Malignaggi in the eleventh round.
In addition to those three key victories, Khan also scored early knockouts against Oisin Fagan and Dmitriy Salita during that stretch. Despite being 5-0 Khan's critics remained unimpressed. To be fair Barrera was older and fighting above his best weight, and neither Kotelnik nor Malignaggi were ever mistaken for knockout artists. So even though Khan put on some fine technical displays where he exhibited tremendous speed and good power, his chin was still never truly put to the test. His harshest detractors remained convinced that we would inevitably see a replay of Prescott fight as soon as Khan faced a real puncher with genuine knockout power.
Questions regarding his chin hung around Khan's neck like an albatross in the lead-up to his bout against hard-hitting Marcos Maidana. Evidence of Maidana's explosive punching power was best displayed by the ferocious beating he inflicted upon highly regarded Victor Ortiz. If Khan could stand up to Maidana's best shots than surely his critics would be silenced. Or would they?
Khan's attitude at the time seemed to have shifted. It was almost as if he wanted to go out of his way to prove he could take a shot, and he was willing to go out on his shield in order try and make that point. Khan appeared eager to put it all on the line in order to prove his bravado. He seemed almost obsessed with it, perhaps tired of all the questions pertaining to the Prescott loss. Of course all of this actually unfolded when Khan went on to beat Maidana in an absolute war, where he was awarded a closely contested unanimous decision. It was a bout many felt Maidana deserved to win, but regardless of that, Khan absorbed and withstood some pulverizing shots and he persevered. Maidana almost managed to take Khan out late, but Amir survived and endured a great deal of punishment in the process.
Did this prove that Khan has an exceptional chin? No, but it did prove that his chin was not quite as fragile as many made it out to be following the Prescott disaster.
Since the pivotal bout against Maidana, Khan has scored a pair of victories against Paul McCluskey and Zab Judah, and has also suffered a pair of losses at the hands of Lamont Peterson and Danny Garcia. The split decision loss to Peterson was somewhat controversial on several fronts, including the officiating, the judging, and a subsequent aura of doubt that now surrounds Peterson after he tested positive for a banned substance. But the knockout loss last weekend against Garcia has almost reverted Khan back to square one. Questions about his chin have now resurfaced. In fact, people are once again talking about the Prescott loss, and some are even suggesting that a pattern has been established.
So how good is Khan's punch resistance?
It seems pretty clear that his chin is certainly not derived from the granite variety of guys like Oliver McCall or Marvin Hagler. At the same time, Khan did absorb some thunderous shots from Maidana, Peterson, and even Garcia. It was actually quite surprising the way Khan was withstanding some of those Garcia bombs following the first knockdown. It is also worth noting that some onlookers even question the legality of the blow that started Khan's woes. So Khan has shown an ability to take a punch since the Prescott loss. He has also illustrated, however, that his chin is definitely not his greatest asset.
The bigger problem for Khan seems to be in his approach. With his unique set of skills and tools, Khan has the ability to do a better job of keeping himself out of harm's way. He is extremely quick, possesses adequate power, moves well, and has an ability to group punches in bunches with great fluidity and accuracy. It almost seems as if Khan is sometimes trying to do too much and that he is too willing to engage in combat. The shift in his approach dates back to the Maidana fight, when Khan seemed overly anxious to showcase his ability to take a punch. It is as if he never escaped that mindset, and that he is always looking to put on an exciting performance and prove his durability, even at his own peril.
If you look back in the earlier fights Khan had following the Prescott loss, he was boxing more patiently. The Malignaggi fight is the best example of this. Khan was working behind the jab, keeping his guard high, looking for openings, and picking off incoming fire. He was easily winning the battle of jabs, which was impressive because Paulie has a very good jab himself. Everything else fell into place from there. Khan was jabbing, waiting, timing, jabbing, waiting, and unleashing furious combinations when the opportunities were there. With this less aggressive outlook, without the imperative to prove his mettle, Khan fought much more effectively both offensively and defensively. Ever since Khan turned his "bravado switch" on, in the build-up to the Maidana fight, it as if he has abandoned this measured approach and the art of taking his time, finding his spots, and establishing his jab. This "bravado" style worked extremely well for him when he squared off against Judah, but it probably made things a bit more difficult for him losses to Peterson and especially Garcia.
If Amir Khan would revert back and make that basic shift in tactics and strategy, it would probably serve him well. Indeed, he should begin approaching these bigger punchers the way he was previously fighting against guys with less power, because even though Khan might well be able to take a big punch more often than not, it is probably not a good idea for him to continue taking any more than absolutely necessary. Regardless of questions about his chin, however, Khan still remains a popular star in the sport of boxing. He has an entertaining crowd-pleasing style, is willing to travel overseas, and has a proven track record of his desire to challenge himself against the very best that the talented 140 pound landscape has to offer.
***
To contact Geoffrey Ciani:
ciani@boxing247.com