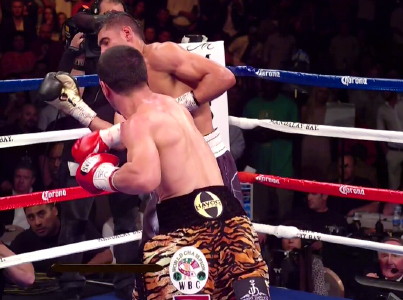 By James Slater: While fans, experts and fellow fighters are having their say on what Amir Khan should do with regards to his boxing future, the former champ has made up his own mind: he will not retire. Khan, still only 25 and having lost for just the third time in his exciting pro career (or just twice if you choose to ignore the controversial points loss to admitted drugs cheat Lamont Peterson) says there is no reason why he should quit.
Speaking with BBC Sport, the Bolton man says people like Carl Froch (who, it seems has been misquoted, with "The Cobra" not exactly saying Khan SHOULD quit, only that he himself would do so if he'd been KO'd so brutally two times) and others, who have supposedly urged him to retire, don't know what's best for him.
"People are going to say things after this fight, but people said things after the [Breidis] Prescott fight and you see how I came back from there," Khan, 26-3(18) said.
"I want to sit down and see where we go from here. I want to be the main priority. A lot of travelling – going to The Philippines, here, there, everywhere – does take a lot out of you. I'm going to start thinking about myself because normally I'm thinking about others too much and I'm the one who's in the ring taking the punishment. It's time now where maybe I do things a bit differently.
"I'm going to have to sit down with the team now and do things I want to do."
These last comments from Khan are very interesting. Is Khan perhaps hinting at a break away from Freddie Roach and The Wild Card Gym? Is Khan perhaps unhappy that Freddie, as great as he is, has too many fighters on board and that he is not the sole focus of his attention? Khan has switched trainers before as we know, maybe he will do so again.
But Khan is definitely staying at 140-pounds (he told BBC he made the weight easily for the Garcia fight) and he is hoping for a return with the man who sensationally stopped him in the 4th-round in Las Vegas in Saturday ("We're going to try for the rematch," Khan said. "I don't know if they're going to take it, but if we can get that in England it will be amazing.")
A Garcia-Khan II looks unlikely, especially in England, but you never know. But I think Khan is right to carry on. If he can forget about being an all-out aggressive warrior, one who is always looking for the KO, and go back to his classy boxing, Khan might be able to win another major belt. Many other fighters who suffered brutal KO defeats have come back, and Khan has the youth, the desire and the skills to be able to do the same.
Bottom line: Khan IS a warrior, and for that he should be applauded. Quit at age 25 after just two legitimate defeats? Not Amir Khan!