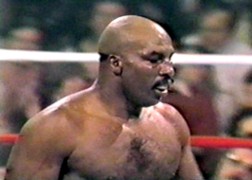 By James Slater – James Slater: It's great to speak with you, Earnie – a heavyweight legend! I know you know David Haye quite well. People are still talking about the brawl he and Dereck Chisora had in Germany; today (March 29th) Chisora appealed the decision that saw his licence taken away. Do you think both guys should be able to fight again?
Earnie Shavers: Well, they should serve some time for what they did, definitely – but I don't think they should be banned for life. No, let them back after a time, let them earn a good living.
J.S: Did anyone ever try and get at you outside of the ring, Earnie – at a press conference or anything like that?
E.S: Oh, no, never anything like that. I got on fine with all fighters outside of the ring. I had no problems.
J.S: Were boxers more gentlemanly back in your day?
E.S: Yes, and we also had great trainers – trainers who not only taught us boxing but also how to conduct ourselves as gentlemen. The trainers taught us and told us what not to do..
J.S: People always like to speculate on who would have beaten who. What would have happened had you and Haye rumbled?
E.S: I'd have knocked him out, probably in two or three rounds. I hit way too hard for him. But I like David, he's a friend of mine, and a good fighter.
J.S: How about you and the Klitschkos? You're 6.0" and you were around 215 I your prime, while the two brothers are 6.6 or more and around 240. How would you have done against them, as big as they are?
E.S: Let me tell you something, I loved facing big, slow guys like that. I wouldn't have had any problems with them.
J.S: You feel you'd have got inside the long jab and gone to work on the inside?
E.S: Yes. I'd have worked inside, then attacked the body first, to bring the hands down, and then I'd have gone to the head. I'd have landed shots to the heart, a left hook to the kidney, and then shot a right hand to the head. Then you'd have heard 'Timbeeerr!' (laughs).
J.S: Do you think the Klitschkos deserve to be rated as all-time greats? That's what some people are saying right now, as it's been so long since they lost, and they have dominated the division for so long now.
E.S: I don't think so, no. They're good fighters, but not in terms of all-time. They haven't been in with top guys.
J.S: Is that because there is simply no-one around?
E.S: Yes, I agree with you, it is not their fault.
J.S: You were part of a golden era, a special time for the heavyweights: the 1970s. Was that the best time ever for the heavyweight division in your opinion?
E.S: Yes, I would say so. You had so many great fighters all around at the same time, facing each other. In fact, there were too many great fighters around at the same time. To my knowledge, it has never been like that before or since.
J.S: As you know, Earnie, Bert Sugar passed away a few days ago. I have a copy of your DVD, and Bert introduces it – he called you the hardest punching heavyweight he'd ever seen……
E.S: Oh, I knew Bert well, we were friends. I saw him two months ago. It's very sad, his passing. We all have to live life to the full while we can.

J.S: Bert told a story that says that when you fought Bernardo Mercado (in March of 1980, actually a stoppage loss for Shavers), you hit him so hard you're glove actually imploded! Is that true?
E.S: It did, yes.
J.S: Wow, that's real power!
E.S: (laughs) Well, I did punch pretty good.
J.S: How much boxing do you watch today, Earnie? Which fighters do you like?
E.S: Well, I don't watch all that much. I like Mayweather and Pacquiao.
J.S: We all want to see them fight and I know you're the same. Who wins if they do meet?
E.S: Mayweather. He's too fast and he'll win on points.
J.S: Going back to your day, a time when the best always fought the best, would you have ever messed around as much as Mayweather and Pacquioa have? There is something like $20 million to $30 million on the table for each fighter, maybe more!
E.S: Both guys are crazy. I just can't understand it. You know, if one of them gets hurt or something, the deal's off. That's crazy. We're in the game to make money. With that kind of money to be earned, who cares who wins?
J.S: I agree, Earnie. We just need to see it. Thanks so much for your time.
E.S: Thank you, and tell all my fans in Britain, I love you and thanks for all the support.