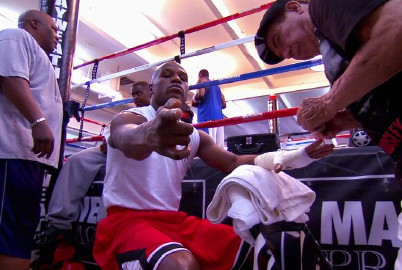 By Paul Strauss: Let's get the big ones out of the way first. Sorry Miguel Cotto fans, but Floyd will be too much for the Puerto Rican star. Yes, Cotto has some experience with fast handed fighters, but not ones who set up their speed so well. In his prime, at a lighter weight, Cotto was a fierce fighter. He had a great left hook to the body. However, he's slowed considerably, and with Floyd, he won't get close. Floyd will take Cotto out of his offensive game plan, and then pick him apart. The downer is that once again Floyd won't take any major chances and will be content with a UD.
Manny Pacquaio should beat Timothy Bradley. Bradley was down twice against Kendall Holt, and even though he came away with a win against Devon Alexander, he had trouble when Devon moved and used his jab. Desert Storm's head first attack could result in dire straits for the PacMan. What if some of that old scar tissue opens up as a result of a clash of heads? But, before that happens, look for Bradley to get caught by one of Manny's short devastating inside shots that could come from either side. Bradley's very tough though, and undoubtedly will not be discouraged. He might just dust himself off and charge in for more. Manny will be ready.. If Bradley can deal with Manny's speed and power, he could make this a surprisingly tough fight. How about it? What's your hunch? Bradley will be in great shape and will try to smother much of what Manny wants to do. But, it's still a safe bet that Bradley will be dropped at least once. Manny will win by decision.
There's several fights involving aged veterans, and in most cases let's show them a little bit of respect and go with the old guys. For example, I think Erik Morales might just be too crafty and too tough for the much younger Danny Garcia. As Morales would say, he's seen it all, and been in there with some of the toughest competition around. If Garcia's is in awe of him, and hesitates in fighting his best fight, Morales might just come away with a knockout over the aggressive youngster.
I also think Antonio Tarver is going to weather Lateef Kayote's early onslaught, and then get to him. He too has been in there with some pretty tough competition, so it's unlikely Kayote can pull off anything new. Tarver has only fought three times since 5/2009, and he is 43 yrs old. Think he's still got enough left? It's not likely he will be intimidated at all by Kayote's aggressiveness. Look for Antonio to get a kayo.
Another veteran who has a lot left in the tank is Zab Judah. Look for him to be too fast for Vernon Paris. Paris wings his punches too much from the orthodox stance. He will try to land big shots to Zab's body. In the process, Zab just might catch him coming in. Zab wins by kayo.
Look at one more veteran fighter. This is another magic man (Tarver) named Paulie Malignaggi. Unfortunately for Paulie, he can't hit. He never has been able to, and has gotten by this long because of his superior boxing skills. But, he's slowing down, and his jab isn't what it used to be. As a result he's more hittable. Paulie's still tough, though, and has a lot of pride left, so he will stick around for the whole show. Unfortunately for him, the judges at the Donbass Arena in Donetsk, Ukraine will be picking their hometown champion Vyacheslav Senchenko.
What about James Kirkland? He's coming off of a great win over Alfredo Angulo. After the Nobuhiro Ishida disaster, he no longer automatically thinks he's just going to roll over people. But, as the saying goes, "You can't teach an old dog new tricks." At first, he will be a bit more cautious, but we all knew in his heart he still expects to roll over Carlos Molina. However, if Molina can make it through the first five rounds or so, look for him to pull an upset. Kirkland's attack is enough to make any fighter look for the exit, but Molina knows the Mandingo Warrior can be hurt, and Carlos just might be good enough to pull off the upset.
Maybe the most interesting of all these is the rematch between Vicious Victor Ortiz and Andre Berto. As you all remember, the first one was a great fight. It made us think of Victor's tail spin in the Marcos Rene Maidana fight when it looked like it was going to be lights out for Marcos. Uh oh, El Chino came back with big right hands, and reversed the process. It looked like that might happen again against in the first Berto fight. But, Victor proved he has a champion's heart after all, and he recuperated and came back to score a great victory. The big question seems to be, "Has Berto learned anything since that first fight?" If he will use his jab a lot more, and look to end things with a counter right hand. If he lets Victor attack again, and drive him into that right leaning shell he tends to do, then it will be a repeat of the first fight. Berto's a pretty smart guy. Look for him to do what's necessary to even the score.
There are several really tough matchups left. One is really tough to pick. How about picking a winner in the Lucien Bute vs. Carl Froch fight? Bute will be going into the lion's den in Nottingham, England. It's not like he can expect much encouragement from anyone in crowd. On the other hand, Froch's spirit should be soaring, and that could translate into good things for him. But, the southpaw Bute knows he's faster, and he will try to use his own jab and right hook to negate Froch's up jab, and looping left hook. His speed might be the difference. How many times do you think Lucien has watched video of Froch's fight with Andre Dirrell (That much)? Bute tends to lean in a bit too much with his right hook, while at the same time looking to land his straight left to the body. If Froch can time it, he might make good use of his powerful uppercut. Glen Johnson couldn't do it, but Froch is more mobile and is faster. If he can pull it off, it could spell disaster for Bute. If the contest goes the distance, it's unlikely either fighter will fade. Froch has never run out of gas in a fight, but the same isn't true of Bute. After his first fiasco with Librado Andrade, Lucien seems to have learned his lesson. The Froch vs Bute matchup promises to be a very good, close fight, tough to call. Can Bute win a decision in front of a hostile crowd? Look for Le Tombeur to do so.
How about Andy Lee and Julio Cesar Chavez, Jr.? Julio's got Freddie Roach and Andy's always had Emanuel Stewart, which makes for an interesting matchup in itself. Andy's had the tougher road to hoe, and he's taken more shots. He's a very likable guy, and as game as they come. But, he does fight too straight up. His stance is too wide, and he doesn't move his head enough. If you can avoid his right hook on the way in, he's very hittable. He's not that mobile. Junior has exasperated a lot of fans over the years because he's been so carefully managed, but he has steadily improved, and right now he's the more skilled and stronger of the two. Look for Junior to come away with a decision.
Let's make this one short and sweet. Juan Manuel Marquez will "dinamita" Serhiy Fedchenko. The simple truth is he's just too good.
Brandon Rios is too heavy handed for Richard Abril too. It will be a kayo win for Bam Bam.
Who will win between the two up and coming super middleweight knockout artists: Adonis Stevenson vs. Noe Gonzalez Alcoba? Both of these guys are big punchers, and not surprisingly they are both expecting to come away with yet another KO on their record, which they hope will translate into a big fight with Bute, Froch, or Ward. Adonis has only had 18 fights, but already is 34 yrs old. So, time is a bit more of a concern for him. Gonzalez is 29 and has had about that many fights. Both have only one defeat, but in Adonis's case it was a second round knockout loss to Darrell Boone. With two big punchers like these two guys, anything can happen from the opening bell on. Check out the refrigerator before then. Normally, it would be wise to go with the guy who has never been knocked out, but Adonis is now under the wing of Manny Stewart, so it's hard to go against him. Hence, let's pick the Canadian, who now fights out of the Kronk Gym in Detroit. Adonis "Superman" Stevenson will win by kayo.
Finally, how will Jermain Taylor fare in his next effort on the climb back to the top?. He is matched against an undefeated fighter out of Minnesota named Caleb "Golden" Truax. Everyone knows about Jermain's accomplishments and travails. There's remaining concern about his stamina and multiple concussions. Obviously he's been okayed by the medical people, but it still leaves a sense of unease with those who care about his safety. All we have to do is look around to other sports, and see how much of an issue lingering symptoms have become. Getting repeatedly knocked in the head has prematurely ended more than one athlete's career. So, is Caleb Truax cause for concern? As ESPN boxing analyst Dan Rafael pointed out, Truax' record has been compiled by fighting second tier fighters. You're supposed to win against those guys. Well, Caleb has done that. That's what good fighters do as they climb their way to the top. That's what Caleb hopes he will be doing with this fight, moving up to the top tier. He knows he will be fighting a top tier fighter. He also knows he might be catching him at the right time. Taylor probably is looking and hoping that Truax is someone who is not unusually fast or a hard puncher. He sees him as someone he can get some good rounds with, and not worry about as a big threat? Is he right in his thinking? Caleb doesn't think so. Caleb feels he is a smart, strong fighter, and he hopes Jermain is underestimating him. If Caleb can successfully deal with Jermain's speed, good jab, and overhand right, then he might be able to do some good body work. He's capable of shaking up Jermain with his own left hook, good inside short right, or rip off an occasional combination. IF he can do it often enough, who knows? But, the odds are against it.