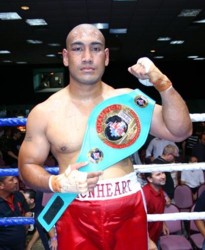 By James Slater – An interesting and possibly exciting heavyweight match-up should have already taken place by now in Brisbane, Australia, as Samoan slugger Alex Leapai was all set to square off with once-beaten U.S heavyweight Kevin "KingPin" Johnson. However, as has been reported by Fightnews.com, Johnson had to postpone due to falling ill with the flu. The new date is April 1st. The new venue is Ascot, Queensland, Australia.
The scheduled 12-rounder (which will contest the IBF Australasian title) is a fight 32-year-old Leapai, 25-3-3(20) overall, but unbeaten in his last 17, sees as a way to earn some even bigger fights down the road. For Johnson, also aged 32 and 25-1-1(11) a win would ensure that he doesn't become a forgotten fighter (he has fought just three times since his Dec. 2009 points loss to Vitali Klitschko)
Both men are talking a great fight: Johnson vowing to end Leapai's career – "I hate to do it, but I'm going to end this boy's career," Johnson said, adding "You won't make it through eight rounds, Alex." Leapai is also predicting a KO; stating that he will "do what Vitali Klitschko couldn't do.."
Leapai has been making waves in the division recently. Exciting stoppage wins over U.S fighters Travis Walker (an absolutely great slugfest!) and Owen Beck have impressed, while big and hefty men such as Bob Mirovic and Evgeny Orlov have also been taken down by the 6.0" approx 235-pounder known as "Lionheart." Some critics say Leapai is not big enough or tall enough to be able to beat the division's elite, and some have questioned his boxing ability. However, there is no questioning Leapai's power, his heart or his determination. A win over Johnson – especially a stoppage win – would go some way towards silencing the critics.
Johnson looked poor in the Klitschko fight, disappointing many with his perceived lack of real effort, but the man from Atlanta, Georgia is a gifted boxer with a superb left jab. Against Leapai, Johnson will enjoy advantages in both height (6'3") and reach (82" to Leapai's 75"). Johnson may be a little rusty (last fighting in June of last year) and fighting in Australia will be something new to him, but one can see Johnson outboxing, maybe even schooling Leapai with his jab. For a while at least.
But will the rampaging local hero get inside and make things rough, perhaps too rough, for Johnson? Will this fight wind up being won by the man who wants it more? If it does, I have to favour the gutsy, warrior-like Leapai. But can Johnson be stopped? "KingPin," did, after all, manage to avoid "Dr. Iron Fist's" huge punches for all 12-rounds.
I think Johnson will win a number of the early rounds, perhaps even some of the middle rounds too – before the sheer work-rate, aggression and physical strength of Leapai turns the fight around late on. It's Leapai for me, either by close points win or by late stoppage.
The fight will take place on April Fool's day, but who is fooling who? A classic power Vs. Skill match-up; we await to see which one triumphs.