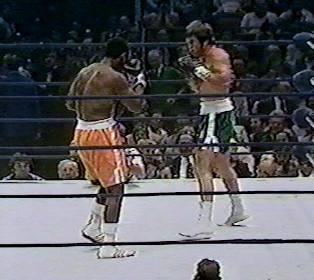 By James Slater: The recent passing of the great Ron Lyle got me thinking: which other great heavyweights fought the best yet, for one reason or another, were never able to rule the world?
Lyle got just one chance to reach the very top, losing a controversial 11th-round stoppage to the man most say is THE greatest heavyweight champion of all time. But a number of fine fighters who campaigned in the glamour division of the sport of boxing never even received one shot at the crown.
There have been many, many superbly talented fighters who campaigned at heavyweight yet were never able to wear the crown. Here, in a purely personal opinion piece, I give my top-five for the best-ever heavyweights who never became world champions:
1: Harry Wills: Pro Career – 1911 to 1932. Final record: 67-9-3(54) with 19-1-3 newspaper decisions.
Famously, Wills became the number-one contender for Jack Dempsey's crown, yet was never given a shot (Dempsey reportedly feared racial riots if the fight took place, not Wills' formidable skills as a would be challenger). On his way up to what he hoped would be a title shot, Wills fought and beat such men as Sam Langford (these two met over 20 times!), Luis Firpo, Gunboat Smith, Fred Fulton, Sam McVea, Jim Johnson and Willie Meehan.
Could Wills have beaten Dempsey? We will never know. Of the nine defeats he suffered in his long career, three came after Wills had turned the then advanced age of 30.
Wills, of New Orleans, died in 1958.
2: Sam Langford: Pro career – 1902 to 1926. Final record: 178-31-40(129) with 29-15-17 newspaper decisions.
One of the best pound-for-pound fighters in history, Langford fought the best from lightweight up to heavyweight. Famously had a fight with future world heavyweight king Jack Johnson in 1906; the points loss he suffered serving to make Langford the ultimate member of the "who needs him club?" Johnson, as wise as he was, never gave Langford a second fight. Among the men Langford did defeat: Fireman Jim Flynn, Tiger Flowers, Gunboat Smith, Stanley Ketchell and Sam Langford.
Langford is one of only five men to have ever KO'd the great Harry Wills, and "The Boston Tar Baby," as Sam was known, is the only man to have done it in Wills' prime.
Canada's Langford passed away in 1956, sadly penniless and blind.
3: Jimmy Young: Pro career – 1969 to 1988. Final record: 34-19-2(11).
As slick as they come (think Eddie Chambers but better), Young proved to be an absolute nightmare for such luminaries as Muhammad Ali (L15, but millions felt Young won the fight; Jimmy's one and only world title shot), George Foreman, Ron Lyle (twice) and Ken Norton (Young losing yet another debatable decision, a year-and-a-half after the Ali "loss").
Young, who carried on when way past his best, was never a big puncher, yet he was rarely stopped himself (just twice: once when on the way up – Vs Earnie Shavers, one when on the way down – Vs Gerry Cooney). As clever, and naturally instinctive a boxer as you could wish to name.
Philly's Jimmy passed away in 2005.
4: Jerry Quarry: Pro career – 1965 to 1992. Final record: 53-9-4(32)
A gifted boxer who was also a tough warrior who loved nothing more than to brawl (the late great Mark Kram wrote how Jerry was never able to make up his mind regarding his fighting style), Quarry met a long list of great fighters – a number of which he was able to best. Possessing fast hands, a quick boxing brain and a granite chin, Quarry was able to defeat such fine fighters as Floyd Patterson (who Jerry also boxed a draw with), Buster Mathis, Ron Lyle and Earnie Shavers.
Most famous for his losses to Ali and Frazier, Quarry never ducked anyone; his courage legendary. Another warrior who carried on when way past his best, the peak Jerry was only stopped by Ali, Frazier and Chuvalo (when Jerry messed up and missed beating the count by a split second).
Bakersfield's Quarry left us in 1999.
5: George Chuvalo: Pro career – 1956 to 1978. Final record:73-18-2(64).
Known for his rock-chin, Chuvalo also had skills and amazing stamina. Also capable of rendering a foe unconscious, George met so many notable fighters during his amazingly long career. Some of the men Chuvalo defeated include: Doug Jones, Jerry Quarry, Cleveland Williams and Yvon Durelle. Of the 18 decisions Chuvalo lost, two came after George had turned 35, four were controversial, one was voted The Fight Of The Year, and three came while George was still a relative novice.
Chuvalo, who was TKO'd twice (by Joe Frazier and by George Foreman), is revered as a fighter who was never once knocked off his feet – amateur, pro or in the gym!
Canada's Chuvalo is alive and well and is today a prominent anti drugs campaigner.