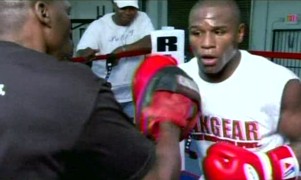 By James Slater– Floyd Mayweather Junior continues to make the news; mostly outside of the boxing ring. Minutes ago, news broke of how the 33-year-old superstar was in attendance at Las Vegas Justice Court – there because of the eight misdemeanour and felony charges that stem from his alleged dispute with girlfriend and mother of two of his three children, Josie Harris in September.
Mayweather's attorney today asked for a continuance of the case, and the judge agreed, resetting the trial for March 10th.
From a purely boxing standpoint, it now looks unlikely that Mayweather will be in any condition to fight again in the early to middle part of this year, if at all in 2010. With all the legal issues on his mind (Mayweather, according to The Las Vegas Sun, will be back in court for the misdemeanour battery charge involving a Las Vegas security guard, in February), the last thing "Money" is calling an important issue is improving on his 41-0 fight record..
However, somewhat ironically, Mayweather did release a video statement over the weekend, on his Ustream account. The short message Floyd released makes it clear he does have Pac-Man on his mind still – even though he has nothing good to say about the Pound-for-Pound king.
"I'm never gonna let my fans down," Floyd said. "That's the reason I'm 41-0. Don't worry, we're gonna beat Poochiao's ass. Stop asking the same question. 'When are you gonna fight Poochiao?' I'm gonna fight the Pac-Man – when he's off the power pellets."
As fans can see, Mayweather – who will turn 34 a month before his next appearance in court happens – remains as boisterous as ever when it comes to the Filipino legend. But will Floyd ever face Manny, what with all the legal issues he has on his plate? And as to "Money's" statement about fighting Pacquiao, "when he's off the power pellets (steroids)" – that issue alone remains one of the most contentious in current boxing.
For as long as Mayweather accuses Pacquiao of taking illegal substances, and for as long as Pac-Man refuses to adhere to the tests Floyd insists he take to as to prove his innocence, we will not see the mega-fight we all want to see.
Pac-Man has recently said he will continue to fight until 2012/13. But will Mayweather have ironed out his legal troubles AND agreed to the pre-fight tests Pacquiao has himself agreed to take by then?
Would a betting man place any serious money on ever seeing the "Dream Fight" take place?