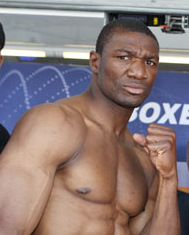 GM Ross – Former Canadian Boxing Federation (CBF) cruiserweight champion Troy "the Boss" Ross is home in Ontario and desires an opportunity to regain his national laurels. Negotiations with current CBF king Ryan "the Hitman" Henney went smoothly and it appeared a Ross-Henney contest for the latter's CBF crown, as well as the vacant Canadian Professional Boxing Council title(CPBC) and, possibly, the North American Boxing Association's version of the North American championship, would be a part of WCP Boxing's "Super Brawl" on February 4, in Barrie, Ontario. Unfortunately, Ontario Athletic Commissioner (OAC) Ken Hayashi has refused to approve this remarkable bit of match-making.
According to Ross, "our commissioner (Hayashi) doesn't want me to fight for a Canadian title because he thinks my opponent will be too overmatched." Henney is a legitimate champion, with wins over Frank White of Sarnia, James Cermak of Edmonton, and Kevin Reynolds of Vancouver. Indeed, he's exhausted the Canadian cruiserweight division with the exception of one man – Troy Ross. Contrary to what the OAC will have you believe, an ethically sound sanctioning body is supposed to facilitate boxing in the province. He is not a match-maker. The CBF, CPBC and NABA decide whether or not an opponent is appropriate. The commissioner, on the other hand, is meant to "control and regulate" contests..
According to Ontario law, he or she is to consult with qualified medical practitioners regarding fighters' health, collect fees, make sure suitable judges and officials are appointed, etc. (see RRO 1990, Regulation 52). They are not permitted to make decisions regarding how "well matched" two fighters are. A fighter's record must be submitted for medical clearance to be granted. This, however, is provided by a "qualified medical practitioner," not the commissioner. In short, the commissioner makes sure the fighter's healthy and licensed. He or she may forbid a fighter a license if the boxer is known to conduct themselves in a manner "detrimental to the integrity of the sport," but that is where their match-making powers are meant to cease.
In Ontario patrons of the 'sweet science' routinely refer to the OAC as a dictatorship. This is true. A dictatorship is defined as a form of government with a single person exhibiting "absolute, imperious, or overbearing power or control." This is the way the OAC is set up, with an individual rather than a group making decisions. In other provinces power is better allocated. In Manitoba for instance, three officials are appointed by the lieutenant governor to control and regulate boxing (see Manitoba's "Boxing Commission Act"). In Nova Scotia a similar arrangement prevails. If we are to continue the revival of boxing in Ontario in a serious way, we as a province must push for the reorganization of the OAC into a more democratic, less dictatorial, boxing commission.
Troy Ross is justifiably upset about the whole situation. Ross didn't lose his CBF title to another fighter. He was stripped of it after winning the Commonwealth crown. Now he is back in Canada and wants to fight for his nation's highest pugilist honour. Who can blame him? Ross is a Canadian citizen. He proudly fought for Canada in two Olympics. The least we can do is give him an opportunity to reclaim his professional throne. After all, he is undeniably the number one contender. Regardless if the OAC comes to it senses and permits the Ross-Henney contest, "The Boss" promised to put "one hundred percent into the fight, no matter who it is [I fight]." News regarding potential opponents will be provided as this story continues to unfold.