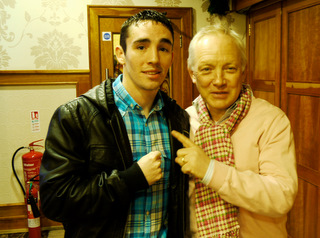 By Brendan Galbraith – At yesterday's press conference for the Martin Lindsay – John Simpson British Featherweight Title fight, promoter Frank Maloney invited each of the fighters to say a few words to the assembled media.
Belfast Flyweight, Jamie Conlan, sitting on the press table with Frank Maloney, Tommy Tolan, Luke Wilton and Tony Nellins did not hesitate to outline his objectives:
"I would like to prove the point that I am the best flyweight in Britain and I am going to show everyone on the 15th December that I am (against Francis Croes in a six-rounder)."
Conlan is keen to make up for the disappointment of missing out on a scheduled fight on the recent Frampton-Reid under card, as his opponent could not travel to Belfast due to the treacherous weather conditions that caused havoc at airports throughout Europe. Instead, Conlan boxed an exhibition match with Super Featherweight, Troy James:
"It was annoying, but it was out of my control. I got a workout (with the exhibition with James) and I am ready to go next week."
Conlan is looking forward to making building his record against upcoming opponent Francis Croes (1-11):
Croes is a tough, come forward fighter and he will make me work on the night, which is what I need – someone to give me more rounds."
"Training has been going amazing, we finished up sparring yesterday (Tuesday) and did seven rounds with my brother. I had great sparring with Andy Murray and before that I sparred the Welsh Commonwealth Games Silver Medallist, Sean McGoldrick.
Everything has been working. My timing has come on perfect, my power has been coming on nice."
Conlan also revealed that he has been particularly focused on working on his defence:
"I have been working on defence, how to evade a shot and come back with a counter. Everything is coming together. Nothing is perfect – no one is perfect, but as long as I know going into the fight next week that I am fit and I am ready for everything that this guy is going to bring me. I am ready to take the British Title after that – so everything is going nice.
In an interview with domestic flyweight rival Luke Wilton, the Belfast man also revealed that he is targeting a fight for the British Flyweight Title after his rematch with Uzzy Ahmed on the same card as Conlan-Roes. However, Maloney hinted that we could be in for an Irish Title fight between Conlan-Wilton – with the winner getting a shot at the British Title.
As Maloney revealed:
"There is a great Irish Title fight down the road for the two flyweights (Jamie Conlan and Luke Wilton) and to use that as a step for the British Title or an eliminator for the European Title."
When pressed, Conlan said:
"It is out of my hands, it is whatever the promoter says, John Breen (Conlan's trainer) thinks I am ready. I feel I am ready. I have did the rounds in the gym and as an amateur I did over 100 fights. There is not that many flyweights out there so I will get my chance."
During the press conference a reporter asked both Wilton and Conlan if they would be willing to face each other and neither man hesitated in confirming that they would step up to the challenge.
It is a mouth watering domestic flyweight battle that conjures memories of other famous clashes that took place in the lower weight divisions, such as Hugh 'Little Red' Russell v Davy Larmour. And like the Russell v Larmour double, it would be churlish to rule out more than more one fight between Conlan-Wilton.
Wednesday 15th December 2010 at the Kings Hall, Belfast:
Martin Lindsay v John Simpson (British Featherweight Title) & Shinny Bayaar v Paul Edwards (British Flyweight Title).
Prices: £55 (Ringside) £35 and £25
Doors Open: 18:15
Sky Sports Telecast starting at 8pm.
Further information: Call FTM-Sports 020 84677647 or log onto www.frankmaloney.com
The Full Card is:
12 x3 British Featherweight Title
Martin Lindsay v John Simpson
12 x 3 British Flyweight Title
Shinny Bayaar v Paul Edwards
8 x 3 Light Heavyweight
Tony Jeffries v Tommy Tolan
6 x 3 Flyweight
Jamie Conlan v Francis Croes
6 x 3 Flyweight
Luke Wilton v Usman Ahmed
4 x 3 Welterweight
Steven Jevons v TBA
4 x 3 Light Middleweight
Ryan Greene v TBA
4 x 3 Light welterweight
Tony Nellins v TBA
4 x 3 Featherweight
Mike Harvey v Dann Darr
Weigh in will take place in The Balmoral Hotel, Blacks Road, Belfast 14th December 2010 at 3pm.