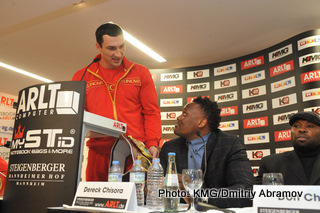 By James Slater: For fans of the heavyweights of our great sport, this week promises to be an exciting, action-packed seven days! Three intriguing heavyweight bouts take place this week, and some big names will be in action as a result.
First of all, tomorrow night in Hollywood, Florida, tough veterans Fres Oquendo and Oliver McCall go at it in a scheduled 12-rounder that will contest the IBF inter-continental belt. This fight may not, on paper at least, be a fight that will thrill and excite the fans in terms of toe-to-toe action, but both men have endured hard times in and out of the ring, and both men desperately need to win on Tuesday. This incentive – with both fighters knowing a loss could all but end their time as anything approaching a world title contender – will bring out the best in both men.
There is a lot to like about "Fast" Fres and "The Atomic Bull." Both guys have persevered for many a year and both men always enter the ring in good shape.. Oquendo has underrated skill and heart, and McCall, the older of the two by eight years at age 45, is as tough as they come. This one has all the look of a definite distance fight, and the fight may be more technical than all-out exciting. The crucial (for both men,) encounter should be one well worth watching, though.
My pick: Oquendo on points, in a close one.
On Thursday night in Newark, New Jersey, we will see a heavyweight rumble that does promise to provide a fair amount of fireworks. Unbeaten heavyweight contender Tomasz Adamek, the man seen by many as the next logical challenger for either of the Klitschko brothers, faces New York tough guy Vinny Maddalone over a scheduled 12-rounds.
On paper, this fight can't fail but to send the fans home happy. And even if the Polish warrior who has boxed more than he has fought in recent outings is a huge betting favourite to win, no-one with any sense is counting out the gutsy, give-his-all Maddalone. Sure, the former light-heavyweight and cruiserweight ruler has more natural talent than Maddalone, but he is still a work in progress at heavyweight, he is somewhat easy to hit, and his own punching power has seen off just one big guy out of four (a faded Andrew Golota, who "Goral" stopped in the 5th-round of his heavyweight debut).
This, along with the knowledge that Maddalone – two years older than Adamek at age 36 – has been working on improving his arsenal by way of adding "a few things," tells me that Thursday's encounter is by no means a formality of a win for Adamek. And unless Maddalone suffers a serious cut or two (there is, it must be said, a very real possibility Vinny will end up bleeding), he can be relied upon to make things plenty hot for the favourite all night long.
My pick: Adamek on points, after coming through some tough patches. (but a Maddalone upset would not be too much of a shocker).
Finally, heavyweight fight fans, we have the world title being contested on Saturday night in Germany, as the all-conquering Wladimir Kitschko – the man the likes of Oquendo, McCall, Adamek and Maddalone really have in their sights – meets unbeaten Brit Derek Chisora. This fight looks to many people like a mismatch, with the untested "Del Boy" being in way over his head. And this line of thinking will probably be proven correct.
"Dr. Steel Hammer" really is looking like he is at the top of his game right now, while Chisora has just over 60 rounds of pro experience under his belt. Then again, some fans cheerfully point to fellow novice Leon Spinks' wholly unexpected points win over the legendary Muhammad Ali in 1978. Back then, "Neon Leon" had even less pro experience than Chisora has had!
Still, as great as he was, Ali was terribly out of shape for that fight, as well as being at the tail end of his masterful career. Klitschko, on the other hand, is always in tip-top physical condition, and he appears to be at his very peak at age 34. Chisora, who seems to be unfazed and is talking a great fight, will need a monumental effort to be able to pull this off.
My pick: 26-year-old Chisora won't freeze, and he will give it a go – but he will be taken out by the bigger, smarter, stronger and more experienced champion by the middle rounds. What's more, Klitschko will bag the win with some ease.