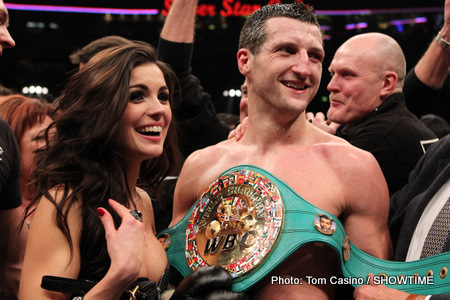 Carl 'the cobra' Froch and his coach Robert McCracken put together a master class performance which the power-punching strongman Arthur Abraham had no way of overcoming in Helsinki at the weekend.
Froch, who moves into second place on the Super Six: World Boxing Classic scoreboard behind tournament leader and WBA champion Andre Ward, will now face veteran hard man Glen Johnson in the New Year.
"It was a satisfying and utterly dominating performance on Saturday night if I say so myself. Before the fight, the press and bookmakers were all split over the likely outcome between us." Said Froch from his Nottingham home.
"Arthur Abraham was seen as someone with a fantastic defence which was only bettered by his heavy hands..
"But I knew that if I could blow the cobwebs off my boxing skills and stay focused, there was simply no way he would beat me. I needed to make a statement and I think everyone will agree that Saturday's effort was exactly that.
"I'm so proud to be wearing the WBC title again around my waist and I want to say a big thank you to all of my fans who made the effort to brave the sub zero temperatures and spend money on coming over and supporting me.
"It was great to meet so many of them and I hope that they enjoyed the beating I put on Abraham as much as I did.
"My twitter and facebook pages have been overwhelmed with good luck messages and congratulations and it makes the weeks of hard work all worthwhile.
"The support of David Haye and so many other British boxers has touched me and it's also nice to be recognised by the press and boxing journalists alike.
"Whilst no love is lost for Kalle Sauerland, I must take my hat off to Arthur. He is a good person and a popular fighter who can come again. I gave him some stick during the build up, but the reality is that he is a quiet, honourable and likeable man. I had some verbal sparring with him and his coach Uli Wegner but we made peace afterwards which is what our sport is all about. ?
"Next up for me is 'the road warrior' Glen Johnson. The man who put Roy Jones Junior's lights out. He has been campaigning up at light heavyweight for a few years against elite opposition.
"He is a rough, tough handful and I will not be overlooking him.
"But right now I'm going to spend quality time with my family and loved ones over Christmas. I'm looking forward to eating a mince pie or two and maybe even a small glass of red wine. But most of all, me and Rachael celebrating our beautiful son Rocco's first Christmas.
"I wish you all a fantastic festive holiday and a happy New Year.
"See you in the January sales!"
Carl Froch