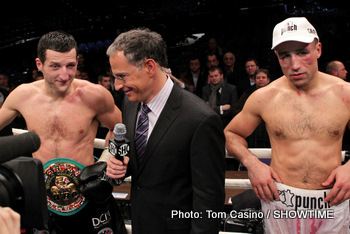 Jack L. (London, UK): I have always felt Carl Froch was one of the best boxers in the sport, and his shutout of Arthur Abraham proved. Do you think there's a chance he could actually win this Super-6 Tournament?
Vivek W. (ESB): I think the point of selecting the initial group of fighters in the tourney (which Froch was a part of) aligned around the fact that any one of these men could ultimately become the last man standing. The simple answer to your question is yes, Froch could very well be the one who wins if a few things go his way and he executes a flawless plan on the right night. The more complex angle surrounding this tournament is that while Froch is a very decent boxer, there are a number of men in this tournament that will have a lot to say about him ultimately being crowned the champ, and at least two of them bring attributes to the table that I think would be nightmares for him and somewhat nullify his own strengths..
I see someone like Andre Ward and Glen Johnson being a complete threat to Froch. Dirrell too, in a rematch. While Froch is a good boxer, I think Ward's defense would be slick enough to make it far more decisive on the cards than the questionable Dirrell outcome in the end. Ward would present angles that I haven't seen Froch address. This isn't a slight to Froch, but more of a nod to Ward, whom I personally view to be the second best fundamental fighter in the sport behind Floyd Mayweather jr. To me, he's Floyd with an edge. Far more aggressive and willing to mix it up, which is why you may see him get hit more.
Some will say that he didn't look too great Saturday against Bika, but similar to Mayweather's rocky experience the first time around with Castillo (which was his first time facing a wild bull) there's only one way to learn how to overcome this template, and that's to face it. Being a young fighter, he hadn't! I'd like to see how Froch handles someone that's hard to hit with enough speed to beat his reflexes. Also, despite the age factor, the pressure and chin of Glen Johnson make him dangerous for anyone at this point.
Some thought he wouldn't look good after having to lose the weight to join the tourney, but I'll be damned…..the man looks brand new! I like Froch a lot. I like his integrity as a man and his style as a fighter. But that being said, there are things to exploit, and a fighter like Ward who has never lost at any level (Olympic Gold, stellar amateur record, etc), or a salty vet like Johnson could make for a difficult night. One that Froch may not be able to overcome. Hope we find out, soon! May the best man win!
Rey H. (Chicago, IL): Arthur Abraham seemed to be missing something the other night against Froch. I am waiting to hear a story come out about him being injured in camp. I know he would never use excuses, but he did not look to be himself. Do you think there was more to his performance than we know?
Vivek W. (ESB): To be quite frank, Rey, I think the only thing "wrong" with Abraham the other night is the same thing that has been wrong with him his entire career…….a lack of fundamental talent. I viewed the Froch/Abraham showdown as a classic match of "Skill vs Power", and more often than not, "skills" will win that showdown. Abraham has the habit of taking forever to warm up, and that's OK if you're someone like Antonio Margarito, who will punch his way through that learning curve, hurting his opponent enough to the point where when he does finally understand how to attack, the opponent is typically weaker and more vulnerable.
With Abraham, he literally takes rounds and rounds to figure an opponent out, and when you lose so many rounds in the beginning, it makes for a rough second half of the fight because you have to play catch up. He doesn't have the skills to play catch up. For the longest, his power allowed him to slap that "walk-off home-run" late in a fight, but twice now he has learned what happens when you have an opponent who's slick enough to prevent you from catching them! There were no adjustments between fights, and in this fight, there were no adjustments between rounds. If this is the only way he can fight, perhaps we should get ready to hear that famous "E" word, because they will say he has been exposed! They will say the blueprint is laid, and anyone skilled enough to follow it can defeat him.
The interesting thing here is that like grade school, each level of progression brings elevation in difficulty. He lost to Dirrell……he lost to Froch…..now, he gets the best fundamental fighter in the tournament in Andre Ward. Hope he brings his A-game, or he'll "B" done in the tournament real soon! (Pun intended)
Timothy B. (Dallas, TX): Who do you think should be the front-runner to face Manny Pacquiao now (after the results from Saturday)?
I think it's important say up front that who I see as the front-runner and who the front-runner turns out to be are two different things. I think it's also important to note that his team has stated that they want to secure the "best monetary fight" for him, yet the options available don't produce the money desired and in the end, probably not the best results, (in terms of accomplishment to match those big dollars). When you think of it that way, in a sense, he can't win!
Andre Berto is a 'young gun' who has pop, decent power, speed, and he's undefeated. That sounds great in theory, but despite him saying that he's "had enough appetizers" and is now "ready for the main course", the reality is that it takes two. The most telling thing to consider with Berto is that he wasn't even the headlining showcase in his most recent fight, so to say that he would "bring the Benjamin's" (as HBO's Larry Merchant put it) would be a none supported statement. His resume is limited in top-notch talent, so if Pacquiao defeated him and did it handily, who outside of his hardcore faithful would really give him props for it? I like Berto and would love to see him get the opportunity, but I don't see it happening, unless of course Arum and Team Pacquiao are dedicated to fulfilling Bernard Hopkins' "slick African-American fighter" quota! (haha).
Next we have Shane Mosley. Two fights ago, Mosley was embarrassed at the hands of a master fundamentalist in Floyd Mayweather jr. In his last fight, Mosley seemed to have no answer for another slick fighter in Sergio Mora. The funny thing here is that contrary to those two performances, Mosley would definitely look better against a very hitable Manny Pacquiao, but in a "what have you done for me lately" business, few would care at this point. If Pacquiao defeated him and stopped him, it would be another "What was the point"? fight in the end. Mosley could bring a few more dollars, but he has never been a big draw himself.
Yes, he did 1.4M homes with Mayweather, but a year later against a man who most don't care to see take another "stepping stone to greatness" project, this is simply not a fight Pacquiao could "win" in the end, based on this opponents age and recent performances. The critics would be all over him. Now….when you turn the page to Marquez, this is an attractive "unfinished business" story, but again, same story across the board with these two guys. The money would be OK, but if he wins, it will be said that he fought an old guy and more Mayweather leftovers to add to Hatton and ODH.
I recently told a Filipino news source that there's only one TRUE fight out there for Pacquiao, and that's Mayweather. The other options would entertain us for a short while, but keep it real, party people…….none compare. Personally, I think most are tired of seeing one man dominate. I'm sick and tired of the testing debate, but if Team Pacquiao truly wants to make the biggest money fight, they could do so in taking the only challenge left to swing at, the only true front-runner, and it's easier than they seem to know. Agree to full randomized blood testing and this million dollar question fades away like jobs in a bad economy! Easy does it……..
Leslie H. (Reseda, CA): Team Pacquiao said that they won't go below the welterweight limit any more, yet Marquez is an option. We have seen him at that weight before and it wasn't pretty. What do you think about their demand to face him at the welterweight limit?
Vivek W. (ESB): This is one of those questions that I get into trouble for answering, because there's only one legitimate answer, yet there's a strong contingent out there who probably isn't ready for that answer. The reality of this whole scenario goes as follows…….Floyd Mayweather jr. defeated Juan Manuel Marquez and no one in a million years thought they'd see a spirited precision punching warrior like Marquez get shut out to the point that he would never land more than 8 punches in any round over the course of 12.
The fundamentalist of the industry felt that regardless of size, Mayweather's skill level would have netted the very same results at any weight. The neutral contingent felt that Marquez wasn't at his best, but was simply outclassed. Then, you have the radicals out there who felt Mayweather took advantage of an "older man who was out of his true weight class" that was for the most part "inefficient".
What was intriguing about that radical perspective is that it completely stripped Mayweather of what turned out to be a stellar effort, but the very thing he was accused of doing is what Team Pacquiao is in the midst of attempting! Team Pacquiao said that they "won't go lower than 147lbs again" because that's where Pacquiao is now most comfortable. So, this is basically to say that if Marquez wants the fight, he would have to take it where he has been deemed (in the radicals own words) "ineffective", and that's his only option. Sounds a bit contradictory to me, and if prompted, the same radicals would say Pacquiao is simply "exercising his right to run the tables as the more accomplished man on the card", yet that same theory was criticized when Mayweather did something similar against the same fighter.
Two separate the two incidents, the difference is that with Mayweather, it wasn't a hard line stance that said "only this particular weight" like we have in every other fight. IT WAS A CLAUSE AGREED TO IN PRINCIPLE BY BOTH PARTIES THAT ALLOWED THE GUILTY PARTY TO FORFEIT $300K PER POUND OF THEIR EARNINGS IF THEY DECIDED TO. So technically, Mayweather did what the contract allowed him to do, which is why the fight moved forward, based on him agreeing to pay the stipulated fine.
In the Pacquiao scenario, there would be no such clause. 147lbs will be the official contracted weight. Take it or leave it! This stipulation is a bit comical, considering that (according to conditioning trainer Alex Ariza) Pacquiao "has to eat 8 meals per day" to maintain a welterweight size, yet would opt not to save himself a few trips to the chow hall by accepting the advice of Hall-of-Fame trainer Emmanuel Steward who said the Filipino warrior should "agree to a more comfortable weight between 140 and 144" against Marquez, considering that's where he prefers to be. Bottomline, I would love to see these two men fight, and Marquez proved again that he has the skill level to be a threat to virtually anyone.
That being said, those radicals out there who like to cause havoc have three options, just like Team Pacquiao: (1) Continue to criticize Mayweather and look hypocritical for doing something similar. (2) Stop the BS……Consider that Marquez entered the ring on fight night against Katsidis only 3lbs lighter than he did against Mayweather…….give Mayweather his credit for soundly defeating such a warrior in Marquez, then let Pacquiao try his luck. Or (3), continue to be defiant and let Pacquiao face him at this weight without giving Mayweather his due credit, then take whatever comes your way when Pacquiao struggles again! Sounds fair to me, ladies and gents….I'm just sayin'!
(Vivek Wallace can be reached at 954*292*7346, vivexemail@yahoo.com, Youtube (VIVEK1251), Twitter (VIVEKWALLACE747), Skype (VITO-BOXING), FaceBook and Myspace).