Super Six World Boxing Classic rivals and European superstars Arthur Abraham and Carl Froch have been throwing verbal haymakers at each other since their Group Stage 3 showdown for the vacant WBC super middleweight title was announced. Abraham is a slight favorite to triumph this Saturday, Nov. 27. The fight is on SHOWTIME® (9 p.m. ET/PT, same-day-delay) and is broadcast exclusively in the UK on Primetime Channel 480 on Sky from Hartwall Areena in Helsinki, Finland. Carl Froch has the advantages in height and reach. So who's going to win what's expected to be an exciting slugfest between arguably the two toughest and most aggressive punchers in the Super Six? Stay tuned. In four days, we'll all know..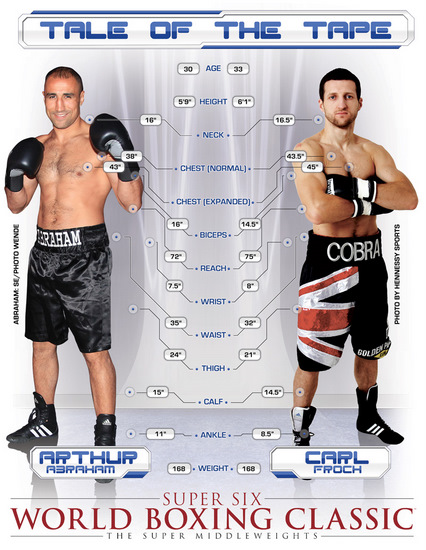 HAVE GLOVES, WILL TRAVEL – SAKIO BIKA READY FOR WORLD TITLE BATTLE WITH ANDRE WARD
LOS ANGELES, November 22 – From Osaka to Manchester, Providence to Montreal, top super middleweight contender Sakio "The Scorpion" Bika has made a career out of going to his opponents' backyards and giving them the fights of their lives. On Saturday, November 27, Bika walks into the "lions den" again when he travels to Oakland, California to face hometown hero Andre Ward for the WBA Super Middleweight World Title at Oracle Arena.
"I am very confident that I will win this fight," said Bika. "I'm happy to be fighting in Andre Ward's hometown. It doesn't matter where I fight because all of my career I have fought for my country and will continue to do that no matter where the fight takes place. On November 27, I will have the WBA World Championship belt around my waist."
"Sakio Bika has always been the kind of fighter that is easy to root for," said Jeff Wald CEO of Aria Multimedia Entertainment. "He always stays in fighting shape and will fight anyone, anywhere and already has proven this. He is a gentleman in the truest sense of the word, respecting everyone and getting their respect in return."
"When we presented this fight to Sakio, he didn't even ask where it was, all he wanted to know was how soon he could get in the ring with Ward," said Oscar de la Hoya, President of Golden Boy Promotions, Bika's promoter. "To me, that's the sign of a true warrior, and we have every confidence in Sakio that he's got the style, power and determination to win the Super Middleweight World Title on November 27."
Winner of six of his last seven bouts with four of those wins coming by way of knockout, 31-year-old Bika (28-4-2, 19 KO's) has been in with boxing's best over the course of his professional career that began in 2000 after competing on the 2000 Cameroon Olympic boxing team. While the names of Joe Calzaghe, Markus Beyer, Lucian Bute, Sam Soliman, Peter Manfredo Jr. and Jaidon Codrington dot his record, the winner of Season 3 of NBC's reality show "The Contender," all that matters to him now is beating Ward and earning his first World Championship.
Bika will face Ward for the World Boxing Association(WBA) Super Middleweight World Championship on Saturday, November 27, live on SHOWTIME. The bout will be presented by Goossen Tutor Promotions and TNT Boxing in association with Golden Boy Promotions. Tickets are priced at $150, $75 and $35 are on sale now at the Oracle Box Office or visit www.coliseum.com or www.ticketmaster.com.