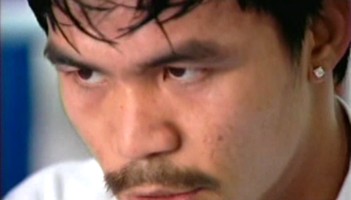 By James Slater – Yesterday, at a Beverly Hills press conference to get the ball rolling, hype-wise, for the November 13th battle between Manny Pacquiao and Antonio Margarito, Pac-Man was asked simply and straightforwardly: "did Margarito know what was in his hand-wraps [before the Jan. 2009 loss to Shane Mosley?]"
Pacquiao answered after a short pause: "Absolutely. I know he knows that."
So, the pound-for-pound king isn't only going to face a cheat in his next fight, he is gong to fight someone he himself recognises as a cheat. However, Pacquiao said yesterday, in response to the question, "then why fight him?" that he believes in giving a person a second chance, and that "we're just human.."
"It's unfair to him [if we decided] that we don't give him a chance," Pac-Man said of Margarito. "He wants to show that he's clean."
Pacquiao, who either deserves credit for taking this approach or does not (depending on your opinion) isn't quite as charitable as his words make him out to be; or as naïve. The superstar has insisted that Margarito is watched closely in the dressing room prior to coming out for the Nov. 13th rumble at Dallas Cowboys stadium in Texas.
"My concern is that we have somebody in the dressing room, someone else watching him," Manny said yesterday.
As unlikely as it would be that Margarito would dare try to cheat for a second time and run the risk of getting caught – this after being extremely lucky in getting this second chance – it's easy to understand Pacquiao's caution. But should he even be fighting the guy in the first place? Some critics have been quite hard on the Filipino idol, saying he is almost as bad as Margarito for allowing the disgraced Mexican to get his big, high-paying opportunity.
Of course, it's not Pac-Man's fault that the man he really wanted to face in November – namely Floyd Mayweather Junior – didn't want to know. But shouldn't Manny and his promoter Bob Arum have picked someone else other then Margarito? This debate is sure to go on until the November 13th fight takes place and is done with.
For his part, Margarito has urged people everywhere to move on and forget the past.
"Everything that happened in the past is over and now we are in the present. Forget about the past!," Margarito said yesterday.
But he would say that, wouldn't he? Both the disgraced fighter, and all members of his team, should be forever thankful that no Margarito opponent was seriously injured due to what happened in the past!