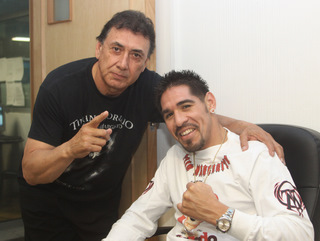 Every Wednesday ESB will feature a new published letter on ANY topic directly from hardcore fight fans just like you! For those fight fans who don't like what the average boxing scribe has to say, there's only one way to change that……..SOUND OFF! Send all 'Open Mic Fan Mail' letters to wallace@boxing247.com, and remember, there are 3 simple rules to the game: Keep content short and concise, profanity free, and don't hold back, the floor (and the mic) is yours! Today's letter comes to us from Javier O. of the "boogie down" Bronx, NYC:
Vivek,
Everybody keeps talking about why this fight shouldn't happen, and how it's bad for the sport, but I'm a long time boxing fan and I have a different view. I think this is the best fight to be made anywhere in the sport, and I really think that it's gonna be better than people think.. Margarito is a very good fighter, and although he had the accident with the hand-wrapping controversy, I think he deserves a second chance. Now that he received the second chance, I don't think there's a better fight for him, since none of the other fighters out there will really give him a shot. Paul Williams won't face him again, Berto and the newer welterweights won't face him, Cotto is still healing, and we know May-runner won't dare get in the ring with him. So if Pacquiao is the only one out there that has the balls to give him a shot, I support both men for moving forward.
I like Pacquiao more than Margarito, but what happens if Margarito actually wins? What does that do to the sport? What does that do for your particular P4P rankings? And what does that do to Margarito's past and his future? Everyone is talking about this being a mis-match, but I really think Margarito can win. He is a nightmare for any fighter, which is why he is the "baddest man on the planet". I would like to know what you think about this fight and his chances, as well as the other questions I asked.
RESPONSE:
Javier,
For starters, I think we need to clarify a few things. You referred to his recent brush with the law (so to speak) as an accident. I take offense to that particular word selection, because an accident is something you CAN'T avoid. In this case, clearly he could have. His failure to do so has left him appearing guilty, and honestly, there's a side of me that feels the man should never be allowed to lace up again, but due to the fact that this industry is a bit corrupt, he'll live to die another day! Now……you raised a number of key points, and one by one, I'll attempt to cover them all.
You asked "what happens if Margarito actually wins"? I think this scenario flips the entire sport upside down. For the longest, we've been steaming on the back-burner, waiting to see Pacquiao face Mayweather. A decisive and non-contested victory (particularly via KO) by Margarito would totally strip that potential showdown of any remaining lust to see it. Also, a victory for Margarito would not only be his best course of action for ultimate vindication, but it would also be the boost in his career that he has always hoped for and never quite found. Similar to the 'Winky' Wrights of the world, Margarito is one of those guys who most have always viewed as high risk, low reward, and avoided at all cost. His loss to another man cut from that cloth (Paul Williams) really stripped him of his shot to make a dent in the sport.
This time around, Margarito knows that he has one of the biggest names in the sport in front of him, and by winning this fight in a stunning performance, not only does he make up for lost opportunities of the past, but he also removes a strong portion of doubt about his past, relative to whether or not he was playing fairly before. I think the biggest loser in a Margarito victory would actually be Floyd Mayweather jr. I say this because it would make his drug-testing 'stunt' look pretty bad if we saw Pacquiao humbled at the hands of Margarito in a state that doesn't even require urine-in-the-bottle test samples, let alone the rigors of true blood sampling. Finally, as far as the P4P implications go, I have said all along and maintain that today's P4P debate has EVERYTHING to do with favoritism, and little to do with the purpose in which it was initially created.
If Margarito were to defeat the sports co-P4P king, that would give him a claim at the mythical strap, and we all know that even with a brutal KO victory, he is far from. The initial term P4P was created to describe the likes of transcendent talents such as 'Sugar' Ray Robinson, who was said to be so fundamentally polished that all things remaining equal, there was no man and no talent who could have defeated them had the playing field been comparable. When you take a fighter than can be hit as much as Margarito who attempts to win with his chin and uses a strong work rate as his defense, there's nothing fundamental about that. And to even speak about giving the text book fundamental term, P4P, to such a fighter proves how much of a joke the topic truly is now days. Those are my thoughts……now we can open it up to hear yours! Sound-off, fight fans!
Vivek-
(Vivek Wallace can be reached at vivexemail@yahoo.com, 954-292-7346, Youtube (VIVEK1251), Twitter (VIVEK747), Facebook, and Myspace).