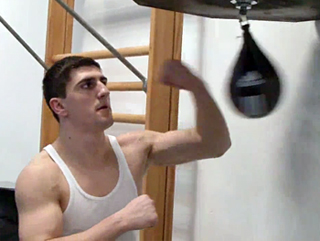 by Geoffrey Ciani – This week's 88th edition of On the Ropes Boxing Radio featured an exclusive interview with reigning WBO cruiserweight champion Marco Huck (30-1, 23 KOs), who is recently coming off of a fifth round knockout victory against Matt Godfrey (20-2, 10 KOs). It is rumored that Huck will partake in a cruiserweight tournament that is expected to begin sometime before the end of the year. Huck spoke about his recent victory, his career, his views on a potential cruiserweight tournament, his future in the sport, and various other topics pertaining to the current boxing landscape. Here is a complete transcript of what he had to say:
JENNA J: It is actually time for our first guest on this week's episode. He is currently the reigning WBO cruiserweight champion. We have Marco Huck joining us for the very first time. How is everything going today Marco?
MARCO HUCK: Everything is great. I've once again proven my class last weekend and I've proven that I am the best.
JENNA: Well I certainly do have to congratulate you on that. You surprised a lot of the boxing fans out there and the critics alike by taking out Matt Godfrey in five rounds. How do you rate your performance?
HUCK: Well, I think I was sensational. I'm brutal inside the ring and I'm feared by the opponents, and whoever gets in my way in the ring, he will be destroyed.
JENNA: Now in this fight here, you were fighting a guy who had gone twelve rounds with many top challengers in the cruiserweight division. Were you at all surprised this thing ended so early?
HUCK: I wasn't surprised. I knew he was a good opponent, but I think it shows my class that I could just take out those top opponents very quickly.
JENNA: Now Marco, your last two bouts before the fight with Matt Godfrey were with guys coming down from heavyweight. Do you have any desire at all to move up to the heavyweight division to test your talents there?
HUCK: Of course, I've just spoken to my manager Wilfried Sauerland two or three days ago, and we've agreed that if I win the cruiserweight Super Six tournament then I will get a title fight in the heavyweight division straight away.
JENNA: Now let's talk a little bit about that. The Super Six in the super middleweight division has been hugely popular, especially over here in America. How excited are you that there is a potential cruiserweight Super Six in play now?
HUCK: I think it's a great idea. It was a great thing for the super middleweight division and when it started last year I was dreaming that we might have something of the same in my division. Now this dream seems to become a reality. So that's great, and I hope that we can start as early as December and get it all going.
JENNA: Great, now another name that is slated to be in the Super Six is Steve "USS" Cunningham. He's the guy that gave you your only loss in your career. How much would you like to face off with him in that Super Six?
HUCK: It was a big wish of mine that Steve would be in this tournament, and of course, I really want to meet Steve Cunningham again and I will really, really hurt him. I'm already looking forward to it.
JENNA: Okay, let's go back to that fight. I watched your fight with Steve Cunningham. Do you at all think, Marco, that you took that step up too early and that you think you are better prepared to take on Steve Cunningham now?
HUCK: Well physically I was in good shape and ready, but mentally I wasn't. I already felt like a world champion before the fight. I was going out, enjoying parties, but going through training not training well. But still, I stood a good chance in that fight and almost defeated him. Now I've proven that when I work out hard, and if I train hard and live right, what can happen inside the ring. So I really look forward to seeing him again, soon.
JENNA: Well Marco, we're also joined by my co-host Geoff Ciani. Geoff?
GEOFFREY CIANI: Hello Marco. It's a pleasure to have you On the Ropes.
HUCK: Hi my friend.
CIANI: Hi Marco. What I'm wondering is, you've shown noticeable improvement over the course of your last few fights. What do you attribute this improvement to that the fans have seen in your fight game?
HUCK: Well I have a very strong will and a great motivation to win. I really enjoy it when I'm winning and when I see how the people celebrate and how highly the fans how highly they rate me, and even the people who don't like me, they enjoy watching my fights. So that is a big motivation for me.
CIANI: Marco, I also wanted to ask you, and maybe you can tell the fans a little bit about how you first got involved with boxing?
HUCK: Well where I grew up there was talk of two very strong fighters from Albania. Everybody said they were very strong and I was young and motivated and a young hotshot. So I wanted to fight them. I asked around, 'Where can I fight them and where are they training?' So I got the address of their gym and I went to the gym, and I fought with them and I knocked them out. Well, then I stayed with boxing.
CIANI: Now Marco, going back to the idea of a Super Six in the cruiserweight division, I'm curious, would you be interested in having a Super Six tournament that's similar in format to the super middleweight one? Or would you maybe prefer something that was more like a single elimination tournament given some of the problems the Super Six in the super middleweight division has had as a result of fighters, first Jermain Taylor pulled out and now Mikkel Kessler. Do you think it would be better if it was something a little different and maybe a little simpler?
HUCK: Well the Super Six in the super middleweight was a huge success all over the world and got a lot of attention, but then there were some problems. I am very optimistic and confident that the same problems will not arise in the cruiserweight division and that everything will go ahead straightly and I will, of course, do my best. It will not be my fault if it doesn't happen because I'm ready and I will beat everybody on my way.
CIANI: Like the super middleweight division, the cruiserweight division is a bit of a more obscure division that's not as well known by fans, but the tournament in the super middleweight division has really generated a lot of excitement in that division. I'm wondering if you expect something similar to happen in the cruiserweight division where it kind of puts it on the map, so to say?
HUCK: Of course the Super Six tournament will give the cruiserweight division a lift, but it will be me who gives the cruiserweight division another lift and the people will be watching because of me, because I'm young and I will really put on a great show and bring in some fresh air into this division, because they will love to see me and I love to fight.
CIANI: Marco, one of the guys that was once the king of your division is now a title holder in the heavyweight division and that is David Haye. I'm wondering what your opinion is on David having had that success moving up from cruiserweight to heavyweight?
HUCK: David Haye was sensational with the career that he's had, but you must not forget Evander Holyfield who was the champ at cruiserweight and then went on to dominate the heavyweights and became a super champion and defeated Mike Tyson. I think that tells you something about the people at cruiserweight and how much potential they have. I think I have the same potential to become even better because I'm a warrior and I can be even better than them.
CIANI: Now another guy that's moved up and done a similar thing is Tomasz Adamek, and he's a little smaller than Haye. If you were move to heavyweight, do you think your style would be more like David Haye's, where he seems to have carried power and speed and been a little naturally bigger, or someone like Adamek who, despite his success, is a bit on the smaller side? Do you think you can carry the weight well?
HUCK: I don't see myself as either one. I'm Marco Huck and I'm the most explosive fighter and I've got the biggest natural strength and I will prove that in whatever limit.
JENNA: Marco, after the Steve Cunningham loss you won six straight fights and then you took on Victor Ramirez in the WBO cruiserweight title fight. How satisfying was it for you to win the title after that setback in your only other chance at a belt?
HUCK: It was great. I had the potential to become world champion in the fight against Steve Cunningham, but I didn't make it. So I was very satisfied to beat Ramirez. I have the potential to beat them all and I will beat them all, and I'm especially looking forward to beating Steve Cunningham again.
JENNA: Now Marco, you fought almost your entire career in Germany. Do you have any interest at all in taking your talents over to America and showing the American fight fans who you are as a fighter?
HUCK: Of course, I don't care where I box but I would love to go to America. I really think that the American fans would like to see my style. I can give them something special that they'd really enjoy watching.
JENNA: When you started out in boxing, who were some of the fighters that you looked up to and you kind of idolized in your style?
HUCK: The early Mike Tyson and Muhammad Ali.
JENNA: Now what do you think of some of today's fighters? What do you think of the stars in today's boxing and who are some of the fighters you enjoy watching now?
HUCK: Well I really enjoy to watch Mikkel Kessler, but now he's unfortunately injured. I consider myself to be among the best and I think I am right up there with Manny Pacquiao and Floyd Mayweather.
CIANI: Speaking of Manny Pacquiao and Floyd Mayweather, the fight that every fan in boxing was really eager to see was a fight between those two, but unfortunately it doesn't look like it's happening this year. Do you think that fight will ever happen, Marco, and if it does happen who do you think would win?
HUCK: I'm a big fan of Pacquiao and I love to see him fight, so I think I would pick him to win. Like you said, the whole world wants to see this fight so I hope it will happen, but I think I also got the talent to be as popular and as big as they are.
CIANI: One of the questions I like to ask the guests on our program is the story behind how they got their nickname, and I'm wondering if you could tell us the story about how you first started using the nickname "Kapt'n Huck"?
HUCK: Well it was this ring announcer who was on some Sauerland show who was announcing. He came up with it. He asked me, he said, 'Oh, what do you think of "Kapt'n Huck"?' and I said, 'Yeah, that's good' and so I used it.
CIANI: I'd also like to ask you, what would you ultimately like to accomplish in boxing when all is said and done and how would you ultimately like to be remembered by the fans?
HUCK: I want to be super, super champion and win all four belts in my division. I think that all four belts will be in the Super Six tournament. I just want to be remembered as a normal world champion. Like everybody else, I want to be something special and I want the people to laugh and remember the way how I performed and how I fight. That is something I want to remembered for, and of course, I want to be as big as Manny Pacquiao and I want to make as much money as him.
JENNA: (laughs) Well Marco, we have just a few more questions before we let you off the line and I was wondering your thoughts on a potential match-up with Denis Lebedev who is now your WBO mandatory?
HUCK: Nobody knows him. He's really a small guy and I want to fight the best and the champions. Nobody knows him. Why waste my time with him? I want to do the big fights against world champions.
JENNA: Alright now if you're looking at your next fight, who would you most like to meet up with in the ring?
HUCK: I think the next fight will be for unification.
JENNA: Do you have any preference as to who?
HUCK: Cunningham.
JENNA: Well myself as a fan and a fan of yours Marco, I hope that fight does happen. I will be taking you to pull the upset in many people's eyes, but I think you've certainly improved your boxing skills and I think you'll do very well there, but I have one final question for you. Is there anything you want to say to all the American fight fans and all the listeners of On the Ropes Boxing Radio?
HUCK: I want to send my warmest and best wishes and regards to all the boxing fans in America. I hope to fight in America soon and show you my skills and warm your hearts with my talent and my way of fighting.
JENNA: Well it's been an absolute pleasure talking to you, Marco. I think a lot of fans, after hearing this interview here, they're going to become Marco Huck fans because you're not doing it just with your style in the ring but you're also doing here in the interview. So we thank you again for your time, and we also thank your translator Johannes. It was a pleasure having you both on and we wish you the best of luck in the future.
HUCK: Thank you very much.
CIANI: Thank you, Marco. Thank you, Johannes.
JOHANNES: Thank you. Bye bye!
***
For those interested in listening to the Marco Huck interview in its entirety, it begins approximately twenty-two minutes into the program.
***
For more information about On the Ropes Boxing Radio please visit our website:
http://www.ontheropesboxingradio.com
To contact Geoffrey Ciani or Jenna J:
ontheropes@boxing247.com
To read more by Ciani or Jenna please visit The Mushroom Mag:
http://www.eatthemushroom.com/mag