by John Wight – With five weeks to go before Scotland's Ricky Burns steps into the ring against Puerto Rico's formidable Roman Martinez for the WBO super featherweight title at Glasgow's Kelvin Hall on September 4, preparations for what will be the biggest fight of the Scot's career thus far have been stepped up.
Along with regular sparring partner and current Commonwealth featherweight champion, John Simpson, who defends his title on the same night against England's Stephen Smith, Burns has started sparring with former British featherweight champion, Paul Appleby, who will be making his long awaited comeback at super featherweight against an as yet unnamed opponent on the same undercard..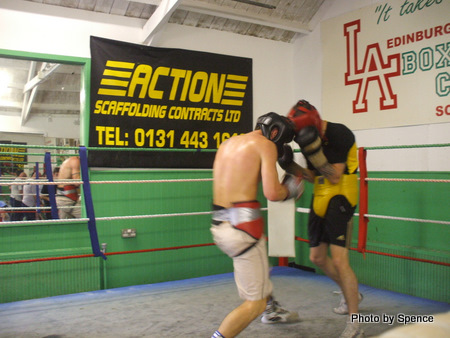 The stakes for each of the aforementioned fighters on the upcoming Warren promotion was reflected in the first sparring session between the three, held at Terry McCormack's Lochend Gym in Edinburgh earlier this week, when those in attendance were treated to a war.
For Burns the realisation that in five weeks time he has the opportunity to be the first Glasgow based fighter to win a world title since Scott Harrison was clearly evident. In speed, sharpness and stamina he looked world class as he peppered Appleby with a whip of a jab and a variety of combinations, testimony to the significant improvements he's made under trainer Billy Nelson since his last outing against Youssef Al Hamidi on the undercard of Kevin Mitchell's defeat to Michael Katsidis back in May.
Over eight rounds of hard sparring with first Appleby and then Simpson, Burns was able to maintain a ferocious work rate and excellent concentration, exactly as he'll need to against an opponent who remains unbeaten in 25 contests with 15 wins by KO.
As for John Simpson, a lack of activity since his last outing in Newcastle at the beginning of December last year, on the Khan v Salita undercard, has perhaps left the man from Greenock entitled to a growing sense of frustration. With his performance in Newcastle one of the stand outs of the night on an impressive undercard, Simpson must at times have wondered in the months since what he has to do to get the opportunities his undoubted talent deserves. If his work in sparring with Burns and Appleby this week is anything to go by, he's channelled those frustrations in the right direction and intends making a strong case as to why he should be considered a serious contender for major titles in the not too distant future.
His work on the inside is truly impressive, as are reflexes, timing and an offensive all action style which together combines to make him one of the country's most exciting fighters to watch.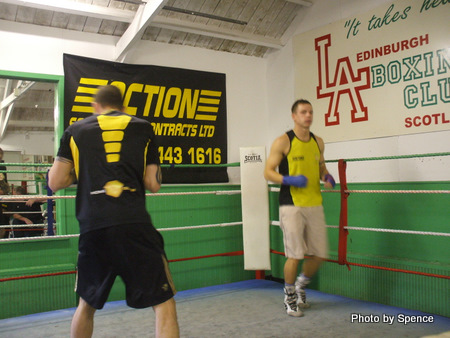 Paul Appleby's hunger to return to the limelight after an 18 month absence has never been in doubt over the past weeks and months of regular sparring sessions with Alex Arthur and rising welterweight star, John Thain. The man from South Queensferry has been compared to a young Roberto Duran in the way he comes forward and tries to cut his opponents in half with murderous body shots and right hands that don't so much connect as penetrate. From the opening round in his session with Burns, Appleby went on the offensive in four rounds of superb work between the two that emphatically announces Scotland as home to an emerging pool of world class boxing talent.
After four bruising rounds with Ricky Burns, a buzz of anticipation travelled round the gym when Appleby and Simpson touched gloves. The two last met in an epic encounter in Glasgow back in 2008, when Appleby edged the decision to claim the British featherweight crown. The respect which both fighters have for one another as a result of that encounter was placed to one side, though, as they got down to work and set about completing another four brutal rounds, which ended to enthusiastic applause from the packed gym in attendance.
The respective trainers involved, Terry McCormack and Billy Nelson, should be commended for coming together to arrange such quality work in advance of the first world title card to be held in Scotland in four years. It is work that will continue over the following few weeks, with the venue alternating between McCormack's Lochend Gym in Edinburgh and Nelson's base in Glasgow.