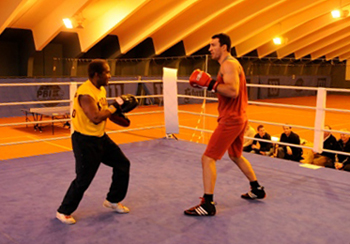 by Geoffrey Ciani – This week's 83rd edition of On the Ropes Boxing Radio featured an exclusive interview Hall of Fame trainer Emanuel Steward who is currently involved in a lot of recent headlines throughout the boxing world. The top story involved a recent change in opponent for heavyweight champion Wladimir Klitschko, who was originally slated to face IBF number one contender Alexander Povetkin but will instead square off in a rematch against Samuel Peter. There are also rumors in circulation about a potential match-up between Miguel Cotto and Floyd Mayweather Jr. In other news, Steward's young prospect Domonique Dolton is coming off of an impressive knockout victory against Jeremiah Jones last weekend, and middleweight contender Andy Lee is scheduled to face off against James Cook this Friday. Furthermore, in addition to the events surrounding some of his top fighters, Steward also completed the first in a series of new boxing clinics last Wednesday and he already has a second clinic scheduled for August 4. Emanuel has been a busy man of late and here is some of what he had to say:
On Wladimir Klitschko's recent switch in opponent from Alexander Povetkin to Sam Peter:
"Well I was kind of prepared for that. I have never believed that Povetkin was going to fight Wladimir, just not as bad as David Haye. So we were prepared and I told Wladimir to be prepared about two weeks ago that he might have to fight Sam Peter and also that they should contact him to see if he was available, because I had a feeling that this was going to happen."
On whether he blames Teddy Atlas for Povetkin pulling out of the fight:
"Well he's been consistent. From day one Teddy has never said that he thought his fighter was ready. If you read between the lines in all of the interviews that he did, he was always consistently just speaking in general like how you have to train a guy this way, you have to be prepared, people have to find themselves. He never did speak with any strong conviction that he felt that his fighter was ready. He feels that he needs more time. He was put in that position because the fighter was already in the mandatory position when he became involved with him. If he hadn't been, he probably would have never pushed for him to be in that position. So he did what he thought was best and I respect it and I respect the fact that the IBF is going along with that. After two years he has shown no real desire to step up and take advantage of his position. They have decided to move on.
So everything is sorting itself out so to say, and you can't make a guy fight that doesn't want to fight and it's very difficult to promote a fight when you have one guy who's prepared and another guy who really seems sort of reluctant to participate and promote it and everything else. We have to move on to Sam Peter and I think it's going to be an interesting fight because Sam didn't look that great in some of his fights after the first fight with Wladimir. But his last fight, which I think was in Texas when I was down there doing the HBO broadcast, everyone said he looked fantastic just due to the fact his weight is down. Maybe with a different trainer, I think he's working now in Big Bear and having a whole different attitude about everything. Just the fact that his weight is down you know he's taking it more seriously. That's one of the complaints always was his conditioning. And he is a puncher so nevertheless, we're not going to be relaxed. The first fight had enough drama to last me a lifetime with Wladimir down three times and then in the twelfth round Sam Peter was out on his feet. So we're not going to take the fight lightly because he is a puncher. We figure Peter to be a much more dangerous puncher than Povetkin."
On what he believes will be the major difference in the rematch between Wladimir Klitschko and Sam Peter:
"That was the breakthrough fight for Wladimir Klitschko. That was the fight after he had been stopped twice and he had a fight with DaVarryl Williamson where he looked not that impressive. He went down in that fight even though he won a technical decision because of a cut. His brother had like given up hope on him and most of the people in his camp, and it was just he and I for the most part. That was apparent for the Sam Peter fight. It was a fight where, for the first time, he actually barred his brother from coming to a training camp. They had been training together all of their careers. It was because of the lack of confidence and the negative vibes that everyone had going into that fight.
He could have chosen an easier fight, but he ask who was the best fighter out there that could give him credibility back after being stopped by Brewster and barely getting by with DaVarryl Williamson and having been stopped by Sanders. I said "Well the most dangerous guy is Sam Peter". So that's what he wanted. That was the make or break fight that he said would put his career back on track or he could have picked a safe bout. So going down two times in the fight early, which they weren't really clean knockdowns, but I looked at the expression on his face and it was like psychologically he wasn't hurt but he was just totally confused and disappointed in himself. When he came back at the end of the round he was surprised by how cool I was, because I saw he wasn't hurt. So I spoke to him very carefully and told him he was boxing at a distance where he could get caught with those clubbing punches and that he needed to be all the way back or if he got in too close to just tie him up and never allow him at that halfway distance where he could get clubbed. He said, "Okay" and if you watch the fight, before the bell rang for the next round after he had been down twice, he was the one in the center of the ring waiting on Sam Peter.
That was psychologically a tough fight for him. The last knockdown, I think was the tenth round, which we both consider was a true knockdown but he came back and had Sam out on his feet in the twelfth round so that was like the turning point in his entire boxing career in that fight. Since then I think he's progressed tremendously and gone to another level to become one of the probably most respected and maybe on his way to becoming one of the top fighters in heavyweight history. Meanwhile Sam has been going back and forth and probably aside from his last fight hasn't been that impressive. So it's going to be interesting to see what happens because we still don't know what the psychological affect will be on Wladimir. Whether this time he wants to go out and prove that he's the best heavyweight, and this is a good chance for him to fight a guy who just recently fought the other heavyweight that everybody considers maybe the best which is a guy named Vitali Klitschko.
This will be a very good comparison point for the public to judge between the two heavyweight champions and the two brothers. For that reason, I think Wladimir is going to try and put on a very impressive performance and I don't know if Sam's going to be able to hold him off if Wladimir comes in with that attitude. Wladimir is one of the most devastating one-punch boxers in heavyweight history. He's not the type of guy who wears you down. He can turn out the lights with one single punch. Sam Peter said he's going to pick up where he left off, that's what Wladimir told me—where he left off the last fight by knocking him down. I said, "Well Wladimir, you have to pick up where the fight actually finished up in the twelfth round where you almost had him out with the left hook". It will be I think an explosive fight because of the emotions with Wladimir trying to prove something and Sam realizing this is his big shot right now. It's going to be an interesting fight between punchers for a change."
His thoughts on Sam Peter's comments from earlier in the show when Peter had words for Wladimir stating, "Be ready because it's going to be a short night":
"I think it will but I think he'll be on the short end of it, but that really means that he has tremendous confidence in himself now and I think that's good."
On his first Boxing Clinic from Atlanta, Georgia on July 21:
"We had a very good jam-packed crowd and it was very interesting. Some of the questions that people had asked me in addition to the basic fundamentals about jabs and hooks and the fundamentals of balance, which everyone knows is one of my key points, but we also covered a lot of areas. People were asking questions about behind the scenes with things that went on in the camps with Chavez, and De La Hoya, and training Evander Holyfield for the rematch with Bowe. We touched on some questions such as when do you quit having sex, and tricks to hand-wrapping which is not only just for the safety but actually little tricks where you can improve the punching power. Also diets, the day before the fight, what you eat before the weigh in, and the day of the fight, and the types of food and whatnot. So it was very good. It was a lot of fun and everybody was laughing and joking and it was very interesting where we all got personal and everybody came up into the ring. After the clinic, we had everybody start doing boxing lessons. They were doing the footwork and punching and stuff. We had about three hours of a lot of good fun."
On whether he believes he succeeded in sharing the knowledge he has acquired to people who attended the clinic:
"I definitely do. We had a tremendous feedback and a lot of the people that attended have been communicating. I gave them an open line to call and we've been going over a lot of things with different types of equipment. Sometimes people even have excess equipment that they don't need. Also you could check a lot of things on the on-line boxing forum, too, which we have on www.EmanuelStewardOnline.com . It was a very good clinic and people got to be very close and personal where we had a lot of questions and we didn't have anything too sophisticated. It was just everyone at the gym speaking to each other and there were different things everyone had that were important to different people."
On what he considers to be his most memorable moment from his first Boxing Clinic:
"Well I would say probably when I got the people up in the ring and we started working on the basic steps and whatever. It was amazing how some people did everything perfectly and some people were so uncoordinated that we laughed and made fun of it. I think the fact that most people accepted that you have to learn the basics and then the art of balance and a jab and showing that a short person can outbox a tall person. I showed them a few basic little tricks with hand positions and different angles you could jab at. I think that was what people seemed most impressed by—the idea that shorter guys can outbox taller people, and the tricks to improving punching power, and then the different techniques that you have to use for amateur boxer and a professional. We covered everything. The equipment was an major thing, too—the different types, and people have these protective cups that come all the way around to the back, the trunks that are sometimes too baggy, between rounds how they pick up excessive weight with all the water, the proper way to set the stools this way you can get the most rest in between rounds without creating stress on the back of the fighter. So we covered all kind of basic things and the best was when we asked the crowd to ask questions and there were some very interesting questions that the people asked."
On whether there is still time for interested parties to register for his second Boxing Clinic which will be held on August 4th in Tampa, Florida:
"Yes, we're expecting a bigger crowd in Tampa, Florida, especially after training Miguel Cotto there for his upset victory, to some degree, over Yuri Foreman. We had so many people coming in everyday watching even though a lot of them didn't believe Miguel would be able to do it. That whole area down there, with Winky Wright and Andre Berto, it's really a haven of boxing there. It was just a lot of interest all over that whole area there so I think that will be our biggest turnout there. Probably out of the next two or three, it might be one of our most successful."
Regarding the potential location for future Boxing Clinics after the next one in Tampa:
"I'm going to be going into training camp with Wladimir pretty soon for his fight that we just mentioned which is September 11. We're doing one in September I think on the 18th in Houston, Texas. We got quite a few people there who called up asking about that. We'll schedule our next ones I think in London, definitely one somewhere near New York, and maybe one in Germany."
On rumors circulating that there is talks between camps about a possible fight between Miguel Cotto and Floyd Mayweather Junior:
"I myself have been so confused just watching the internet, but Miguel was lined up for a fight with Pacquiao and things fell apart. Then I was getting a new cell phone and the guy was programming me, I guess the internet and email or whatever, and I saw it flash across as he was programming and it said, "It's Final! Mayweather versus Cotto"—and I said, "What is that?" So last night I called to speak to Bryan Perez who's the closest guy to Miguel and he said, "Emanuel, just like you we are reading stuff on the internet. There was an offer I guess made related to Pacquiao which they say was so far out of the league they said it was offered just so they could say no." I said, "What about Mayweather?" He said, "Well there is nothing confirmed on that. We haven't had any meetings, so I don't know if that's true or not". Anyway, basically they're just sitting and waiting like everybody else. But I definitely know that Bryan would not lie, so he said, "As soon as we get anywhere near even talking about a serious match, we will call you right away to have your input related to styles and different things".
So at this stage, it's just a lot of speculation and I guess the strongest move has been made by Top Rank to make the fight between Pacquiao and Margarito. So I guess that's really the hot negotiation, but to me I'm just watching like a fan or a spectator. I'm seeing the resistance and negative reactions from the public. I think that's going to be a very difficult fight to make. I understand the reasons and they're trying to get Manny to maybe win a championship in another division. It's a vacated title I guess with Sergio Martinez moving up. The reaction from the fans has been very bad. The man committed a crime and now he's being rewarded with the biggest purse of his life. Just the idea of trying to move the fight to Mexico and all of that stuff and disrespecting the boxing commission, I don't think that's going to fly. At this stage I'm just as confused as everyone else is and I'm going to just wait and see what happens."
On how surprised he was when Pacquiao's team decided to choose Margarito over Cotto:
"I still don't fully understand it. It's very confusing. I mean regardless, Miguel Cotto even having lost in the two fights and having difficult fights in I think his last four fights prior to the fight with Yuri Foreman, he still has always been a major attraction. The Puerto Rican following he has is truly amazing. I didn't realize he was that popular. Even in the fights he lost he fought exciting fights and even though they didn't believe in him as much anymore when he went into his fight with Foreman, the support that they gave him was phenomenal and there are a lot of Puerto Ricans, much more than I realized. He has to be always considered a serious attraction for a pay per view and everything. The last fight with the victory, I think it did enhance him. I just felt there were a lot of people who may have felt that he took such a beating in his fight with Pacquiao.
You look at that and say well, he's a much more improved fighter now. In the weight division, he's fighting at 154 and if they're going to fight for the 154 pound title I think it should be at 154. Henry Armstrong and all of the other great fighters when they fought moving up in weight, they fought at that weight limit. Not like the last fight where he fought at 145. The different between 147 and 145 if you barely could make 147 could be a major factor, especially after the first half of a fight. So I think fighting at a full weight and having the confidence of a new style that he's worked on here and the fact that up until about the fourth round I thought it was a very close fight, so that's still marketable to some degree, regardless.
I think Margarito's just a big question mark. I just think there is a big negative cloud. It's not me personally. The man did his time but I have to go by the reaction of the public. I don't think he should be getting a big super fight of this caliber and the public has pretty much picked up on that fact. The fact that his name is being more referred to as "Margocheater" or whatever now than it is "Margarito" so I think it's an awkward situation because I really wanted to see Pacquiao and Mayweather like everyone else. I would have almost bet that the fight would have been made because of the tremendous money that would have been made and the public interest. Nevertheless, I don't really know what should happen. They're saying that there wasn't really a serious negotiation, Bob Arum is saying there was but it looks like the fight is in jeopardy right now and it's going to be very interesting to see who fights who in this situation right now. Nothing would surprise me."
His views on the rematch of a former Fight of the Year match between Juan Manuel Marquez and Juan Diaz:
"I think that's the best way you can describe. It's a fight where both fighters have something to prove because in recent fights, first as a fan I'm thinking whoa. With Juan Diaz I'm thinking that even though he's had some victories in between, I still can't get that Nate Campbell fight out of my mind. I'm still looking at the terrific knockout that he suffered the last time with Marquez in addition to Paulie Malignaggi beating him. Then you look at Marquez's very bad performance as it turned out against Mayweather. Still, nevertheless, it's an intriguing fight because both guys have to rebuild their confidence if either one of them wants to be on that elite level as super fighters.
I think the mental make-up of the two guys, in addition to both of them wanting to prove something and their natural styles that this is going to be an explosive fight. I think Diaz is going to be still aggressive because that's his style. When I was asked for my HBO analysis about the strong points for each guy, basically I think Marquez has to fight his regular Marquez type fight which is keeping good balance, placing punchers very accurately, being patient, and being very professional and systematic which is his great forte. I mean even in the fights with Pacquiao, take the knockdowns out which cost him on scoring system, and he won both of those fights actually in terms of rounds. It's just the knockdowns made the scoring system go against him. He's a good solid fighter. He has to fight the same thing.
I think Diaz is an aggressive, young, "baby bull" as they call him type fighter. I think he's going to be aggressive still. It would be wise maybe for him to try and move and box, but I don't think that's in his DNA. So he's not going to do that, but I think he will probably be a little more conservative in this fight than the first fight. He was physically just dogging Marquez early. It just seemed like he was going all out trying to get it over with in three or four rounds. Then he got exhausted and Marquez's experience came into play. So I think in this fight he's going to fight a little bit more intelligently. He'll still be aggressive but maybe he'll try and be prepared for a longer fight. Still, just the make-up of the style of Diaz is going to make him be aggressive and I imagine Marquez is just going to sit back and try and place his punches properly. I think it's going to be a very explosive fight, still."
His views on Domonique Dolton's second round knockout victory against Jeremiah Jones last Friday:
"I think he's one of the best prospects in boxing today. We have tried unsuccessfully to get him on a TV card or to get him with a promoter so we decided just to keep him busy. He was the key to the victory for Miguel Cotto in his victory over Yuri Foreman. After the second round I think, I asked Miguel, "How are you doing?" or something to him. He said, "Well, he's not as good as Domonique. This is easy". Domonique Dolton is like a combination of a Sugar Ray Leonard and a Donald Curry for some of the people who remember Donald Curry. He's a very accurate pinpoint boxer with beautiful balance. He's very beautiful to watch. He's fighting again I think August 31 in Florida. Wladimir Klitschko used him for his fight with Eddie Chambers. During that last week that was his main sparring partner because he has such good balance. Michael Hunter and Domoniqe Dolton were both the main key sparring partners even though Dolton is only 154 pounds, though."
On how long he thinks it will be before fans start getting excited about Dolton:
"As soon as they will give him a TV date and we have tried with Top Rank and all of the guys and they all stayed away. He would beat I think all of their top prospects. He'll beat any of these fighters I've seen from today. I'd say in about four fights. He boxes ten or twelve rounds sometimes in training. I think Domonique's twenty now, but he's sparred with Kermit Cintron, Jermain Taylor, he's boxed with Andy Lee, Wladimir Klitschko, and then recently with Miguel Cotto and he has more than held his own with all of those guys he's been sparring with since he was a kid."
His views on Andy Lee's training camp for his upcoming fight against James Cook on July 30:
"Everything is very good. He's never out of shape, even when he's in New York training. He's always in good shape. He's back in the Kronk Gym and it's back up to about 97 degrees again. He's been boxing with Domonique Dolton and also with K9 Cornelius Bundrage who is preparing for his championship fight on August 7 with Cory Spinks. Some of the other young guys have gone in the gym with him. He's been in great, great sparring. We feel very good about this fight and he's going to stay busy fighting every month, regardless. He may even fight on the card with Wladimir Klitschko on September 11. He's going to try and stay very busy because with the lack of marquee names in the middleweight division, and for a good example look at Daniel Jacobs fighting. It's not like it's a time where you got a Hagler and a bunch of great fighters. The names out there, even Sergio Martinez and that's about it and he hasn't been a household name. So there is a lot of inexperienced and unknown fighters. In fact we were just speaking yesterday and laughing. The division with the least recognized names is the middleweights now. I mean Pavlik and everyone has moved up to super middleweight or whatever, or even some of the junior middleweights. I think it's a good opportunity if Andy fights regularly that by March he definitely will be fighting for the middleweight championship of the world. We'd like to have fights scheduled for him in New York, and we're working on one in Chicago also to keep him very busy and start spreading him around a little bit. His greatest knockout was in New York and that's where we want to go back to again."
On rumors about a possible fight between Andy Lee and Felix Sturm and whether he would be interested in having Andy go to Germany to partake in such a fight:
"We have been contacted about the fight. I think he has a fight scheduled over there in Germany that's coming up pretty soon in September and they asked if Andy would interested in having that fight, because the fight was in jeopardy I guess a little while back and we told them yes. In Germany or wherever, I have that much confidence in Andy. We would take that fight in a heartbeat. That's something that they said well maybe after this fight they will be able to do that. Outside of Germany right now, Felix Sturm's name is not even a big name right now. I think it's unfortunate that one of the glamour divisions in the history of boxing is now one of the least known and recognized in terms of its talent. But yeah, we would fight Felix Sturm in Germany or anywhere, and if not Felix Sturm we're going after Sergio Martinez if he's still the champion by the first part of 2011."
On which other young middleweights (such as Fernando Guerrero, David Lemieux, and Peter "Kid Chocolate" Quillin) he believes has the most potential become a factor in the division:
"I think all of those guys, but there is not that one standout guy that you see and say, "Wow, this guy's breaking down doors and creating excitement with bombs going off". I don't see that. You're going to have to have a lot of fights so people can get familiar with some of these guys. Andy because of some of the hype and publicity he's had and the Carl Daniels knockout that he had in New York, which is for those who haven't seen it probably one of the most dramatic one-punch knockouts ever in the history of the sport. Then the fight he had that we lost on ESPN was still one of their highest rated shows of the year and that was still a war. His name is one of the few marquee names, but no, I don't see any one particular guy that's really just standing out. All of those guys like "Kid Chocolate", I've seen all of those guys and I know them. They're all good fighters but there is nothing really that dramatic.
Korobov I had so much high hopes for him myself. That's the fighter from Russia who Top Rank managed. He started off well and then in his recent fights after about three or four rounds he fell apart. I was just talking to his trainer Kenny Adams and Kenny said they found out he had some breathing problems and they had to have surgery on his nose or something so maybe that can explain it. He looked very good in the beginning. I was very excited about him. Now I think there has to be a lot of exposure and somebody has to do something dramatic to create some excitement in the middleweight division and it's just not there yet. I don't know if TV is even going to give these guys that kind of exposure. Daniel Jacobs has come along very well. I think his promotional company Top Rank and I think Al Haymon have done a phenomenal job of moving him and the timing is good for him because there is no really dramatic standout fighters and you're not going against any legendary fighters.
So it's just a game of young fighters going against each other now. You move a guy to a championship fight as fast as you can depending on the competition. It's not like you got to go against a Marvelous Marvin Hagler, or a Ray Leonard, or a Tommy Hearns. It's a fight that I think he has a good chance of winning. It's probably reflective of the situation in boxing even though Andy tells me that Danny may have a tough fight and he knows a little bit more about the opponent than I do. But regardless, there is no dominating names or fighters with a whole string of knockouts.
We're hoping that Andy can fill that void right now because he's a good fighter to watch, and I'm not just saying that because I manage and train him, but he has a beautiful style and he's explosive. He will try to knock you out if he gets an opportunity. That's why even in the fight he lost, he could have paced himself but he went all out trying to finish off Vera and he got exhausted and had a bad cut and everything. We wanted to pace ourselves because we knew that he had a bad cold and came in under weight, but nevertheless, that's what makes him almost the same as Tommy Hearns. He wants to go all out and be impressive for the crowd. I think given the right situation and the right platform, he could end up being the star in the middleweight division."
On whether he believes Andy Lee needs to reverse the outcome of his only career loss and have a rematch against Brian Vera:
"We don't need it, but we want it badly and I don't care what he says. After the fight it got one of the highest ratings of the year. Andy was ahead on points. Andy had scored the knockdown. Andy when the fight was actually stopped, even though Andy had the hell beat out of him for almost a minute and his eye was cut, when the fight was stopped he was actually walking in and hitting Vera and the referee actually stopped Andy from punching. But it left a lot of drama. We tried to make the fight. The guy was offered $250,000 with TV included and they said no, because they were going to milk that and go directly to a big fight with Kelly Pavlik. That hasn't happened. If Vera wants to take the fight, we would take the fight any minute. That would be one of the biggest fights that could be made right now, still. His whole career is based on that one night and every athlete has that night where he may lose a fight. In fact, the greatest ball teams lose but in other sports you lose and three days later you get to play again. With a boxer that's it. His whole career is based off of that one fight. We would love to make that fight under any conditions. Put it back on ESPN or HBO or without any TV. If Vera wants to make the fight, that would be a great fight for him. That was just a night where everything went good for him because he fought like everybody has when they have that great night. Andy came in at 158. He has never been that light. He was very sick. I tried to cancel that fight, he said no. He said not an American TV fight, I got to fight. As a result he fought his heart out, he lost the fight. Chalk it up. I have never, and I shouldn't be saying this, but I have never, ever, ever lost a rematch fight in my life. So I will gladly take the fight."
***
For those interested in listening to the Emanuel Steward interview in its entirety, it begins approximately one hour and ten minutes into the program.
***
To learn more about On the Ropes Boxing Radio please visit our official website:
http://www.ontheropesboxingradio.com
To contact Geoffrey Ciani or Jenna J:
ontheropes@boxing247.com
To read more by Ciani or Jenna please visit The Mushroom Mag:
http://www.eatthemushroom.com/mag