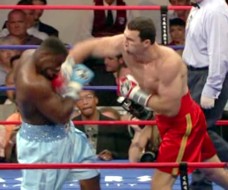 By Bill Patrice Jones – In 2005 they shared one of the great heavyweight clashes of this decade. With Alexander Povetkin's refusal to return a contract, or show up at a scheduled press conference it now seems as though Samuel Peter (33- 3 (26 Kos) and Wladimir Klitschko (53-3 ( will fight again.
The history between these two men, and chance for redemption offered to Samuel Peter make this a more intriguing bout that the Povetkin clash. With many opponents seemingly walking away from a payday against Klitschko, one needs to respect Peter's willingness to take this fight.
In 2005 Wladimir Klitschko was on the comeback trail following his third loss to Lamon Brewster. Wladimir's shock defeats to Ross Purity and Corrie Sanders had been seen as just that; shocks. However, when Lamon Brewster stopped him in five rounds it seemed as though Klitschko could not fulfil his destiny as the world's next great heavyweight.. The only way one can put into context the significance of Wladimir's defeat to Brewster, is to highlight the fact that until very recently it has haunted his attempts to be recognised as the world's best heavyweight. Wladimir's defeats to Sanders and Brewster cost him an opportunity to stake a claim to the throne while Lennox Lewis was still active. It also gave people the impression, long held until now, that Vitali Klitschko was by far the superior boxer.
When Klitschko signed to fight the unbeaten Nigerian, many questioned his ability to pull off the win. Freddie Roach who had worked with Klitschko in the past commented that some years ago 'Wladimir handled Peter pretty comfortably in a sparring session'. He added 'I'm not sure Wladimir is as good now as he was then, and the gym is the gym, a fight is something else.' It might be hard for some people to remember now what a prospect Peter was back in 2005. He had sufficiently impressed for enough people to hail him as the next Mike Tyson. His spectacular knockout wins over: Taurus Sykes, Jeremy Williams and Yanqui Diaz had fans clamouring.
The Klitschko peter bout was the last competitive fight Wladimir Klitschko has had. Peter's raw aggression and fearlessness was sufficient to keep the bout suspenseful.
So what are Sam Peter's chances of going one better in a rematch with Klitschko. The odds are certainly against him. Should the fight go ahead he will be fighting Klitschko in Germany, against a hostile crowd and with the memory of that horrible night in Berlin (when he lost his WBC title to Vitali Klitschko) lingering in his mind. When you add to this Klitschko's technical improvements and huge growth in confidence it might lead some to expect a bad night for Samuel.
Klitschko controls tempo and distance considerably better than when they first fought. He also looks more daunting physically. Altogether this will be a monumental task for Peter.
Nonetheless certain elements still give Peter a chance. Peter knows that his power rattled Klitschko in their first fight, and he knows that he was able to intimidate him. He has to believe that he can attack Klitschko in a way no one has since he last did. Peter is also no stranger to the big occasion. He does not seem to fear Klitschko, and one must credit him for wanting another go at the big-time. When Peter lost to Eddie Chambers many were certain his time was up. His rededication and perseverance need to be admired.
When Peter lost to Vitali Klitschko he was paid 4 million dollars, the biggest payday of his career. Should he agree to the deal Povetkin ignored he can expect to pocket something in the region of 2.5 million for this fight. It is without question Peter is seeking one more big payday. However, his words to both Haye and Povetkin were proven to be true. Peter and his management seemed to sense that Povetkin was too afraid to fight Klitschko and that Haye would also fail to step up.
Conditioning will be everything in this fight. When Peter fought Wladimir in 2005 he was a strong 243 pounds, by the time he fought Vitali an unsightly 253. In his last fight though he was a slim and toned 237.5 (his lightest since his seventh pro fight). Given that he only has a month and a half to the scheduled date, we need to hope Peter is already somewhere close to his fighting best. His manager says he is already in training at Big bear California, and that negotiations are going smoothly.
Many will scorn at Peter's attempts to gain revenge over Wladimir. Some seem reluctant to ever forgive him for what happened against Vitali. The reality is Peter could very likely receive a bad beating this time around. Nonetheless having followed his career for years I am truly happy that this fight has been made. Wladimir Klitschko and his manager Bernd Boente think it is a great fight. Peter's long-term manager has done well to get Peter back into the title picture. He says this time it will be a 'September to remember.' If Peter comes in at a ready 233-238 with the fire back in his eyes there is a chance, however remote, that he could write a glorious page for himself in heavyweight history. Wladimir Klitschko II has a history behind it, and the potential for another exciting contest. I expect Klitschko to sit down on his punches early this time around and really try to make a statement to the world. We don't know how much punch resistance Peter has left after Vitali, but if he really believes in himself one big right hand can change everything.