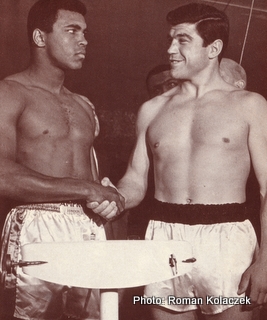 by Pavel Yakovlev – Today, Germany is the world's center of professional heavyweight boxing. The sport's long-term dominant heavyweights, Vladimir and Vitali Klitschko, have fought nearly their entire careers in Germany. German promotional houses Sauerland Events and Universum Boxing Promotions are now so influential that the most powerful American promoters – who once had no competition –cooperate with them to stage mega events in that country.
Naturally, Germany's emergence as a boxing powerhouse over the past two decades has heightened the profile of the late Max Schmeling, the legendary German boxer who was the world heavyweight champion in the 1930s. Media articles on German boxing often include reverential remarks about Schmeling, who is unquestionably the greatest native-born German heavyweight of all time.
Schmeling's Olympian status in German boxing history, however, has had the effect of causing the public and media to overlook the accomplishments of Germany's second greatest native-born heavyweight in history. That man is Karl Mildenberger, who was formidable enough to be a top contender in the competitive 1960s era, and who was sufficiently talented to fight a heroic losing effort against Muhammad Ali, whom many consider to be the greatest heavyweight of all.
Mildenberger's achievements are considerable. He was the first southpaw to fight for the world heavyweight title. From 1964 to 1968, Mildenberger held the European heavyweight title, which he successfully defended six times. During this period Mildenberger was always ranked in the worldwide top ten by Ring Magazine. He finished his professional career with an impressive record of 53-6-3 (19 kayos)..
In the summer of 1967, Ring Magazine rated Mildenberger as the world's number one heavyweight contender, based on his gritty losing effort against Ali. During these months, many speculated that Mildenberger might be the world's best heavyweight outside of Ali, Sonny Liston, and Joe Frazier. In fact, it was widely believed that Mildenberger would probably win the WBA elimination tournament established to crown a successor to Ali, who was forced into temporary retirement due to political and legal problems.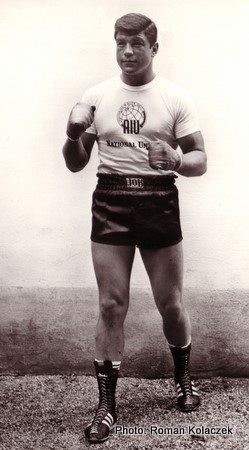 In his prime, Mildenberger stood 6'1 ½" and weighed between 190 and 200 lbs. He was a superb technical boxer who made effective use of his southpaw advantage, constantly peppering opponents with his fast, sharp right jab. Mildenberger's footwork was excellent: he exhibited fine lateral movement and tended to control the distance between himself and his foes in the center ring. Most of Mildenberger's opponents – including some of the world's most skilled and experienced fighters – had extreme difficulty coping with his tricky southpaw boxing tactics.
In this article, The Eastside reviews the career and accomplishments of Mildenberger, concluding with an exclusive interview with the former top contender himself.
THE EARLY YEARS OF MILDENBERGER'S CAREER
Mildenberger was born on November 23, 1937, in Kaiserslautern, Rheinland-Pfalz. He was introduced to boxing through his father's cousin, who was a national boxing champion at the time. As an amateur, Mildenberger won 52 of 64 fights and was the German light heavyweight champion in 1958. He fought several international bouts as a member of the German national boxing team.
In 1958, Mildenberger turned professional by scoring a first round kayo over Manfred Striemer. Over the next two years, he fought 21 times, winning 20 bouts and losing once. By 1960, Mildenberger had grown physically and weighed a solid 185 lbs., which made him a full-fledged heavyweight. That same year, Mildenberger scored his first major win by out pointing Italian Franco Cavicchi (65-9-3; 44 kayos) over ten rounds. The victory was all the more impressive because it took place in Cavicchi's hometown of Bologna, where the local officials would have been bias against Mildenberger.
The following year, victories over tough American journeymen Wayne Bethea (23-15-2; nine kayos), Howard King (38-22-8; 14 kayos) and Pete Rademacher (14-6-1; eight kayos) established Mildenberger as one of Europe's best heavyweights. Internationally, Mildenberger was now regarded as a promising up-and-coming prospect who might eventually acquire world-class status.
For the upwardly mobile Mildenberger, acquiring the European heavyweight title was his next career goal. Thus, in 1962, a match with European champion Dick Richardson (30-12-2; 23 kayos) was arranged. As the victor of 30 out of 31 professional matches, the young, talented German was a solid favorite to beat Richardson, especially since the fight was staged on Mildenberger's home turf of Dortmund.
But disaster struck when Richardson knocked out Mildenberger at 2:35 of the first round. A single right to the jaw put the German down for the count. Until the abrupt ending, Mildenberger dominated the action, connecting with right jabs and using fast footwork to make his Welsh opponent miss badly. But Mildenberger became overconfident, which led to his recklessly moving inside to attack Richardson's body. In doing so, Mildenberger dropped his guard and was kayoed.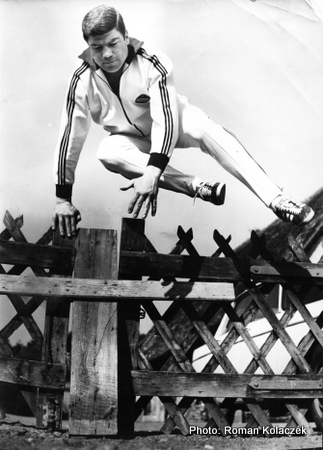 The discouraged Mildenberger remained inactive for seven months following the Richardson debacle. But the loss turned out to be a blessing in disguise for the young heavyweight. Now aware of his overconfidence and vulnerabilities, Mildenberger worked hard in the gym to rectify his tactical flaws. Consequently, he returned to the ring a wiser, stronger, and more seasoned fighter.
Mildenberger next won ten of eleven straight fights, the one bout he did not win being a draw against cagey Philadelphian Archie McBride (26-15-1; 11 kayos). In addition to soundly defeating McBride in a rematch, Mildenberger won important victories over established fringe contenders Alonzo Johnson (21-11; six kayos), Joe Bygraves (40-19-1; 20 kayos), and Billy Daniels (18-4; nine kayos). The Daniels victory was especially important, as Mildenberger won the bout by third round kayo. In his three previous fights, Daniels had lasted the full distance against contenders Zora Folley, Doug Jones, and Cleveland Williams.
Mildenberger's biggest win during this period was an impressive ten round decision over Welshman Joe Erskine (40-6-1; 11 kayos) in 1963. Erskine was a former British Commonwealth champion who held victories over George Chuvalo, Henry Cooper, and Willie Pastrano. Erskine had also defeated Richardson twice. Thus, the Erskine win was a psychological turning point for Mildenberger because it helped to put the Richardson loss behind him.
As a result of his victory over Erskine, Ring Magazine elevated Mildenberger to the number eight spot in its worldwide rankings. Mildenberger had finally established himself as a contender. It was now time for him to challenge the biggest names in the heavyweight division.
MILDENBERGER AS A TOP CONTENDER
In May 1964, Mildenberger faced his toughest career opponent yet in Zora Folley (67-7-3; 37 kayos), a perennial top contender and the world's fifth rated heavyweight by Ring Magazine. For Mildenberger, this was a make-or-break fight: either he would prove that he was a legitimate contender himself, or he would be dismissed as an also-ran. The bout took place in Frankfurt, Germany.
Mildenberger passed the test, as he held the more experienced Folley to a hard fought, ten round draw. Behind on points after six rounds, Mildenberger turned the bout around by unleashing a spirited attack in the seventh. In the eighth, however, disaster loomed as Mildenberger suffered a deep cut over his eye, necessitating an examination from the ringside doctor. Faced with the possibility of losing the bout due to cuts, Mildenberger rallied and outfought Folley in the final two rounds, thus salvaging a draw on the scorecards.
Without doubt, Mildenberger was now a legitimate top contender. In Europe, Mildenberger's only conceivable peer was Englishman Henry Cooper, who held the European heavyweight championship. A planned match between Cooper and Mildenberger was cancelled when Cooper injured himself in training. The European Boxing Union then stripped Cooper of the title, and matched Mildenberger with Italy's Santo Amonti (51-5-3; 35 kayos) for the vacant championship.
In October 1964, Mildenberger won the European heavyweight championship in devastating fashion, knocking out Amonti with a body punch at 1:32 of round one. Holding the European title moved Mildenberger even higher in the world ratings.
Mildenberger finished 1964 by fighting a draw with tough, underrated American Amos Johnson (18-3-1; eight kayos). If anything, this draw may have enhanced Mildenberger's standing in Europe, because several months later Johnson meted out a sound beating to Henry Cooper in a London bout.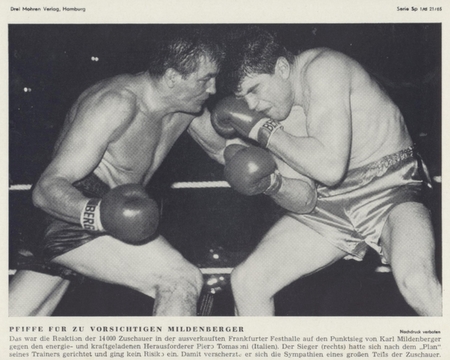 In 1965, Mildenberger fought five times, emerging victorious each time. Two of the wins – decisions over Piero Tomasoni (25-3-3; 11 kayos) and Gerhard Zech (31-4-1; 18 kayos) – were European title defenses. Mildenberger also scored a decision over tough American fringe contender Jefferson Davis (22-6-1; six kayos). By the end of the year, Mildenberger was rated fifth in the world by Ring Magazine.
American veteran Eddie Machen (47-6-3; 29 kayos) was Mildenberger's next opponent, the pair meeting in Frankfort in February 1966. Until recently, the 33 year old Machen had been a perennial top contender, but defeats in 1965 to Floyd Patterson and Ernie Terrell had cost him his world rating, and he was now regarded as past his prime as a fighter. Mildenberger clearly outpointed Machen over ten rounds, with Machen often looking confused about how to cope with the German's tricky southpaw tactics.
Mildenberger next won an easy decision over Yugoslav Yvan Prebeg (13-9-3; nine kayos) in defense of his European title. After this, Mildenberger was scheduled to face Muhammad Ali in what would prove to be the defining fight of the German boxer's career.
MILDENBERGER FIGHTS MUHAMMAD ALI FOR THE WORLD CHAMPIONSHIP
On September 10, 1966, Mildenberger fought Muhammad Ali (25-0; 20 kayos) for the world championship. The match took place before 45,000 fans at the Waldstadion/Radrennbahn in Frankfurt. Ali won the fight by twelfth round TKO. For Mildenberger, however, the fight was a moral victory because he troubled Ali throughout the match and impressed the boxing world with his heroic resistance against the champion.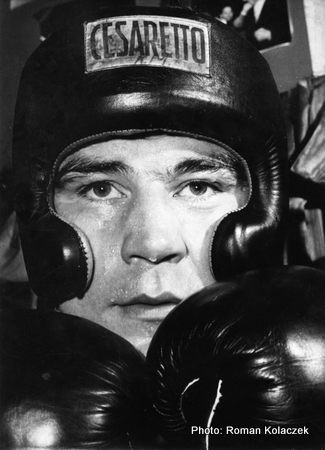 Entering the bout, Ali was 24 years old and at the peak of his abilities as a fighter. Many leading boxing experts regard the Ali of 1966 to have been the greatest heavyweight of all-time. At 6'3" and 204 lbs., Ali was nearly two inches taller and ten pounds heavier than Mildenberger, who entered the ring at 194 ½ lbs. Not surprisingly, Ali was installed as a 10 to 1 betting favorite by oddsmakers before the fight.
But Mildenberger – in addition to being the first southpaw in history to fight for the world heavyweight championship – was the first southpaw Ali faced as a professional. Ali had lost twice to left-handed opponents as an amateur. Thus, there were hints that Mildenberger's southpaw stance might trouble Ali in the ring.
Ali won the first three rounds of the fight by scoring consistently with whiplash left jabs and occasional hard right leads to the head. But Mildenberger forced the action with his forward movement, often connecting with his right jab. Ali seemed confused about how to find his punching range against Mildenberger's awkward southpaw posture; constantly the champion was compelled to retreat as he struggled to control the distance between himself and the challenger. Sometimes Mildenberger even stepped inside and shook Ali with hard punches to the head and body.
Mildenberger increased his aggression in the fourth, which he won by connecting with several hard left hands to Ali's head and body. The German crowd roared during this round as Mildenberger seemed to control the action, eagerly pressing his way inside as he chased Ali around the ring.
In the fifth round, Mildenberger continued his spirited attack, but Ali regained control of the bout by finding the range with his left jab. Seconds before the end of the round, Ali scored a flash knockdown with a hard right hand to the head. Mildenberger was shaken and his gloves briefly touched the canvas, but overall he appeared unhurt. More troubling for Mildenberger at this point was facial damage incurred from Ali's sharp blows. Both of Mildenberger's eyes were now swollen and he was deeply cut under his right eye.
Ali took complete control of the fight in the sixth round, and it appeared that the end might be near for the game challenger. Dancing on his toes, the champion landed consistently with his left jab, and Mildenberger's right eye was nearly swollen shut. Mildenberger was also cut over his left eye, and at the end of the round he seemed seriously hurt by a hard right to the jaw.
Amazingly, however, Mildenberger stormed back to win the seventh round. The crowd roared with excitement as Mildenberger connected with right jabs, forcing Ali into full retreat. Constantly seeking to force his way inside, Mildenberger shook Ali with a left to the head. Late in the round, though, Ali began connecting again with right hands, and both of Mildenberger's cuts were deepened as a result.
In round eight, the action swung dramatically in Ali's favor after he hurt and floored Mildenberger with a hard right hand. At the end of the round, Ali trapped Mildenberger in a corner and battered him with lightning fast hooks and uppercuts from both hands. Mildenberger finished the round hurt on the ropes and only the bell saved him from being knocked out.
But again, to the amazement of observers, Mildenberger recuperated and launched a spirited attack in round nine. Ali connected often with left jabs in this round, but he was constantly forced to retreat by Mildenberger's incessant right jabbing. At one point Mildenberger landed a hard left to the body, which seemed to trouble Ali.
Ali finally took complete control of the fight in the tenth round, even though Mildenberger's aggression never flagged. The action was intense in this round, as both fighters connected often with their jabs. Mildenberger at one point appeared to hurt Ali with a hard left hand to the body. Late in the round, however, Ali floored Mildenberger with a huge right lead. The German landed flat on his back after taking this blow, and it was obvious that the end was near.
Throughout the eleventh round, Ali battered the game Mildenberger. Mildenberger's cuts were reopened, and his eyes were nearly swollen shut. But the German continued to show incredible resilience, always fighting back spiritedly regardless of being hurt.
The inevitable ending came in round twelve, when Ali hurt Mildenberger with several fast, looping uppercuts. As Mildenberger reeled after taking a final straight right lead to the head, referee Teddy Waltham stopped the bout at 1:28 of the round.
After the bout, Ali admitted that he had extreme difficulty with Mildenberger's southpaw style and grittiness. "Mildenberger gave me my toughest fight," stated the champion. Indeed, Mildenberger's toughness in defeat validated his high ranking among the world's top contenders.
In the worlds of Nat Fleischer, Ring Magazine's chief editor at the time, Mildenberger "gave (a) grand display of courage in Frankfurt." Fleischer also reported "Muhammad Ali was surprised by the gameness and raw fight fighting quality, the ability to take punishment and come back, demonstrated by the German. Floored thrice, Mildenberger never failed to regain his feet, never failed to rally."
THE FINAL STAGE OF MILDENBERGER'S CAREER
Mildenberger's gritty performance against Ali enhanced his standing in the boxing world. He was now regarded as the second best German heavyweight of all time, eclipsed only by Max Schmeling. Mildenberger's supporters had high hopes for his future, and by the spring of 1967, Ring Magazine even rated him as the number one heavyweight contender in the world.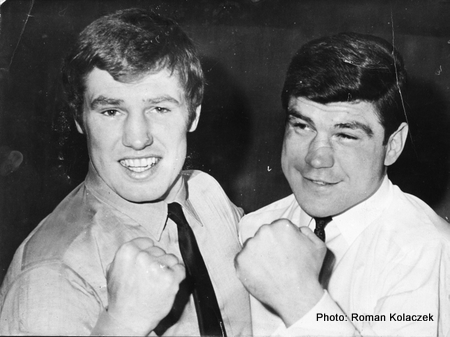 Rebounding from the Ali loss, Mildenberger began 1967 by winning three consecutive victories. He out pointed Tomasoni in a rematch, followed by kayo wins over England's Billy Walker (25-5-2; 15 kayos) and American Amos Lincoln (39-7-2; 24 kayos). By the summer of that year, the World Boxing Association had stripped Ali of his title, and Mildenberger was one of eight heavyweights selected to compete in a tournament to crown a new champion. WBA officials and American television executives believed that Mildenberger's participation lent the tournament credibility. Many boxing experts even expected Mildenberger to win the tournament and succeed Ali.
Argentina's Oscar Bonavena (30-3; 25 kayos) met Mildenberger in the first round of elimination bouts in the tournament. Mildenberger was solidly favored to beat the rugged but crude Bonavena, and some handicappers set odds of 4 to 1 favoring the German. Bonavena, however, turned out to be much too strong for Mildenberger in the ring. Mildenberger was knocked down four times by the powerful Argentine and lost the 12 round decision by scores of 56-48, 57-53, and 57-53.
The Bonavena defeat triggered the end of Mildenberger's professional boxing career. In 1968, Mildenberger was surprising kayoed in seven rounds by American Leotis Martin (24-3; 16 kayos). As a result of this loss, Mildenberger fell from the world ratings. Several months later, Mildenberger fought the last bout of his career, losing by eighth round disqualification to Henry Cooper in London. This defeat also ended Mildenberger's reign as the European heavyweight champion.
EXCLUSIVE ESB INTERVIEW WITH KARL MILDENBERGER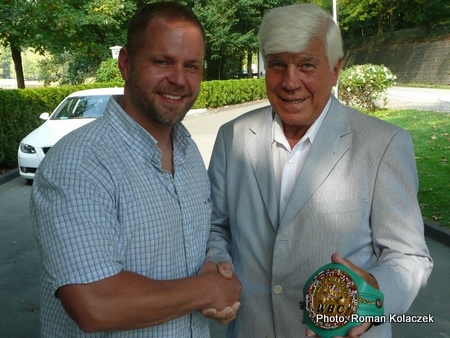 The following questions were submitted to Karl Mildenberger by ESB. Roman Kolaczek of Germany conducted the interview personally in German, and provided English language translation.
ESB: How did you originally become involved in boxing?
KM: My father's cousin took me to boxing in my younger days. We trained outside of the famous 1.FC Kaiserslautern soccer field. My father's cousin was also a German boxing Champion at that time.
ESB: What is your opinion of Ali's technical skill? We all know he was a fast and great athlete, but did he really have mastery of fundamental boxing skill?
KM: Muhammad Ali was and still is the greatest boxer of all time. A complete athlete. I'm glad I had the chance to square off with him in the ring and gave him a hard time.
ESB: Which fight do you consider to be your peak fight?
KM: The Muhammad Ali fight was one of my greatest performances. I thought I had him around the ninth round.
ESB: Who was, in your opinion, the toughest opponent that you faced?
KM: Henry Cooper was the toughest and strongest challenger of my career!
ESB: In your first fight for the European title, in 1962, you lost to Dick Richardson in a surprise. Did this loss discourage you, or did it make you a better fighter?
KM: This loss came totally unexpected for me and I think I learned my lesson for further fights.
ESB: In 1963, you beat Joe Erskine, who had already beaten Richardson twice. Erskine was your biggest victory until that point in time. Do you regard this win as a turning point in your career?
KM: Beating Joe Erskine was a great victory for me and it was probably the best fight of my career.
ESB: You established legitimacy as a heavyweight contender by fighting Zora Folley to a draw in 1964. What are your recollections of that fight?
KM: It was a great fight, but I already fought American fighters before and would not consider this fight as very special for me in advancing my career.
ESB: In your final fights, in 1968 against Gerhard Zech, Leotis Martin, and Henry Cooper, you were fighting at a weight which was nearly 10 lbs heavier than in your earlier bouts, against Ali, Machen, and Folley. Why is this? Did you lose motivation toward the end of your career?
KM: This information is wrong. I never fought over the weight of 91 kg.
ESB: In your last fight, you lost to Henry Cooper by disqualification in London, because he was cut. Do you feel that Cooper's cuts were caused by butts, or by punches? Do you feel that this fight was a hometown decision for Cooper?
KM: Cooper and I landed very hard punches and I can say for sure say that the cuts where not caused by a head butt. I cannot say if this was a hometown decision, but a very sad way to end my career.
ESB: In 1967, after your fight against Ali, your received a lot a favorable media coverage in the United States and Europe. You won international respect. Ring Magazine put your picture on its cover, with the headline saying "Germany's second Schmeling." Ring Magazine rated you as the world's number one contender in the summer of 1967, and many picked you to win the WBA's upcoming title tournament. Life must have felt great…was it the happiest period of your life?
KM: For me it was like a dream coming true. Being internationally recognized was a great honor for me and it still keeps going. I still receive autograph requests from all over the world.
ESB: What is your opinion of the modern super heavyweights? Are they better than the heavyweights of your day? Could you have handled the Klitschkos?
KM: If we consider the possibilities that the fighters have today, regarding training and technology, I think we were the better and harder athletes. All of today's top ten heavyweights would not survive the distance against a boxer from back then, like Joe Frazier, Muhammad Ali, George Foreman, Oscar Bonavena or myself. We had more heart and only focused on boxing.
ESB: Is there anything at all that you would like to say to the boxing world?
KM: It is an honor for me to still be recognized by boxing fans all over the world. I send you my warmest regards, heath and happiness!