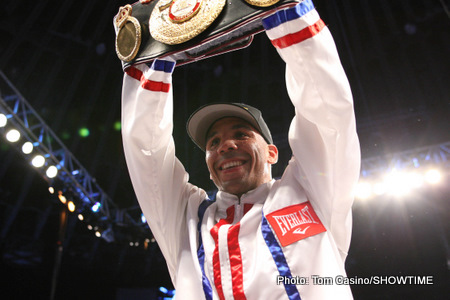 by Jenna J — Click here to listen to the show — As always, this week's special 50th edition of On the Ropes will start at its regularly scheduled time, 6pm Eastern Time. You can listen live by clicking "play" on the player or click here to enter our chat on the blogtalk message board; you can also call into the show at (646)716-5404.
On the Ropes is is back to bring you the latest and greatest in the world of boxing! Join me Jenna J, the Hostess, along with my classy Producer Geoffrey Ciani (aka-Rummy) and my Co-Host, Nick Powers.
Topics for Discussion
• Ali Funeka's controversial draw with Joan Guzman for the vacant IBF lightweight title
• Lucian Bute's impressive 4th round stoppage against Librado Andrade to retain his IBF super middleweight belt
• Rumors of a possible showdown between Bute and middleweight champion Kelly Pavlik
• Bernard Hopkins rumored to move to heavyweight to face David Haye after his March date with Roy Jones.
Exclusive Interviews!
Be sure to join us for three exclusive interviews in this special 50th edition. This week's guest line-up includes:
Sugar Shane Mosley:
• Reigning WBA welterweight champion of the world
• Is scheduled for a unification bout with WBC champ Andre Berto in January
• Widely regarded as the best welterweight in the world
• Is recognized as one of the best pound for pound fighters in boxing
Andre Ward:
• Winner of the Light Heavyweight gold medal for the US at the 2004 Olympics
• Undefeated WBA super middleweight champion
• Won his first round Super Six fight against tournament favorite Mikkel Kessler
• Is slated to face former middleweight champion Jermain Taylor in round 2 of the Super Six
Nate Campbell:
• Former IBF lightweight champion of the world
• Has a career record of 33-5-1 with 25 wins coming by way of knockout
• Won an appeal to have his recent fight with Timothy Bradley switched to a "No Contest"
Upcoming Fight Discussions
• Bernard Hopkins (49-5-1) vs. Enrique Ornelas (29-5) (Dec. 2 on Versus)
• Roy Jones Jr. (54-5) vs. Danny Greene (27-3) (Dec. 2 on Versus)
• Paul Williams (37-1) vs. Sergio Martinez (44-1-2) (Dec. 5 on HBO)
• Chris Areolla (27-1) vs. Brian Minto (34-2) (Dec. 5 on HBO)
• Amir Khan (21-1) vs. Dmitriy Salita (30-0-1) (WBA Junior Welterweight Title)
• Marco Huck (26-1) vs. Ola Afolabi (14-1-3) (WBO Cruiserweight Title)
Speak to Our Guest:
Listeners are encouraged to call in and share their thoughts on the latest boxing news and to provide questions and comments for our special guests: Sugar Shane Mosley, Andre Ward, and Nate Campbell. If you intend to call in, please provide us with your area code either here in the comments or in the blogtalk chat room and give us the head's up that you are calling.
Join Our Mailing List!
If you want to keep up with the latest OTR news, why not join our mailing list? You can sign up by sending an email to ontheropes@boxing247.com with the subject heading "SIGN ME UP!"
Be sure to tune in!
***
To contact Jenna J or Geoffrey Ciani:
ontheropes@boxing247.com
To read more by Jenna J please visit The Mushroom Mag:
http//www.eatthemushroom.com/mag