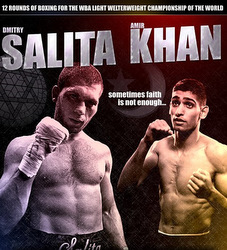 by James Slater – Amir Khan, the reigning WBA light-welterweight champion, has bitten at what his unbeaten challenger Dmitriy Salita has had to say about his chin. Referring to the 22-year-old champion as a "chinny" fighter, 27-year-old Salita, Khan's mandatory challenger with the WBA, has vowed to prove it on Saturday night.
And despite the way he has been knocked down by Willie Limond at lightweight and KO'd in less than a minute by Bredis Prescott also at 135-pounds, Khan insists he has lost none of his confidence. Also, the former Olympian says that his being called a fighter with a suspect chin doesn't affect him. But Khan has certainly been annoyed by Salita's jibes; as he made clear in a recent interview with Mirror Sport.co.uk.
"We'll see who's got a good chin," Khan said in reference to what his challenger has said about his ability to take a good shot. "I'll be the one knocking him out and I know for a fact he hasn't got the speed or the power to knock me out. This guy is totally made for my style. He's been over a few times – I'm convinced that I will knock him out.."
Salita, 30-0-1(16), has been down three times as a pro – being decked once in his ten-round points win over Robert Frankel (the opening round) and twice in his eight-round draw with Ramon Montano (again, both times in the 1st-round) – and Khan is right when he says he is the faster fighter of the two. But will Khan be making a mistake if he goes out looking for a stoppage win? If Salita has got under the champion's skin as deeply as the Mirror interview would suggest, and if Khan does see red in the fight, the 22-year-old could be in trouble.
Somewhat reckless, albeit exciting, in his pre-Freddie Roach days, Khan has looked a more mature and patient fighter since hooking up with the ace trainer – against Marco Antonio Barrera and Andreas Kotelnik especially. If Khan does revert back to his old, KO-hungry self on Saturday, he will be giving Ukraine's Salita (who now lives in New York) a real chance of winning. Because, and no disrespect to the 27-year-old, I don't see Salita having the tools needed to be able to outbox Khan. If the contest becomes a macho-esq slugfest, however, it's anybody's fight.
Surely Roach will settle down any desires Khan has of making his opponent pay, and we will see another smartly approached game-plan followed to a tee by the gifted 140-pounder. If so, I see only one winner.
If Khan does box to orders, I see him either winning via lopsided decision or by a late KO, sometime after the 7th-round.