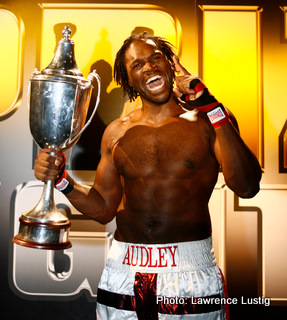 AUDLEY Harrison has threatened to inflict 'a lot more punishment' on Danny Williams in Friday's Prizefighter Heavyweights III event. Harrison, 37, thinks victory in the eight-man, one-night tournament will see 'the rebirth' of his career and lead to him becoming World Champion inside two years. However, Williams, the current British Champion, potentially stands between Harrison and Prizefighter glory at London's ExCel Arena. The pair, who have fought twice with one win apiece, are in separate halves of the draw and could only fight in a mouth-watering final. "Me and Danny are 1-1 and he keeps on saying we don't like each other but I've got nothing against him," added Harrison.
"He beat me with a split decision and I destroyed him second time out and he probably doesn't like me because of that. Danny spends a long time talking, thinking and probably dreaming about me. But he really needs to think how much punishment he is taking in his career. If he meets me in the final then he will take a lot more punishment. I'm confident that if we meet in the final then I've got Danny's number. He's my main rival and on the other side of the draw so it would be a real grudge match and a big fight."
Harrison, who fights Northern Ireland's Scott Belshaw in his quarter-final, won Olympic gold in 2000 but his professional career has faltered with four defeats in his last eight contests. However, he believes outside influences and 'the boxing system' have conspired to 'sabotage' his career..
"Unfortunately for me and real boxing purists I have lost a chance to have a lasting legacy but I still have plenty of time to win the world title," added Harrison.
"By the time I'm 39 I'm over. I'm not in boxing for the money; I'm in it to be World Champion. Once I've achieved that it will be 'see you later, I'm off'.
"On Friday you will see the rebirth of Audley Harrison, the boxer people thought was dead, buried and gone.
"I turned professional in 2001 and was self-managed and self-promoted, which is what I always wanted.
"Unfortunately for me the boxing system didn't like that. It's a story I want to tell, of how my career has been blocked and sabotaged and, at the right time, I will tell it. It's been a battle of adversity and persistence.
"Sometimes the mountains you face out of the ring turn out to be too huge and that determines what you do in the ring.
When asked if he was going to win Prizefighter, Harrison concluded: "There are no ifs. I've prepared for victory and when I prepare for victory I just need to walk in and do it."
Prizefighter tickets are going fast but some are still available at £40 or £80 from See Tickets on 0871 220 0260, www.seetickets.com or from Matchroom Sport on 01277 359900. Every fight will be screened live on Sky Sports 2 and Sky Sports HD 2 from 9pm on Friday.
NOTES ABOUT THE PARTYCASINO.COM PRIZEFIGHTER HEAVYWEIGHTS III EVENT
– Eight competitors in the same weight fight in four quarter-finals, two semi-finals and the final with all the action happening in one exciting night of boxing.
– Each contest lasts a maximum of three rounds with standard boxing rules applied.
– If there has not been a knockout or stoppage then the winner will be decided by three scoring judges at ringside.
– The winner of Prizefighter – Heavyweights III will receive £32,000, the runner-up gets £16,000, losing semi-finalists receive £8,000 and beaten quarter-finalists collect £4,000. The total prize fund is £80,000 – £11,000 more than for previous Prizefighter tournaments.
– This will be the eighth Prizefighter competition. The first – Heavyweights I – was held in April 2008. The others staged were Heavyweights II (September), Welterweights (October), Middleweights (November), Light-heavyweights (February), Lightweights (March) and Cruiserweights (May).
– The quarter-final draw is 1. Scott Gammer v Coleman Barrett, 2. Danny Williams v Carl Baker, 3. Audley Harrison v Scott Belshaw, 4. Neil Perkins v Danny Hughes.
– If one of the fighters wins a bout but is unable to compete in the next round (ie a bad cut) then one of two reserves will step into their place for the rest of the tournament. The two reserves are Paul Butlin (Melton Mowbray) and Lee Swaby (Lincoln).
– The event website is www.theprizefighterseries.com.