By Vladimir S. – WBO cruiserweight contender Marco Huck (25-1, 20 KO's) will be taking on World Boxing Organization cruiserweight champion Victor Emilio Ramirez (15-1, 12 KO's) for the title on Saturday night at the Gerry Weber Stadium, in Nordrhein-Westfalen, Germany. For Huck, 24, this is the perfect opponent for him to show off offensive skills against. Ramirez is a pure slugger and will be coming right at Huck trying to match him punch for punch with bombs. Traditionally, these are the type of fighters that Huck does really well against. Huck won't have to deal with movement or a pesky jab from Ramirez, because the Argentinean is a straight ahead type fighter who likes to load up with shots and try to take his opponents' head off..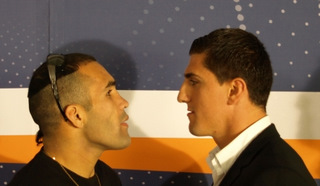 Huck has improved a lot since his loss to Steve Cunningham in 2007, both defensively and offensively. In the defense part of things, Huck no longer has that nagging habit of retreating to the ropes in between attacks. Huck used to do that before even when not being attacked, and it made him look a lot like a sparring partner rather than a contender. Huck made the mistake of fighting that way against Cunningham and ended up taking a lot of needless punishment along the ropes. Ultimately, it cost Huck the fight. However, Huck was still very inexperienced at that point in his career and still very young at 22. Now two years, Huck doesn't retreat to the ropes like he used to and stays mainly in the center of the ring where he's much more effective. On the offensive side, Huck learned to place his punches better. In Huck's last two fights against Geoffrey Battelo and Vitaliy Rusal, Huck looked like a sharpshooter as he hit Battelo and Rusal with precise punches that did a lot of damage. Huck didn't waste punches by wildly rushing them with his arms flailing about like he used to two years ago.
Huck looks so much improved offensively compared to how he used to fight. Granted, Huck has faced mostly limited opposition since the Cunningham fight, but he still is doing the right things in the ring now and you can't miss that. But perhaps the biggest improvement with Huck is in the power department. Huck looks so much stronger than he used to be. His punches appear to be much harder than he was throwing back in his fights with Cunningham and Vadim Tokarev. Just by looking at Huck, he appears to have improved with his power by 10 to 15% compared to before.
Although not exactly the most skilled fighter in the world, the 25-year-old Ramirez is very dangerous due to his big power and the heavy pressure he puts on his opponents. Ramirez wore down top cruiserweight contender Alexander Alekseev with his pressure and ended up stopping Alekseev in the January 2009. That win was no accident. Ramirez came out with a plan, knowing from having seen Alekseev fight that he wears down by the 7th and 8th rounds. Ramirez took his time in the early rounds and then started taking it to Alekseev starting in the 6th round and began to land more and more with power shots.
I see this as an exciting fight, because Ramirez is likely going to go right after Huck and try to match him power shot for power shot. However, I think Huck has way too much for Ramirez and will end up inflicting a tremendous beating on the Argentinean fighter. Ramirez hasn't been stopped as of yet, but I think Saturday night we'll see him being knocked out for the first time in his career.