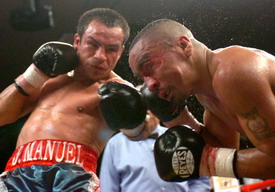 By Vivek Wallace, photo by Naoki Fukuda: This weeks 'Call Em Out Fridays' segment shines light on one of the sports more interesting figures. A fighter who has unquestionably made his mark in the minds of hardcore fight aficionado's, yet failed to cement that legacy by decisively winning those ring moments which many viewed as career defining. When you take a look at the ledger of historical Mexican fighters in the sport over the years, an intriguing contingent would actually argue that he is possibly one of the most fundamentally blessed of them all. How has that translated during his 50 wins, 4 losses, 1 draw, and 37KO's, spanning over a long 16 year tenure? Apparently not enough to remove questions from the equation. At 36 years old and having 3/4 of his career already in the rear-view mirror, oddly enough, the biggest question surrounding him relates to his peak. Critics feel as though he has passed it, supporters feel as though he hasn't reached it, radicals feel as though he has yet to even truly define it. The interesting thing is that depending on which fights you take into consideration, each of those answers hold a certain amount of weight.
For those that take into account the second Pacquaio fight, where he performed well enough to make it interesting, yet not well enough to seal the deal, left many feeling that perhaps his better days are truly behind him.. If you take into account his latest victory over the always 'game' Juan Diaz, you may subscribe to the theory that perhaps, maybe, he has finally reached it (his peak). Then you have the first fight against Pacquiao, where he tasted the canvas three times and still found a loophole to claw his way back into the fight. After walking through the fire to nearly steal that show, those who covet this fight close to their heart may argue the performance was a great example which supports the possibility of him not even really defining his greatness – as there surely seemed to be quite a bit more where that came from when all was said and done. Each of those fights provide a different insight, but when you look at the total and complete body of work, the consistency versus inconsistency argument truly opens space for a great debate. In 2006, Marquez squared off against a fighter (Chris John) who only seems to crack my personal pound for pound list – (for few others appear to have taken note). Leading up to that fight, I thought it would be an excellent guage for Marquez to see how he would handle himself against an opponent who's fundamental skills parallel that of his own. Few have looked at this particular fight when studying the worth of Marquez, but I think it provided a very solid glimpse into a trend that hasn't seemed to go away.
That trend was the fact that Marquez has routinely performed quite well, but to echo the sentiment of his biggest critics, he has often failed to have his hand raised when the final bell rang in a marquee showdown. That particular trend is a very curious one, because his next opponent brings a blueprint to the ring that remains easy to read, yet invariably hard to comprehend. The shoulder rolls, the careful precision, the precise knack for knowing when and where to show how and why. Floyd Mayweather jr. will undoubtedly serve as a very stiff task for Marquez, challenging everything he has ever stood for and providing every trap he ever fell against. A win over Mayweather opens the door to a few future grand opportunities, while a loss would mean both, a huge mountain to climb, and an exclusive residence in the proverbial 'middlegrounds'. Meaning that he wouldn't be quite relegated to the basement venues of the world, but he would clearly no longer attract the Mayweather/Pacquiao type opposition. Such a middlegrounds could be fruitful for the sport. That middleground would place him within range of a very loaded jr. welterweight division that would keep him in the company of other greats trying to reach that mega fight status….guys like Campbell, Bradley, Khan, and Devon Alexander, to name a few. So what happens going forward for Marquez will have a lot to do with what he does in the present (against Mayweather), and perhaps even a lot to do with what he has done in the past (the countless amount of wars he has encountered over 16 years). So, as we wait to see whether it'll be forward progress or another backwards decline, Marquez once again remains stuck in the moment.. But on the morning of Sunday, September 20, when the headlines go to print, one way or the other, this moment too shall pass….like it always does!
(Silent prayer to the now late and lost Senator Ted Kennedy….As if the political climate of America wasn't murky enough…we now stand in the midst of a jungle without the last official "Lion King" to help restore order…May he rest in peace…Jai-Guru)
(Vivek Wallace can be reached at vivexemail@yahoo.com, 954-292-7346, YouTube (VIVEK1251), Twitter (VIVEK747), Myspace, Facebook, and www.vivekwallace.com)