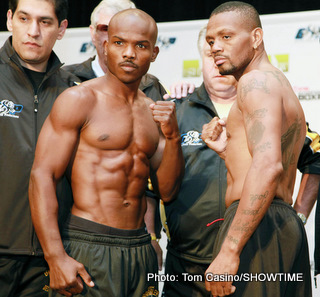 Note: TIMOTHY BRADLEY and NATE CAMPBELL weighed 139 and 138.5 pounds, respectively, for their WBO junior welterweight title rumble. JUNIOR WITTER and DEVON ALEXANDER weighed 139 and 138.5 pounds, respectively, for their battle for the vacant WBC super lightweight title
by Nick Powers – With the lineal champion of the Junior Welterweight division seeking out "almost" Welterweight match-ups meant to enhance his bank statements by several figures, the rest of the division have turned to each other, looking to engage in meaningful contests in order to both stay busy, and in the spotlight.
Nate "The Galaxxy Warrior" Campbell moves up and fights for the first time in the 140-pound division, looking to claim the WBO Jr. Welterweight title from Timothy "Desert Storm" Bradley, who is coming off a big win against Kendall Holt. The two men have remained cordial throughout the pre-fight proceedings, with a bit of back and forth vocal jabbing helping to enhance the promotion, though both are determined to shell out an eye-catching performance that will cement themselves atop the list of champions at Jr. Welterweight not named Pacquiao..
For Campbell, a win in a fight of this magnitude will be a great step forward, should the Florida native have his hand raised. After failing to make weight against Ali Funeka in February, Campbell was stripped of his Lightweight championship on the scales, and forced to step up in weight following a sub-par yet winning effort against the much taller Funeka. Adamant that his body had shut down on him during preparation, Campbell is certain that his strength will not suffer due to the step-up in weight, and that his will shall be stronger than ever.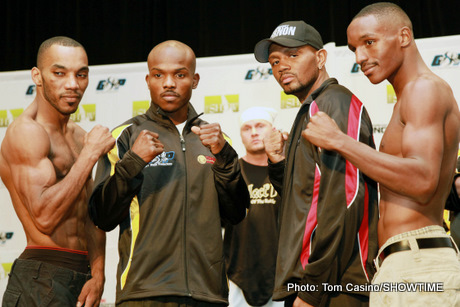 Bradley, who will be fighting in his backyard of California, has been a tremendous fighter for the past few years, traveling around the globe and fighting wherever he had to. After much hard work and determination, Bradley finally collected two world title belts after upsetting Junior Witter in England, and his previously mentioned decision over Holt this past April in Montreal. Though his seems to possess little knockout power (11 in 24 victories), especially considering he will be up against a strong chinned veteran like Campbell, Bradley always shows up to his fights in top condition and is very physical in the ring, which will make for an interesting series of events once the two combatants meet this Saturday.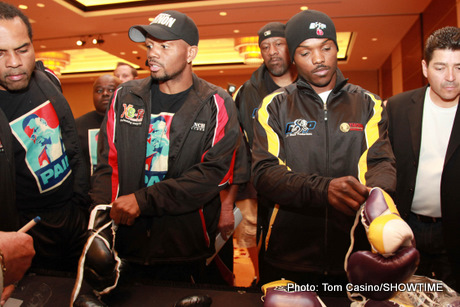 For these two hard working, determined champions of the squared circle, this fight means everything. Bradley gains a chance to embed his name amongst the very elite in or around 140 lbs., and Campbell receives a chance at redemption, to prove that even at 37 years old, he will not falter or fail. Though very vocal about fighting in Bradley's own back yard of California, Campbell also made no qualms about the fact that when the bell rings, only those two men can determine the outcome of the fight. An outcome, which Campbell told the hosts of "On The Ropes" Radio on July 13th, will include "Pain."
Now, there is only one question left: Will we see Balboa-Lang I, or II?
For more from Nick Power tune into "On The Ropes" radio show every Monday 6PM ET as he discuss the current happenings and upcoming fights weekly.
http://www.blogtalkradio.com/On-The-Ropes