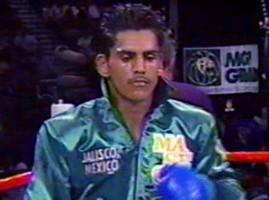 by James Slater – Early yesterday evening (UK time) I had the pleasure of speaking over the phone with former WBC super-featherweight champion Gabriel Ruelas. Now aged 39, the Mexican hero is in great shape physically and mentally, and he continues to train and do road-work out of the sheer love of it.
It's true enough to say Gabriel is in great mental shape, and he certainly has all his faculties and his speech is fine, but one thing that the former champion is suffering from is a deep regret at what happened to his world title challenger Jimmy Garcia – who, as older fans will know, tragically passed away after fighting Ruelas in May of 1995.
Today, some 14 years on from Garcia's sad death, Ruelas is unable to forget. He is also still full of regret at how the tragedy all but ended his own fighting ambitions. Lacking the necessary killer instinct ever after, Gabriel, as he put it, "lost his life in that ring, too." His boxing life, that is..
But for what happened, the 39-year-old says in a forlorn tone, he would in all likelihood still be fighting today.
Anyway, that's enough from me; here is what the champ had to say himself while looking back on his highly eventful pro career.
James Slater: It's a pleasure to speak with you, Champ. Firstly, can I ask you how you spend your time these days?
Gabriel Ruelas: I work with one of the biggest distributors of alcohol and mineral water, you know, Evian water. I work in the distribution aspect of it. I've been doing this for the last five years. Also, off and on, I've been working with my former promoters, at Goossen Tutor. I work for them sometimes. I miss boxing so I work to be around it. I miss it a lot.
J.S: Are you involved in the promotional aspect, or in training fighters?
G.R: No, I help to get fighters ready for a fight. I make sure they get to the weigh-in and get their gloves and get to check ups on time, things like that.
J.S: And do you still train yourself? You keep in shape?
G.R: I'm actually in better shape now than when I was fighting. I thought I'd gain a lot of weight in retirement, as a lot of fighters and athletes in general do once they retire, but it was the other way for me. I actually lost weight. I'm about 140 now, and I could easily make my fighting weight of 130. I love running. I never actually liked it when I was fighting, I wish I did. I did running to get in shape, of course, but I never really liked it. Now it's kind of therapeutic for me. I go every day, sometimes twice a day, usually in the morning. I run around four to six miles.
J.S: You said earlier how you miss boxing. Do you watch it as much as you can on T.V?
G.R: Not really, no. I miss it because boxing is my whole life. I still feel as though I could beat a lot of guys now. It was the traumatic thing that happened with the death of Jimmy Garcia. That took away my anger. You need anger to be successful as a fighter. You need that hunger to be a world champion. I don't have that any more, but if that [the death of Garcia] hadn't happened I think I would still be fighting today, even at age 39. But, no, I watch very little boxing on T.V. I get invited to live events a lot, but mostly I stay away – unless it's someone I really want to see, like a friend. But boxing is my whole life and I talk about boxing every day.
J.S: I know you must find it hard talking about the Jimmy Garcia situation. But do you agree with those people who say you were never the same fighter after that tragic turn of events?
G.R: I don't mind talking about it. I definitely agree with that, yes. You have to be hungry in boxing, like I said. And after Jimmy I wasn't. My trainers noticed it in training, when I was sparring. I would back off and not hit my sparring partners hard. And you can't afford to do that, you can't afford to be like that – to feel sorry for your opponent. Boxing is the hurt business after all. It was very hard. It is even now. I can't believe it was so many years ago. It feels like just yesterday.
J.S: Going back to your first world title fight, when you fought Azumah Nelson in front of 130,000 fans at The Azteca Stadium, that must be a great memory for you?
G.R: Yes, that's got to be the standout moment for me. That's definitely top of the list in my life achievements – even more than when I won the (WBC) world title, even though that was great. There were so many people there in the arena. To see all the people when I entered the ring, it was like it was from a movie!
J.S: It was a very close fight, and many people thought you won. Do you think you beat Nelson that night?
G.R: I think I won, but the judges had different ideas and I've got to respect that. I felt I had the fight won but it wasn't a win unfortunately. But in a way it was a win, because that fight led to bigger and better things for me.
J.S: And when you beat Jesse James Leija to win the WBC 130-pound title (in September of 1994), that must also be a great memory?
G.R: That was huge for me when I beat Leija, but the biggest fight for me was at The Azteca stadium – to have fought on the biggest fight card in boxing history. Many world champions never had anything like that and many don't have a memory like that.
J.S: Another special fight of yours I have to mention was the classic between you and the sadly recently departed Arturo Gatti. That was some fight! Do you think about that one much?
G.R: No, not too much. It's nothing to dwell on. But I do believe that if I'd had another chance against him – I was supposed to get a second fight with him but it never happened for some reason – I would've done better. He later said he had never been hit harder than in our fight, and that was a great compliment, him saying that. Normally, Gatti gave guys a rematch – he fought Micky Ward three times, he fought other guys twice. But not me. I was supposed to fight Leija a second time, too.
J.S: When you look back on your career today, do you feel content or do you feel dissatisfied overall?
G.R: I feel sort of content, because I was a world champion. That was my goal and it was a dream come true becoming world champion. But if it wasn't for the Garcia tragedy I'd still be fighting today, as I said. I'm not saying I'd be in the top-ten at age 39, but boxing was my life and it was taken away from me. I know I'm living and Jimmy died, so I should be grateful for that. It's beautiful to be alive. It may sound disrespectful saying it, but I feel as though I lost my life in the ring, too – because I had what I love taken away from me. Jimmy Garcia's death killed me mentally. My career was really long and it was really short at the same time.
J.S: Thank you so much for talking to me, Champ. I really appreciate it.

G.R: Okay, thank you. You have a good day.