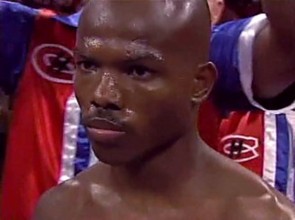 By James Slater: Fight fans who are lucky enough to have access to Showtime are in for a potentially engrossing night of world class boxing this coming Saturday. Two world title fights will take place, both in the same weight class, and the top of the bill clash between defending WBO light-welterweight champion Timothy Bradley and former world lightweight king Nate Campbell is one of this year's best match-ups. The supporting feature that sees former WBC 140-pound ruler Junior Witter going up against the unbeaten Devon Alexander is a good pairing, too.
If it's slugfest you want, you may be a little disappointed on Saturday, for both fights appear to have a good chance of being chess match-type distance affairs. But those fans who enjoy seeing classy operators of the Sweet Science doing their thing will be in the right place tuning in on August 1st. To my way of thinking, both 140-pound encounters will be decided by the official judges, but then again, both Campbell and Bradley and Alexander and Witter can punch some, so you never know for sure.
The supporting feature, between one of the rising stars of the talent-rich light-welterweight division in southpaw Alexander and former champ and switch-hitter Witter, looks like being a real technical encounter. Though he is the older man by some thirteen years at age 35, Witter is a fighter who has retained both his speed and his reflexes. Alexander may be a hair faster, due to his youth, but Witter, 37-2-2(22) can hit with blurring speed himself. The unbeaten younger man is the favourite to win, and with good reason, but Witter can never been underestimated or written off.
Though he has won his last three outings inside the distance, Alexander will do extremely well to stop "The Hitter." Alexander, 18-0(11) has said he'll put non-stop pressure on the man who lost his WBC belt to Tim Bradley, and that this will see him to a points win in the fight for the vacant crown. But will the young and less experienced fighter make mistakes and even walk onto something as he focuses on his own punch output? In all honesty, though I take Alexander to win on points, a Witter upset KO could be a bet worth taking. One thing is sure, "The Great" must make sure he maintains near perfect concentration at all times. This is the up-and-comer's acid test and Witter has a habit of making fighter's pay for their mistakes.
Bradley Vs. Campbell is pretty much a pick 'em fight in the opinion of this writer. Campbell may be moving up in weight, he may be the older man by twelve years at age 37 and he may have been beaten before, but the former 135-pound boss is so up for this fight only a fool would call his chances of winning poor. And Bradley, who had to get up from a knockdown in out-pointing Kendal Holt last time out, is no fool. "Desert Storm" may have spoken a little trash in the lead up to this fight, but inside Bradley knows "The Galaxxy Warrior" deserves a ton of respect.
Campbell pretty much out-grew the lightweight limit, therefore he is not forcing anything on by moving up – he basically had no choice. And the 37-year-old gets credit for taking on the world's best 140-pound fighter this side of Manny Pacquiao in his debut at 140. Bradley, in search of acceptance as one of boxing's very best, is willing to take risky fights, and he also deserves credit for taking on the always-dangerous former champion. Campbell, 33-5-1(25) is the bigger puncher and, as he proved when busting up and out-working the much younger Juan Diaz back in March of last year, Nate's age doesn't really mean all that much.
While I take Bradley, 24-0(11) to edge a close one on points, Campbell's scoring of an upset – either on points or even by a shock stoppage – cannot be ruled out.
Whichever of the four men it is that come out as winners on Saturday, let's hope the two boxers left standing can then get it on with one another next time out.