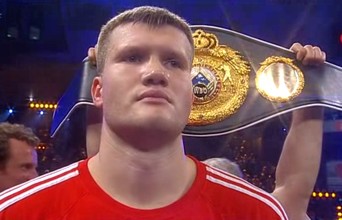 By Shaun Murphy: Amir Khan is, now, only weeks away from his scheduled fight with Andreas Kotelnik and it highlights, for me, why I love boxing.
I first heard of Khan while in a place full of naughty people [I'll let you guess where], and I spoke to an Asian fellow, in the gym, about Khan's Olympic prospects. 5-years later – and plenty of good behavior — that ambitious, articulate and gifted young-man from Bolton-England is on the cusp of a world title fight against Andreas Kotelnik.
Vicariously, I imagine, the Ukrainian people feel the same way about their huge heavyweight-prospect Alexander Dimitrenko..
However, how good is the Ukrainian? – And, more importantly, how much of a chance has the self-proclaimed ''Fast'' Eddie Chambers got of ending Dimitrenko's world-title aspirations?
Eddie Chambers
In most interviews, ''Fast'' Eddie Chambers has blamed a huge array of factors on losing, so far, the biggest fight of his life.
Although, fortunately for his career, Chambers wasn't KO'd by the talented Alexander Povetkin, he didn't impress either. Povetkin lambasted a mostly static Chambers all night, and the Pennsylvania-born American hope showed little of the gritty determination you'd expect from a man fighting in a title eliminator.
Nevertheless, on the 4th of July, in Hamburg, Germany, ''Fast'' Eddie Chambers has a chance of redemption against the aforementioned Dimitrenko.
Chambers can fight, against Samuel Peter he displayed a good jab and, importantly, a rock-hard jaw and mild determination in outpointing the huge Nigerian. At 6'1 and 220 pounds, however, ''Fast'' Eddie Chambers is a small heavyweight — and he doesn't possess the Tyson-like power to compensate for the pounds-and-inches he invariably gives away against most opponents.
Like Dimitrenko, Chambers had a long amateur career [around 80 contests] and, technically, the 27-year-old American is far better than his deliberate Ukrainian opponent. Luckily for Chambers, in this day of Eastern European dominance, the 27-year-old has the relaxed, loose American style almost unknown to the Eastern Europeans. It's possible, if he can utilize, Chambers can still do something in the heavyweights, but first he must prove himself.
Alexander Dimitrenko
Although, the 26-year-old, Alexander Dimitrenko hasn't got the Greek-ideal physique of his fellow Ukrainian W. Klitschko, he's just as massive at 6'7 and 250 pounds. Against Chambers, I believe, his size alone could tip the balance in his favor, and propel the Ukraine's third-best heavyweight towards one of the Klitschkos.
Although Dimitrenko was a celebrated amateur; winning the junior world-amateur championship at the age of 18. So far, it could be claimed, Eddie Chambers is the best opponent of Dimitrenko's career. Only recently, after 8-years as a pro, has the ''Baby Face'' been allowed to venture into the dangerous realms of boxing's higher level. For a long time, Dimitrenko was learning his trade in the safe-and-controlled undercards of his adopted Germany.
Very prospect like, the blond-haired East European has shown a confusing mix of ability mixed with weakness. For instance, against the unheralded Chris Koval the Ukrainian was dropped in the 1st round on the way to a points victory. However, by a 12th rd TKO, ''Sascha'' became the first person to stop the human block-head Timo Hoffman. Up a level, in his last fight, the fighter known as ''Baby Face'' executed the very tough Luan Krasniqi with a crippling left hook to the body in rd 4.
From my observations, Dimitrenko's size, power, amateur pedigree and world-class training have merged to create a formidable boxer. But, without a doubt, to all who watch him, ''Sascha'' has glaring technical deficiencies and, maybe, the oxymoronically named ''Fast'' Eddie Chambers can exploit them?
My prediction
In his last fight, against Luan Krasniqi, before the body shot, I thought the Ukrainian boxed well — but robotically. Dimitrenko, being well-schooled, simply threw a long jab in Krasniqi's face and employed his meticulously drilled footwork to avoid any counters. It's my belief, ''Sascha'' will adopt similarly frustrating long-range tactics against Eddie Chambers.
In many ways, Chamber's destiny is in his hands. Dimitrenko is very beatable; therefore, with a controlled, inspired effort it's possible Chambers could salvage some respect for the American heavyweights. Unfortunately, for the USA's fans, the Pennsylvanian has shown, in many fights, a very low work-rate and I can't see him gathering the intensity needed to overcome the giant Ukrainian. My prediction, although he may have to climb of the floor, Alexander Dimitrenko wins by UD. [To me, this fight will be either a stinker or fight-of-the-year material