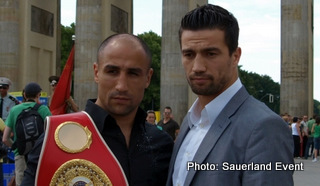 The first press conference ahead of the IBF World Title fight between King Arthur Abraham (29-0, 23 Kos) and Mahir Oral (25-1-2, 10 KOs) in the Max-Schmeling-Halle in Berlin was held today, almost four weeks before the middleweight showdown. The two title rivals met on Tuesday to give their first statements regarding the June 27 fight. Whoever expected insults to fly from the 29-year-old IBF champion and his challenger from Hamburg was left disappointed: Instead, both gave a rather laid-back, relaxed impression.
"It was a great pleasure for me to hear that I was going to fight Arthur" opened Mahir Oral. "We know each other from our early days as sparring partners, although now we have both matured. Arthur has become King and I have developed a lot too." Although Oral can well remember Abraham's brutal knock-out triumph over Khoren Gevor in Berlin in August 2007, that does not scare him in the slightest..
"Of course you have respect as a boxer. Khoren was giving a good impression of himself to begin of that fight. The knock-out in the 11th round looked spectacular, but had that not happened, we would be looking back on that fight in a different way," added the 29-year-old.
Ahmet Öner, the challenger's manager, is delighted with how the World Title fight came about. "First of all I have to say that this has not unsettled Mahir at all. Many others in the middleweight division are avoiding Arthur because they don't think they have any chance against him, but I told Mahir that he has nothing to lose. Should he actually be beaten, then it will be against the strongest ever World Champion in his weight division. And that is Arthur Abraham. So we have nothing to lose," he said. "Mahir is a fighter and although Arthur Abraham is the favourite, we still think we have a chance. We will all know the answer on June 27."
For King Arthur, the fight in the German capital is a real home fight. "I have very good memories of the Max-Schmeling-Halle, particularly the fight with Khoren Gevor," he said. "That was a tough one back then," added the IBF title holder who lives and trains in Berlin. He is not going to take the fight with Mahir Oral lightly either. "In 2003 and 2004, we sparred a lot together in Cologne," he said. "We got on well with each other. We are both sportsmen and are training hard. We both do our own job – he does his and I do mine – but of course I would be lying if I didn't say I want to win. Afterwards, things will revert to how they were before," added the IBF World Champion.
"Mahir is a great lad. We will let what happens in the ring decide who is the best," added Abraham's trainer Ulli Wegner. "I believe that it is going to be a great fight; one which will excite the spectators. Boxing fans have had to witness a few bad fights recently and that is why we want to put on a particularly good show. Obviously, we want to defend our title, but the important thing is we deliver the fans a decent, exciting event on 27 June."