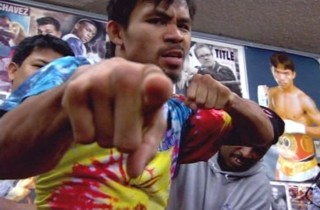 By Benjie Varella– Manny "Pacman" Pacquiao, the pound for pound king has two to three more fights left before he enters once again the political arena in the Philippines come 2010. He is seeking to win a congressional seat for the second time after losing to Darlene Antonino during the 2007 Philippines national elections.
To put an exclamation mark to Bob Arum's statement he made after the May 2 annihilation of Pacquiao to Britain's Ricky Hatton, that his boxer is "the greatest boxer who have ever lived", the pound for pound king has to fight who the fight fans wants him to fight.
Obviously, fight fans wants Pacquiao to challenge the best boxers before he retires, particularly those who are calling him out..
There are four or at least three possible opponents that Team Pacquiao may consider. Floyd Mayweather Jr. and Juan Manuel Marquez have to be counted as one, since the winner of their July 18 bout; hopefully will be challenged by the Pacman.
Instead of a five month rest for the October 17 comeback fight, Pacquiao should fight as early as August for a tough "tune-up" fight against Edwin Valero, the undefeated WBC lightweight Champion.
Pacquiao and Valero have been trash-talking for quite some time. It can be recalled that Valero accused Pacman as a taxi driver dominator pointing out that he has dominated weak opponents during the early years of his career.
Pacquiao in return reacted and stressed that Valero's perfect record was all but scratch because his past opponents were "tuktuk" drivers.
Even if Valero was a VIP at Pacquiao's grand birthday celebration December last year and are stable mate under Top Rank promotions, there is still bad blood among the two boxers.
After the two rounds demolition over former boxing champ Antonio Pitalua several months ago, Valero using an interpreter called out on Pacquiao to give him a challenge this year.
He called Pacquiao "the monster from the Philippines" adding that "no one can take my punch". If this fight happens, it will surely be a mega-fight. It's not a "tune-up" fight after all. Valero has all the skills that could knock anyone who has the same weight that he has.
But Valero should now train to move his head. He has the tendency of a Hatton fight-style who has cement stocked between his neck and his head. Pacquaio would surely love that target.
But to settle all the trash-talks and see who has a better punching power, this fight surely has to happen.
Recently, WBA welterweight champ Sugar Shane Mosley made a statement that he is ready to reclaim his No. 1 pound for pound status calling out Pacquiao to give him a challenge.
This certainly is also a must fight before he retires. The pound for pound king versus a former pound for pound king who held that position several years ago.
Mosley is definitely a tough warrior who is in the pound for pound list and is ranked No. 4 which is similar to the list I gather every week.
Mosley's power cannot be taken for granted as he possesses a high knockout ratio which consists of 46 wins, 39 of this coming by way of knockout. His last victim early this year was former champ Antonio Margarito.
Pacquaio and Mosley could meet up and slug it out at the catch weight of either 143 or 144 pounds. Can Mosley avenge the loss of his business partner Oscar De la Hoya? We will have to find that out when they face each other.
But, before Pacquiao takes politics seriously next year a fight with whoever emerges as the winner between Mayweather and Marquez is a big "must".
Like Valero, Mayweather have been badmouthing Pacquiao for many months. To zip that mouth up, Pacquiao really needs to put up with this challenge. He has to challenge Mayweather who believes that he is "still" the pound for pound king.
The Pretty Boy is still undefeated and continuously boasting about his greatness as a boxer. Can Pacquiao stain that unblemished record of Mayweather?
If ever Marquez scores a win over Mayweather, the trilogy of Pacquiao and the Mexican warrior must take place.
Their first two fights are very close and controversial as to who should have been victorious. Boxing analysts worldwide are halved with conviction who really won the first and second fight. It could have gone either way.
To settle the issue once and for all, a third fight between the two explosive fighters must occur should Marquez beat Mayweather on July 18.
So to be called the greatest fighter who has ever lived, Pacquiao needs to fight these warriors in the boxing ring. He has to settle the issues and defeat those who are calling him for a challenge.
But is should be a win-win situation for Pacquaio, because if he fails, it could affect his bid for congress in the May 2010 elections in the Philippines.