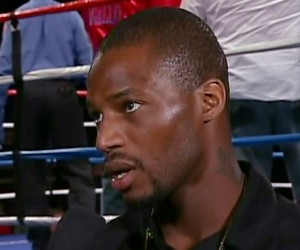 May 28, 2009 – By Scott Kraus — When Chad Dawson soundly beat Antonio Tarver in their rematch in Dawson's HBO debut earlier this month there was immediate speculation about whom Dawson would fight next. The light heavyweight division is far from the deepest in boxing and the only man ranked ahead of Dawson, Bernard Hopkins, repeatedly rejects the notion of fighting Dawson.
In analyzing Dawson's options after his win over Tarver, I must admit that I rather shortsightedly dismissed the man whom Dawson is now likely to face in his second consecutive rematch, Glen Johnson. Although I explored the possibility of a rematch between Dawson and Johnson since their first fight was close and fan-friendly, I ultimately concluded that the risk would not be worth it to Dawson.. His team's statements at the time regarding the possibility seemed to support my idea that Dawson would not take the challenge again.
Mea culpa. I was wrong.
Johnson, of course, is no stranger to being overlooked. The Road Warrior has been slighted by most everyone involved in the sport at one time or another over his long career, but the clamor swelled from fans and writers for a rematch of the excellent fight that Dawson and Johnson staged on Showtime last year and both HBO and Dawson's team took note.
Good for Glen, for getting another opportunity to fight on HBO and another crack at the young lion. Good for Chad and his team, for recognizing that Dawson-Johnson II is the best fight out there for Dawson, the fans, and the division, and for dropping his IBF light heavyweight title to make the fight happen. Good for boxing fans, for getting yet another high quality fight in this loaded year of boxing.
Most importantly, good for HBO, for putting quality matchups ahead of sanctioning belt politics and offering significantly more money (reportedly, $650,000 more) for Dawson to rematch Johnson, a fight that requires Dawson to vacate his IBF light heavyweight belt, than for Dawson to fight Tavoris Cloud, the IBF mandatory challenger, whom Dawson would have been required to fight in order to keep his title.
With all these winners emerging from this situation, somebody has to lose. The biggest loser in this case is clearly Tavoris Cloud.
Dan Rafael reported on ESPN.com that, after Dawson opted to fight Johnson for a bigger purse rather than defend his belt against Cloud, Dawson's promoter Gary Shaw and HBO offered Cloud a spot on the Dawson-Johnson II undercard, with the stipulation that, should both fighters win, Cloud would be Dawson's next opponent on HBO.
The plan makes sense for everyone involved – Dawson gets a bigger payday, Johnson gets his opportunity, HBO and the fans get the fight they want, and Cloud gets big-time exposure on HBO and the promise of an even bigger fight should he win.
For a guy who has not fought since August 8 of last year, a fight that provided the only national television exposure so far in his career on ESPN2's Friday Night Fights, the deal proposed by Shaw should have looked like a no-brainer. Zombies can now be advised to stay away from Cloud and his team since they made the decision to turn down Shaw's offer in a clear demonstration of brainlessness.
Cloud was spectacular on ESPN2 last August, dominating former titlist Julio Cesar Gonzalez and stopping him in the tenth round in the first knockout loss of Gonzalez's long career. Fans and writers were immediately excited about the prospects for the young power puncher, so naturally Cloud disappeared completely from the boxing scene, the first blatant case of mismanagement in his young career, suddenly stalled career.
Now, turning down Shaw's offer marks the second major blunder by Team Cloud, one that could cost the fighter both monetarily and in terms of status in the sport. Cloud is unlikely to make as much against Clinton Woods, his likely opponent to fill the IBF vacancy (or whoever else he fights next), than he would have on HBO. Worse, Cloud could get the reputation of being afraid to fight Dawson or difficult to negotiate with or both, either of which could hurt his ability to make big fights in the future.
The best explanation for Cloud rejecting Shaw's offer is that Cloud values the IBF title more than beating the best fighter in the division. On a day when HBO and Chad Dawson took a significant step in tempering the control that sanctioning organizations have in the sport by choosing a good matchup over a title belt, Cloud looks even more lost in choosing the IBF over HBO exposure and a future bout with Dawson.