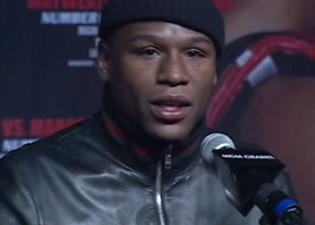 FLOYD MAYWEATHER On his comeback: "Credentials don't lie and my record speaks for itself. I was in the sport 11 years and I was a champion for 10 years. I left on top, and I am coming back on top. I am ready to reclaim what's mine. I am the king and no one has taken my crown. I am back because the sport of boxing needs me and the fans want me to. Everywhere I go, they go crazy. Some day someone might shut my mouth, but right now I am going to talk. I am the top dog and I am back in the spotlight. I am Pay-Per-View king. Oscar has some great numbers. But since I won that fight, so I get to count those. People keep asking me, who do you think is going to win tonight? Pacquiao or Hatton? Tonight any man can win. It's a gamble. If you want some 'for sure money,' just put it under your mattress until July 18th and bet on Money Mayweather.
"When I go to the gym and lace my gloves, I think about both of my sons, both of my daughters and my mother and I try to be the best that I can be. I go out there and focus on what I've got to do. I am in tremendous shape. I have been running seven to eight miles a day. I am ready physically and mentally. If you lost before you can lose again. If you have never lost, than fighters don't have the anecdote to beat you..
"I have to adjust. If you are a real fighter you will adjust and adapt. I am going to be smart. I have dominated every fighter they have put in front of me from 130 pounds on up. There have been fighters who are bigger than me, but I have made smart moves. My body has good chemistry and I am able to equal every fighter I fight.
"I don't change for fighters, fighters change for me."
On Marquez:
"He is a good small man but I am a great big man.
"I have never seen another fighter get knocked out three times and come back for a draw and honestly, in my opinion, Juan Manuel Marquez beat Manny Pacquiao twice.
"You know he is going to bring his A game and I am going to bring my A game.
"You can't claim you are one of the best without fighting Mexican fighters.
"We want to show the world what you can do in a recession. De la Hoya- Pacquiao showed you what they could do in a recession."
On Boxing:
"To everyone who is coming out and supporting boxing, we really appreciate it. Boxing is number one and the sport is here to stay.
"The main thing in boxing is that it takes skills. We have other sports that think they are bigger and better than us, but we make the most money. In other sports, you can come off of the street and be the best. In boxing you must dedicate yourself.
JUAN MANUEL MARQUEZ
"I am very excited for this fight. I want to thank Floyd Mayweather for giving me the opportunity to fight against him.
"Right now I want to be the best fighter and to be the best you have to fight the best.
"Pacquiao keeps running from me. And he doesn't want to face me a third time he just keeps running away. So, I decided to fight the very very best and that is Floyd Mayweather.
"Mayweather has been out for almost two years and obviously I feel that I have an advantage. That is a long layoff.
"In those two years, I have had three very important wins against three very important fighters. That gives me the ultimate advantage."
LEONARD ELLERBE, CEO of Mayweather Promotions
"The king is back. This is truly one of the most anticipated returns in boxing for quite some time.
"Floyd is the face of boxing, the best fighter in the world. He left the best, and he is returning as the best.
"Floyd has been recognized as a global champion for a number of years. No matter where he goes, people always say the same thing, 'Champ, when are you coming back?'
"With all of the achievements Floyd had achieved over the years, he is the only fighter who has truly transcended the sport. Starting out with Dancing with the Stars, the WWE (WrestleMania) and now we have the number one commercial out in the country. He has done so many things as a boxer, and now he is a true entertainer.
"Floyd has always had a tremendous amount of respect for all of the fighters out there. I know he has a lot of respect for Mr. Marquez.
(To Marquez) "You have to be careful what you ask for, because you just might get it."
OSCAR DE LA HOYA, President of Golden Boy Promotions
"I am getting used to being a promoter. It is fun and it doesn't hurt.
"Let me tell you one thing when I fought Pacquiaio, the media kept saying 'The bigger man is going to win.' Can we believe now that the bigger man is always going to win?
"When I fought Floyd it was a competitve fight. When I fought Pacquiao he stopped me. When Pacquiao fought Marquez, Marquez beat him. I don't care what people say. Don't believe that the bigger man is always going to win.
"Juan Manuel Marquez can never ever be counted out, even if he is facing the number one pound-for-pound fighter."
RICHARD SCHAEFER, CEO of Golden Boy Promotions
"Floyd Mayweather's back and he's back to fight the best. He is coming back not just to fight someone, but to fight the one numero uno, Juan Manuel Marquez.
"Marquez, who beat Manny Pacquiao not once but twice is right there at the top of the pound-for-pound list. Not to mention he owns the title of being called numero uno, simply the best.
"I am going to start calling Mayweather 'Triple M' which stands for Mainstream Money Mayweather. He has become not only one of the most recognizable fighters in the sport of boxing, but one of the most recognized athletes in the world."
Mayweather vs. Marquez "Number One/Numero Uno" will take place Saturday, July 18 at the MGM Grand Garden Arena in Las Vegas, Nevada and live on HBO Pay-Per-View beginning at 9pm ET / 6pm PT. Information on ticket availability will be made available shortly.