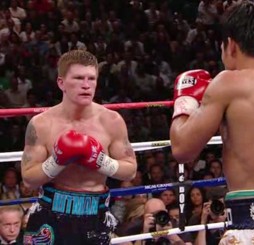 By Andrew Walker – Tonight at the MGM Grand, Las Vegas, Nevada, USA Manny Pacquiao Bukidnon, Philippines 49 (37) – 3 (2) – 2 totally outclassed and destroyed Ricky Hatton Manchester, England 45 (32) – 2 (2) – 0 inside two rounds in their Ring magazine and IBO world light welterweight title clash. Ricky Hatton looked noticeably nervous as he entered the ring which was in stark contrast to Manny Pacquiao who looked cool and calm, even smiling as he made his way to the ring. As the fight got underway Ricky Hatton was never in it from the opening bell and spent the whole two rounds being comprehensively beaten by the pound for pound number one Manny Pacquiao.
Hatton was down twice in the opening round and just hung on to survive to make round two. The second round brought more of the same with Hatton still lunging in and being out speeded, out manoeuvred and more crucially out gunned by the allegedly smaller Pacquiao. In the very last second of the second round Pacquiao caught Hatton with a peach of a left hook and knocked the Hitman out cold leaving those watching stunned.. The fight was waved off by the referee Kenny Bayless and surely after such a one sided beating there is no way back for Hatton at this level if at all? Hatton eventually came round and left the ring on his own two feet but gave no interviews as he made his way back to his dressing room.
The future still looks bright for Manny Pacquiao inside the ring with a potential clash with returning former pound for pound champion Floyd Mayweather Jnr who announced his comeback fight today against Juan Manuel Marquez taking place on July 18th. Surely now the biggest fight in the world of boxing has to be Manny Pacquiao vs. Floyd Mayweather Jnr which as long as neither fighter loses beforehand, could take place towards the end of this year. As for Ricky Hatton surely retirement now beckons after a successful career that has earned him fame and fortune alongside a loyal following. Always a gentleman outside the ring and an entertainer in it, the time is right now for Ricky Hatton to hang up the gloves and concentrate on his promotional business.
No one likes to see a fighter of Ricky Hatton's calibre destroyed as easily as he was tonight by Manny Pacquiao but I just don't see a way back for Ricky Hatton inside the ring now after such a crushing defeat. Hopefully he will not let his pride get in the way of making a sensible decision. It would be sad to see the much loved Mancunian fighter have one last fight at a lower level in the hope of going out on a win. He has had a great career and was only ever beaten by the two greatest fighters of the modern era in Floyd Mayweather Jnr and Manny Pacquiao. Like Oscar De La Hoya has in the United States, Ricky Hatton could well transform himself into a successful promoter back in his native England.