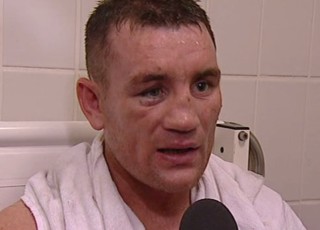 By Dean Parr – I was disappointed to see what happened to Michael Gomez last weekend. While he has had his more than shady moments, in my opinion, he has done enough to earn the respect of boxing fans, and for someone who has been through what he has gone through, his achievements are truly phenomenal.
He had a truly tumultuous childhood, and the remarkable story of his birth is an example of this, as his mother went into labour during the journey to the hospital, crashed the car and delivered Gomez in the back seat. Michael lived in Ireland for 9 years, firstly in Longford and then in Dublin, before moving to Manchester, England. Soon after the move, his younger sister died of sudden infant death syndrome, and his mother left the family and lived with another woman, meaning Michael spent a lot of his time growing up in children's homes. Gomez always had a knack for fighting though, and he even got banned from playing football at Moston Boys' Club because they couldn't afford to pay any more fines for his on pitch fighting antics. However, Gomez soon found a more suited outlet for this – boxing, when he began training at a boxing gym in Collyhurst, Manchester. Michael soon established himself as a good, solid amateur, and turned pro at the tender age of 17.
This decision was heavily influenced by the fact that he was made a father right before this, and he needed to provide for this child. No longer could Gomez rely on stealing (which his mother encouraged) and petty crime to get what he needed; he would have to earn it. As there was another Michael Armstrong already on the professional scene in the same weight category, he was told he would have to change his registration name. Thus, Michael 'Gomez' was born. It is believed that he gave himself this name because he loved the style of the legendary Wilfredo Gomez, and coincidentally, Michael ended up emulating the style of Wilfredo, earning himself nicknames such as the "Manchester Mexican". The start of his pro career was fairly uneventful, as he suffered three losses to people that were largely considered as journeymen, namely Chris Williams, Danny Ruegg and Greg Upton. However, there was to be an event in his life that was going to change everything…
Gomez was charged with murder in 1996 after he got involved in a brawl outside a nightclub in the backstreets of Manchester, and punched someone who hit their head on the pavement and died shortly afterwards. Had it not been viewed as self defence, Gomez could have gone to prison for a life sentence, but as it happened, it was realised the actions of Gomez were to protect himself, and the charge was reduced to manslaughter with Gomez walking free. After this, Gomez went on a roll, and remained undefeated for nearly three years, picking up the British Central Area Title, the English Title & the IBF Inter Continental Title at featherweight, before he moved up to super featherweight, where he won the WBO Intercontinental Title. It should also be noted that eleven out of nineteen wins during this undefeated period came early, showing just how on form Gomez was.
However, in a life riddled with twists and turns, the tide was about to turn against Gomez once again. In his first outing in 2001, Gomez fought the largely unheralded Hungarian Laszlo Bognar. While Gomez dominated the earlier stages of the fight, in the later stages, the Hungarian used his reach advantage to consistently jab Gomez and tire him out. In the ninth round, a two punch combination sent Gomez into the ropes and Dave Paris, the referee stopped the fight. Gomez, like many thought this stoppage was premature, and he immediately sought a rematch with Bognar. While he won the rematch, he had still lost a lot of momentum and it was going to be very difficult to regain this. Things went from bad to worse for him when less than a year later, he fought hot prospect Kevin Lear, and performed dreadfully – so badly that his trainer pulled him out at the end of the eighth round, stopping the sluggish Gomez going back for more punishment. Gomez's trainer also asked Gomez to retire after this fight, which invariably lead to Gomez going and looking for a new gym. He then found Billy Graham, who was at the time the trainer of Ricky Hatton. It was here he began getting his career back on track.
Unfortunately though, his private life was a mess. He had been in another street fight, where he was stabbed and his heart even stopped beating on the operating table. The generally accepted time for the amount of time it stopped beating is 48 seconds, but I have also heard the figures 28 and 38 seconds mentioned. He was also abusing alcohol to a large extent and it is no wonder that Gomez was asked to retire by Hughes.
He will be glad he didn't retire though as he finally began to find his feet again under Billy Graham. After three wins under Graham, he had the infamous fight with Scottish prospect Alex Arthur. Gomez was a massive underdog for this fight as analysts perceived he was on the way down, and Arthur was on the way up. They pundits couldn't have been more wrong. While it was evident that Arthur was the much slicker boxer, Gomez showed unbelievable heart and determination, wrestling his way to the inside as much as possible, and really roughing Arthur up here. After two knockdowns (which to Arthur's credit he got up from) the legs of Arthur had gone, and Gomez flattened Arthur for the third time with a bruising left hook to take the win, and the British title off Arthur. This breathed a new life into the career of Michael.
He won three more fights after this before another turning point in a remarkable career, when Gomez was stopped in a way that he couldn't complain about. He headlined at the MEN Arena in Manchester (as Joe Calzaghe pulled out of a fight) and lost to Argentinean Javier Alvarez. While Gomez at first tried to make it his kind of fight (i.e. an all out brawl), the difference in class was clear, and after a knockdown in the fourth his legs were gone, and fans knew it was only a matter of time until he would be stopped by the referee (which duly happened in the sixth). After this, it was rebuilding time for Gomez who took a year and a half off after this fight. However, yet again Gomez was involved in controversy as his next fight ended in truly bizarre fashion. Against Irishman Peter McDonagh (who was expected to be fodder for Gomez), Gomez just stopped fighting in the middle of the fifth round and walked back to his corner retiring from the fight. It is rumoured, although the truth isn't known, that Gomez put a £10,000 bet on himself being stopped in the fifth round, and that he stopped fighting so he could win this. He explains the situation by saying that he "just came to a decision in there that" he needed to "retire from boxing full stop", but this seems like a strange explanation from someone who prided himself on being a warrior.
However, he stuck to his word partially by retiring at that point in time, but it would only last a year and 4 months; after which, he was in the ring again. He had inevitably split from Billy Graham, as Graham probably just didn't want the hassle of troublemaker Gomez. He made his new home Bobby Rimmers' gym (which wasn't a huge change for Gomez as it is barely 30 minutes ways from his old gym) and he made light work of his next two opponents. He next signed up for a contest against Carl Johanneson, but unfortunately came a cropper against him, and was stopped after being knocked down in the sixth. However, it was a valiant effort and Gomez stated he wanted another shot at the British strap somewhere down the line. He couldn't have dreamt of the opportunity he was going to get next though.
After defeating Baz Carey, Gomez was offered the chance to fight rising star Amir Khan. This was surely the last big chance Gomez will get on the huge stage, and millions of people watched on ITV. While Michael came unstuck as the fight went on, he gave Khan a huge scare when he dropped him with a quick left hook, and his warrior spirit was on full show. What was evident though, was that Michael Gomez was most definitely a fighter on the way down. This was a shadow of his former self, and while he was still as headstrong as ever, the old snap and quickness of his work had gone.
Between the Amir Khan and Ricky Burns fights, Gomez had three contests, all of which he won. However, in one of these, he was filling in at 20lbs over his natural weight, and in the other two, he was just a different class to his opponents (both of whom had losing records). However, with Gomez being the name he is, he got what is most likely his last title shot, against Scot Ricky Burns. While Gomez looked confident in the run up to the fight, it was evident after a couple of rounds that Gomez didn't really have a chance of pulling it off, and to give credit where its due to Ricky Burns, he deserved the win. What worries me now though is the fact that in the post fight interview, Gomez said he wanted two more fights to take his total to fifty. Does he really need to cement his legacy any further? I don't think so, and I hope he doesn't do himself any more damage as he is already showing signs of punch drunk syndrome.
In conclusion, in my opinion, Michael Gomez is a true legend of the British fight game, defying the odds at every turn. However, after all the wars he has been in, surely it is time to call it a day to make sure his legacy isn't tarnished in any way. I personally hope that the Ricky Burns fight is the last chapter in the Michael Gomez boxing story, but knowing Gomez with that warrior heart, he will probably still be going in ten years.