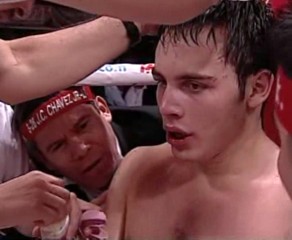 This weeks 'Left-Hook Lounge' mailbag comes sizzlin' with some very hot topics around the world of boxing. Hot on the tip of everyones tongue is the recent findings in the Antonio Margarito 'wrapgate' scandal. Also making the tab is the odds of a potential Pacquiao/Chavez showdown, as well as a look at hopeful Mayweather/Cotto Fall fight, and many other topics. So, with no further ado, we jump right into the mix with a question coming to us from the 'City of Angels', my adopted hometown, Los Angeles, California…..
Richard S. (Los Angeles, CA): Do you think there should be more to Antonio Margarito's 1 year suspension now that it has been confirmed that his gloves were in fact loaded?
Vivek W. (ESB): I think the integrity of many surrounding this issue has come under scrutiny with great reason. In my most humble opinion, Javier Capetillo should be removed from the sport immediately with no shot at redemption in any remote corner of the planet. According to several sources, Capetillo initially said that he "mistakenly picked up a pair of wraps another fighter had used in the gym". Considering the findings, we now know that to be a bonafide lie, and where there's smoke there's usually fire. That was no "old wrap", that was a loaded wrap. One that was intentionally loaded. Why would ANYONE believe Margarito's spin that he "was unaware" if we see his camp compadre trying to cover his tracks? I also have to point at Arum, who I've yet to hear a response from in light of this significant finding. Finally, we have to shine light on the man himself, Mr. Margarito, because there's no way in hell – (yeah, I said it, and I'll repeat) – no way in hell that he didn't know what was stashed in his gloves. I have always respected him greatly and once took major heat for supporting his claim to be the baddest man on the planet; trouble is, I had no idea that this was the way he achieved that feat. I don't know if he did this in the past and I won't attempt to speculate on it, but I will say this, everything he ever accomplished will be nullified because of this dumb choice of judgment. There is no more speculation to create. It has been proven and Margarito was caught. Had Capetillo not been caught in a lie I'd have to think about a few things, but if he's covering tracks, he's not acting alone. If Panama Lewis was banned, I'd love to know what argument is favorable enough to support anything else here. Thank God they were caught early or we might have witnessed one of the best careers in the sport irreparably damaged that night. I have two parting words for two parting law-breakers…ABSOLUTE BANISHMENT!
Andre W. (Miami, FL): Do you see much of a fight future for Samuel Peter after his lost to Chambers?
Vivek W. (ESB): I have always liked Peter, and after meeting him in person a few times even more so, but realistically here, I think his days as a formidable contender are about over unless he totally rededicates himself and revitalizes his future in the sport. I've always felt he had a conditioning issue, and from the moment I heard this fight was made, I said anything over 240lbs on the scale and he'll lose by points. I'm not a prophet and don't claim to be, but bingo! Right on the button, and said it like nothing! There's absolutely no way he can ever compete at that weight, particularly against a quick guy like Chambers. People always joked about guys eating their way out of a career. Seems Peter is well on his way, ticket punched, validated, and in hand. Sad, because I really like the guy!
Jeff S. (Orlando, FL): What do you make of Bob Arum talking up a potential Pacquiao/Chavez Jr. fight by the end of the year?
Vivek W. (ESB): I see it as Arum doing what Arum does, which is promote fights. Trouble is, it won't work much this time. I think Arum has done Chavez a huge injustice by keeping him primarily on pay-per-view, because he doesn't have the notoriety he should at this point. I hope this doesn't rub anyone wrong, but calling it down the middle, outside of the Mexican population, few people have truly been able to witness Chavez fight, aside from a few youtube clips. I was reminded of this last Saturday night when I realized the hard way that not one bar or gentlemans club within a 20 mile radius of my home was televising the fight; and mind you, I live in the heavily hispanic South Florida area where spanish is nearly the primary language. This fight would seem appealing on paper because Pacquiao would once again face a much bigger fighter, but the trouble with this whole scenario is two-fold. What weight would they fight at? Pacquiao isn't going anywhere above 147lbs, and Chavez isnt' coming that low. Secondly, As much as some of us want to support Chavez in his endeavors, the bottomline here is that he would be totally outclassed by Pacquiao and I think potentially even stopped. His skill level is vastly improved, but he would have very little to stop the mighty P-Train. I give him 8 rounds, tops. So, when it all boils down, I don't see much hype in this fight but if Mayweather doesn't return to face Pacquiao, I do see Arum making a Filipino versus Mexican showdown. Not a very good one, but hey, it is what it is, and theirs a demographic for it. That in and of itself makes would kill the question and make this fight a reality.
Les M. (Dallas, TX): Who do you like in the Holt/Bradley showdown?
Vivek W. (ESB): I like Bradley to win the fight. Holt is great, but I think Bradley is totally underrated, and actually see him giving anyone a tough fight when he totally evolves, maybe even to include Pacquiao. The guy has great mechanics, great footwork, good intensity, nice speed, and can take a powershot. I think he's nearly as fundamentally sound as any fighter in the game right now. Once he tweaks a few things, he'll rise to the top like the creme of the crop. I'm sure there are tons out there reading this that think I'm smokin' something illegal in making such a statement, but each of you ladies and gents, please just do me a favor…..tune in Saturday and be here Monday morning for the next mailbag. If I'm wrong, so be it, but I think the guy has the goods and I approve that message! (Smiles)
Luis R. (Miami Lakes, FL): What are the odds of a potential Mayweather/Cotto fight by years end?
Vivek W. (ESB): First, we have to get Mayweather back in the ring. We keep hearing about all of these possibilities, but the fact remains that despite being in the gym – which was confirmed – nothing is official relative to his actual return to the ring. Now once we get pass step one and he gets in the ring, I think it comes down to who wins the Pacquiao/Hatton fight. If Hatton wins, Mayweather goes to England, puts on a massive rematch with the major subplot being his Dad in the opposite corner (with Hatton). If Pacquiao wins, they may make an attempt at a mega fight, but Pacquiao would hold some major cards at the negotiations table which could force Mayweather in that direction because he will not take a smaller purse or concede certain things under any circumstance. I would love to see Mayweather face Cotto, but Cotto has to get past Clottey in a solid fashion or all he'll do is give Mayweather room to say he's not on that global attraction level and subsequently find someone else to give the nod. There are a ton of scenario's that could play out, but rather than speculate, I say lets just get Mayweather back in the ring first!
(Got questions or feedback?: Contact ESB's Vivek Wallace at vivexemail@yahoo.com and 954-292-7346, follow more of his work at 8CountNews and The Examiner, or show some love at Myspace and Facebook).