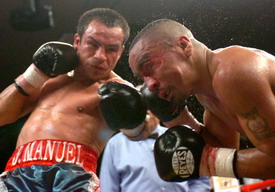 By Vivek Wallace, photo by Naoki Fukuda: This weeks 'C.E.O. Fridays' segment shines the spotlight on a man that most would view to be a very under-appreciated talent of sorts. Despite his many career milestones and accolades, he remains a silver lining in a perceptually dim sport, always eager to perform, and far from inadequate in effort while doing it. Like any of my other 'C.E.O. Fridays', we'll take a look at the full circle surrounding this spectacle. The 'Supportive' perspective, the 'Critics' perspective, and to tie all loose ends, a more 'Neutral' perspective. After each perspective hit's the table and our subject has been officially 'called out', how we individually perceive him all falls within the deep mind of the beholder….
Juan Manuel Marquez (Supportive Perspective): For those around the sport who have a strong penchant for seeking formidable talent, yet zero interest in good sound bytes and a big ego, Juan Manuel Marquez the man.. Over the years, regardless of the level of competition he's faced, Marquez has always been known as one who comes to perform and easily goes down as one of the most underrated and under-appreciated talents in the sport. Oddly enough, when the topic of pound for pound comes up you rarely hear his name, but surely this is more a result of his quiet demeanor outside of the ring, rather than the hell he's been known to raise while in it. The talent of Marquez was on display from the very beginning, as the proud Mexican would fight his way through the amateur ranks with a solid 35-1 record which included two Golden Glove tournament victories. Many wondered what he would look like in the face of adversity, and in his first professional fight they would get a brief glimpse, as Marquez would go on to lose via disqualification to Javier Duran. Those questions about his ability to weather a storm and carry on were quickly answered as he went on to win 29 of his next 30 fights during a stretch that saw him defeat several notable figures in the sport, which included Agapito Sanchez. Judging by past history, most great Mexican warriors have been widely known for carrying a brave heart with a never-say-die attitude. Marquez brings those qualities, but his pure skill level is far more fundamental than the norm. From his punch selection, to his footwork, to his solid jab, and down the line; There's very few things that Marquez doesn't do in a text book fashion, which makes him not only a warrior, but a very skilled one at that. Despite the great skills, the critics of Marquez feel they have more than enough ammo to dim the shine at the back of this proud Mexican. For a glimpse into their perspective, we now set the stage….
Juan Manuel Marquez (Critics Perspective): The old adage has it that "the only welcomed controversy in life can be found in a cheap romance novel". Unfortunately for Marquez, this isn't a novel, and there's nothing 'romantic' about the controversy which seems to plague him. Sadly enough, every major notable fight of his career has either ended with him on the short end of the stick, or some type of controversy that ultimately placed him there. The start of this controversial streak began back on September 11th, 1999, when he lost to Freddie Norwood in a fight that many felt was much closer than the scores the judges at hand rendered. After a decision loss to Pacquiao and another decision loss to Chris John (stemming from points deducted on low blows), Marquez received another shot at something grand when he faced Manny Pacquiao in a rematch. In their first fight, despite the three knockdowns he suffered, he was somehow able to score a 115-110 margin on one of the score cards, while Pacquiao got the same score on another, with the third and decisive card tied, resulting in a draw. This time around, despite touching the canvas again, Marquez had a much better fight. His effort was so convincing that better than 20 boxing scribes around the sport had scored it as a victory for him, while only a precious few saw Pacquiao on top. The trouble for Marquez was found in the fact that none of those boxing scribes that had him winning the fight were holding official scorecards. Once again, controversy would rule the night, and Marquez would fail to seize a precious moment in his career. Throughout his tenure in the sport, this has been a somewhat repetitive scenario. A beautiful tactician with skills better than the average, yet when all the marbles have been on the table, he's never been able to gather them in time to make a difference. Many may not agree with the critical perspective of Marquez, but the official record book holds the key….
Juan Manuel Marquez (Neutral Perspective): When you look at the positives and not-so-positives surrounding Marquez, there are valid points in both directions. Sure, he's been a very solid and formidable fighter, but at the same time, who can argue with facts? Any team or individual in the world of sports is best judged by their greatest accomplishments, and when you call things down the middle, no one can deny the fact that Marquez simply hasn't been able to get it done – in a convincing enough fashion – when it counts most. The old "close-but-no-cigars" anthem simply doesn't bode too well for a man whose aim is to get higher in the world of boxing. To put this in a different perspective, as a huge Miami Dolphins fan who idolized the fierce talents of Dan Marino, wanting to view him as the G.O.A.T. sounds swell until someone adds Montana, or even a Tom Brady to the conversation. That's when things balance out a bit. Here is no different. Marquez is a great talent, a brilliant guy, and a helluva man outside of it, but his legacy will be defined but what he was able to accomplish inside of it, and right now, he's the proverbial 'good-that-never-equates-to-great'. This coming Saturday night he has a chance to help modify that notion. It won't come easy, and Juan Diaz will make sure of that, but this is the type of moment every fierce competitor lives for. One or two shots down the drain can be forgiven, but another bust under the spotlight will potentially make many fight fans rethink their position on him. As a fan of both men, I can only hope that the best man wins, but for Marquez directly, I'd have to quote rap phenom Snoop Dogg to underline this defining moment. "Don't be caught half-steppin' with ya weapon on safe"! In many ways, it's do or die. Win and you're IN, lose and you're probably OUT….OUT of any equation that finds you in the thick of a title hunt, and IN that categorical equation best known as 'high-risk-low-reward', which once again keeps you OUT of contention. If that series of IN's and OUT's seem confusing, welcome to the world of Marquez, where most things happen to be, well, controversial and confusing…Stay tuned to see if that changes come Saturday night, live on HBO.
(Got questions or feedback?: Contact ESB's Vivek Wallace at 954-292-7346 or vivexemail@yahoo.com follow more of his work at 8CountNews and The Examiner, or show some love at Myspace and Facebook)