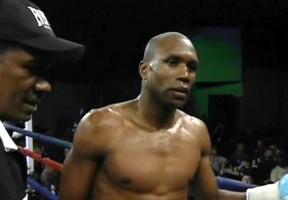 By Vivek Wallace: In May of 2008, Shaun George stepped into the ring to face the highly talented Chris Byrd. Prior to that affair, he was viewed as merely a solid contender with budding notoriety. By the end of the night, the print that he left on the light heavyweight division was quite indelible, and as he prepares to continue that climb to the top, he does it against an opponent who may present more danger than many know.
A little over a week ago, fight fans saw another contender from the continent of Africa with little name recognition – (Ali Funeka) – only to find out that his ability stood as tall as his wired 6-1 frame. Standing in the way of George's path is similar obstacle; one talented enough to send 40 career opponents (of a total 47) to the showers early after a quick night. His name is Jaffa Ballogou..
With only a few hours before they step into the ring, I had the opportunity to talk to the calm, cool, and collected light heavyweight whose eyes remain focused on one prize. Here are some excerpts of that conversation:
On Jaffa Ballogou – Like many, I didn't know much about him, never seen him fight before, and couldn't even tell you how he looked, but what I do know is that he's an aggressive southpaw that can bang. I also know that this is a guy who, when I hit him, he'll still be there. This won't be an easy fight. 46 victories with 40 knockouts isn't easy to do. I think it'll be a very exciting fight, but that works because I want to feed the fans. I know that's what they look for and I want to give them a show.
On the danger of facing a southpaw – I don't normally have problems with southpaws. My only mindset is that it's going to be a tough fight and I have to win. I can't move forward unless I get past Jaffa. I haven't been in the ring in a little bit, so I just want to go in there, take the fight to my opponent, and listen to my corner.
On his recent inactive period – I don't see that playing a role at all. Honestly, what it all comes down to is the fact that I know how to fight. It doesn't matter how you want to spell it out or how you want to look at it, the bottom line is that I know how to fight. Going in the ring, I don't plan to be distracted by other things. I'm just going in there to fight. I have to look great if I want the boxing fans to demand to see me fighting the best guys out there.
On the retirement of Joe Calzaghe – Good for him. Many fighters don't know when to quit. Don't get me wrong, I would have loved to face Calzaghe, but I knew that discussion was somewhat far-fetched because there were bigger money fights he was in search of and I feel like when you see a guy like Calzaghe or Mayweather walk away on top, you have to respect that and hope they stay retired. You can't do anything but respect that.
On his future in the division – I don't see a Bernard Hopkins fight happening. He's a legend, I respect him for all he's done in the sport, but personally, I don't consider him a light heavyweight contender. I don't care for Glen Johnson. I've called him out for the longest time and nothing happened. Right now, I would love to face the young guns in the division. I would love to face Chad Dawson at some point in the future. Everybody considers him the best light heavyweight, so ultimately, I would like face and defeat him. That's the guy I'm gunning for, but nothing matters unless I get beyond Jaffa first.
Final words for fight fans – Thanks for the support. Keep boxing alive. It's not just gonna take one fighter. It takes champions fighting contenders, contenders fighting contenders, and great fighters fighting other great fighters. I plan to be part of that movement.
Like his actions in the ring, the words just spoken solidify his position in the light heavyweight division. The various opponents who will stand across from him on his way to the top is irrelevant, for in the end, the destination he seeks is simply one place….
The top!
(Shaun George will face Jaffa Ballogou at the BB King Blues Club & Grill in New York City's Time Square. The fight will be televised on SportsNet NY)