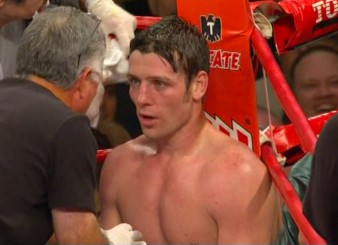 by James Slater – Last night, on the under-card of the Cotto-Jennings fight, 29-year-old unbeaten middleweight John Duddy of Ireland kept his word and boxed smartly against the always dangerous Matt Vanda of Minnesota. Collecting a wide UD after ten rounds in which he relied primarily on his superb left jab, Duddy boxed an almost perfect fight on his way to wining by scores of 99-91,99-91 and 97-93. I say almost because a desperate Vanda, knowing he was way behind on points, came on strong in the final round – shaking Duddy badly with a number of heads shots.
The 30-year-old showed he is never a fighter to count out of any fight, and he came very close to spoiling all the good work Duddy had done.
From round number one up until the ninth session, Duddy boxed perhaps better than he ever has. Having his second fight with new trainer Pat Burns, the popular middleweight said before last night's bout he would use his brain as opposed to being dragged into a war. Much to Vanda's displeasure, the Irishman who lives in New York was able to do just that – never letting up with his accurate and fast jab, while also following it up with left hooks and right hands to the head.
It really was quite amazing to see Duddy boxing so well. Was this really the same guy who went through sheer hell with Walid Smichet last year? Basically, Duddy tattooed the heavily tattooed Vanda with his left hand, putting on a near master class. Okay, master class may be a bit of an exaggeration – Duddy will never be a Floyd Mayweather Junior in the ring, after all – but last night's showing was pretty damned impressive. Showing great concentration almost throughout, Duddy was both measured and relaxed.
The fireworks did come late on in the fight, though, and Duddy's fans and corner-men must have had their hearts in their mouths as "The Predator" came on strong and dangerous in the 10th and final round. Getting through with a stunning five or six punch combo to the head, the man many say beat Julio Cesar Chavez Junior in their first fight put his rival under real fire. Showing the grit we all know he has, Duddy sucked it up and came back, but his legs were definitely a little rubbery-looking.
This writer was only able to give Vanda one round, the 10th, and it is testament to his own grit and determination that he refused to stop trying. Right until the end the slightly older man kept giving it his best in attempting to save the fight with a stoppage or KO.
Duddy, aside from the last round blip – which was due to either a lapse in his otherwise good concentration or to fatigue – boxed brilliantly. He also finished the fight with barely a mark on his face, which is something this fighter is not always used to by any means.
In winning once again and perhaps setting himself up for a world title fight later this year, Duddy improved to 26-0(17). Vanda fell to 39-9(22).