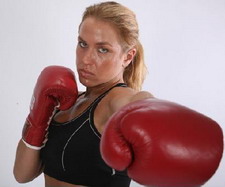 Anne Wolfe has totally perfected training for boxers and we never do the same routine twice in a camp. I put my total trust in her…
by Vivek Wallace: When the topic of female boxing comes up, typically the names Laila Ali, Ann Wolfe, or Christy Martin are spoken. In a deeper conversation among well schooled fight aficionado's, the likes of Vonda Ward, and a few select others may surface. To some around the sport those are the only names that matter, yet when you dig a little deeper through the feminine ranks, it becomes obvious that the talent pool is far from shallow. Similar to their male counterparts, the women of the sport have a long list of contenders who remain eager to prove their worth, and in the midst of that group is a woman who stands tall in stature, yet even bigger in determination. Born of German descent, yet raised in Texas, this intriguing middleweight talent goes by the name of S'Kati Katz (4-0, 2KO's)..
With the looks of a model ever-apparent, some may question what would even bring such a beauty to the sport? According to Katz, that seed of interest was firmly planted by her admiration of trainer Ann Wolfe, a young Mike Tyson, and Filipino phenom, Manny Pacquiao. Although her level of intrigue remains high in each of those perennial figures, it's Ann Wolfe who continues to have perhaps the most lasting impression on Katz, guiding her career from its infancy stages to an ever-evolving maturation that few others could engineer.
When asked what makes Ann Wolfe such a valuable commodity in her life, it became abundantly clear where the 'quiet-storm' within Katz derived from when she stated that Wolfe is "so calming and relaxed, yet very intense". Katz went on to say that "Ann has totally perfected training for boxers and we never do the same routine twice in a camp, so I never question or even ask what we'll do in camp, and I put my total trust in her". The training methods of Wolfe may be unorthodox and a bit unknown to most, but the results in the ring – as witnessed in Katz, Kirkland, and others – prove to be highly valuable. When asked to elaborate on the various training sessions, Katz declared "there's a workout that Ann likes to do in training where she hangs a heavybag from a truck, and we run as we punch the bags for conditioning ". To some that may sound interesting, but for lack of better terms, when it comes to ring training, that's pure genius.
Each of those training tools make S'Kati a formidable contender in the ring, but for this brawling beauty, it's the more personable elements of her character that will one day help her to make a mark away from the ring as well. Being a student of the game as well as a marketable figure, it's very easy to see a future for S'Kati that falls somewhere between the lines of either coaching or commentating.
The fact that she's culturally diverse certainly doesn't hurt. The best glimpse of that diversity can be seen in her music catalog, where on display is a shade of her every demeanor. From T.I. to Bon Jovi, to the sultry sounds of Beyonce', and the mellow voice of Leona Lewis, there's probably no sound she doesn't vibe with, to include the rugged Buckcherry. Determined to find success at every level and crediting her Mother as her prime inspirational source, there's no question that the sky is the limit for S'Kati. For many, life after boxing can be pretty abysmal, but for this dangerous diva, it's safe to say that after she throws her final right hook, she'll still have something 'left' to fall back on.
(For more about S'Kati, visit skatikatz.com, or you can also visit her at Myspace).